<! MP3 05/22/09 > <! pix 05/22/09 > <! archived 00/00/00 > <! icons 10/20/11 >
---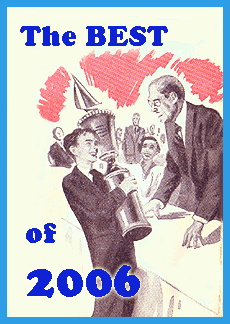 Howdy, neighbors!
Hey, y'know, I had a fun year.
2006 brought a bunch us of cool new country, bluegrass and Americana records, including several discs that just stopped me in my tracks and gave me hope for the future of hick music. Here's a short list of my favorites for the year -- some of these reviews got trimmed down a bit, so they'd all fit on one page... If you want to read the full reviews, you can either look back at my monthly review columns, or poke around in the genre sections of my full Guide To Hick Music. By the way, if I missed anything, please feel free to let me know... In the meantime, enjoy!
Anyway, here are my country picks for the year, listed alphabetically so I don't (Sam) have to (Baker) play favorites...
---
The Best Of 2006
---
Sam Baker "Mercy" (Bull Creek, 2006)



A jaw-dropping singer-songwriter/Americana/red dirt tour de force. Seriously: where have they been keeping this guy? Texas-based Sam Baker's self-released debut is an astonishing synthesis of the whole windswept Panhandle storytelling tradition, bringing to mind dust-caked poets such as Guy Clark and Townes Van Zandt, as well as Terry Allen, Mary Gauthier and Robert Earl Keen... Of the lot, I honestly think only Guy Clark comes close to this guy, in terms of his self-assurance, his clarity of vision, and the consistent high calibre of his output, with each song a quiet, haunting, curious jewel. Perhaps one reason this album connects with such emotional force is that unlike many folkie-poet types, Baker isn't pretending to be a survivor, he really is one: this album was written and recorded after Baker recovered from being caught in a terrorist bombing in Peru, one that killed the people sitting next to him, and left Baker badly hurt. The passion for life instilled in him by this close encounter with death resonates through every note on this record; even his distinctive, slurred vocal style is a result of the attack... At any rate, if you like Clark, Keen, Gauthier, et.al., you've gotta check this album out. It's really quite good. (For more information, see Baker's website at sambakermusic.com )
Johnny Cash "American V: A Hundred Highways" (Lost Highway/American, 2006)



An amazing epitaph, largely because it so clearly is an epitaph... These sparse, late-vintage recordings dwell on death, dying, reflection and spiritual redemption, with stark, forboding gospel material like "God's Gonna Cut You Down" alongside contemplative folkie material such as Gordon Lightfoot's "If You Could Read My Mind," Ian Tyson's "Four Strong Winds," and even Rod McEuen's "Love's Been Good To Me." Cash was clearly conscious of his impending departure from this mortal coil, and he used that awareness to fill these recordings with a gravitas and depth that's hard to match. His physical fragility (also heard on American IV and other later recordings) also invests these songs with a sad power: as his voice breaks and cracks on the softest songs, an emotional coloring that no one else could ever summon comes out -- who else but Johnny Cash, passing on, could sound like this? Even a facile song like Don Gibson's "A Legend In My Time" packs a wallop: Johnny Cash really was a legend, one of the biggest, and even if he sings the song with a little wink in his voice, the lyrics take on a literal meaning that Gibson never could have anticipated. This final offering is quite an album... Recommended!
Guy Clark "Workbench Songs" (Dualtone, 2006)



(Produced by Guy Clark, Verlon Thompson & Chris Latham)
Another finely crafted album, full of rueful humor and homespun, laconic wisdom. This disc is packed with goodies, from the laid-back, small-town dustiness of "Out In The Parking Lot" to the rueful "No Lonesome Tune." There are also some fun, oddball offerings, such as the jaunty comedy number, "Expose," and Clark's latter-day ode to doobies, "Worry Be Gone," which closes the album. What's most notable here, I think, is the relaxed, calm musical vibe -- this is Clark's most laid-back, easily confident album since Old Friends, adding a warm, welcoming feel to the whole set. It's another goodie... well worth checking out! (For more info, see my Guy Clark discography.)
Jessi Colter "Out Of The Ashes" (Shout Factory, 2006)



Returning to the fray with surprising power, singer-pianist Jessi Colter delivers an Americana A-Bomb with this gritty, bluesy roots-country set, her first solo album in over twenty years. Colter's keyboard style -- familiar from her own albums and her classic collaborations with her husband, the late Waylon Jennings -- floats to the fore, as funky and comfortable as ever... Likewise, her voice remains undiminished and equally expressive and compelling. The calibre of the songs is top-notch, oozing with an assertive, though sometimes weary, celebration of sex and sensuality, a raw, been-around-the-block reflection on life and all its pleasures and pains. Definitely worth checking out!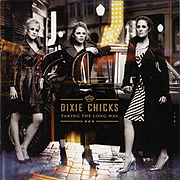 The Dixie Chicks "Taking The Long Way" (Columbia, 2006)



No matter what side of the ideological divide you find yourself on, it's still fair to say that the Dixie Chicks are still one of the best bands in the good old U. S. of A. Three years after an offhand, anti-Bush political comment led to the Chicks being blacklisted from Top Country playlists from shore to shore, the band returned with a new album that addressed the controversy head on, in the shape of the kamikaze radio single, "Not Ready To Make Nice," and they backed it up with some of the catchiest pop-rock-country songs of the year. This album is packed with melodies that wedge themselves inside your brain: I had to hide this record from myself because I couldn't get half the songs out of my head. And say what you will about Natalie Maines, but on this album she hammers home the fact that she really is from Texas, and in that state's great, rowdy tradition, she just doesn't take s**t from anybody. Good for her.
James Hand "The Truth Will Set You Free" (Rounder, 2006)



Yeah, hoss, this record is the real deal. As on his previous recordings, Texas old-timer James Hand taps into the deep tradition of for-real, hard-country hick crooners with hearts of gold and voices of lead... and a bottomless supply of beer-soaked misery and self-pity. Largely due to the tenuous vocals, not everyone's gonna be able to sit through this one, but for folks who appreciate heartfelt heartbreak songs, this disc is a goldmine. There's a rueful tone and deep sense of defeat that makes every song on here ring true, particularly on stingers like "Just An Old Man (With An Old Song)" and "When You Stopped Loving Me, So Did I." Then there's the musical backup -- tight and compact, a no-nonsense dose of good, old-fashioned honkytonk -- pure twang and tribulation, distilled into a Dixie cup and ready for you to take a big old swig.
Waylon Jennings "Nashville Rebel (Box Set)" (Sony-BMG Legacy, 2006)



Here's a 4-CD set that's worthy of its subject... Going toe-to-toe with the monolithic, authoritative import box sets on the Bear Family label, Sony-BMG has finally given American country fans a comprehensive, thoroughly satisfying -- and affordable! -- overview of Waylon Jennings' entire career. From his early years singing in bars in the Southwest through his entry into (and swift departure from) the Nashville establishment, on into his "outlaw" golden years, this captures Waylon at his best. Disc One, which concentrates on Jennings' early years as a 1960s "folk-country" singer in Nashville, probably has the most to offer fans who are already familiar with his gloriously rowdy hits of the '70s and early '80s. Although the folk-oriented material isn't as rugged or meaty as his later work, there are some soulful performances and unusual arrangements and production touches that may surprise even longtime fans. The disc is well-chosen and nicely paced, and packed with plenty of non-hit material that may be unfamiliar even to devoted Waylon fans. Discs Two and Three comprehensively document his glory years, all those fearless, funny, sad, soulful hits that stand at the very core of the outlaw/alternative country canon. Yeah, there are some songs left out, but not many, and all the major touchstones are included. The last disc skims his work in the 1980s and '90s, with the added bonus that his work for the rival MCA label is also sampled, making room for some of his later hits and one-off material. There are a lot of good Waylon best-of collections on the market today, but this really blows most of them away. (Also see my Waylon Jennings discography for more info...)
Laurie Lewis & The Right Hands "The Golden West" (HighTone, 2006)



Hands down, one of the best bluegrass albums of '06! If you like plain, simple, and sincerely twangy truegrass, filtered through a West Coast/Northern California sensibility that keeps things real and rootsy, then this is an album you'll want to check out. Lewis and longtime cohort Tom Rozum lead this laid-back, no-nonsense quintet, playing a nice mix of original songs and well-chosen covers. Includes music by Albert Brumley, Jimmie Dale Gilmore, John Hartford, Jimmy Martin, Bill Monroe, Jimmie Rodgers and Billy Joe Shaver... I mean, geez... how could you go wrong? This is a mighty fine set... highly recommended!

Bruce Molsky "Soon Be Time" (Compass, 2006)



Fiddler/guitarist/banjo plunker Bruce Molsky is one of Americana's finest "old-timey" musicians, fully in command of the style's history and repertoire, and gifted with an immensely charismatic presence... On this disc, his sound has softened, moving away from the uncompromising traditionalism that so many favor in the old time scene, opting for a more fluid, tranquil tone. There's a lot more "give" to his performance, and thus a lot more soul. The material ranges from backwoods standards learned from elders such as Ed Haley, Sam McGee and Tommy Jarrell to Scandanavian and Slavic folk, and a bit of the Delta blues... There's only one Molsky original on here, and yet he manages to make all these tunes utterly his own. This is a mighty fine album.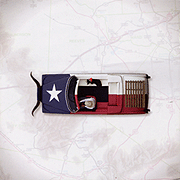 Doug Moreland "Doug Moreland" (Big Hat, 2006)



Wow... Here's another disc that just might top my list for best country record of the year, kicking off with some uptempo western swing originals, and moving into silkier, subtler songs, like the Jim Lauderdale-ish "Dallas," and even an elegant little waltz like "Forever In Your Arms." Moreland, who is recapping his career with great songs old and new, gets a little rowdier further in, and closes the disc with "The Beer Song," a hyperactive, hops-soaked send-up of Hank Snow's old tongue-twister, "I've Been Everywhere." Of course, the boozy novelty song is the one that folks love live, but the rest of the record is really what blew me away... It's well-crafted, heartfelt, literate, emotionally resonant and often achingly beautiful, even on coy novelty songs like "Houston (We've Got A Problem)." I actually had to put this record back on the shelf for a few weeks, just so I could take it down and play it again later, and make sure it still sounded as good as I thought it was the first few times I heard it... And it does. One of the more consistently listenable, rewarding records I've heard in a long, long time. Fans of, oh say, Doug Sahm or old Asleep At The Wheel will wanna check this one out. Highly recommended.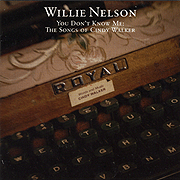 Willie Nelson "You Don't Know Me: The Songs Of Cindy Walker" (Lost Highway, 2006)



There's been a lot of year-end chatter about Willie's rockin' country collaboration with Ryan Adams, but this heartfelt tribute to songwriter Cindy Walker is the Nelson disc for me. It's one of the purest, most satisfying records Willie's ever made -- a career highlight, if you ask me. Nelson connects with Walker's music in a way that's a delight to hear. As he works his way through chestnuts such as "Take Me In Your Arms" and "Bubbles In My Beer," it's easy to hear how much he loves these old tunes, songs that were standards when he was coming up through the ranks... Elegantly crooning over rollicking, western swing-tinged arrangements, Nelson brings a lot of soul to these songs, but he never overdoes it or lapses into schmaltz -- this is just some darn good, old-fashioned, real-deal country music, well-crafted but aimed right at your heart. Willie nails the penetrating, pathetic surrender of "I Don't Care," an old Webb Pierce weeper, as well as the slinky, velvet-toned "You Don't Know Me," perhaps best known today from Ray Charles' definitive version. Ms. Walker, who passed away a short time after this album came out, remains one of the greatest tunesmiths country music has ever know, and this album is a fine and worthy tribute. Highly recommended!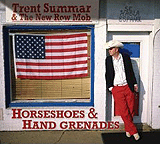 Trent Summar & The New Row Mob "Horseshoes And Hand Grenades" (Palo Duro, 2006)



Yeahhhhhh!! Let's hear it for the dark underbelly of Nashville! Songwriter Trent Summar is doin' fine for himself as a Music City songsmith (you might recognize his Steve Earle-styled rebel anthem, "Guys Like Me," from its earlier incarnation on a Gary Allan album...) but he's also one helluva alt-ish hard country artist all on his own. This is a flat-out awesome, smokin' set of hard-edged, cheerfully rowdy, rollicking material, from the twangy title track, to the power-chorded, Southern Rock heaviness of "She Knows What To Do," kind of the guy's-eye view of the Gretchen Wilson schtick, and the wry novelty humor of "Really Never Loved Her Anyway." One song stands out as a potential Top 40 smash: "Supposed To Do" is a mournful, shimmering ballad about all the things that add up, in their little way, to a broken heart: the truck that took her away, the wall he punched a hole in, etc. In a just world, a song like this should sail to the top. Who knows? In the meantime, fans'll have this whole record to rock out on... Song after song, this one knocked my socks off.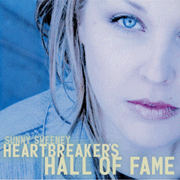 Sunny Sweeney "Heartbreaker's Hall Of Fame" (Self-Released, 2006)



God bless Texas! That little state has got more real country music in its little finger than the rest of the country has in its collective craw. Newcomer Sunny Sweeney is the latest example of the Lone Star State's amazing ability to produce the sort of super-twangy, super-indie honkytonk that makes folks like me look forward to tapping our toes and drinking our beers to for year to come. Possessed of a squeaky little rasp that seems equal parts Tanya Tucker and Iris Dement, Sweeney sings with true conviction and pure delight, infusing each song with sincere emotion and a swinging sense of fun. Her band twangs along at a rapid-fire clip, slathering on sweet fiddle, pedal steel and bouncy guitar -- all pure catnip for the hard-country crowd. The song selection can't be beat, either, ranging from several great Sweeney originals to a pair of Jim Lauderdale tunes, a cover of Lacy J. Dalton's ode to Nashville, "16th Avenue," and a version of Iris Dement's "Mama's Opry" that's so achingly sincere, you'll find it hard to believe Sweeney didn't write it herself. Lauderdale makes an appearance himself, singing a fine duet on Keith Sykes' "Lavender Blue," while fiddler Bobby Flores -- a longtime indie-Texas stalwart -- helps anchor the band. All in all, a kickass debut that should set Sweeney on the path to win a much wider audience. Recommended!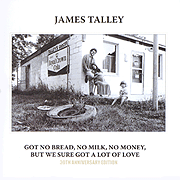 James Talley "Got No Bread, No Milk, No Money, But We Sure Got A Lot Of Love" (Capitol/Cimmaron, 1975/2006)



Wow. What a great old record. Songwriter James Talley had been kicking around Nashville for several years when he started work on this record in 1973; he self-financed the album, then he pitched it to Capitol, where it became a cult classic. If you're a fan of Merle Haggard, Guy Clark or Chip Taylor, then you simply have to get this record... With a crisp, mellow acoustic backing, Talley hits all the right notes, in a poetic yet plainspoken, dust-blown, down-home homage to his Okie raisings, he sings nostalgically of living poor but feeling free. Along with the title track, other standouts include the gentle, wistful "Red River Memory," "Give Him Another Bottle," the jaunty "No Opener Needed," and Talley's joyful tribute to western swing impressario W. Lee O'Daniel, and the day the Light Crust Doughboys came to play a gig in Tulsa. These are all fine songs, but really it's the album as a whole that deserves your attention... This is one of those records that mysteriously never seems able to leave my CD player; it's wound up being played again and again, and every time it just seems to get better. Highly recommended. (You can get this disc -- and others -- directly from Talley's label at www.cimarronrecords.com )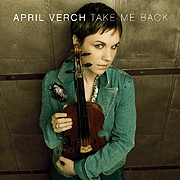 April Verch "Take Me Back" (Rounder, 2006)



An extraordinarily pleasant, appealing record -- one that, for some reason, I can't seem to get out of my CD player. Canadian fiddler April Verch moves masterfully from style to style, including sizzling breakdowns, funky Celtic reels and slip jigs, a bit of slinky, bluesy jazz ("Monarch") and several achingly beautiful vocal numbers, including the title track (which was written by Buddy and Julie Miller), the poppy "All In A Night," the abject yet incandescent "I Still Cry," and Verch's own unusual portrait of a gal who takes up a nun's habit, "Bride Of Jesus." From start to finish, this is a bright, compelling record, one that should open more than a few ears to this up-and-coming young player. Highly recommended!
Rhonda Vincent "All American Bluegrass Girl" (Rounder, 2006)



Another rock-solid truegrass outing from bluegrass bandleader Rhonda Vincent, who gracefully moves from the keeping-the-flame-alive proclamations of the title tune into the mournful patriotism of "Till They Came Home," which traces several generations of war veterans and their families, from WWII to Iraq, along with an equally topical "God Bless The Soldier." The real emotional core of this album is its gospel-drenched ending, which features several top-flight harmony tunes, notably "Jesus Built A Bridge To Heaven" and "Precious Jewel." The secular heartsongs suffer by comparison: they feel a bit restrained, whereas there's a powerful wellspring of feeling bubbling under the religious tunes. All in all, this is a top-flight album, every bit as sharp and lively as you'd expect from Ms. Vincent. Nice stuff!
Dale Watson "Whiskey Or God" (Palo Duro, 2006)



Hardcore honkytonker Dale Watson is back, in a big way, with this rock-solid set of steel-drenched, straightahead, real-deal country tunes. A loping Texas shuffle laces through the uptempo tunes, and a modest, tap-tapping snare drum keeps the time when things slow down.... You feel like you're right there with the band at the bar, taking a quick sip before Dale cuts loose. The first half of the album has the most heft -- weepers like "Sit And Drink And Cry," "I Don't Feel Too Lucky Today" and "Whiskey Or God" pack a lot wallop... Midway through, some of the songs feel like tossoffs, but even a so-so number by Dale Watson beats the hell out of half of what comes out of Nashville. One standout is the unrepentantly retro "38-21-34," which may be sexist and offensive in theory, but is such a good-natured, lusty tune that even if Katha Pollitt might not sing along, Susie Bright definitely would. All in all, another fine entry into the canon -- ol' Dale is still a force of nature!

The Whitetop Mountain Band "Bull Plus 10%" (Arhoolie, 2006)



YEE-HAW. This record is a real treat -- an uncompromised, uncomplicated, absolutely gleeful live set of good-old, old-timey stringband and truegrass tunes... Lots of standards, songs you'll recognize, a few you won't, all delivered with complete sincerity and the sort of pure, unselfconscious enjoyment that is all too rare in our too-cool, media-saturated culture. This disc is a lot of fun, with lively fiddling and puckish vocals by Emily and Martha Spencer... Recommended!
Various Artists "GLORYLAND: 30 BLUEGRASS GOSPEL CLASSICS" (Time-Life Records, 2006)



Cherrypicking the best gospel tracks from Rebel Records' independent bluegrass catalog, this slam-bang, no-nonsense 2-CD set is one of the finest, purest collections of its kind. It's all great stuff, with heartfelt performances by folks such as J. D. Crowe, Jim Eanes, Del McCoury, Don Reno, Larry Sparks, The Stanley Brothers, some early stuff by Rhonda Vincent and the ever-soulful Paul Williams. There are also some less well-known artists, such as the Marshall Family, whose songs of praise are every bit as spine-tingly and propulsive as the big stars mentioned above. Really, you can't go wrong with this album... If you want to hear some fine testifyin' and even finer pickin', then check this puppy out. Recommended!

Various Artists "THE PILGRIM: A CELEBRATION OF KRIS KRISTOFFERSON" (American Roots, 2006)


A flat-out awesome album, one of the best tribute discs you'll ever hear. Undaunted by the release a couple of years earlier of two scraggy alt-country Kris Kristofferson homages, the folks at American Roots have rounded up some major talent, including heavyweights such as Willie Nelson, Emmylou Harris, Jessi Colter and Rosanne Cash, alongside younger artists like Shawn Camp, Bruce Robison, Kelly Willis and Todd Snider, all of whom show a strong affinity for Kristofferson's work. High marks go to rowdy gal Gretchen Wilson, who gets a plum role singing "Sunday Morning Comin' Down," and Russell Crowe who gives a surprisingly moving version of "Darby's Castle"; Waylon's boy, Shooter Jennings, acquits himself well on "The Silver Tongued Devil And I," and it's nice to hear raspy ol' Marshall Chapman ripping her way through "Jesus Was A Capricorn..." But really, it's hard to play favorites with this album... With the sole exception of a horrible track by "soul" singer Brian Knight, this disc is all killer, no filler from start to finish. Highly recommended!
---



Hick Music Index
Shop Amazon, Support Slipcue



---


<! best of 2006>