<! MP3 05/27/09 > <! pix 05/27/09 > <! archived 10/17/11 > <! * >

---
Howdy, neighbors!
Here are some reviews of the new country, bluegrass and Americana records that I had the good fortune to listen to in January, 2006. This month: Alabama, BR549, The Duhks, The Gibson Brothers, Mike Marshall & Chris Thile, Tom Russell, Todd Snider, Marty Stuart, James Talley, April Verch...
...It's not everything I heard, but it's a nice sample of stuff that either tickled my fancy or ticked me off... Many records that aren't included here are reviewed elsewhere in my full Guide To Hick Music. Enjoy!
---
New Stuff: January, 2006
---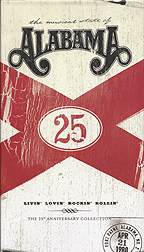 Alabama "Livin,' Lovin,' Rockin,' Rollin': The 25th Anniversary Collection" (Sony-BMG Legacy, 2006)



In a sense, at least as their songwriting is concerned, the band Alabama is a victim of its own success -- when you've landed over 50 #1 singles into the Country charts, it gets kinda hard for all but the most diehard fans to hear anything else besides your biggest songs. These days, Alabama exists in the record stores primarily as one "greatest hits" package after another; if you want to hear the other, nonblockbuster material, you'll have to track down all those old, out-of-print original albums. This generous 3-CD retrospective fills in a few of those gaps -- it has plenty of big hits, but its sprinkled with rarities and previously unreleased material. Most of the eight "new" tracks are live performances, which is appropriate, since the band is one of the great warhorses of the country touring circuit, the Rolling Stones of the Stetson set. Still, it's a little disappointing there isn't more stuff from their early days, the decade or so before they hit it big, and plugged away as an unsigned bar band, first under the name Young Country, and then as Wildcountry, a band that released three albums. There are some goodies that dig way back, such as a 1973 Randy Owens demo, but mostly this collection focusses on their career on RCA/BMG. In the early 1980s, Alabama burst on the scene to become one of the biggest country bands of the decade, recording relatively rootsy material amid the high-tech fashion of the time. This is an interesting retrospective in that it's laid out more like a radio show than as a just-the-facts, top-to-bottom, standard-issue, best-of set. It isn't organized chronologically or with all the biggest hits loaded in the front, but rather with the actual flow of music taken into account: if you just want to pop this into the stereo and let it play, it's pretty well thought out. Also, although honkytonkers and hard country purists may find Alabama a little hard to handle, if you're willing to swing the Top 40 way, their music holds up surprisingly well. Although there are a billion other best-ofs by this same band, this new collection is a darn fine way to check 'em out.

BR549 "Dog Days" (Dualtone, 2006)



The fellers from BR549 are back, with another amiable set of alt-ish twang... Though perhaps not as focussed and sharp as their last couple of albums, this is still pretty nice... They aim at crafting anthemic, singalong choruses, and succeed on several tracks. One of the best melodies is wed to a troublesome lyric: "After The Hurricane" is presumably inspired by Hurricane Katrina, but a simplistic metaphor equating a tempestuous love affair and a catastrophe on the scale of Katrina seems ill-advised: folks living in the Gulf probably don't mind the recognition, but they might prefer some songs with a little more heft. Then again, these guys are just pop singers, they don't pretend to be, oh, I dunno, the head of the FEMA or anything, so maybe we can cut them some slack. Elsewhere on the album, "A-1 On The Jukebox" and "Leave It Alone" may get you humming along, and the rest of the record has a nice, twangy, traditional feel to it... I'm still not a diehard BR fan, but I'm learning to like 'em...

The Duhks "Your Daughters And Your Sons" (Sugarhill, 2002/2006)



A much-welcome reissue of the 2002 debut album by this fine, young neo-bluegrass band. In addition to some lively, smile-inducing truegrass pickin', there's a heavy dose of Celtic music in the mix, as well as a modern Americana folk/pop feel. Fans of artists such as Dar Williams, Be Good Tanyas and Jolie Holland may find a kindred spirit in singer Jessica Havey, who gives a sultry, modern twist to several songs. And folks who dug good, ole John Hartford might also like this band: they have a similar joyous, freewheeling style, clearly having fun with each song they play. And, yes, the title track is a cover of that old Dick Gaughan folk song... Like I said, this is a class act! (Oh, yeah... by the way, their name is pronounced "ducks," like the little critters that go "quack, quack.") Recommended.
The Gibson Brothers "Red Letter Day" (Sugarhill, 2006)



Another great record by this innovative, latter-day brother duo. Interestingly, while their previous album shone as a canny pop-bluegrass-country fusion, here the Gibsons have retraced their steps and dug back into the earthier side of the bluegrass tradition, with a raspier, more rugged sound that readily brings Del McCoury to mind. And that's just fine by me. But even while they're going old-school there's plenty of room for original material, as well as some funky covers of country oldies and rock/R&B numbers such as "Lonesome Number One," the Rolling Stones' "It's All Over Now," and "I Got A Woman," from the Ray Charles catalog. All in all, a pretty fine record... Worth checking out!
Mike Marshall & Chris Thile "Live Duets" (Sugarhill, 2006)



In many ways, this album is a homecoming... In the early 1980s, mandolinist/multi-instrumentalist Mike Marshall was one of the many bluegrass-jazz fusioneers who walked directly in the footsteps of dawgmeister David Grisman, taking American acoustic music to new heights and sometimes to sonambulent sidetracks. Many of the pickers in that class of the newgrass camp carved out a comfortable niche as folk-scene favorites and as hotshot hired hands, over in Nashville. When folks started to wonder who would follow in their footsteps, one of the first young'uns to emerge in the '90s was picker Chris Thile, whose teenage debut was a thing of wonder. Thile, of course, went on to join the band Nickel Creek, which took its cues from Alison Krauss & Union Station and likewise cracked into the charts in the adult pop market. Truegrass purists may take issue with Nickel Creek's brand of soft-pop fusion, but it's hard to fault Thile's strengths as a musician, especially when he strips things down, as on this set of lively acoustic duets. There are jazzy, improvisational flights that may turn some of y'all off, but the mutual excitement and synergy that Marshall and Thile share comes through loud and clear. If you're already on the newgrass bandwagon, you'll probably want to check this one out.
Tom Russell "Hotwalker" (HighTone, 2005)



It took me a long time to get around to reviewing this record... Latter-day folk/boho troubadour Tom Russell's work tends to be thematically dense and require active listening and some mental heavy lifting, and these days I'm kinda pressed for time and a little bit of an airhead. But, finally, one night as I drifted off to sleep, I popped Hotwalker into the stereo and let in unfold. It's a pretty cool album. Russell pays convincing homage to the bygone days of the beatniks and outsiders of the 1950s, '60s and '70s, when "rebel" still rhymed with "outlaw," and alternative, countercultural lifestyles hadn't yet been packed in shrinkwrap for the irony-numbed masses hanging out in the malls. This is mostly a spoken-word record, with a circus calliope and a but of twang providing the musical backdrop for Russell's, gruff-voiced nostalgia -- he apparently hung out with writer Charles Bukowski many moons ago, but it's his recollections of folk bluesman Dave Van Ronk's tiny New York apartment that really drew me in. In conjuring the rough-hewn, square-peg individualism of the Beats and the free-thinkers of his youth, Russell deftly manages to avoid all the traps of language that have allowed mainstream culture to trivialize and shunt aside the cultural shifts of the 'Sixties... There's no talk here of hippies or bra-burners or freedom riders, just of the personal journey of a kid from Southern California who felt the pull of roots music and earthy, American culture -- all of which rings quite true today, when entire lives feel mediated and prepackaged to a depressing degree. Its nice to remember a time when the open road was really open, an you never knew quite where it would go...

Todd Snider "That Was Me: 1994-1998" (Hip-O/Universal, 2005)


Alt-twang troubadour Todd Snider has put out so many finely crafted acoustic gems in the last few years, it's almost hard to remember the rock edge and attitude he had in his early work. This is a great single-CD overview of his early albums, recorded for MCA-Nashville and its subsidiaries, back in the mid-1990s. Although it came out a little after the fact, his debut single, "Talking Seattle Grunge Rock Blues" (which was sent out to college stations, as I recall...) is still a hilarious skewering of the music industry's lemming-like faddishness... And the scabrous "Alright Guy," which has become an alt-country standard, also still packs a wallop. This is a nice introduction to a sharp-witted wordsmith who has only gotten wittier and more soulful as time's gone by. Worth a spin!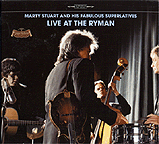 Marty Stuart "Live At The Ryman" (Universal South, 2006)



Neobilly Nashville twangster Marty Stuart cements his creative rebirth with this solid live set, the third in a recently released trio of albums that may surprise even his harshest critics... Here, in concert at the Ryman Auditorium, he leans heavily on his bluegrass background, keeping it all acoustic and whooping it up in a display of gosh-heck rootsiness worthy of Ricky Skaggs. Stuart and his band really sound like they're having fun, and the material is all pretty solid, including both traditional tunes such as "The Great Speckled Bird," and plucky remakes of his old chart hits, such as "Hillbilly Rock." Marty also cuts a wide swath for dobro legend Josh Graves, giving him center stage for most of the album's middle section. It's a puckish, rambunctious performance, one that'll get your toes tapping and -- like his other two new albums -- set your mind to wondering, what the heck has Marty been doing these last few years? Why'd it take him so long to get all good again? Worth checking out.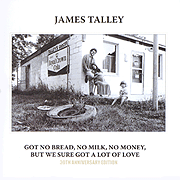 James Talley "Got No Bread, No Milk, No Money, But We Sure Got A Lot Of Love" (Capitol/Cimmaron, 1975/2006)



Wow. What a great old record. Songwriter James Talley had been kicking around Nashville for several years when he started work on this record in 1973; he self-financed the album, then held onto it for a couple of years so he could get out of a contract with Atlantic's flailing country division, and then pitched it to Capitol, where it became a cult classic. If you're a fan of Merle Haggard, Guy Clark or Chip Taylor, then you simply have to get this record... it's cut from the same cloth as their best work, and it's of a similar calibre of quality. With a crisp, mellow acoustic backing, Talley hits all the right notes, in a poetic yet plainspoken, dust-blown, down-home homage to his Okie raisings, he sings nostalgically of living poor but feeling free. Along with the title track, other standouts include the gentle, wistful "Red River Memory," "Give Him Another Bottle," the jaunty "No Opener Needed," and Talley's joyful tribute to western swing impressario W. Lee O'Daniel, and the day the Light Crust Doughboys came to play a gig in Tulsa. These are all fine songs, but really it's the album as a whole that deserves your attention... This is one of those records that mysteriously never seems able to leave my CD player; it's wound up being played again and again, and every time it just seems to get better. Highly recommended. (You can get this disc -- and others -- directly from Talley's label at www.cimarronrecords.com )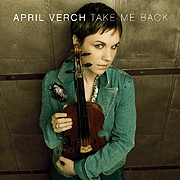 April Verch "Take Me Back" (Rounder, 2006)



An extraordinarily pleasant, appealing record -- possibly my favorite new folk/country/Americana album -- and one that, for some reason, I can't seem to get out of my CD player. Canadian fiddler April Verch moves masterfully from style to style, including sizzling breakdowns, funky Celtic reels and slip jigs, a bit of slinky, bluesy jazz ("Monarch") and several achingly beautiful vocal numbers, including the title track (which was written by Buddy and Julie Miller), the poppy "All In A Night," the abject yet incandescent "I Still Cry," and Verch's own unusual portrait of a gal who takes up a nun's habit, "Bride Of Jesus." From start to finish, this is a bright, compelling record, one that should open more than a few ears to this up-and-coming young player. Highly recommended!
---



Hick Music Index
Shop Amazon, Support Slipcue



---


<! January, 2006 (*)>