<! MP3 05/27/09 > <! pix 05/27/09 > <! archived 01/01/07 > <! * >

---
Howdy, neighbors!
Here are some reviews of the new country, bluegrass and Americana records that I had the good fortune to listen to in February, 2006. This month: Norman & Nancy Blake, Carl Butler & The Webster Brothers, Butch Cage & Willie B. Thomas, Clothesline Revival, Jessi Colter, Louise Hoffsten, Pine Leaf Boys, Steep Canyon Rangers, Marty Stuart, Big Mama Thornton...
...It's not everything I heard, but it's a nice sample of stuff that either tickled my fancy or ticked me off... Many records that aren't included here are reviewed elsewhere in my full Guide To Hick Music. Enjoy!
---
New Stuff: February, 2006
---
Norman & Nancy Blake "Back Home In Sulphur Springs" (Dualtone, 2006)



It's an indication of the urgency and outrage that many contemporary folkies feel in regards to the Bush administration that even diehard old-timey artists like Norman and Nancy Blake feel compelled to come out against them. The Blakes' work is so deeply rooted in the past that it's unnerving to hear them record a contemporary political song like "Don't Be Afraid Of The Neo-Cons," a charming little ditty that's styled after the old-timey topical ballads that persisted in the popular culture into the early 1940s. The ascerbic political tune, which sandblasts the administration and its allies for their greed and incompetence, is buried as a bonus track at the end of this disc. The Blakes apparently thought better of this surreptitious approach once the album was actually out, leading the label to first add a sticker on the record highlighting the hidden track, and then to press up special CD singles just so we'd be sure to know it was out there in the aether. It's a fine tune, but all of the songs the Blakes record are fine; this album, like all the others before it, is a beautiful set of old-fashioned acoustic material, played and sung with a weary, worldly elan. If you're a fan already, this is another great record to add to the Blake section of your library -- if you haven't checked them out yet, this is an excellent place to start. Recommended!
Carl Butler & The Webster Brothers "I Wouldn't Change You If I Could" (Bear Family, 2006)


I'm a big fan of Carl Butler & Pearl's work in the 1960s, classic honytonk pop recorded for the Columbia label that has all the rough charm and catchiness you'd expect from the genre. So I was surprised by how much of a letdown this disc was, the second of two discs that collect Butler's earlier recordings made in the 'Fifties, when he was still a struggling regional musician in the Knoxville area. Butler's career at the time encompasses a who's-who of East Tennessee talent -- he started out playing with the bluegrass-oriented bands of the Bailey Brothers and the Sauceman Brothers, and slowly eked out a position for himself as a solo performer. His earliest recordings were included in Bear Family's A Blue Million Tears collection, which covered his career from 1950-51, when he was recording for Capitol Records. In '52 he signed with the Okeh label, and released a small but steady stream of marginally successful singles with them over the next few years. He also worked with the Knoxville-based Webster Brothers, Audie and Earl, two teens who sang in a Louvin Brothers/Blue Sky Boys style, and whose complete recorded output (both under their own name and as Butler's backup) is apparently included here. As I said, I was surprised who underwhelmed I was by this set of pure, unrefined hillbilly music... Normally I'm all over this stuff like an ant on a soggy lollypop, but for some reason these particular recordings didn't grab me. Maybe it's because so many of the songs are covers of songs that were already hits for others -- the kind of thing that the the cover artist can't have much hope for in commercial terms -- or maybe it's just the flat, stark sound that doesn't change much from tune to tune. Butler does seem to have been an artist who benefited greatly from experience, emerging in the following decade as a seasoned singer who could really own a song. Here, he's more energy, less emotion, kinda banging away at his cage. Don't get me wrong: there are some striking songs on here, but not in the same high proportion I'm used to with Bear Family releases. There's also a preponderance of gospel material here, which is sung with great energy and feeling, but doesn't always hit me the same way a really good heartsong does. This is a nice historical set, taking us from 1953 to 1958, when Butler's star was finally about to rise... It's worth checking out, but it still isn't as much fun as I wish it could have been.

Butch Cage & Willie B. Thomas "Old Time Black Southern String Band Music" (Arhoolie, 2006)



Good, old-fashioned fiddle-led blues, originally recorded back in the early 1960s, but hearkening back to a decades-old tradition in African-American music. This album is a fine compliment to the FOLKS, HE SURE DO PULL SOME BOW compilation that came out a few years ago on the Old Hat label. Like those Depression-era recordings, this set is distinguished by its raw simplicity and forthright desire to get listeners up and out of their seats, as well as to tell a good story or two. There's a distinctive flair here that sets this style apart from the mainstream of blues, as well as from "country" flavored old-time records. Definitely worth checking out!

Clothesline Revival "Long Gone" (Paleo Music, 2005)



Speaking of old-timey and archival recordings, here's an unusual roots album that blends ancient country and blues recordings with oddball, modernized sonic backgrounds. Arrangers Conrad Praetzel and Robert Powell have perfected their formula, largely setting aside the too-obvious electronic "beats" of their previous mash-up (2002's Of My Native Land) in favor of a more relaxed, assured electronic-ambient layering. Familiar old folk/blues/gospel themes like "Shortening Bread" and "Strange Things Happening" float to the fore, while the newfangled production techniques don't call too much attention to themselves. This could easily be a hippie-folkie cultural trainwreck, but it's not... it's actually pretty engaging as well as intelligently and reverentially constructed. More consistent and solid than the first album, with some intriguing aural surprises... It's not for everyone, sure, but it may be worth checking out!
Jessi Colter "Out Of The Ashes" (Shout Factory, 2006)



(Produced by Don Was)
Returning to the fray with surprising power, singer-pianist Jessi Colter delivers an Americana A-Bomb with this gritty, bluesy roots-country set, her first solo album in over twenty years. Colter's keyboard style -- familiar from her own albums and her classic collaborations with her husband, the late Waylon Jennings -- floats to the fore, as funky and comfortable as ever, and likewise her voice remains undiminished and equally expressive and compelling. The calibre of the songs is top-notch, oozing with an assertive, though sometimes weary, celebration of sex and sensuality, a raw, been-around-the-block reflection on life and all its pleasures and pains. Honestly, this album stands up to anything that she or Waylon have done in the past. Their song, Shooter Jennings, joins her on a tune or two, as does the ever-gruff Tony Joe White, and even Waylon, makes an appearance, of sorts, with a vocal track liften from a demo of White's song, "Out Of The Rain." As a rule, I've never been a big fan of producer Don Was's style, but he nails the exact, right, perfect feel for this disc, which is perhaps not too surprising considering his earlier work with Waylon, in the 1990s. Definitely worth checking out!

Louise Hoffsten "From Linkoping To Memphis" (Memphis International, 2005)


I was disappointed by this disc, although I'm sure many fans of modern blues and old-school soul will find it just fine. The reason I'm disappointed is that Hoffsten's earlier albums were quite striking -- this Swedish singer had emerged as one of the liveliest, most electrifying blues singers in recent memory. Here, though, she slicks up her sound, moving from the evil sounding, pared-down rawness of 2004's Knackebrod Blues into a slicker, more overwrought R&B material, aiming for more of an Etta James or Dusty Springfield vibe than her previousl take-no-prisoners approach. If you like modern blues, this disc might be one you'll really want to check out, though it wasn't exactly the direction I'd expected (or hoped) Hoffsten would take.

Pine Leaf Boys "La Musique" (Arhoolie, 2006)



Wilson Savoy, one of the younger members of the Savoy musicmaking clan, leads this youthful new cajun band, playing accordion and fiddle, while delivering some fine, energetic vocals. These young'uns are totally tapped into tradition, but they have a rich, full sound that tastefully incorporates country elements, like a little steel guitar and some English-language heartsong lyrics. I'm not a huge fan of cajun music, but even I could tell that this disc is a cut abovethe common herd... Raw enough for hardcore fans, but accessible to other roots music fans as well. Nice stuff, definitely worth checking out!

Steep Canyon Rangers "One Dime At A Time" (Rebel, 2005)



Damn fine traditionally-oriented modern bluegrass... The sometimes-thin vocals may take a little getting used to, but the song selection and musicianship are top flight, all the way. This is another fun, lively record from one of the most notable new truegrass bands around... If you like all those old country-tinged Jimmy Martin albums, then you'll wnat to check this band out as well!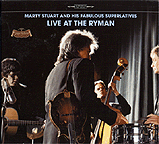 Marty Stuart "Live At The Ryman" (Universal South, 2006)



Neobilly Nashville twangster Marty Stuart cements his creative rebirth with this solid live set, the third in a recently released trio of albums that may surprise even his harshest critics... Here, in concert at the Ryman Auditorium, he leans heavily on his bluegrass background, keeping it all acoustic and whooping it up in a display of gosh-heck rootsiness worthy of Ricky Skaggs. Stuart and his band really sound like they're having fun, and the material is all pretty solid, including both traditional tunes such as "The Great Speckled Bird," and plucky remakes of his old chart hits, such as "Hillbilly Rock." Marty also cuts a wide swath for dobro legend Josh Graves, giving him center stage for most of the album's middle section. It's a puckish, rambunctious performance, one that'll get your toes tapping and -- like his other two new albums -- set your mind to wondering, what the heck has Marty been doing the last few years? Why'd it take him so long to get all good again? Worth checking out.

Big Mama Thornton "In Europe" (Arhoolie, 2005)



Oh, those lucky Europeans! Before the Stones and Yardbirds really got the point across and all the old Chess bluesmen found a welcoming embrace in the American hippie/acid rock scene, some of the most talented blues artists in the world went on long, tough European tours. Here's Big Mama Thornton, one of the greatest blues belters of her generation, wowing the old world with sidemen like Eddie Boyd, Buddy Guy, Walter Horton and Fred McDowell backing her up. These 1965 recordings were made in a British studio, but they capture the loose, funky, fiery power that the band brought to their live shows in Germany and elsewhere on the Continent. The wealth of sheer firepower and talent here is enough to make a blues fan drool just looking at the album cover -- and when you put the disc in, it gets even better! Highly recommended.
---



Hick Music Index
Shop Amazon, Support Slipcue


---


<! February, 2006 (*)>