<! MP3 05/24/09, 10/20/11 > <! pix 05/24/09 > <! archived 00/00/00 > <! * >

---
Howdy, neighbors!
Here are some reviews of the new country, bluegrass and Americana records that I had the good fortune to listen to in June, 2006. This month: The Bottle Rockets, Sam Bush, Paulette Carlson, Slaid Cleaves, John Cowan, James Luther Dickinson, The Dixie Chicks, Ray Wylie Hubbard, Grandpa Jones, Alison Moorer, Willie Nelson, No Speed Limit, Jim Van Cleve, Vern & Ray, Rhonda Vincent, Various Artists: "NO DEPRESSION, v.2," "TAKE ME HOME"
...It's not everything I heard, but it's a nice sample of stuff that either tickled my fancy or ticked me off... Many records that aren't included here are reviewed elsewhere in my full Guide To Hick Music. Enjoy!
---
New Stuff: June, 2006
---
The Bottle Rockets "Zoysia" (Bloodshot, 2006)



They've been around forever but recorded only a few albums, and while they were early contemporaries of Uncle Tupelo and all their alt-twang spinoffs, fame eluded the Rockets, which may explain why they are still so damn good. This is heady mix of grungy, fuzzy, Neil Young-style rawk guitars and good'n'greezy bar-band Americana. Like all of these guys, they lay it on a little thick, but their songs are refreshingly free of "hick" stereotypes and mopey loser mumbling... Frankly, I couldn't really tell you what most of their songs are about, but I can tell you that none of them seemed contrived or got on my nerves -- indeed, the Bottle Rockets have a way with a melody, and surprisingly strong, adhesive hooks rise to the surface and latch onto your brain. This album's a real toe-tapper -- grubby roots-rock with a Teenage Fan Clubby electric wail... Worth checking out!
Sam Bush "Laps In Seven" (Sugar Hill, 2006)



An eclectic Americana/newgrass smorgasbord from this newgrass pioneer and veteran studio stud. Banging on the mandolin with his usual energy and creative flair, Bush works through bouncy EZ-pop-grass instrumentals, fiery traditional material and some intriguing modern songs. The most striking songs on here include the album's opener, "The River's Gonna Run," a moody, multi-textured collaboration with Emmylou Harris, replete with prophetic lyrics and shimmering production much like Emmylou's recent work, and "Ballad For A Soldier," a topical song written by Leon Russell back in the 1960s, but still (sadly) appropriate today. There's also a catchy version of Robbie Fulks' "Where There's A Road," as well as less rewarding covers of tunes like "White Bird" (argh.) and Jean-Luc Ponty's "New Country" (with the Gallic fiddler sitting in as a guest...) So, there are a couple of tunes on here maybe we could live without, but on balance this is another strong album from a guy who's been on a real roll lately. Worth checking out.

Paulette Carlson "It's About Time" (Pandean, 2006)


(Produced by Paulette Carlson)
A reissue of her 2005 album of the same name (reviewed here last December): "The former lead singer from Highway 101 soldiers on... in more ways than one. Draping herself in the flag, Carlson pays tribute to Vietnam-era veterans, on "Thank You Vets," and sings a couple of other patriotic songs... The stars-and-stripes imagery may be a little misleading, though, since most of the songs on this album are straightforward heartsongs, which she carries pretty well. Regardless, Carlson's fans should be thrilled to hear this self-produced effort... All but two of the songs are Carlson originals, and she shows herself to be a capable performer, even with her voice thinning a bit with age. It's been a while since she was in the charts, but she's still a solid, sincere singer, and this is a good independently-released effort, soulful and understated. Worth checking out!" One thing I neglected to mention back then was what a striking vocal similarity she has to Stevie Nicks... (and I mean that in a good way!) Overall, pretty durn good.

Slaid Cleaves "Unsung" (Rounder, 2006)



Finding himself near the top of the heap in the contemporary American folk scene, the melodically gifted Slaid Cleaves decided to spread the wealth and record an album entirely made up of other people's compositions, focussing mainly on small-fry songwriters who few people have heard of. It's funny how "folk" music, once the domain of traditional material has so closely followed pop/rock into the era of the singer-songwriter, so that a project like this stands out as such an anomaly. Regardless, this is a swell record, maybe not as magical or cohesive as Cleaves' last two records (which featured his own original material), but it's still a great collection of songs, each brought to life with his passionate, intimate vocal style and keen vocal phrasing. Various off-the-radar Austinites get a lion's share of the playtime here, and it's pretty cool of Cleaves to shine a light on their work... If you like contemporary folk music (or are a Slaid cleaves fan), you'll definitely want to check this one out.
John Cowan "New Tattoo" (Pinecastle, 2006)



Hmmm. Well, I will say this: John Cowan has a remarkably youthful voice. It would be easy to mistake this veteran newgrasser's earnest, anguished tones for those of a twenty-year-old jam-band rocker, as well as the enthusiasm he brings to what are often rather dorky, gangly tunes. The novelty-oriented title track is a disaster, a complete, manic misfire, but the rest of the songs have some pleasant surprises. Cowan adds his voice to the chorus of folkie elders who are recording songs that are either obliquely critical of or reflective about the disasterous consequences of the Iraq War. Like many of these songs, Cowan's "With A Memory Like Mine," which deals with a father's grief when his son is killed abroad, doesn't tackle the event head on, preferring instead to keep the lyrics more generalized, and thus more timeless. Still, we all know what these guys are singing about... Like many of the tracks on this disc, though, the song is played at a breakneck speed, and I suppose that it's this exhausting pace which keeps me from getting into this album... The material is good, but there's a uniformity to the approach that got on my nerves... Still, it's in keeping with Cowan's long history as a bluegrass'n'country modernizer... Longtime fans will want to check it out...

James Luther Dickinson "Jungle Jim" (Memphis International, 2006)


In a three decade-plus career, producer/sideman Jim Dickinson has only put out three albums under his own name... But he's worked with a slew of top talent in the worlds of blues, country and rock, a wealth of experience that he brings to bear on this fine, funky set. Like his others, this record draws on a wide range of sources and the set list is equally far-flung, from greasy-spoon soul and barband blues, with some country stuff at the album's start. Outlaw fans will relish the opening track, "Red Neck, Blue Collar," while Dickinson's grungy, bluesy cover of Terry Fell's "Truck Drivin' Man" is probably the grittiest version I've ever heard -- this time you'll really believe it was sung by a guy who lived his life in and out of dingy truckstops... Most of the other tunes on here are too blues-oriented for me (Dickinson's tenure as a Muscle Shoals mainstay pays off handsomely; if you're a fan of the style, it doesn't get much better than this...) but there's plenty here to keep an Americana/twang fan like myself engaged, particularly the eerie, mournful "Out Of Blue" and a playfully ragged, rough version of Luiz Bonfa's "Samba De Orfeu," one of the wackiest cover tunes I've heard in years. The guy's like the Captain Beefheart of country... and it's catnip for roots music fans. Meow!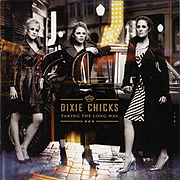 The Dixie Chicks "Taking The Long Way" (Columbia, 2006)



(Produced by Rick Rubin)
No matter what side of the ideological divide you find yourself on, it's still fair to say that the Dixie Chicks were a band that found itself an unlikely lightning rod for the heady passions and fearful, insecure rage that bubbled through America following the September 11th terrorist attacks. Three years after an offhand, anti-Bush political comment by singer Natalie Maines led to their being blacklisted off Top Country playlists from shore to shore, the Chicks return with a new studio album that addresses the controversy head on, in the shape of the kamikaze radio single, "Not Ready To Make Nice," which pushes back at the ugly, hate-filled reactions of country "fans" who sent the band truckloads of hate mail and even some death threats. Say what you will about the gal, but on this album, Natalie Maines really hammers home the fact that she is from Texas, and in that state's great, rowdy tradition, she just doesn't take s**t from anybody. Good for her. The song itself would have made a great radio single, if it weren't for the bluntly topical lyrics; as it is, though, it is a remarkably personal work of art, especially given the faux-confessional adult-pop style that dominates country today... Maines isn't pretending to be a woman with soul-wrenching troubles -- she actually is one, and like the feisty heroines in all those Nashville hits, she tackles the problem head on. Enough about the politics, though. The real thing to mention about this album is that it's pretty darn catchy. The first third of the album sounds like classic Dixie Chicks, modern country pop with a deep harmonic groove... The album's opener "The Long Way Around" fits in nicely with their chart-busting late-'90s work, while super-mellow songs such as "Lullaby," "Easy Silence" and the subtle, haunting "Silent House" (which grapples with the loss of a family member to Alzheimer's disease) all recall the restrained acoustic grace of 2002's Home. The elegant mood is broken by the thudding, abrasive boogie rock of "Lubbock Or Leave It" -- a song I hated the first time I heard it, but later found stuck in my head for days -- and from there the album shifts dramatically towards a more rock-based sound. Guitarist Greg Louris of the Jayhawks co-wrote about a third of the album and helps craft a sleek, soulful, multi-textured set. Now, to be honest, this record is hardly the Eagles-y country-rock blowout it was billed as before the it actually came out, but it sure is catchy. Indeed, most of the songs on here are the kind of tunes that will stay in your brain for hours after you walk away from the record -- these gals know how to write good pop songs. The short report on their so-called "new sound" is that the second half of the album sounds pretty much like a Sheryl Crow album with Natalie Maines singing lead vocals... (I doubt the band would have much trouble accepting that characterization, since Crow actually co-wrote one of the songs on here...) So, if you like folks such as Wilco, Shelby Lynne and Sheryl Crow, you're gonna love this album. If you can set aside all the back history and just listen to the music, this one should win you over... It's a disc I'll keep on my shelves, since it's got resonance and depth, and besides, Natalie Maines is still my personal hero. Don't mess with Texas.
Ray Wylie Hubbard "Snake Farm" (Universal-Sustain, 2006)



Texas altie-oldtimer Ray Wylie Hubbard turns in one of his hardest, grungiest, greasiest, bluesiest albums to date, with a little production assist by Lucinda Williams' longtime collaborator Gurf Morlix, on board as the album's co-producer. The sound -- and feel -- of the record is nearly identical to Williams' recent electric work, with the same heavy, tail-dragging slide guitar and loping, world-weary, dusty-road, poetics. Although I ultimately find this style of Americana rather wearysome, I'm pretty sure that most fans of Lucinda's work will really dig this disc, while longtime Hubbard fans will be ecstatic. And a few of us on the fence about Hubbard's old stuff might find our jaws dropping to hear such a muscular sound behind him now. Worth checking out!
Grandpa Jones "Steppin' Out Kind" (Ace, 2006)


It's been so, so very long since Hee Haw has been on the air that I suppose there's no reason anymore to half-apologize for Grandpa (Louis Marshall) Jones' role on the show... (Don't get me wrong: I loved Hee Haw when I was a kid, but I'm sure for many people it was nothing more than a hallmark of cornball humor...) Anyway, it's been a long time. Finally, Jones' music -- his old stuff, made back when TV was barely a viable medium -- has emerged from underneath the long shadow of his best-known role, and now it's just out there in reissueland, plain old hardscrabble country music, the kind of stuff that only hardcore hick music weirdos (like me) can really get into. Now, if that description fits you as well, and you haven't already delved into Jones' work, then you're in for a treat. This is a top-notch collection of his earliest recordings for the up-and-coming King label, made back in the mid-1940s, when Jones worked closely with King's other country stars, particularly hotshot guitarist Merle Travis and the Delmore Brothers, whose driving rhythmic style trailblazed country music's contributions to the rock'n'roll explosion of the 1950s. Some of that fire is evident in Jones' old 78s, mostly through Travis's peppy, consistently innovative picking, which weaves throughout these discs. The material tends to be a little weird thematically -- Jones cut his teeth in country's vaudeville circuit, and he maintained his novelty-song edge throughout his career -- but he also recorded some great serious material, like his mournful 1946 hit, "It's Raining Here This Morning," and his heartfelt version of "Will You Miss Me When I'm Gone." Jones's raw, plaintive delivery was pure, old-school, pre-honkytonk country, tempered with a strong feeling for the blues... This disc might not be for everyone, but for the right old-timey/country boogie fans, it'll be pure heaven. Recommended!
Allison Moorer "Getting Somewhere" (Sugar Hill, 2006)



(Produced by Steve Earle)
There is teensy bit of twang and acoustic reverie on here, but at this point I think it's safe to say that Ms. Moorer has pretty much established that she is, indeed, a rocker. It's not very country, so I'm not that into it, but if you've been digging what Shelby Lynne and Sheryl Crow have been up to for the last few years (or Allison Moorer, for that matter!), then you'll like this as well... Muscular, melodic and intelligently crafted, this is pretty solid "adult alternative" material. Worth checking out.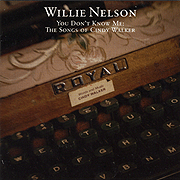 Willie Nelson "You Don't Know Me: The Songs Of Cindy Walker" (Lost Highway, 2006)



Willie's heartfelt tribute to 1940s cowgal songwriter Cindy Walker is one of the purest, most satisfying records he's ever made -- a career highlight, if you ask me. Willie's own songwriting style, especially his early stuff, is very much in tune with Walker's deft, deceptively simple approach, and he connectrs with them emotionally in a way that's a delight to hear. As he works his way through chestnuts such as "Take Me In Your Arms" and "Bubbles In My Beer," it's easy to hear how much he loves these old tunes, songs that were standards when he was coming up through the ranks... Elegantly crooning over rollicking, western swing-tinged arrangements, Nelson brings a lot of soul to these songs, but he never overdoes it or lapses into schmaltz -- this is just some darn good, old-fashioned, real-deal country music, well-crafted but aimed right at your heart. There are great dance tunes popularized by Bob Wills -- "Cherokee Maiden," in all its un-PC glory, is still an audaciously catchy pop song -- as well as some of the finest heartsongs you'll ever hear. Willie nails the penetrating, pathetic surrender of "I Don't Care," an old Webb Pierce weeper, as well as the slinky, velvet-toned "You Don't Know Me," perhaps best known today from Ray Charles' definitive version. Ms. Walker, who passed away a short time after this album came out, remains one of the greatest tunesmiths country music has ever know, and this album is a fine and worthy tribute. Highly recommended!

No Speed Limit "Sweet Virginia" (Arhoolie, 2006)



Nice new bluegrass -- not fiery or flashy, but heartfelt and down-to-earth. Although they seem unseasoned as performers, this band shines when they play their original material, particularly the songs written by banjoist Steve Barr and guitarist Josh Pickett. These fellers have put together an impressive set of new compositions, tunes we're likely to hear in the bluegrass canon for many years to come. Songs such as "Hometown," "Born A Rambler" and "Bluegrass Lullaby" are pretty impressive, and the group's enthusiasm for their own tunes comes through loud and clear -- there's certainly more spark on these songs than on the standards and public domain tunes that make up the balance of the album... Anyway, these folks are worth checking out, and worth keeping an eye on... Teenaged lead singer Amber Collins, a newcomer to the bluegrass fold, has a bluesy twang that could get her on the radar next to other truegrass gals such as Alecia Nugent... These folks have a ways to go to get to the top of the 'grass heap, but this is still a pretty noteworthy debut... Nice cover of Julie Miller's "Quecreek Mine," too!
Jim Van Cleve "No Apologies" (Rural Rhythm, 2006)



...And none needed! This is a solid, self-produced bluegrass set from fiddler Jim Van Cleve, a founding member of Mountain Heart, one of the more commercially successful 'grass groups in recent years. This is a fine album, a little on the too-perfect side for me, with nary a note out of place, but still pretty vigorous and forceful, with an emphasis on relatively traditional material. Ronnie Bowman and Sonya Isaacs contribute vocals on a couple of songs, and guest pickers include folks such as Bryan Sutton and Rob Ickes, as well as mandolinist Adam Steffey... Van Cleve, it must be said, does not emerge here as the strongest of singers, but his fiddling can't be faulted, nor his choice of material. It should be noted that this set is made up of mostly original material, which is impressive in and of itself... I wouldn't mind hearing him loosen up some and get a little sloppier, but folks who like their bluegrass concise and tightly sculpted will find this a pretty satisfying album.
Vern & Ray "San Francisco: 1968" (Arhoolie, 2006)



A stunning live set that captures this influential West Coast truegrass duo -- Vern Williams and Ray Park -- playing at their peak, appearing at the San Francisco Folk Festival, back during the height of the hippie years. This is a rock-solid traditional set, with plenty of standards, gospel tunes and revamped country songs, framed by delightfully old-fashioned stage patter, stuff straight out of the folk revival handbook. These guys are so earnest -- and so good -- you can't help but see why in-the-know fans latched onto them, and still hold them in such high regard. And check it out: there's a young Herb Pedersen plunkin' the banjo and singing along, just before he got swallowed up in the LA-based country-rock scene. It's great stuff. If you like your bluegrass plain and simple, heartfelt with no frills, then this set is definitely for you.
Rhonda Vincent "All American Bluegrass Girl" (Rounder, 2006)



Another rock-solid truegrass outing from bandleader Rhonda Vincent, who gracefully moves from the keeping-the-flame-alive proclamations of the title tune into the mournful patriotism of "Till They Came Home," which traces several generations of war veterans and their families, from WWII to Iraq, along with an equally topical "God Bless The Soldier." The real emotional core of this album is its gospel-drenched ending, which features several top-flight harmony tunes, notably "Jesus Built A Bridge To Heaven" and "Precious Jewel." The secular heartsongs suffer by comparison: they feel a bit restrained, whereas there's a powerful wellspring of feeling bubbling under the religious tunes. All in all, though, this is a top-flight album, every bit as sharp and lively as you'd expect from Ms. Vincent. Nice stuff!

Various Artists "NO DEPRESSION: WHAT IT SOUNDS LIKE, v.2" (Dualtone, 2006)



A swell sampler of twangly tunes from various artists lauded in the pages of No Depression magazine... A very strong selection with Americana stalwarts such as Ryan Adams, Kieran Kane, Julie Miller and Billy Joe Shaver, along with left-of-center chart artists like Patty Loveless and Rosanne Cash, and less well-known names such as Jon Dee Graham's Resentments, or newcomers like the Drive-By Truckers. The pacing of this disc is excellent, as is the song selection: I first listened to it without looking at the track listing and was even lulled into liking a Drive-By Truckers tune(!) For a strong introduction to the genre, this disc really is ideal, each song is a gem, and they're woven together well. Nice, informative liner notes as well.

Various Artists "TAKE ME HOME: A SAMPLER OF AMERICANA ARTISTS FOR PEACE" (Arden's Garden, 2006)


Peace hymns and protest songs have recently crept back into fashion in the folk world, as fury and sorrow over the Iraq War has bubbled up into the mainstream. Some of the artists on this collection have been at it for a while: Country Joe MacDonald evolved from an iconic '60s leftie firebrand into a tireless advocate for veteran's rights. Accordingly, here he records a tune called "Support The Troops"; other songs on this low-key set follow a similar path -- rather than fume at George Bush, per se, they extol peace as an abstract good. Some of the songs are quite lovely, some are quite sad... Along with veteran folkies such as MacDonald, Bob Brozman and Jesse Colin Young, there are plenty of relative unknowns, such as Dennis McGregor, whose reflective "Caught In Your War" opens the album and SF Bay Area local Sherrie Austin chimes in with "I Wouldn't Lie To You." This disc probably won't win over anyone who's for the war or who doesn't like contemporary singer-songwriter folk, but for those listeners who are open to the message, it's a nice, thoughtful set. Worth checking out.
---



Hick Music Index
Shop Amazon, Support Slipcue



---


<! June, 2006 (*)>