<! MP3 05/24/09, 10/20/11 > <! pix 05/24/09 - not Yard Sale > <! archived 00/00/00 > <! * >

---
Howdy, neighbors!
Here are some reviews of the new country, bluegrass and Americana records that I had the good fortune to listen to in July, 2006. This month: Jimmy Arnold, T-Bone Burnett, Johnny Cash (CD & DVD), The Crooked Jades, Jesse Denatale, The Derailers, Dave Evans, Red Foley, Chris Knight, Lee Roy Parnell, Reno & Smiley, Don Rigsby & Midnight Call, Tom Russell, The Sadies, Yard Sale, Various Artists: "FEEL LIKE MY TIME AIN'T LONG", "THE PILGRIM", "WILL SING FOR FOOD"
...It's not everything I heard, but it's a nice sample of stuff that either tickled my fancy or ticked me off... Many records that aren't included here are reviewed elsewhere in my full Guide To Hick Music. Enjoy!
---
New Stuff: July, 2006
---
Jimmy Arnold "Ridin' With Ol' Mosby" (Rebel, 2006)



A fine retrospective of bluegrass songwriter and multi-instrumentalist Jimmy Arnold, a banjo-pickin' prodigy who sailed through several bands in the 1970s and later refashioned himself as sort of a truegrass auteur. This is a tasty selection drawn from three solo albums recorded for the Rebel label, including several songs from his highly-regarded 1983 album, Southern Soul, and a handful of lively, previously unreleased tracks that will turn a few ears. As detailed in the liner notes, Arnold lived a wild life and died young, but his restless energy and creative impulses come through loud and clear in all of these recordings. Although some may have faulted him for lacking polish in his technique, there's something refreshing about the ragged edges and tiny gaps in his playing -- instead of sounding like just another too-smooth, perfect picker, he sounds like an artist with a dynamic personal style, playing live and in the moment, with an unfettered enthusiasm that recalls some of the idiosyncratic old-timey recordings of the 1920s and '30s. It also doesn't hurt that he has some of the finest pickers of the time backing him up -- Mike Auldridge, Mark Newton and Cliff Waldron, in particular. All in all, this is a pretty nice record. Guess I'm going to have to track down a copy of Southern Soul as well!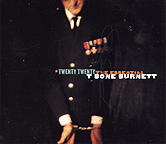 T Bone Burnett "Twenty Twenty: The Essential T Bone Burnett" (DMZ/Sony-BMG Legacy, 2006)



Although fans have complained -- bitterly -- about the drawbacks of this new 2-CD set, it's still a pretty compelling portrait of a remarkably plastic and inventive musical mind. A real goofball, too. Burnett hails from the era of '70s freeform radio, bringing a playful, eclectic (but also quite earnest) musical sensibility with him through his three decades of work. These days, he's mostly known as a music producer, adding his shrewd sensibility to numerous projects, not the least of them being the O, Brother Where Art Thou soundtrack and his wife, Sam Phillips' solo albums. On this retrospective you can hear the sweep of his own work, from his mid-'70s debut with the ever-quirky Alpha Band through several solo albums that were infrequently released up into the mid-1990s. (A new record was released to coincide with this best-of set...) Wht you hear is a masterful musician, clearly fluent in rock, pop, country and blues, mixing it all up at will, introducing elegant (and entirely authentic-sounding) doses of bluegrass and twang into otherwise ornate and multi-textured alterna-pop. His songs are odd, but alluring, drawing us in mostly through the music, but also because the words can be so weird... You kinda want to hear what will come out of his mouth next... It wouldn't be accurate to tag Burnett as a "novelty" artist, there's too much depth to his work for that, but this is clearly not mainstream pop, and it's tailored to a very particular, and very devoted, niche audience. It's easy enough to join the club: a quick perusal of this collection may pique your curiousity, and for the stuff that got left off, the bargain bins of many a record store may provide further revelations. Now to the criticisms that have been leveled at this record: mainly, fans are miffed that so little material was drawn from the 1983 album, Proof Through The Night, which many people consider his masterpiece. Burnett, apparently, is not one of those people, however, and having disavowed the record in the past, he took this opportunity to remaster several tracks and "fix" things he thought were wrong the first time around... Well, I guess the thing to do is get that one on vinyl, since I'm guessing T Bone would also want to remaster any future re-release of the album... Anyway, I still think this best-of is a great way to acquaint yourself with this goofy, geeky, wildly creative alt-pop pioneer.
Johnny Cash "Personal File" (Sony Legacy, 2006)



The hype on these long-lost home tapes is that they were unheralded precursors to the stripped-down, raw-boned "American Recordings" series that sent Johnny Cash's cool quotient through the roof in the 1990s... In a sense that's true, although I would argue that these recordings are a different sort of creature altogether... Where the "American" albums were a calculated bid to present Cash as a back-to-basics country avatar, an icon for the college rock scene to revere, these earlier tracks were, as the title implies, a much more private affair. Back in the early 1970s, Cash kicked back and recorded copiously and at his leisure in his private home studios; the master tapes were apparently unearthed after his death and combed through for the best material, which has been issued for the first time as part of this 2-CD set. The first disc is secular material, with Cash singing solo over a sparse acoustic guitar, with some intriguing choices in repertoire, but a pretty subdued feel overall. The second disc is all gospel material, and this is where the real feeling comes in -- Cash recorded plenty of religious music, and these recordings are among some of his best. The song selection is particularly striking, with a bunch of songs that are way off the beaten track. Country gospel tends to favor certain standards, tunes that entered the popular culture after the advent of the recording industry, but many of the songs Cash selected were way off the beaten track, and demonstrated how deep his cultural roots ran... Likewise, the secular disc has some material on it that hearkens back almost to colonial times, showing how much of a student of American song he really was. These sessions were almost certainly made just for fun, without much hope of commercial release, and they provide a great glimpse into the kind of music Cash was interested in, separate from the advice of family, friends or record execs... It's pure, it's sincere, unpretentious, and certainly a must-hear for diehard Cash fans.
Johnny Cash "Man In Black -- Live In Denmark: 1971" (DVD) (Sony Legacy, 2006)


This is a great time capsule of the Johnny Cash show, circa 1971, when he had just adopted the "Man In Black" persona, wherein he declared his solidarity with the trampled and downtrodden. Politics don't figure that prominently in this performance, which was taped live on a Danish TV show, but Cash's tried-and-true country roadshow/revue offers plenty of fascinating historical highlights. Rockabilly legend Carl Perkins was working as Cash's guitarist, and Johnny gives him an early cameo... The Statler Brothers step forward as well, with muttonchops and hippie-ish hair, to sing "Flowers On The Wall" (what else?) and throw on some nice harmonies. June Carter Cash dominates the middle of the show, singing solos and choppy duets with Johnny, and then she introduces the late-era Carter Family, with Mother Maybelle, and sisters Anita and Helen, and they get the biggest response of the night, especially when June cranks up the volume with a shamelessly corny, sentimental homage to Mother Maybelle. The ever-earnest Danes, who sat at polite but rapt attention the whole time, go nuts for the goofily staged tribute, and it proves a rousing close to the show. Of course, there's Johnny Cash, too, and while he's super-laidback he also connects with the audience and with his songs, championing modern songwriters such as Kris Kristofferson (with three songs, including the then-scandalous "Sunday Morning Coming Down") and really hitting it home with his newly-minted personal anthem, "The Man In Black," which still packs a wallop today. The production values and pacing are quite modest, but that's mostly because that's how TV looked and felt back then (I remember) and if you want an accurate look at what Cash's act was like back then, this is a great video to check out. Recommended.
Crooked Jades "Worlds On Fire" (Jade Note, 2006)



This San Fran outfit has become notably less bluegrassy or old-timey, and now they've entered into artsy musical terrain that's truly distinctive and new. The songs are arch and intellectually dense, the music is in turns expansive and tightly cut. Now, as a rather pedestrian listener myself, I have to confess this didn't have enough of a melody-chorus orientation for me to latch onto it -- I'll be darned if I could tell you what any of these songs are about -- but for anyone looking for new, unconventional music that is pushing the boundaries of Americana and twang, I'd say this disc is a must-hear record. I don't know what the hell the Jades are doing here, but I know it's something new. You might wanna check it out.

Jesse Denatale "Soul Parade" (Jackpine Social Club, 2006)



Smoky, mystical folk-soul music from Northern California's Jesse Denatale, a guy with John Prine's voice and Van Morrison's rich sense of melody and harmony, as well as Morrison's faith in hypnotic, chantlike repetition, mysteriously anthemic songs that build and swell and remain in a state of exaltation for what seems an eternity. Folks who liked Denatale's previous album, Shangri-La West, will love this one as well; conversely, if you pick this one up and enjoy it, you'll want to thrack the first one out, too. Denatale is backed by a cadre of low-key Northern California twangsters, including bassist Greg Reeves, Tom Heyman, the Loretta Lynch singers and avant-soulster Nino Moschella on drums. They summon up a deep, mellow, evocative groove that brings to mind the classic albums Van Morrison cut during his years in Marin County (Tupelo Honey, and the like...) If that sounds interesting to you, you'll definitely want to pick this one up...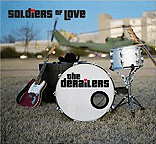 The Derailers "Soldiers Of Love" (Palo Duro, 2006)



These alt-country elders are still chuggin' away, though some might say with mixed results. There's some true twang on here, as on the album's opener, "Cold Beer, Hot Women & Cool Country Music," the slower "Every Time It Rains," and the Johnny Cash tribute, "An American Man." But there's also some would-be mainstream pop ("Hey, Valerie," "Everything I Believe In"), some strained metaphors ("She's A Lot Like Texas") and a strong sense that the band is kind of doing it by the numbers... They're solid musicians and when they play with a backbeat, I'm right there with 'em, but some of their digressions lose me a little. Not as much of an outright blast of fun as some of their earlier albums, but still some fun stuff... If you've been a fan before, this is worth checking out, but it's not as twangy as you might expect.
Dave Evans "Pretty Green Hills" (Rebel, 2006)



Good, old, rock-solid, high lonesome truegrass, played with liveliness and zest. Evans plunks a mean banjo, Bobby Hicks adds some sweet fiddle and the rest of the band ain't slouches either. There are a couple of great original tunes amid the traditionally-oriented material, as well as a pair of Tom T. Hall songs, too (the record was recorded at Hall's studio in Nashville...) If you like your bluegrass twangy, impassioned and pure, you might wanna check this one out.
Red Foley "Sugarfoot Rag" (Bear Family, 2006)


In the 1940s and early '50s, Red Foley was at his commercial peak, specializing in romping, rollicking, upbeat tunes, bluesy numbers and hillbilly boogie novelty songs, along with a slower honkytonk number here and there, and a gospel tune or two. This disc is a first-rate collection of his peak years, a 30-track smorgasbord with some stuff that'll be familiar to fans of true-blue hillbilly music, as well as quite a few surprises. There is, of course, his big hit, "Tennessee Saturday Night," which is pretty explicitly racist, but still one hell of a fun, catchy tune, as well as the lively "Sugarfoot Rag," the song that cemented guitarist Hank Garland's reputation as one of Nashville's leading session men in the 1950s. There are plenty of stylistically repetitive boogie tunes and a few lame covers of songs that were hits for other artists, such as his poppy version of "Night Train To Memphis," sung as a duet with Roberta Lee. Then there are the pleasant surprises, such as the blistering rockabilly cooptations that start and finish this disc, particularly his version of "Crazy Little Guitar Man," which again featured Garland at the helm... There's also the surprisingly soulful, rich harmony vocals of "A Wonderful Time Up There," a gospel tune featuring Zeb Turner and the "Log Cabin Quartet," drawn from Foley's first backup band in the 1940s. Foley's duets with R&B legend Cecil Gant are a revelation: Foley loved to ham it up with a faux-black vocal cadence; hearing him actually sing alongside an established blues singer (rather than just cop his style) is interesting... It's not either of their best work, but it ain't bad, and it lends some weight to Foley's cred as a blues singer. By the start of the '60s, Foley had pretty much run out of creative juice, and he was never able to find his footing in the slick production style of post-hillbilly Nashville... But these early recordings show how dynamic and versatile he was, tackling a wide range of material, some of it awesome, some of it lame... It's about as good an introduction to his work as you're ever likely to find. Recommended.
Chris Knight "Enough Rope" (Drifter's Church, 2006)



A pretty groovy, gritty, growly-voiced roots-Americana record, in the Robert Earl Keen/Dave Alvin school of tough-guy poetry. This album sports song after song about broken dreams and flashes of anger at the death of the American dream. Rivers are poisoned, jobs lost, lives lived poorly, small towns ground down by the tides of time, while the folks left behind drink heavily and party hardy, but seem to get little comfort from it. The more hammered they get, the madder they become, and the more powerless and frustrated they feel. It's bleak, but the anger and the something's-gotta-be-done vibe contain a kernel of hope. Plus, the music is rock-solid. The lyrics may be a bit two-by-fourish (hold still while I hit you over the head), but the melodies will hold your attention and make these characters come alive. This is possibly Knight's strongest album to date, and considering the roll he's been on the last few years, that's quite a compliment. Definitely worth checking out.

Lee Roy Parnell "Back To The Well" (Universal South, 2006)



A strong set of smoky southern soul and roadhouse blues-tinged twangy pop... It's not really my kind of music, but I can tell this is a pretty strong record for the style. Fans of Delbert McClinton, Gary Stewart and Little Feat are gonna want to check this one out. There's grit, fire and the passion of a true believer, along with some really solid musicianship. Worth checking out!

Reno & Smiley "Together Again" (Rebel, 1971/2006)



A welcome reissue of a bluegrass holy grail, the lone album recorded by Don Reno and Red Smiley following their early 1970s reunion. The famed duo -- one of the great acts of the 1950s "golden age" -- had amicably split up in 1964, with each man pursuing his own career while the once-bustling truegrass scene slowly ground to a halt by decade's end. Then, as the festival era began, they were reuinited onstage, which led to Don Reno and his new partner Bill Harrell asking Smiley to join their act. He did, and the new lineup of the Tennessee Cut-Ups (with Buck Ryan and Jerry McCoury rounding out the sound) recorded this solid, low-key LP for the Rome Records label. Smiley passed away a few months later, the health troubles that had dogged him for years finally laying him low, and the Reno-Harrell combo went on to become a mainstay of the early '70s scene. The album floated around for a while, but like many 'grass discs back then it was on a teeny indie label and soon fell out of print, later becoming highly prized by a small cadre of true-believer fans. Well, now it's back in print (thanks, Rebel...!) and all the rest of us can hear the disc in its full fidelity... and it's pretty darn good. It doesn't exactly have the same live-wire sizzle of some of the best Reno & Smiley classics, but it's a nice, solid set of standards and newer material, the work of assured craftsmen, traditionalists who knew what they were doing. Nice stuff!

Don Rigsby & Midnight Call "Hillbilly Heartache" (Rebel, 2006)



I always greet the arrival of a new Don Rigsby album with anticipation: he's one of the finest, most soulful modern bluegrassers around, he plays a slick, note-perfect style, but it never feels sterile or by-the-numbers. Partly it's due to the infusion of new, original material, as well as the always-rich mix of top-flight musicianship and fine harmony vocals. This disc offers more of the same, a swell set of progressive, country-tinged 'grass, with a nice gospel tune or two and an upbeat feel throughout. Worth checking out!
Tom Russell "Love & Fear" (HighTone, 2006)



(Produced by Tom Russell & Gurf Morlix)
In the last few years, songwriter Tom Russell has built up a reputation as an Americana auteur given to sculpting dense, ambitious (and impactful) concept albums; this disc is notable for the catchiness and clarity of the individual songs. It's packed with chunky, challenging tunes that, while they may not be hummable pop ditties, nonetheless have a way of getting under your skin and making your toes tap. They're also gritty and hard-hitting, miniature indictments of the hardships and heartbreak of modern life. The input of co-producer Gurf Morlix, a mover-and-shaker on the Austin scene, probably has a lot to do with how seductive and immediate this album is. While Russell's other albums have heft to them that will pay off well for attentive listeners, this disc is more readily accessible and requires less heavy lifting on the part of listeners... I think it also makes the same points as the other stuff, just in a way that lends itself better to the confines of radio playlists and busy lifestyles. Anyway, it's pretty darn good. I was pleasantly surprised.

The Sadies "In Concert, Volume One" (Yep Roc, 2006)



A thoroughly satisfying 2-CD live set from February, 2006, which has the band romping through high-test surfabilly worthy of Flat Duo Jets or the Untamed Youth, as well as satisfyingly twang-bangy hoedowns such as "There's A Higher Power" and "Stay All Night." The Sadies are proving themselves one of the most durable and versatile alt-twang bands around -- they're mostly "rock," but when they want to, they sure can sound like hicks. Lotsa guests on here, notably Neko Case, Kelly Hogan, Jonboy Langford and Gary Louris, as well as a slew of the band's other uber-hip pals. I gotta say, it's a pretty cool record -- they were obviously having a lot of fun during the shows, and that sense of enjoyment comes through loud and clear, right into our ears. Give it a whirl!

Yard Sale "Everything's A Dollar" (Self-Released, 2006)



Well, like the event this band takes its name from, this disc is an odd hodge-podge of influences and interests; what it has to offer might not be for everyone, but if the right person comes along and something catches their eye, they might be really happy to take it home. Jill Olson of the Oakland-based twangband, Red Meat, teams up with a couple other stalwarts of the SF Bay Area indie music scene, and their rock/folk/billy offerings are highly personal and a bit raggedy. Didn't quite grab me, but it's a nice little DIY-type disc.

Various Artists "FEEL LIKE MY TIME AIN'T LONG" (Rebel, 2006)



A capella gospel singing is a bluegrass specialty, and in some ways one of the most difficult styles to master in the genre. This fifteen-song set, judiciously culled from the Rebel Records vaults, features some of the finest examples you're ever likely to hear... There are a couple of tracks by Ralph Stanley, as well as Paul Williams and other truegrass luminaries such as The Virginia Squires, Larry Sparks and The Country Gentlemen, as well as newer supergroups such as Blue Highway and IIIrd Tyme Out, who throw on a nice harmony or two. For me, the sweetest moment on here come from the least well-known singers, particularly the Marshall Family and the Forbes Family, who specialize in gospel material, and whose soulfulness and devotion leap out at you from start to finish on each of their songs. If you like the style, this is an excellent album either to use as a springboard to explore other music by any of these artists, or just to listen to by itself... It'll hold up well to repeat plays. Recommended!

Various Artists "WILL SING FOR FOOD: THE SONGS OF DWIGHT YOAKAM" (Mercury/Little Dog, 1998/2006)



Dwight's guitar player (and longtime production wizard) Pete Anderson organized this charity tribute album back in 1998, with proceeds going to benefit the homeless (although I'm not sure which organizations were included; the CD doesn't say...) It's a nice album -- among the artists donating their time and talent were alt.hick and Top Country luminaries such as Kim Richey, Tim O'Brien, Sara Evans, David Ball, The Lonesome Strangers, The Blazers, Rhonda Vincent, and Bonnie Bramlett. Generally speaking, no one can do these songs as well as Dwight did the first time around, but these folks sure give it a go. Highlights include bluegrass neotraditionalist Rhonda Vincent pounding out "I Sang Dixie," and a typically sublime Gillian Welch/David Rawlings duet on "Miner's Prayer." Good stuff!
---



Hick Music Index
Shop Amazon, Support Slipcue



---


<! July, 2006>