<! MP3 05/23/09 > <! pix 05/23/09 > <! archived 10/01/06 > <! * >

---
Howdy, neighbors!
Here are some reviews of the new country, bluegrass and Americana records that I had the good fortune to listen to in October, 2006. This month: Gary Bennett, Dale Ann Bradley, Paul Burch, Johnny Cash, Mark Chesnutt, Jon Christopher Davis, David Grisman (x2), Waylon Jennings, Blaine Larsen, Jerry Lee Lewis, Lonesome Travelers, Andy Statman, Rafe Stefanini, Larry Stephenson, Aaron Tippin, Various Artists "JOHNNY CASH: ROOTS AND BRANCHES", "THE PILGRIM: A CELEBRATION OF KRIS KRISTOFFERSON"
...It's not everything I heard, but it's a nice sample of stuff that either tickled my fancy or ticked me off... Many records that aren't included here are reviewed elsewhere in my full Guide To Hick Music. Enjoy!
---
New Stuff: October, 2006
---
Gary Bennett "Human Condition" (Landslide, 2006)



Gary Bennett, a co-founder of the Nashville-based uber-bar band, BR-549, left the group in 2001 and dropped out of the music community for a while, apparently to sort some stuff out in his real-life life and to devote himself to his family. His return to music after a five-year absence is a mellow, calmly contemplative country-soul outing that brings out a lot of the depth and personal emotion that seemed so lacking in BR-549's glib, humor-oriented repertoire. This is obviously a very heartfelt work, and a very powerful one as well, ranging stylistically between confessional pop-folk material to super-catchy twang/bounce tunes. It's a thoroughly satisfying record, with more depth and sincere feeling than most records seem to have these days. Recommended!

Dale Ann Bradley "Catch Tomorrow" (Compass, 2006)



A wealth of talent backs truegrass song stylist Dale Ann Bradley on her latest album... Next to Bradley's ever-satisfying vocals, fiddler Michael Cleveland provides some of the most consistently sweet playing on here; Compass Records' own Alison Brown plunks the banjo throughout, while Jim Lauderdale, Larry Sparks, Stuart Duncan and Todd Phillips also rub elbows with Bradley's band. Probably the strongest collaboration comes from ex-Shenadoah vocalist Marty Raybon, who digs deep into the a heartrending duet, "Holding On To Nothing," helping impart as much pathos into it as the Porter Wagoner/Dolly Parton original. Another highlight comes with Bradley's version of Billy Joe Shaver's "Live Forever" -- oddly enough, Bradley sees it as an inspirational song; I always thought it was ironic and rueful, either way, it's one heckuva good song. There are a couple of missteps, such as her amped-up, mountain breakdown update of "Can't Stand The Rain," which -- while radically different -- certainly doesn't add much to the previously definitive Ann Peebles/Tina Turner/Lowell George versions. Likewise, the cover of "Me And Bobby McGee" doesn't do much for me. Still, Bradley is one of bluegrass music's great hidden weapons. She puts her heart into her work, and plays with grit and fire. She also writes some really nice songs, as the remainder of this record amply demonstrates. Slick and twangy, bouncy and smart, this is a 'grass album worth checking out.

Paul Burch "East To West" (Bloodshot, 2006)



Catchy melodies and easygoing rhymes mark this jaunty new record, one of the peppiest and most hook-laden alt-twang outings of the year... Burch has refined his sly sense of vocal phrasing, adding a propulsive joy to this album, similar to the insouciance of Dylan, back in the Blonde On Blonde days.. None of these songs touched me on an emotional level -- they seem more like stylistic excercises and experiments -- but they all sounded fun, and consistently drew me in. With guest performers such as Mark Knopfler and the esteemed Ralph Stanley chipping in, the already-talented Burch has taken his music to a new lever... A very listenable album, with a lot of variety and textural depth. Fun, uplifting, and well worth checking out!
Johnny Cash "American V: A Hundred Highways" (Lost Highway/American, 2006)



An amazing epitaph, largely because it so clearly is an epitaph... These late-vintage recordings dwell on death, dying, reflection and spiritual redemption, with stark, forboding gospel material like "God's Gonna Cut You Down" alongside contemplative folkie material such as Gordon Lightfoot's "If You Could Read My Mind," Ian Tyson's "Four Strong Winds," and even Rod McEuen's "Love's Been Good To Me." Cash was clearly conscious of his impending departure from this mortal coil, and he used that awareness to fill these recordings with a gravitas and depth that's hard to match. His physical fragility (also heard on American IV and other later recordings) also invests these songs with a sad power: as his voice breaks and cracks on the softest songs, an emotional coloring that no one else could ever summon comes out -- who else but Johnny Cash, passing on, could sound like this? Even a facile song like Don Gibson's "A Legend In My Time" packs a wallop: Johnny Cash really was a legend, one of the biggest, and even if he sings the song with a little wink in his voice, the fact is, the lyrics take on a literal meaning in this context. This final offering might not appeal to everyone, but for country fans who have the time and mental space to take it in, it's quite an album. Recommended.
Mark Chesnutt "Heard It In A Love Song" (CBUJ Entertainment, 2006)



(Produced by Jimmy Ritchie and Mark Chesnutt)
Another fine, assured performance from one of modern country's most solid singers... This album isn't nearly as good as 2004's Savin' The Honky Tonk, but few albums are -- that was one helluva comeback record. But, having proved his point then, Chesnutt is free to kick back and record a bunch of old stuff he just happens to like, including an old Marshall Chapman tune (the title track), a Waylon Jennings oldie, Hank Senior's "Lost Highway" a Hank Junior song and some alternate versions of stuff from Savin' The Honky Tonk, all of which are as resonant here as they were the first time around. "That Good That Bad" is a rollicking, fun novelty song, though it's the slow, shuffling weepers like "A Shoulder To Cry On" and "Goodbye Comes Hard For Me" that really sold me on this disc... Singing in such a relaxed, super-mellow mode, Chesnutt evokes George Jones at his best... heck, he even covers ol' Possum on here, as well ("A Day In The Life Of A Fool"). This is a nice one... definitely worth checking out!
Jon Christopher Davis "John Christopher Davis" (Palo Duro, 2006)



Twangy Texas country-rock with a heavy debt to early Steve Earle... The themes are familiar, as are the riffs, but if you're into the style, this guy sounds fine. The outlaw novelty tune, "Lone Star Attitude," was a standout for me, but I'm a sucker for that kinda stuff. Strong set of all-original material.

David Grisman Bluegrass Experience "DGBX" (Acoustic Disc, 2006)



Another rock-solid set of twangy old bluegrass, straight from the "high lonesome" school. This compact fivesome hits every note right (and I'm talking about the emotional notes...), playing classic, old-school bluegrass standards such as "Rock Hearts," "Ruben's Train," "Are You Afraid To Die," et al, with nary a false step. Grisman's been doing some great traditionlist work recently, but this is a really remarkable album. One of the most striking things is how little it sounds like "a David Grisman record": the band is made up of pickers most folks have never heard of -- including a literal representative of the next generation, Samson Grisman, on bass -- and Grisman is very generous in how much he steps aside and lets the band lead this set. If you like traditionally-oriented truegrass, you'll definitely want to give this disc a spin!

David Grisman Quintet "Dawg's Groove" (Acoustic Disc, 2006)



Newgrass pioneer David Grisman celebrates thirty years as a jazz/grass bandleader with a mellow new set that echoes a lot of what the Quintet (in its various incarnations) has offered over the years... This edition of the ensemble features a lot of interplay between Grisman and flautist Matt Eakle, who adds a distinctly Brubeck/Desmond-ish air to the proceedings. It's a pretty breezy set, but if you're a Dawg fan looking for something on the mellow tip, this disc might fill the bill.
Waylon Jennings "Sings Hank Williams" (Universal/YMC, 2006)



The late Waylon Jennings famously nominated Hank Williams as the poster child for the 1975 "outlaw" music scene, paying a sideways tribute in the song, "Are You Sure Hank Done It This Way..." The affinity was natural enough -- Williams was one of country music's greatest waste cases and rebels, and like the Texas-based outlaw crowd, he forced the country music establishment to accept him on his own terms. Plus, he recorded some of the best honkytonk music ever made, songs that any true-country singer was gonna sing every chance they got. This album was originally recorded in 1985, but for whatever reasons, it went uninssued until now... It's a nice missing piece in the tapestry of Waylon's career; although many of the tracks have the too-smooth feel of a lot of '80s country studio work, there are several songs where Waylon really connects with the material, notably on "I'm So Lonesome I Could Cry," "Why Should We Try Anymore," "Mansion On The Hill" and "They'll Never Take Her Love From Me," four songs that are worth the price of admission alone. There's also a scripted interview wherein Jennings talks about his respect for William's legacy... Overall, this album is certainly worth checking out if you're a fan of either artist's work. (Also see my Waylon Jennings discography...)

Blaine Larsen "Rockin' You Tonight" (BMG/BNA, 2006)



(Produced by Rory Lee Feek & Tim Johnson)
Washington state's Blaine Larsen continues to be one of my favorite new country singers, precisely because that's what he really is: a for-real country singer, a guy who sounds great when he digs deep into style's long tradition of morose emotional ballads. Now a country veteran at the ripe old age of 18, Larsen's deep baritone growl is less remarkable than when he put his first album out (at age 16), but he still sounds like the guy most likely to be the next Alan Jackson -- and I mean that in a real good way. This disc took a couple of listens before I was really sold, but, yeah -- the kid's still really, really good. The opening track, "I Don't Know What She Said," is one of those tropical-themed, margaritas-and-little-grass-shack songs that seem to be all the rage in Nashville these days. It's okay, but it doesn't hold a candle to the album's best songs, the heartrending "They Don't Grow Enough Roses," "Lips Of A Bottle" (a great duet with Gretchen Wilson) and "No Woman," a hilarious guys-will-be-guys novelty song penned by Larsen and co-producer Tim Johnson. Larsen also covers Mark Chesnutt's hit, "I'm In Love With A Married Woman" (also written by Johnson) and turns in another rollicking performance on the uptempo "I Don't Wanna Work That Hard," wherein the singer decides his high-maintainance girlfriend just ain't worth the effort. There are a couple of misfires, though. The title track is terrible: Larsen should stay away from that kind of loud, rock-based material, and stick to the Lefty'n'George side of the street, rather than getting all Montgomery Gentry about it. Also, his version of "Baby Don't Get Hooked On Me" initially struck me as a mistake (really, no one's ever gonna take that tune away from Mac Davis -- why even try?) but eventually I decided it was okay... Not great, but okay. The album's closer was another nice surprise, a gospel tune called "At The Gate" which summons a lot of depth and further demonstrates Larsen's versatility. All in all, a Top 40 country record with just one song on it that I don't like is a damn good ratio... I've said it before, and I'll say it again: this guy could be country music's real future. Check him out.
Jerry Lee Lewis/Various Artists "Last Man Standing: The Duets" (Shangri-La, 2006)



Friends and admirers were lined up around the block to get in the studio and jam with rock'n'roll forefather Jerry Lee Lewis... And, yeah, old Jerry Lee is still full of fire and brimstone, even though he's certainly no spring chicken. Some of these collaborations are cool -- George Jones and the Killer singing "Don't Be Ashamed Of Your Age" is a delicious slice of pop culture irony (especially when the next song on the album is "A Couple More Years," with Willie Nelson...) A grungy blues jam with Neil Young is also a surprising highlight, although other rock-oriented duets are a bit iffier... The inevitable rock-stars-jamming-with-their-hero bluster and brash, overly professional production dominates this album, with hippie-era rockers such as Eric Clapton, John Fogerty, Mick Jagger, Keith Richards, Jimmy Page, Robbie Robertson and Ronnie Wood bashing away on the by-the-numbers power chords -- there are also a few blues-based collaborations, with Buddy Guy, B.B. King and Little Richard that also have their moments. Still, even if Lewis brings more freshness and vitality to this album than many of his collaborators, this is still a noteworthy album... You gotta give credit where credit is due, and Jerry Lee isn't just a rock'n'roll survivor -- he's a powerhouse performer who has never slowed down over a fifty-year career, and he still can bring the house down. And, man, can bang away on that piano!

Lonesome Travelers "Lonesome Travelers" (Valley Entertainment, 2006)



Formed as an offshoot of the band Cowboy Mouth, this is an appealing regular-fellas indie band that slips between low-key rock and bouncy, pedal-steel infused country. The country stuff is best: there's an obvious and enjoyable debt to hippiebilly bands like the Flying Burrito Brothers and New Riders Of The Purple Sage, and mid-tempo country tunes like "Money To Burn" are where these guys shine. The rock numbers are less memorable, and their faster twang tunes feel a little rushed. Still, there's some really promising material here -- I'm hoping these guy'll mine deeper into their strengths and return with an even stronger album soon... There are some nice tunes on here, though overall I wasn't blown away.
Andy Statman "East Flatbush Blues" (Shefa Records, 2006)



A pioneer of the American klezmer revival, mandolinist/clarinetist Andy Statman was also a member in good standing of the hippie-era bluegrass scene. Here he gets back to his roots with a plangent set that, while rooted in truegrass, comes with a hefty dose of be-boppin', upbeat jazziness. But while many of the modern-day spacegrass/twangjazz stars go in for big, slick production, Statman keeps it decidedly simple. This disc features a compact trio (Statman, bass and drums) that, while lively and expansive, also sounds like they're sitting in the room right next to you -- no fancy, glitzy pop overtones here, just pure pickin' and improvisational drive. The disc kicks off with classic material, a couple of old Bill Monroe songs and a zippy version of "Arkansas Traveler," then moves into a series of original tunes, including several with traces of the Eastern European and Jewish that captured Statman's imagination, lo, those many years ago. I'm not a big jazz fan, so I may not be the right person to judge this, but for the right listeners, this album will be a gem.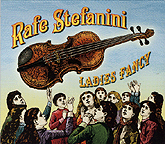 Rafe Stefanini "Ladies Fancy" (County, 2006)



Just plain gorgeous fiddle playing by a talented old hand... There's straight-ahead bluegrass and old-timey breakdowns, British/Celtic material, Cajun music, blues and a little bit of in-betweenish stuff, all played with a cheerfulness and aplomb that makes this disc quite delightful. Stefanini's wife Nikki Lee and daughter Clelia accompany him, as well as guitarist Jim Collier. If you like sweet, simple (sounding) fiddle tunes, then this album is for you. It's a keeper.

Larry Stephenson "Life Stories" (Pinecastle, 2006)



Mighty fine, no-nonsense, old-school bluegrass, with Stephenson telling stories (as promised!) in a straightforward, totally engaging manner. The unpretentiousness of this set is its biggest selling point -- couple that with top-flight musicianship and a complete absence of new-fangled, poppy production, and you've got yourself one really nice record. Although the sound is traditional, the songs are mostly of modern vintage or Nashville-ish lineage... There are a couple of Tom T. Hall tunes, along with oldies by Jim Reeves, Fred Rose and Lester Flatt... This was a nice record to just listen to from end to end; never a false note or stylistic misstep. Recommended!
Aaron Tippin "Now & Then" (Rust Records, 2006)



(Produced by Aaron Tippin)
The gruff-voiced Aaron Tippin, now a Nashville old-timer, walks through through his back catalog, re-recording about a dozen of his big hits, along with three brash, thumping new anthems, the best of which, "He Believed," is a half-gospel homage to his father. All the old songs are now introduced by a hardly-humble Tippin... The spoken intros -- floating monologues that are anchored onto the ends of all the preceding tracks -- make this disc iTunes unfriendly, but Tippin's fans will still probably enjoy hearing him talk about the songs (even if the intros are a bit insiderish and showbizzy, talking about songwriting partners, old TNN videos and such...) Given Tippin's tireless post-9/11 politicking, it's a little surprising that none of the new songs are patriotically themed, or for that matter, that he didn't redo his big flagwaving hit, "Where The Stars And Stripes And Eagle Fly." Oh, well. This seems like a for-fans record, and while the remakes don't add much to the original versions, it's still a robust, solid offering, one that lets folks know old Aaron is still alive and kicking.

Various Artists "JOHNNY CASH: ROOTS AND BRANCHES" (Universal/Hip-O, 2006)



The premise sounds cheesy -- "songs that inspired the legend of" Johnny Cash (though not necessarily the artist himself) -- but the music sounds mighty fine. There are some very cool and somewhat surprising inclusions, such as the riotous gospel guitarist Sister Rosetta Tharpe and half-forgotten hillbillies like Roy Hogshead and Jimmie Skinner, as well as several more obvious choices, such as Jimmie Rodgers and Hank Williams. When the album shifts into musicians who were Cash's contemporaries and collaborators, the choices are more inevitable -- Anita Carter (who wrote "Ring Of Fire," and recorded it first), Peter LaFarge, who helped shape Cash's activist thinking on Native American rights issues, and songwriters like Tim Hardin and Kris Kristofferson, who Cash championed in the culturally conservative Nashville of the late 1960s. Also of interest are a couple of old, rockabilly-era Cash songs being covered by rock pioneers Roy Orbison and Warren Smith... This collection may be a bit opportunistic, but it's got its historical roots down right and the music sounds mighty fine. You'll enjoy this album from start to finish, and might find a few "new" artists whose work you'll enjoy for years to come.

Various Artists "THE PILGRIM: A CELEBRATION OF KRIS KRISTOFFERSON" (American Roots, 2006)


A flat-out awesome album, one of the best tribute discs you'll ever hear. Undaunted by the release a couple of years earlier of two scraggy alt-country Kristofferson homages, the folks at American Roots have rounded up some major talent, including heavyweights such as Willie Nelson, Emmylou Harris, Jessi Colter and Rosanne Cash, alongside younger artists like Shawn Camp, Bruce Robison, Kelly Willis and Todd Snider, all of whom show a strong affinity for Kristofferson's work. High marks go to rowdy gal Gretchen Wilson, who gets a plum role singing "Sunday Morning Comin' Down," and Russell Crowe who gives a surprisingly moving version of "Darby's Castle"; Waylon's boy, Shooter Jennings, acquits himself well on "The Silver Tongued Devil And I," and it's nice to hear raspy ol' Marshall Chapman ripping her way through "Jesus Was A Capricorn..." But really, it's hard to play favorites with this album... With the sole exception of a horrible track by "soul" singer Brian Knight, this disc is all killer, no filler from start to finish. Highly recommended!
---



Hick Music Index
Shop Amazon, Support Slipcue



---


<! October, 2006 *>