<! MP3 05/23/09, 10/20/11 > <! pix 05/23/09 > <! archived 01/01/09 > <! * >

---



Howdy, neighbors!

Here are some reviews of the new country, bluegrass and Americana records that I had the good fortune to listen to in November, 2006. This month: Jimmy Buffett, Tracy Byrd, Johnny Cash, J. D. Crowe, Heartland, Delbert McClinton, Natalie McMaster, Craig Morgan, Joan Osborne, Keith Sykes, Stoll Vaughan, Various Artists: "Redneck Country"; "Viva Terlingua Nuevo"

...It's not everything I heard, but it's a nice sample of stuff that either tickled my fancy or ticked me off... Many records that aren't included here are reviewed elsewhere in my full Guide To Hick Music. Also, I've been buffing up my Hillbilly Holiday section, for those of you who like a little Christmas music this time of year...

Enjoy!

---
New Stuff: November, 2006
---
Jimmy Buffett "Take The Weather With You" (RCA/Mailboat, 2006)



(Produced by Michael Utley & Mac McAnally)
Still up to his old tricks. Jimmy kicks this album off with "Bama Breeze," a slightly rompy-stompy ode to a funky watering hole down South, sort of a followup to his successful pop-honkytonker, "Five O'Clock Somewhere." The rest of the record is more laid back, and gets into familiar, tropical-breezed territory... What's really interesting about this disc is the wealth of outside talent: Mark Knopfler contributes a song and plays along, Buffett also cherry-picks tunes from Guy Clark, Merle Haggard, Jesse Winchester and Gillian Welch(!) and, most strikingly, Mary Gautier's "Wheel Inside The Wheel," which is also worth tracking down in the original version. The whole production's a little slick for my tastes, but I'm sure it'll make fans happy... especially fans with a pina colada or margarita in their hands, and a couple more under their belt. Keep on rockin', Jimmy!
Tracy Byrd "Different Things" (Rocket Science, 2006)



Like many current and former country chart-toppers, Texas honky-tonk popster Tracy Byrd has recently turned to making independently-released records... In his case it's not a matter of having been forgotten by country radio -- his last record had several sizeable hits -- but I guess he just wanted to do things "his way." Turns out it's not all that different than what you'd expect him to release on a major label... Maybe there are a few more references to Texas, but mostly this is a familiar mix of smoothed-down barroom ballads and slower romantic tunes, with just enough twang in there to keep him on this side of the red dirt road. Naw, it's not some raw-knuckled, bare-boned hard country lovefest, but it's also not as gooey and pretentious as some modern Nashville pop (Kenny Chesney, Tim McGraw) can get. All in all, it's a solid effort from a veteran country crooner -- fans will be happy, and Byrd will be too, once they get ahold of this disc. If you dig Top Forty twang, this one's worth checking out.


<! 05/09: "Acoustic Mixes" only MP3 version available: B001GXVDG0 >
Johnny Cash "At San Quentin (Legacy Edition)" (Sony Legacy, 2006)


Well, just when you think you really know a classic album, along come some uber-reissue like this that makes you wonder: how much more cool stuff do them thar big record labels have hidden in the vaults? This time around, Johnny Cash's legendary prison concert has been given the super-deluxe expanded edition treatment, with two CDs worth of music and a third DVD disc that unearths a fascinating, if roughly produced documentary film that uses Cash's concert as a springboard to examine the inner life of one of America's most infamous penitentiaries. Clips of Cash and his caravan are interspersed alongside interviews with convicts and guards, all of whom are hard, hard men with surprisingly soft sides. While it's great seeing Cash and his crew performing live, the real emotional core to this film is seeing how these men react to the show -- guys who no doubt had led very violent and tense lives, wary of showing any sign of weakness, simply melt at the sight of this big country star who came in and met them at their level, becoming dewy-eyed little boys. On the other hand, the scenes where Cash eggs them on by making fun of the prison and their wardens -- what on record seems like a goofy bit of showbiz joshing around -- looks on film like a truly radical move, nearly setting off a riot among the jubilant prisoners. When he sings "San Quentin," a shockingly provocative song, they simply explode. Cash also lets the genie out of the bottle by bringing in his wife, June Carter Cash and her sisters (the latter-day edition of the Carter Family) to sing several songs. They may have been singing gospel tunes, but the sexual tension of the moment permeates the film, making the sense of danger and unpredictablity even that much more palpable. I'm sure Carl Perkins and the Statler Brothers, who were part of the show, could've helped Johnny fight his way out of the hall, but really, there was no need. Cash had those guys in the palm of his hand: his good humor, kind spirit and powerful presence won them over from the word go, and it's sure to zap you, too. This is an up-close look at Cash's charismatic power, as well as an interesting glimpse into the real underside of American society. Can't beat the tunes, either.
J. D. Crowe "Lefty's Old Guitar" (Rounder, 2006)



An absolutely delicious album of country-tinged truegrass that's perfectly faithful to the style created by Crowe's old mentor, Jimmy Martin. The ease, elegance and assurance with which Crowe (and the stellar new lineup of his New South band) deliver these soul-drenched story-songs is a thing of delight. Crowe's new lead singer, guitarist Rickey Wasson, has a rich, deep voice, full of conviction and admirable emotional range, and -- when he wants it -- that "old geezer" sound that so many of us love to hear along with our twang. Doubtless a few longtime fans will think back to the days when the late Keith Whitley was singing with the New South; this disc has that same smoothness and warmth. A sweet set of 'grassy ballads that drew me in from start to finish. Recommended!
Heartland "I Loved Her First" (Lofton Creek, 2006)



(Produced by Walt Aldridge)
Not to be confused with the metal band of the same name, this Alabama-based country act is a slightly redneck-y version of popular ensemble groups such as Diamond Rio, Lonestar and Shenandoah... Their songs, many of which were provided by producer Walt Aldridge, trot through a variety of generic country-pop themes -- some are rompy-stompy rowdy tunes about small towns, dirt roads and back porches, scampish lads in "Boys Like Us," and snurfly love ballads such as "You" and "Play Hurt." Highlights include the Southern Rock nostalgia of "Freebird In A Firebird" and, to a lesser degree, "Judge A Man By The Woman." Nothing on here really catches fire, but I could see this band being chisled on a bit more and crafted into a hitmaking machine... They have the formulaic content part down; now they need to take it up a notch or two. Worth checking out if you like the style.

Delbert McClinton "The Definitive Delbert McClinton" (Universal/Hip-O, 2006)



An awesome set of soulful roadhouse honky blues from one of Texas's favorite sons, a man who mixed country, blues and soul with a passion and power that few could match. Universal ups the ante from their old, standard-issue McClinton best-ofs by gathering material from several labels (ABC, Capricorn, Capitol and indies such as Alligator and Rising Tide) to give a more comprehensive overview of McClinton's long, glorious career. They also dig way back in the vaults to include Bruce Chanel's 1961 single, "Hey Baby," which featured McClinton on harmonica, blowing a funky riff that he'd later teach to a young John Lennon (according to the pop culture legend machine...) who would adapt it to use in "Love Me Do..." Longtime favorites such as "Lipstick, Powder And Paint," "Honky Tonkin'," "Victim Of Life's Circumstances" and "Two More Bottles Of Wine" evoke McClinton's fiery debut on the mid-1970s roots music scene, and his soulful later work -- which is often given short shrift -- is dutifully explored in the disc's second half. Hardcore fans may prefer the more exhaustive album-by-album reissues on Raven Records, but for folks looking for a strong, basic introduction to McClinton's work should find this a pretty satisfying set.

Natalie MacMaster "Yours Truly" (Rounder, 2006)



Canadian fiddle whiz Natalie McMaster is as technically dazzling as ever, although the popped-up arrangements that define this album aren't really my cup of tea... A nice mix of Celtic-based and bluegrassy/newgrassy styles, mixed with a heavy backbeat and some super-slick chord progressions... Most of the songs are McMaster originals, although she still finds time to saw through a medley of raw-sounding Strathspey reels and other traditional material that reflects her Cape Breton roots... McMaster's fans will dig this one.
Craig Morgan "Little Bit Of Life" (Broken Bow, 2006)



Like Hank Williams, Jr., Aaron Tippin or Travis Tritt, Craig Morgan has an amazing capacity to latch onto some of the most shamelessly pandering, in-your-face, everyman/redneck dude novelty material, and sing it like it was gospel verse. This disc is packed with so-called high concept hits, from "Tough" (about a man's wife who keeps her chin up while dying of cancer) and "Sweet Old Fashioned Goodness" (where smalltown life is the answer to all the problems caused by "bureaucrats, diplomats and scientists") to "The Ballad Of Mr. Jenkins" (where the beer-pouring narrator sticks up for a nasty old redneck drunk who turns out to have more depth than we might imagine... and who also turns out to be the bartender's daddy's ghost!) and "International Harvester," an over-the-top, super-silly anthem, pitting some mythical, macho John Deere-driving backwoods rebel against all them uppity, pushy cityfolk who wander off the Interstate. Then, of course, there's the catchphrase-heavy swagger of the title track, a goofy let's-party tune that'll probably cruise up the charts the same way as his '05 hit, "Redneck Yacht Club." If you don't take it all too seriously, I guess it's kinda funny... But it's the folks who do take it seriously that ya kinda gotta wonder about. Anyway, this is well-crafted material from the Nashville hit factory, and I'm sure it'll grab the ears it's looking to grab. Nothing super-memorable from my point of view, though.

Joan Osborne "Pretty Little Stranger" (Vanguard, 2006)



Honorable mention goes to erstwhile pop star Joan Osborne, who returns to her rootsy roots a little bit, on this country-folk tinged outing. Folks such as Rodney Crowell, Vince Gill, Alison Krauss and Dan Tyminski drop in to sing some harmony or pick a few licks, and while this doesn't sound like her Bonnie Raitt-ish old stuff, the Americana edge is there in the mix... Maybe a bit more like Rosanne Cash or Beth Nielsen Chapman, perhaps? Overall, this is a little too slickly produced and pop-oriented for me, but fans and adult-alternative listeners will probably dig it.
Keith Sykes "Let It Roll" (Fat Pete, 2006)



A songwriter's songwriter, Keith Sykes straps on an electric geetar and fires it up with a full band, getting into a big, Muscle Shoals-y, roots-soul groove. I found that the muscularity of the arrangements frequently pulled me away from the lyrics, which was unfortunate, since Sykes's sly, Rodney Crowell-ish vocals sound pretty swell. But folks who are into the rock-tinged work of alt-twangsters such as Robert Earl Keen, Radney Foster and Gurf Morlix will find a kindred spirit here. For those of us who like simpler stuff, his stripped-down version of Richard Leigh's sly barroom ballad, "What Are We Waiting For," will be an album highlight. Nice to hear a '70s old-timer still kickin' up some dust and causing a ruckus.
Stoll Vaughan "Love Like A Mule" (Shadowdog, 2006)



The somewhat generic, low-budget cover art left me unprepared for the funky fire inside this disc. Newcomer Stoll Vaughan combines a knack for writing solid, rhythmic hooks with an energetic, nicely-layered roots-country sound. Pedal steel and Wurlizter organ are put to fine effect amid the clank and strum of electric and acoustic guitars, all of it catchy, carefree and consistently engaging... Check it out: Americana and alt-country may have found a young new superhero!

Various Artists "REDNECK COUNTRY" (Time-Life, 2006)


See, the funny thing about Time-Life Records these days is that they actually put out some pretty good colelctions these days. This disc is a top-notch set of goofball celebrations of all that is big, beer-soaked, and Bubbadelic. There are a few more modern, faux-rowdy anthems (Sawyer Brown's "Some Girls Do", Alabama's "Down Home") and a song or two that seem out of place (Dwight Yoakam's cover of "Honky Tonk Man" is a great tune, but I wouldn't exactly tag it as a "redneck" song...), but the inclusion of outlaw-country oldies-but-goodies such as Vernon Oxford's "Redneck National Anthem," Johnny Russell's "Rednecks, White Socks And Blue Ribbon Beer" and "Longhaired Redneck" by David Allan Coe make this one tasty little record, particularly when surrounded by hits like Hank, Jr.'s "Rowdy Friends," Travis Tritt's "Country Club" as well as the old Moe & Joe stuff and the Dukes Of Hazzard theme. Dang, dude. Just sit back and pop open a few brews -- and keep your baseball cap pointed forwards, okay?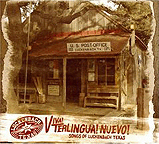 Various Artists "VIVA! TERLINGUA! NUEVO! -- SONGS OF LUCKENBACH, TEXAS" (Palo Duro, 2006)



Hell, yeah. This is a tasty live tribute to Jerry Jeff Walker's classic 1973 album Viva! Terlingua!, a landmark record that helped define the nascent Texas-based indie/outlaw scene. Three generations of true, blue Lone Star twangsters pitch in here, starting off with Gary P. Nunn and the Lost Gonzo Band (Jerry Jeff's old backup crew) and onto bearers of the flame such as Tommy Alverson, Ed Burleson, The Derailers, Cory Morrow, Jimmy LaFave and Two Tons Of Steel... If this sounds like something up your alley, you might want to scoop this one up -- apparently Jerry Jeff got wind of the project and took offense, filing for an injunction or somesuch after deciding it looked and sounded too much like his original Terlingua disc... Oh, well... I'm sure the lawyers will work it all out eventually; hopefully it won't get in the way of folks who just want to enjoy the music.
---



Hick Music Index
Shop Amazon, Support Slipcue



---


<! November, 2006 *>