<! MP3 05/22/09 > <! pix 05/22/09 > <! archived 00/00/00 > <! * >

---



Howdy, neighbors!

Here are some reviews of the new country, bluegrass and Americana records that I had the good fortune to listen to in December, 2006. This month: Eric Clapton & J.J. Cale, Cross Canadian Ragweed, Drew Landry, Chuck Maultsby And His Old Band, Doug Moreland, Linda Ronstadt & Ann Savoy, Carl Smith, Sugarland, Trent Summar, Keith Urban, Faron Young, Various Artists: "REDNECK CHRISTMAS"; "STILL BELIEVING IN CHRISTMAS"

...It's not everything I heard, but it's a nice sample of stuff that either tickled my fancy or ticked me off... Many records that aren't included here are reviewed elsewhere in my full Guide To Hick Music. Also, I've been buffing up my Hillbilly Holiday section, for those of you who like a little Christmas music this time of year...

Enjoy!

---
New Stuff: December, 2006
---

Eric Clapton & J.J. Cale "The Road To Escondido" (Universal South, 2006)



Although Oklahoman songwriter J.J. Cale helped shape Eric Clapton's country-tinged, rootsy blues sound and provided him with some of his biggest hits of the early 1970s, the two old coots never made a record together... until now. The big question is: what were they waiting for? Escondido finds Cale still in fine form, and Clapton positively revitalized while gliding through this assertively good-natured, slick-but-substantial pop-blues outing. The old Cale formula -- half dusty barroom, half misplaced swamp -- is as smoky and alluring as ever, a cheerfully sleepy, seductive, world-weary style, with gauzy songs that suck you in like warm, comfy quicksand. Clapton is a perfect foil for Cale's laidback style, and the two move together with the ease and familarity of two old friends. It also helps that they've actually attained the age and wisdom that they earlier pretended to possess -- old bluesmen often ring truer than young hotshots who think they've seen it all. The more rocking, obviously "pop" songs come frontloaded at the start -- "Danger," "Missing Person" -- amorphous tunes that are really more mellow, lazy grooves than proper songs. The pace slows more for "When This War Is Over," an understated antiwar protest that speaks volumes in its plainspoken directness... It's clearly about the Iraq fiasco, but it may prove to have legs of its own, as time goes on and more wars come. Maturity is a constant theme on this album: on "It's Easy," the geezers coach a young listener in the arts of seduction; "Hard To Thrill" is an anthem of middle-aged ennui, and on "Three Little Girls," Clapton croons the joys of fatherhood. While the sound of this disc may feel too slick or mainstream for some roots music fans, the album still has a strong appeal. Certainly for fans of Clapton and Cale, it's a cause for major celebration -- this is a wonderful return to form for two roots-blues legends... Definitely worth checking out!
Cross Canadian Ragweed "Back To Tulsa: Live And Loud At Cain's Ballroom" (Universal South, 2006)



A high-test, 2-CD live album from one of Oklahoma's hottest "red dirt" bands... These guys are a little too rock'n'rollin' and bar-bandish for me -- I ain't in my twenties, and I never liked drinkin' at shows -- but CCRW's connection to their fans is palpable from start to finish, and those same laughing, cheering, happy, rowdy folks will dig hearing the records as much as the concerts. The phrase "live and loud" does capture the essence of this set, but this album is also a fine portrait of a passionate, committed, real-live touring band... Looks like folks in Oklahoma have got a lot to cheer about!
Drew Landry & The Dirty Cajuns "Tailgaten Relief & Hurricane Companion EP" (Self-Released, 2006)



Wow. Louisiana native Drew Landry caught my attention last year when his funky first album came across my desk, and I thought it was kinda cool... This seven-song follow-up, however, just knocked me on my ass... it's really good! The core of it comes from a couple of topical/political songs written after Hurricane Katrina leveled much of Louisiana and Mississippi, and brought about a pathetically botched Federal response. The pure anger that is channeled by Mr. Landry (who lives in Lafayette) comes through loud and clear on "Category 5," a throwback to the current events broadsides of the Great Depression, when musicians would name names and tell stories about what really happened. Dick Cheney and Rudy Guiliani are characters here, and they don't come off well. The dumbfounded shock of having entire towns flattened and flooded comes through loud and clear, as does the boiling anger at a government that sat on its thumbs the whole time... Landry takes sides with New Orleans mayor Ray Nagin, who famously called for the folks at the White House to get off their asses and help people who were dying... This is all old history, of course, except that the anger is still there, and Landry has made it palpable in a way that'll raise goosebumps on your arms... On the lighter side, there's "Tiger Fan," a goofy tune about a ultra-loyal sports fan who'll go for any team LSU cares to offer, from football to tiddlywinks, and "Grosbec," a tall tale about a backwoods fmily that makes its living by poaching off the government lands... Throughout, Landry's lyrics, vocal delivery and musicianship are all first-class, with a plainspoken directness that makes him stand out from the crowd. Heck, I'd even go so far as to call him Louisiana's answer to High Sheriff Ricky Barnes... And in my book, that's pretty high praise. I'm lookin' forward to when Landry can put out that full-length album he had planned before Katrina hit... the guy's a major talent. (Check out his website at www.dirtycajuns.com for more info.)

Chuck Maultsby And His Old Band "The Best And/Or Worst Of..." (Wagon Tracks, 2006)



(Aka, "Chuck Wagon & The Wheels") Poor Chuck Maultsby. Somewhere along the line, this Arizona bar-band warhorse sold the rights to his band's name to some lame-ass wrestling crew, who put out a crappy album under the CW&TW name, and soon sank into oblivion. I guess they still own the name, though, because after Maultsby put out this (long-overdue) best-of album on his own indie label, he had to turn around and re-issue it under his own name. Well, let that be a lesson to us all: never sell your band's name. Regardless, this here is one fine, full-throttle set that fans of smart-ass indiebilly oughtta really dig. This collects obnoxious oldies such as "You Shot The TV (But You Were Aiming At Me)," "My Girl Passed Out In Her Food," "You Only Say You Love Me When You're Drunk" and that enduring classic, "Disco Sucks," an anti-disco anthem from 1979 that still speaks truth to power. These are all songs I grew up with (thanks, KFAT!) and still like to play them on the radio from time to time... CW&TW were a great regional band based in Tucson, AZ (and still do a few gigs from time to time, or so I'm told... ) It's fun stuff, definitely worth tracking down! Also includes a handful of fun, funny bonus tracks drawn from the band's countless live shows... Thanks, Chuck! (Available through CD Baby and iTunes... Or through Maultsby's own website, www.chuckmaultsby.com )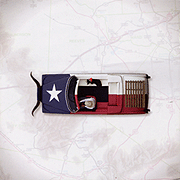 Doug Moreland "Doug Moreland" (Big Hat, 2006)



Wow... this disc just might top my list for best country record of the year, kicking off with some uptempo western swing originals, and moving into silkier, subtler songs, like the Jim Lauderdale-ish "Dallas," and even an elegant little waltz like "Forever In Your Arms." Moreland, who is recapping his career with great songs old and new, gets a little rowdier further in, and closes the disc with "The Beer Song," a hyperactive, hops-soaked send-up of Hank Snow's old tongue-twister, "I've Been Everywhere." Of course, the boozy novelty song is the one that folks love live, but the rest of the record is really what blew me away... It's well-crafted, heartfelt, literate, emotionally resonant and often achingly beautiful, even on coy novelty songs like "Houston (We've Got A Problem)." I actually had to put this record back on the shelf for a few weeks, just so I could take it down and play it again later, and make sure it still sounded as good as I thought it was the first few times I heard it... And it does. One of the more consistently listenable, rewarding records I've heard in a long, long time. Fans of, oh say, Doug Sahm or old Asleep At The Wheel will wanna check this one out. Highly recommended.

Linda Ronstadt & Ann Savoy "Adieu False Heart" (Vanguard, 2006)



Going by the name of "the Zozo Sisters," Americana doyenne Linda Ronstadt and cajun chanteuse Ann Savoy resume the partnership that sparkled and shone on the Evangeline Made compilation a few years back. This is a sweet set of uniformly lovely tunes, some more cajun than others, but all featuring gentle acoustic backing and wonderful vocal harmonies. Old-timey picker Dirk Powell lends his talent to the mix, as do a Balfa and Broussard or two, and the cream of the bluegrass studio crew... There's not much variety in the tempo or tone, but if pretty music is what you're looking for, this disc would be hard to beat.
Carl Smith "Time Changes Everything -- Mister Country" (Jasmine, 2006)


If you haven't discovered old-time honkytonk crooner Carl Smith yet, here's a great opportunity to hear some fo the finest country music the 1950s had to offer... This is an excellent collection of Smith's old standards... I had thought this disc, like other recent classic country releases on the Jasmine label, might be a set of rarities and live tracks, but it turns out these are all old singles and other studio tracks. Includes catchy hits such as "Hey Joe," "If Teardrops Were Pennies," "Satisfaction Guaranteed" and "Don't Just Stand There," as well as some off-the-beaten-track gems and even a tiny sampling of Smith's gospel side. Nice song selection, very well programmed, and totally affordable... a compelling collection of one of my favorite old-school artists!
Sugarland "Enjoy The Ride" (Mercury-Nashville, 2006)



(Produced by Byron Gallimore, Kristian Bush & Jennifer Nettles)
The opening tracks on Sugarland's second album come as a pleasant surprise -- "Settlin' " and "County Line" both have a relatively simple sound, at least compared to the band's forceful, uber-jangly, overbaked (and wildly successful) commercial debut. Ah, at last! I sighed, they've learned how to keep it simple! Well, the slick, thick Nashville sound kicks in soon after that, but they still don't lay it on as thick as they did before. It turns out the reason is that the group has shed one of its principal members, songwriter-singer Kristen Hall, and now tailors its sound entirely towards the vocals of Jennifer Nettles, who acquits herself nicely. The record is, understandably, formulaic -- you don't hit the top of the Country charts without going over-the-top, musically speaking -- but it's a calmer, more easily digestible affair, and has moments of understatement that give me hope that they might tap into something closer to old-school country... Wouldn't that be nice? Doubtless some fans will feel cheated -- where's Kristen?? -- but I prefer this less hyperactive mix. The band itself seems a little conflicted about its future: on one hand, the album title seems to hint at an uneasiness about the impermanence of fame, though on the other hand, they close the record with a belated theme song, "Sugarland," which might come in handy if they stay together for a while. I dunno, I hadn't expected myself to be so amenable to this record... So I guess you can count me among the folks who are curious to see where it goes from here.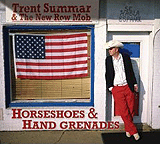 Trent Summar & The New Row Mob "Horseshoes And Hand Grenades" (Palo Duro, 2006)



Yeahhhhhh!! Let's hear it for the dark underbelly of Nashville! Songwriter Trent Summar is doin' fine for himself as a Music City songsmith (you might recognize his Steve Earle-styled rebel anthem, "Guys Like Me," from its earlier incarnation on a Gary Allan album...) but he's also one helluva alt-ish hard country artist all on his own. This is a flat-out awesome, smokin' set of hard-edged, cheerfully rowdy, rollicking material, from the twangy title track, to the power-chord, Southern Rock heaviness of "She Knows What To Do," kind of the guys-eye view of the Gretchen Wilson schtick. One song stands out as a potential Top 40 smash: "Supposed To Do" is a mournful, shimmering ballad about all the things that add up, in their little way, to a broken heart: the truck that took her away, etc., and while I could easily see any number of Nashville stars taking this one on, Summar's own vocals are perfect on this tune... In a just world, a song like this should sail to the top. Other highlights include "Really Never Loved Her Anyway" (another fine novelty song) and "Girl From Tennessee," which extols the virtures of the local gals, and is a fine tune, despite strong thematic (and structural) similarities to Willis Alan Ramsey's "Northest Texas Women..." The only weak note on the entire album is Summar's cowpunky rave-up on his cover of the George Jones oldie, "He Stopped Loving Her Today," but one dubious tune stacked up against ten winners ain't a bad ratio. This disc is highly recommended.

Keith Urban "Love, Pain, And The Whole Crazy Thing" (Capitol, 2006)



(Produced by Dan Huff & Keith Urban)
The first half of this album is quite unapologetically Pop, and profoundly non-Country, but it hardly matters: this is also Urban's most solid, most compelling work to date, even with precious little twang in the mix. A strong set of confessional, introspective tunes, all marked by a heavy tilt towards treble reminiscent of '70s AOR, but with an expansive, 21st Century production style that represents Nashville at its sleekest and most modern, but also in some ways at its best. If you like traditional country, forget it -- this ain't gonna be your cup of tea, but as a contemporary adult pop record, it's a real doozy. I guess it came along with a lot of turmoil in Urban's life -- a celebrity wedding, drug rehab, etc. -- and some of that is reflected in the lyrics, albeit in a subtle, masked way. Overall, a big artistic leap for Urban, although on a personal level, it ain't really my kinda country.
Faron Young "Young At Heart -- The Hillbilly Heart Throb" (Jasmine, 2006)


A solid set of 1950s honkytonk oldies from one of the finest hard country singers to come in the wake of Hank Williams... Young sang with great gusto and the kind of goofy hillbilly charm that made classic country so much fun. This best-of collection holds its own with any of the others on the market today... Recommended!

Various Artists "REDNECK CHRISTMAS" (Time-Life, 2006)


A great holiday collection, although the marketing of this set as a "redneck" album really is misleading... Actually, it's a rather classy set of country oldies, featuring folks such as Buck Owens, George Jones, Homer & Jethro and the Louvin Brothers, with more modern contributions from fellas like Dale Watson, Dwight Yoakam, John Anderson, Travis Tritt and the Tractors... The only moderately "redneck" tunes come from Charlie Daniels and Joe Diffie, but otherwise, this ain't as trashy as they might like you to think. Highlights include Red Simpson's jingly "Truckin' Trees For Christmas" and Asleep At The Wheel's "Xmas In Jail"; there's also the inevitable inclusion of Elmo & Patsy's "Grandma Got Run Over By A Reindeer..." But hey, if you've gotta have that song for the holidays, this is a mighty fine record for it to be on! Highly recommended.

Various Artists "STILL BELIEVING IN CHRISTMAS" (Seasong, 2006)



A nice, heartfelt holiday set from Nashville's old guard. Artists such as Lynn Anderson, Lorrie Morgan, Porter Wagoner, T. G. Sheppard and David Frizzell haven't been near the charts for years now, but they still know their ways around a studio. Overall, this album is too tinkly and piano-y and syrupy for me, but for folks who like their Christmas music on the sweet side (and I know a lot of you do!) this will be a treat... Especially for devoted fans of any of these artists... Highpoints include Tanya Tucker with a peppy "Let It Snow," and Daryle Singletary's gruff version of "O Holy Night." Surprise appearances include Helen Cornelius (whose fans have had to wait a long time to hear her again...) and -- holy cow! -- Little Jimmy Dickens, reading "The Night Before Christmas," who's still around and kicking... and on the Opry, still little and loud. If you're a country fan from a generation or two back, you might get a kick out of this disc. Ho, ho, ho!
---



Hick Music Index
Shop Amazon, Support Slipcue


---