<! MP3 05/22/09 > <! pix 05/22/09 - except for one > <! archived 01/01/09 > <! * >

---



Howdy, neighbors!

Here are some reviews of the new country, bluegrass and Americana records that I had the good fortune to listen to in January and February, 2007. This month: Tom Anderson, Jack Cooke, Waylon Jennings (DVD), Norah Jones, Jim Lauderdale, Willie Nelson, Charlie Rich, Kenny & Amanda Smith, Lucinda Williams

...It's not everything I heard, but it's a nice sample of stuff that either tickled my fancy or ticked me off... Many records that aren't included here are reviewed elsewhere in my full Guide To Hick Music.

Enjoy!

---
New Stuff: January-February, 2007 | Monthly Reviews Index
---
Tom Anderson/Al Rogers "Two Short-Lived Hillbilly Careers" (Binge Discs, 2006)


Holy cow...! This is the kind of reissue record that makes me still feel in love with country music, like there's always new, fun stuff out there to discover, if you just keep looking. The real find here is Tom Anderson, a mystery figure who recorded some awesome, true-blue hillbilly country tunes for the MGM label. The dozen tracks on this disc date back to 1953-54; what happened to Anderson after that is anybody's guess -- even the normally informative folks at Binge disc drew a total blank on both of these artists. Anyway, Anderson had it all -- a great singer with plenty of twang (like early Ray Price, perhaps), he had a strong band (called the Deep Valley Boys), and was also a fine songwriter, penning winners such as "The Moon And I," "Sweet Love" and "If Your Heart Had A Window." Indeed, all of his tracks are good, twangy fun -- I'd play any of them on the radio, anytime. The second singer, Al Rogers, also recorded for MGM (and Capitol, and RCA...) but he's a bit less exciting... Rogers was a baritone crooner in the Red Foley/Ernie Ford mould, singing barrel-chested weepers like "It Wouldn't Be The Same Without You" and "All Alone, All Alone," which he wrote under his given name of Alex Phillip Rogers. His debt to Red Foley is made all too apparent on his early single, "Shuffle-Boogie Bellhop," which is practically a note-for-note swipe of "Chattanoogie Shoeshine Boy." Still, corny stuff can be fun, too, and even though the contrast between these two randomly-paired artists leaves Rogers at a disadvantage, his stuff is still a nice find. Another great collection -- easiest way to track it down is to contact Binge Discs directly, or try the same place I got it, Down Home Music, in the SF Bay Area.
Jack Cooke "Sittin' On Top Of The World" (Pinecastle, 2006)



Fab, back-to-basics, country'n'folk-tinged truegrass. Although he's hardly a household name, Jack Cooke has been a mainstay of the traditional bluegrass scene for decades -- he played rhythm guitar in the Stanley Brothers band before a four-year stint as lead vocalist in Bill Monroe's Blue Grass Boys, and rejoined Ralph Stanley in 1970, sticking with the Clinch Mountain crew ever since. His debt to Dr. Ralph is readily apparent -- when he wants to, he sounds just like him, although he also has a Jimmy Martin-ish bluesy drawl that he can turn to as well. This is a fine album, with Cooke working his way through a solid set of twangy oldies -- "Walking The Dog," "Little Georgia Rose," "Sugar Coated Love," Dark Hollow," "North To Alaska..." -- stuff that he obviously loves to sing, and that his sidemen enjoy pickin' on as well... And, man -- what a talented crew! Ralph Stanley and his son Ralph II are there, as well as Del McCoury and his clan, with an appearance by David Grisman, and a few tunes that feature the album's producer, Jim Lauderdale. Lauderdale also contributes a new song, "That's How The Cookie Crumbles," which fits just perfectly in with the album's cheerfully nostalgic vibe. If you like your bluegrass straight up and straightforward, you might wanna check this one out.
Waylon Jennings "Nashville Rebel" (Box Set) (Sony-BMG Legacy, 2006)



This cool collection of vintage videos is a companion to the stellar 4-CD Nashville Rebel box set, certainly one of the finest overviews of Waylon's career. There is plenty of super-cool material here, as well, tracking Jennings through his glory years of the 1970s and early '80s, providing a great glimpse of Waylon in his raw, razorwire prime. There's an all-too brief glimpse of his early bohunk incarnation, appearing on Johnny Cash's TV show in 1970, with a wild mop of hair slicked back as he plows through "Only Daddy That'll Walk The Line..." From there, it's a quick jump into 1974, and the best material on the disc, Waylon and his crew in a sizzling set on Don Kirshner's Rock Concert. Showing how the country outlaws bridged the cultural divide: longhaired hippie kids in the audience go completely koo-koo as Waylon -- lean, mean, shaggy, sweaty and shimmering with charisma and cool -- roars through an electrifying set of original tunes. They go wild, and he just gets more intense and magnetic. Less enthralling is some previously unreleased footage taped at a rehearsal for Jack Clement's TV show around the same time... That session was a dud -- the camera work was wild and the lighting was poor, you can see Waylon giving up halfway through -- and yet, man, was he cool. Fast forward a few more years, and there's ol' Hoss playing at the Opryland stage, complete with a gigantic neon "W" logo overhead: it's Waylon in '78 -- his ship has come in and he's a superstar at last. Accordingly, the concert is pretty professional and relatively reserved, although it's hard not to appreciate the irony of his belting out "Are You Sure Hank Done It This Way" up on the bandshell of the Opry-in-exile... Apart from the Kirshner show footage, another highlight is a laidback acoustic version of "Waymore's Blues," with Waylon and Jessi Colter kicking back on the couch... He strums the chorus and she starts to grill him about the sexual content of the song ("Every woman I see looks like the place I came in...") and doesn't let Waylon BS his way out of it with a half-mumbled evasion... It's a great snapshot of their partnership, and a genuinely funny moment, looking at the creative process of a country genius. Just to round things out, there are also a trio of early '80s videos that show an even slicker version of the Waylon mystique... All in all, this is a muct-have for the devoted Waylon fan... Recommended!
Norah Jones "Not Too Late" (Blue Note, 2007)



Norah Jones is a hard act to follow... especially when you are Norah Jones. The vast, universal commercial success of her first album set Jones up for endless sniping from the too-cool set, the would-be giantkillers of indiedom whose sworn duty is to find fault with anything successful or sellout-y... Yet, despite the obligatory sniping and second-guessing, Jones continues to rise above the flood and do what she does best: make good music. Not Too Late is another fine, narcotically alluring album, with a few rough edges thrown in to keep folks on their toes. On several songs Jones displays a strong I-wanna-be-Tom-Waits, Kurt Wiell-ish streak, including the softly apocalyptic "Sinkin' Soon" and the politically-themed "My Dear Country." She also takes nods towards classic rock, lifting phrases from Neil Young's "Helpless" and Steely Dan's "Dirty Work," along with her own trademark mellow mix of jazz, country and soul. It's this kind of cheerful, unapologetic acknowledgement of the past that makes Jones so special: while the American entertainment industry continues to pump out endless die-stamped, personality deficient overnight stars, Jones is a throwback to a time when musicians studied music. If you can believe her press, she hangs out with friends, goes to bars, jams a lot, and (obviously) listens to a lot of cool old stuff from a lot of different genres. It shows in her music, and Jones -- no matter what her detractors may say -- remains one of the most substantive performers of our time. Once again, she has crafted an album that lulls listeners into a trance... After the first couple of tunes, it grows soft and fuzzy around the edges and suddenly ends before you've realized the time has gone by. This speaks, I think, to her ability to craft a fine album, rather than a few salable singles. Not Too Late may not have the snuggly universal appeal of its predecessors, but it is a very good record, one that will hold up over the years and shows continued growth from one of America's best, most intelligent young artists.

Jim Lauderdale "Bluegrass" (Yep Roc, 2006)


(Produced by Jim Lauderdale, Randy Kohrs & Bil Vorndick)
Songwriter Jim Lauderdale is one of the most idiosyncratic and successful artists working in country music today... He's also one of the most diverse, as this set of amped-up, oddball bluegrass originals amply reveals... Lauderdale has done bluegrass before, notably in a pair of highly-regarded albums but with truegrass patriarch Ralph Stanley. His notion of "bluegrass music" goes well beyond the boundaries of what most folks working in the style would imagine, including the so-called "progressive" bluegrassers of the last few decades, who stretched the genre by incorporating a softer, folk-pop sound into the mix. As with his country compositions, however, Lauderdale goes off deep into the outfield, writing songs that have eclectic, obscure themes and lyrics that don't always rhyme or readily make sense the first few times you hear them. It's an often ungainly, assymetrical approach that nonetheless grabs your imagination: you might not be able to tell what he's talking about all the time, but you sure like listening to him sing. This disc hits closer to home, though, with original songs that evoke the mournful, country-tinged work of classic bluegrassers such as Jimmy Martin and Hylo Brown, with lost-love songs such as "I Shouldn't Want You So Bad" and "I'm Still Living For You"... You could just almost imagine them being recorded back in the 1950s, even with the extra little twists Lauderdale adds here and there... He's backed here by some fine session players, including guitarist Bryan Sutton and fiddler Luke Bula. Nice stuff... another winner from this American original!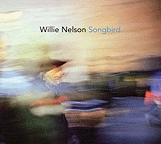 Willie Nelson "Songbird" (Lost Highway, 2006)



(Produced by Ryan Adams)
After recording a series of excellent, low-key traditional-oldies albums, Willie cuts loose and lets his freak flag fly, with a brash collection of rock-country tunes, crafted with the help of alt-twangster Ryan Adams. Along for the ride is Willie's longtime Family Band member and pal, harmonica player Mickey Raphael, though many of the other musicians are young'uns rounded up by Ryan -- the sound is bright, forceful, and purposefully in-your-face. I have to confess, the first few times I listened to this, I had a hard time getting in to it... The energy was there, but the production sounded very artificial, like Ryan had been in one city, sculpting the backing tracks, and Willie came into the studio later to sing the vocal parts... I know that's how most records are made these days anyway, but the trick is for it not to sound that way... and on several songs, Willie sounds almost overwhelmed by or lost in the mix. Still, after a few times on the turntable, it started to gel for me -- if nothing else, Willie's gotta get some credit for summoning the same rockin' rebel at 70+ years of age as he had back in his 40s and 50s... Kudos for him for trying something new, too!
Charlie Rich "The Essential Charlie Rich" (Sony Legacy, 2007)



This is a straight, track-for-track reissue of the 1997 collection, Feel Like Going Home; indeed, they even put the same sticker on the plastic case and kept the same catalog number on the side. So, nothing new here, but considering that this was one of the best country reissues of the 1990s, that's pretty good news. In other words, this is a killer 2-CD set from one of the most soulful country singers ever, a 36-song set that is nothing short of pure gold... This collection was -- I think -- the first retrospective to span everything from his later work with Sam Phillips, to his singles on the Smash, RCA, and Epic labels. There's a lot of missing material that I wish they'd included here, but the goodies that are packed in are pretty swell... Along with early hits such as "Lonely Weekends" and "Mohair Sam", we also get his goofy versions of "Big Boss Man" and "Washed My Hands", and track Rich on through his gloriously cheesy countrypolitan years, with collosal singalong smashes such as "The Most Beautiful Girl" and "Behind Closed Doors." Hard to imagine a better collection -- this is heaven sent, and highly recommended. (Also check out my Charlie Rich discography for more info...)
Kenny & Amanda Smith "Tell Someone" (Rebel, 2006)



A fine all-gospel bluegrass set with sweet vocals and soulful but understated picking; the singing takes the front seat here, and all voices are raised in praise. A couple of tunes are too intense for me, but mostly this is the kind of sweet bluegrass gospel that I really like. Nice song selection, and plenty of heartfelt emotion to back it up. If you like the genre, you'll love this album.
Lucinda Williams "West" (Lost Highway, 2007)



(Produced by Hal Wilner & Lucinda Williams)
Lucinda Williams is, without doubt, Americana's bigGEST Bummer Queen. Her latest album renews the overweening sense of sadness, resignation and anger that came to the fore in her last few records, a genuine world-weariness that inspires as much discomfort as admiration for Williams's artistic potency... While her autobiographical desolation has an undeniable power, and while this is a more focussed, less grating album than her last few, it's still rough going, a gloom-junkie extravaganza that offers little respite for the casual listener. The comedic relief of traditional country has no interest for her; this is more like Joy Division with a slide guitar. I have to admit, I had to struggle with this one -- some songs, like "Fancy Funeral," "West," "Are You Alright?" and "Everything Has Changed" recall the elegance and economy of Williams' best writing, but others are so blunt and so bleak they seem like mere self-indulgence and wallowing. The obvious sexual entendre of "Come On," the protracted misery of "Unsuffer Me" and "Rescue," the windblown, lacerating masochism of "Words," and the utter clumsiness of "Wrap My Head Around That" seem more like spiral-binder journal writing than the proper work of one of America's most gifted songsmiths. Lucinda Williams has definitely blasted her ex -- and the world -- with the purity of her anger and abjection... Let's hope that she's also gotten it out of her system and can move on to a better place when she records again.
---



Hick Music Index
Shop Amazon, Support Slipcue



---


<! *>