<! MP3 05/22/09 > <! pix 05/22/09 > <! archived 01/01/09 > <! * >

---



Howdy, neighbors!

Here are some reviews of the new country, bluegrass and Americana records that I had the good fortune to listen to in March, 2007. This month: David Bromberg, Carolina Cotton, The Circuit Riders, Ry Cooder, John Denver, Val Esway, Elana James, Hal Lone Pine & Betty Cody, Corb Lund & The Hurtin' Albertans, Smiley Maxedon, Audrey Auld Mezera, David Serby, Ricky Skaggs & Bruce Hornsby, Sunshine Ruby, Various Artists "COUNTRY HICKS, v.1"

...It's not everything I heard, but it's a nice sample of stuff that either tickled my fancy or ticked me off... Many records that aren't included here are reviewed elsewhere in my full Guide To Hick Music.

Enjoy!

---
New Stuff: March, 2007 | Monthly Reviews Index
---
David Bromberg "Try Me One More Time" (Appleseed, 2007)



It doesn't get much sweeter than this -- acoustic blues master David Bromberg is back, with his first studio album in, gosh, who knows how many years... (Seventeen? My, how the time can fly...) It's just Bromberg and his guitar, and really, what more could you want? He sounds every bit as sweet and soulful as he ever did -- his voice is in great shape, and his fretwork is pure, refined beauty. The repertoire is mainly classic blues and old-time standards, as well as folk ballads and a touch of gospel.... all great stuff. The title track sets the tone -- a haunting, delicate acoustic number with gorgeous slide guitar work that lets us know that Bromberg is back, as powerful and moving -- and skillful -- a player as ever. Longtime fans shall rejoice and praise his name; newcomers owe it to themselves to jump onboard as well. (Check out my David Bromberg discography for more info... )
Carolina Cotton "Yodeling Blonde Bombshell, v.1" (Self-Released, 2006)



This is a real gem, a lively, long-overdue collection of prime material from one of the West Coast's most vivacious postwar country gals... Helen Hagstrom, aka Carolina Cotton, was a consummate country performer, belting out lively western swing novelty tunes, heartsongs, yodels and Western ballads, singing alongside folks like Bob Wills, Ernest Tubb, Spade Cooley, Joe Maphis, Deuce Spriggins, and Hank Penny... She easily kept up with all these high-power bandleaders, singing with as much gusto and guts as the style required. It's amazing, really, that she isn't more well-known -- she certainly must have cut quite a figure in California's booming country scene, and there weren't many women out there in the forefront at the time. Anyway, this is great record, self-released by Carolina Cotton's daughter, and available through her website, www.carolinacotton.org It has great sound quality, tons of fun songs and great performances... Her high energy and good cheer will win you over every time... If you're into discovering the hidden history of women in country music, this disc is a must-have!

The Circuit Riders "Let The Ride Begin" (Pinecastle , 2006)



Outstanding harmony vocal-based melodic bluegrass, the kinda stuff they called "progressive" bluegrass back in the '70s, but taken here to an exquisite height. This would be an easy album to miss, what with the generic album art and all, but if you like really, really good bluegrass, you owe it to yourself to pick this one up. Amid a flood of hot, but too-perfect superpicker albums, these guys dig down deep into what I, for one, like best about bluegrass, and that's sweet singing and telling a story with honesty and direct emotional presence. The band comes, not surprisingly, from the remnants of the last lineup of the Country Gentlemen, but various members have also kicked around in other top-flight bands. The leading force seems to be guitarist-vocalist Greg Luck, though there are also some other stunning contributions, notably from banjoist Greg Corbutt and Jaret Carter on res-guitar, who both chime in with some gorgeous melodic runs. There's a softness to this album that's a welcome relief from the driving, diamond-hard production style that so many bands seem to favor nowadays. Which isn't to say that this is a wimpy album, or anything -- hardly. Indeed, this is one of the best 'grass albums I've heard in the last few years. Looking forward to the follow-up!
Ry Cooder "My Name Is Buddy" (Nonesuch , 2007)



I haven't heard this one yet, but felt I should let y'all know it's out there... Anything new from ol' Ry Cooder is definitely worth checking out!
John Denver "The Essential John Denver" (RCA/Sony-BMG Legacy, 2007)



Guilty pleasure... sorry! John Denver was part of the musical aether when I was a kid, and his hit songs like "Thank God I'm a Country Boy," "Rocky Mountain High" and "Take Me Home Country Roads" are burned into my DNA. Heck, I even like the super-sentimental "Annie's Song," as sappy a ballad as you'll ever hear... This 2-CD set gathers all those chart-toppers, along with dozens of other tracks taken from Denver's career... There are even rarities that include collaborations with opera legend Placido Domingo, French pop star Sylvie Vartan (!) and country-rock pioneer Emmylou Harris... All that's missing is his work with Sesame Street's Muppets! Although Denver's crunchy-granola faux-hippieism became something of a pop culture punchline during the 1970s, he proved a durable artist, working in a mellow folk-pop mode... This collection should fill the bill for longtime fans and newcomers alike... Personally, I'm just glad I can cuddle up with "Annie's Song" again, in the privacy of my own home. (Don't tell anyone, though!)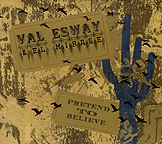 Val Esway & El Mirage "Pretend To Believe" (Staggering Siren, 2007)



The SF Bay Area's indiebilly scene is well represented on this new album from songwriter Val Esway, formerly of the twangband Loretta Lynch... The disc opens with some thumping honkytonkers, "Whiskey Trail" and "Sweet Thing," and settles into a more introspective, poetic mode, on songs like "Birthday" and "Pretend To Believe," songs that bring melancholy folk divas like Linda Thompson, et al to mind alongside twangsters... With the exception of a Doc Watson tune at the end of the album, all the songs are Esway originals... Most of the lyrics tap into the sad side of the country tradition, but there's an underlying feeling of joy, doubtless the artist's own satisfaction from a job well done! (Available through Esway's own website, www.staggeringsiren.com)
Elana James "Elana James" (Snarf Records, 2006)



An absolutely captivating and lively record from fiddler Elana James (nee Fremerman), formerly of the Hot Club Of Cowtown. Given her illustrious swing-string pedigree, the mix of western swing and jazz standards is no surprise, but what's a delight is the album's focus and cohesion, and how gosh-darn well-produced it sounds. It just sounds like a pure, unfettered expression of what she wants to do, and with an artist this talented, that's a pretty cool thing. Throughout the album, James is clearly channeling the spirit of Bob Wills, but with a lively snap of the bow that's all her own; the vocals are also nice, as are the nods to Duke Ellington, Billy Strayhorn and Eubie Blake. If you liked the Hot Club, you're gonna want to pick this one up... pronto! (Available through www.elanajames.com)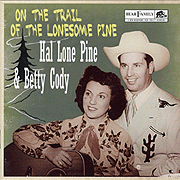 Hal Lone Pine & Betty Cody "On The Trail Of The Lonesome Pine" (Bear Family, 2006)


Fine, sentimental heartsongs and loopy novelty tunes from the early 1950s... Harold Breau (aka Hal Lone Pine) originally hailed from Maine, while his singing partner Betty Cody was French-Canadian Quebecois. This husband-wife duo made a good showing as second-stringers in both countries, and while this disc probably won't blow you away, it's very charming stuff, typical of its time, a fine example of the workmanlike recordings of country's less rowdy artists in the rollicking honkytonk/hillbilly boogie era. The Breaus found their greatest success up in Canada, largely due to the popularity of the regionally-oriented novelty recitation, "Prince Edward Island Is Heaven To Me," a masterpiece of pure, shameless corn. It was followed by "Appleblossom Time In Annapolis Valley," which also sang gthe praises of Nova Scotia. They also sang romantic weepers and smoothed-out honkytonk tunes -- although Lone Pine, in particular, wasn't that strong a vocalist, he sounded amiable and robust, and these tracks are all quite charming. Listening to these old tunes, you can hear that Betty Cody was arguably the better singer of the two -- the folks at the record labels thought so, too, and tried to promote her as a solo artist, although she mainly worked as part of the family road show. She dropped out of show biz when the demands of touring came into conflict with her role as a mother, and when her marriage to Lone Pine fell apart... One interesting footnote: their son, Lenny Breau, was a true musical prodigy and after a brief apprenticeship in the family band, he later emerged as one of he most highly regarded jazz guitarists of the post-bop era. (I don't think he's featured on any of these tracks, but his first teacher, Ray Couture, was a longtime member of the band...) These recordings are a fine legacy of two little-known artists who two sounded quite good together... If you're a devotee of old-school, 1950s country, by all means, check this one out!

Corb Lund "Hair In My Eyes Like A Highland Steer" (Stony Plain, 2005)



A Canadian independent who's had a couple of albums out before this, songwriter Corb Lund emerges as one of the most likeable, entertaining twangster-troubadours on the scene today. Singing good-natured, humorous songs with everyman themes like "All I Wanna Do Is Play Cards" and "Always Keep An Edge On Your Knife," Lund is kind of a morph of Woody Guthrie, Chris LeDoux and Jerry Jeff Walker. The highpoint of this album is the tall-taleish "The Truck Got Stuck," an immensely appealing talking blues novelty song about the perils of driving in the mud up North... The song gets a reprise on the album's end, with folk scene old-timer Ramblin' Jack Elliott trading verses... Ian Tyson also shows up.. and with heroes like this, Lund lets us know he's aiming pretty high. His band, the Hurtin' Albertans, provide a good, strong backing, but it's Lund himself who leaps out at you... He seems like a nice guy, someone you wouldn't mind hanging out with in your old hometown... Short of that, listening to this record will give sure you a chuckle or two!

Smiley Maxedon "A Hillbilly Voice Like Dynamite" (Binge Discs, 2006)
One of those great, gravel-voiced garglers from honkytonk music's dimly-remembered, ker-twangy past... Maxedon was a hardcore honkytonk singer who settled in California's San Joaquin Valley, with a base of operations near Fresno. He was also clearly tapped into the early West Coast/Bakersfield honkytonk scene, as several songs here by Fuzzy Owens and Tommy Collins will attest... This disc gathers twenty rare tracks, most of them recorded for Columbia between 1952-55, and all of them quite powerful and chunky-sounding (among his bandmembers was guitarist Roy Nichols, who crackling style helped define the proto-rockabilly sound of the Maddox Brothers & Rose...) Not a lot is known about Maxedon, but this collection is flat-out great, a much-welcome blast of booze-soaked novelty songs and mopey musical misery. Another plus is that almost all these songs are originals, giving us a whole new batch of honkytonk tunes to chew through... Job well done on tracking this stuff down and making it available to folks who like real-deal hard-country hick music! (Available through the Binge Discs label.)

Audrey Auld Mezera "Lost Men And Angry Girls" (Restless Records, 2006)



Top-flight contemporary folk from this Australian-born singer-songwriter. Mezera, who's settled in Northern California, is a protege of guitarist Nina Gerber, although this diverse album finds her pleasantly free of the coffeehouse limitations of the earnest-folkie/open mic night crowd. She dips into topically oriented material (the antiwar "We Cry"), but she isn't bound to it, and wends her way through smoky blues (on Bonnie Parker's "Morphine"), soft-shuffle honkytonk country and even a nod towards the Irish pubs. Mezera's humorous side gives us two standout tracks, the alt-country homage, "Looking For Luckenbach" -- which name-drops Jerry Jeff and his outlaw compatriots -- and "Self-Help Helped Me," an affectionate, insiderish skewering of the self-help/New Age scene with lyrics worth of Todd Snider of John Prine. The labor songs about coal miners ring a little less true, but throughout the album, Mezera's fluid, girlish voice is consistently compelling, and the musical backing is a delight. Fans of Be Good Tanyas, Jolie Holland or early Dar Williams will probably really dig this, too. Recommended!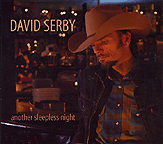 David Serby "Another Sleepless Night" (Harbor Grove, 2007)


A strong offering from Southern California alt-honkytonker David Serby, who bursts forth with some first-class, true-blue twang... Tunes like "The Most Reckless Thing," "Nobody Here By That Name" kick off the album, full of energy and a hunger to be heard -- Serby's definitely giving it his all, and the results are pretty impressive. It really starts to gel on the novelty-oriented "It Ain't A Party (Until Something Breaks)," where Serby shows that he's earned the right to wear that big felt hat over that Merle Haggard jawline... In the second half of the album, there's also a hefty dose of Dave Alvin-ish, Blasters-y blues -- I'm less into that style, but he does it well. Folks who like hardcore, lean-boned twang really ought to check this one out. (Check out www.davidserby.com for more info. )
Ricky Skaggs & Bruce Hornsby "Ricky Skaggs & Bruce Hornsby" (Sony-BMG Legacy, 2007)



Well, there's a couple of ways this could have gone... It could have been popster Hornsby going overboard with the kooky, fake, twang-isms, or an excuse for bluegrass partiarch Ricky Skaggs to indulge in some misguided, cheesoid pop venture... Fortunately, neither of these disasterous possibilities came true: instead, we have a relatively potent, substantive alt-country album, with Skaggs and his band adding the acoustic firepower and Horsby writing and singing most of the songs. It's mostly Hornsby's show -- his piano is in the mix, but only sparingly; mostly it seems he just wanted to do a country thang, and mostly it works pretty well. Indeed, he sounds almost eerily like ex-Bad Liver leader Danny Barnes, who has crafted some interesting, twangy genre-benders of his own recently... The material's a bit dense for my tastes -- I like good, dumb, easily memorable choruses -- but both Ricky and Bruce acquit themselves well. If you're on the Americana hayride to begin with, you oughtta check this one out. (Also check out my Ricky Skaggs discography.)
Sunshine Ruby "Sweetheart Of The Big D Jamboree" (Binge Discs, 2005)
A fascinating, though flawed set of rarities from a child star from the early 1950s regional country circuit. When she was just barely in her teens, Texas-born Ruby Jewell Bateman landed a slot in the Dallas-based Big "D" Jamboree, a Lone Star answer to the Grand Ole Opry radio and stage show. Like other regional shows, the Jamboree served as a farm team for the national stage, and talent scouts from RCA Records signed Ruby up early in 1953. Not much came of it -- she had a couple of (pardon the pun) minor hits, but the sixteen tracks on this album pretty much cover her recording career. There are riotously funny hillbilly gems, such as the risque "That Ain't In Any Catalog," and the jaunty "Too Young To Tango," which had more of a pop flair to it. These early tracks were, paradoxically, Ruby's best -- later that year her voice deepened and became quite husky. Instead of sounding like a little boy, she suddenly sounded like a fey lumberjack, and her songs lost a little bit of their sparkle and charm. The studio crew seemed not to take these sessions too seriously, with guitarist George Barnes, in particular, taking the opportunity to drift off on jazzy improvs, rather than stick to the hillbilly twang that best suited the young girl's voice. While she was game for some unusual, inventive phrasing, it mostly didn't work, and Ruby seemed to have been cast adrift in the studio system, doing a Brenda Lee act a couple of years before Lee came along... A few duets with teen idol Tommy Sands fell flat as well, and while there's still an undeniable charm to this disc, the standout tracks are the exception, not the rule. Still known only on a regional level, Sunshine Ruby apparently quit show business in 1955, marrying and "settling down," as they called it back then... And that was that. Folks who are delving into the history of women in country music will definitely want to check this out -- a few tracks are a real hoot and when the music clicks, it really clicks.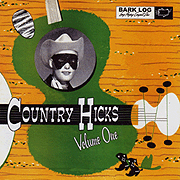 Various Artists "COUNTRY HICKS, v.1" (Bark Log, 2006)


Some day I will get off my butt and figure out a way to digitize the weird, obscure, dusty old 45s I have crammed away in the boxes in my closet and make one of those really groovy, kooky bootleg oldies albums... In the meantime, my jaw drops and my hat goes off to folks like Bark Log Records, who've already done it and who, frankly, have much cooler, much more bizarre records than I'll ever find. This latest version of Country Hicks, v.1 is a real stunner, packed with some of the goofiest, kookiest country novelty songs you'll ever hear... These are mostly micro-label pressings from the 1950s and '60s by amateur singers who had real country soul, but just didn't know when to quit when laying it on thick with the hick schtick. They sing about losing at love and gambling at the track, drinking booze and getting in fights, familiar themes, but presented with all the rough edges that Nashville tried to hard to smooth away. These guys sang clunky, often crude lyrics, with such enthusiasm you just gotta laugh and love it. This volume, in particular, is packed with winners, songs such as "Feel Sorry For Me" by Dave Brockman, Tommy Boyles's "We're Buggin' Out," "One's All The Law Will Allow" by Luke Royer and "My Heart Gets Lonely" by Luke Royer. Never heard of any of these guys? That's the point! The list goes on, and there are more standouts, including the chilling "East Dallas Dagger," by Durwood Daly, which includes a rather convincing description of one of those drag-'em-by-the-tailgate-of-your-truck lynchings. There's some overlap between this disc and another, earlier edition of Country Hicks, v.1, -- either way you go, this is quality quirkiness. Recommended!
---



Hick Music Index
Shop Amazon, Support Slipcue



---


<! *>