<! MP3 05/22/09 > <! pix 05/22/09 > <! archived 01/01/09 > <! * >

---



Howdy, neighbors!

Here are some reviews of the new country, bluegrass and Americana records that I had the good fortune to listen to in April, 2007. This month: Gary Allan, Axton Kincaid, David Ball, Johnny Cash, Bucky Covington, The Greencards, Steve Gulley, Doyle Lawson, Rose Maddox, Dolly Parton, Pine Leaf Boys, John Prine & Mac Wiseman, Daryle Singletary, Todd Snider, Special Consensus, Gina Villalobos, Various Artists: "TEXAS HOEDOWN REVISITED"

...It's not everything I heard, but it's a nice sample of stuff that either tickled my fancy or ticked me off... Many records that aren't included here are reviewed elsewhere in my full Guide To Hick Music.

Enjoy!

---
New Stuff: April, 2007
---

Gary Allan "Greatest Hits" (MCA Nashville, 2007)



(Various Producers)
Of the current crop of Top 40 hat acts, Gary Allan stands out as a superior singer, able to coast atop lavish modern production and still sound natural and sincere -- the guy really knows how to sing a song. This best-of collection is a perfect introduction to his work, gathering all the biggest hits (and adding a couple of new singles so fans will have to pick it up...) For the most part, his twanger side is left off this set, but even so it's worth checking out, particularly if you like Alan Jackson or other neotradders who can still tap into county's old-school vibe. If you want to hear Allan sing honkytonk, you should track down his old albums (particularly 2003's See If I Care) but if you just want the radio hits, rolled up together in one neat package, then this is a mighty useful disc. The new songs, "A Feeling Like That" and the uptempo "As The Crow Flies," fit right in -- maybe slicker than some of us might want, but still pretty darn good. Allan's the real deal: a country craftsman who should be around for a long time to come!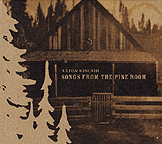 Axton Kincaid "Songs From The Pine Room" (Free Dirt, 2006)



The first full-length release from this gritty San Francisco alt-grass outfit reprises some of the songs from their earlier EP, notably "Who's Gonna Pour My Whiskey When You're Gone?", a catchy mix of honkytonk and old-timey stringband stomp, and the evocative drinkin'-and-thinkin' tune, "Red Light." The group handily fits into the contemporary altbilly scene, with a particular affinity for all those folks from the Midwest who know what it's like to drink too much, too often and really not give a damn. Freakwater and Scrawl come to mind right off the bat, but maybe that's just because the main vocalists are gals, but also because the lyrics are very downer-iffic and express a distinctly female perspective, albeit one that's rather grungey, raw, urban and hip. The remnants of the band's rock'n'roll past are readily evident, both thematically and musically -- mandolin picker Jennifer Daunt takes several searching, improvvy solos that have that choppy, rockin' feel to 'em, but while she lacks the technical rigor and formalism of mainstream bluegrassers, she makes up for it by sounding like a real, live human being, rather than just another hotshot superpicker. Flaws are one of the things that help define this band -- songwriter Kate Howser paints portraits that are often desolate and unfulfilled, but also joyful and unrepentant, a mixture of moods that is reflected in the music. In true DIY spirit, the imperfections are there, but they help you notice the sparkle of the gem underneath. (For more info, see axtonkincaid.com )
David Ball "Heartaches By The Number" (Shanachie, 2007)



Like his new labelmate Daryle Singletary (see below), David Ball is a former Nashville hitmaker who's gone indie -- I guess it's just easier that way -- and banged out an affectionate love letter to good, old-fashioned hard country, singin' oldies from Bob Wills, Harlan Howard, Carl Belew, Hank Locklin and Webb Pierce. Sounds good to me. Ball, who's a mighty fine songwriter himself, contributes "Please Feed The Jukebox," and sings it all with sincerity, authority and depth. In a sense, it's too bad he's cut off from the Nashville wall'o'sound, since his thin, somewhat plain voice actually did benefit from heavy production in a way that many singers do not. But this bare-bones set is an affirmation of faith, and Ball is clearly a singer who knows the way. Fans will be happy, and eager for more.
Johnny Cash "Ultimate Gospel" (Sony-BMG Legacy, 2007)



Nobody sings gospel quite like Johnny Cash, as heard in this stunning collection of devotional work that Cash recorded for Columbia/CBS over the years. The album gathers liberally from his many religious records of the late 1960s and early '70s, efforts that had a quixotic air about them, but always exuded born-again intensity that left little room to doubt his (and June's) sincerity and depth of conviction. Many of the songs come to us shorn from their original contexts -- from concept albums about the Holy Land, etc. -- but that doesn't make them any less haunting or piercing. His use of sound samples -- notably from Billy Graham lectures -- is pretty striking as well: take that, college rock hipsters! Johnny Cash did it first! (Only, not ironically...) Anyway, the main thing is, this is real, heartfelt religious music; all the passion and power that he put into his best-known secular work also went into his Christian recordings, and even the agnostic among us may find something here that'll strike a chord. Nice collection.

Bucky Covington "Bucky Covington" (Lyric Street, 2007)



(Produced by Mark A. Miller & Dale Oliver)
Loud, bombastic Southern-rock flavored commercial country. American Idol finalist Bucky Covington is a singularly artless singer, but that hardly matters, since the merciless barrage of electric guitars is the real point of this record: it's all about the formula, and about not giving listeners a chance to breathe the whole time the record is playing. The production is very dense and tightly crafted, so that no matter where your ear roams, it gets filled with something studio-y. Folks who like Montgomery Gentry, Billy Ray Cyrus and Van Zandt can probably get into this; I find it all to be a bit much.

The Greencards "Viridian" (Dualtone, 2007)



A lovely, pretty-sounding set with contemporary folk overtones, ala Be Good Tanyas, along with some satisfying, straight-ahead bluegrass, and a bit of Celtic coloring thrown in for good measure. Bassist Carol Young has the strongest presence, adding fine vocals to some of the less bluegrass-y tunes, although the guys kick in on vocals as well, and all the bandmembers contribute strong original material. You can draw comparisons to other contemporary style-stretchers: some of the gruffer male vocals evoke Dan Tyminski's work with Union Station, and there's a little bit of Nickel Creek in the folk-pop elements as well, although much to their credit, the Greencards are far less stagey and self-important than those chartmakers, and less anchored to the "adult pop" market. There's still a sense of spontaneity and joyful fun here that will be instantly appealing, and the group's diversity and mastery of styles makes this feel like a nice freeform folk radio show. This is a band that a lot of fans are going to latch onto over the next few years.

Steve Gulley "Sounds Like Home" (Lonesome Day Records, 2007)



Super-sweet, melodic bluegrass from a former member of Doyle Lawson's Quicksilver, and former lead singer of Mountain Heart... Singer-guitarist Steve Gulley plays it pure and clear, with several new, original numbers and a bunch of classics from the canon... Some of his old buddies chime in here as well, including the fellas from Mountain Heart, Lawson, and Dale Ann Bradley, who adds some gorgeous harmony and duet vocals on a couple of tunes. This disc is solid from start to finish -- mostly traditional, mostly secular, though with some well-chosen gospel material, and fine pickin' throughout. If you want any proof of the strength of the independent bluegrass scene, look no further. Records like this give lots of hope for the future... Come to think of it... the present sounds mighty nice as well!

Doyle Lawson & Quicksilver "More Behind The Picture Than The Wall" (Rounder, 2007)



In recent years blugrasser Doyle Lawson has tilted away from his pure gospel orientation and back into a more secular mode... On his latest album, there are still some fine gospel tunes, but mostly a fine brace of heartsongs, sung bluegrass style, with many taken at a fast clip. Turning over the lead vocals to guitarist Jamie Dailey has given Quicksilver a less dulcet, more plangent, and more driving sound, more akin to old Osborne Brothers records than to the sublime, velvety harmonies Lawson has been known for... But it's still solid truegrass musicmaking, worthy, as ever, of our full attention. Some nice new material as well, including several songs written by Dailey, and a gospel tune or two for good measure. (Also check out my Doyle Lawson discography page.)
Rose Maddox & The Vern Williams Band "A Beautiful Bouquet" (Arhoolie, 1983/2007)



A welcome reissue of this early-'80s bluegrass gospel album, pairing hillbilly legend Rose Maddox with the Vern Williams band, one of the finest regional bluegrass bands on the West Coast. At the time, Maddox was no spring chicken, but she was still touring and gigging regularly, and she still sang with authority, warmth and plainspun emotional power. It's a very soulful set, with every song ringing true. If you like your bluegrass simple and sincere, with heartfelt harmonies and no-frills picking, then this disc is for you. It's a gem. (Also check out my Rose Maddox discography page.)
Dolly Parton "Coat Of Many Colors" (Sony-BMG Legacy, 1971/2007)



Dolly Parton "My Tennessee Mountain Home" (Sony-BMG Legacy, 1973/2007)



Dolly Parton "Jolene" (Sony-BMG Legacy, 1974/2007)



Great reissues of three classic albums from the early 1970s, when Dolly was cementing her image as a consummate country songsmith (and total babe). Each of these albums are reviewed more fully in my Dolly Parton discography, but the quick rundown is this: Coat Of Many Colors was a personal landmark for Dolly, seen by many folks as an artistic declaration of independence from the heartsongs-and-hokum of her partnership with Porter Wagoner. Tennessee Mountain Home takes Parton's backwoods Appalachian autobiographical mythologizing and turns it into pure corn (still fun, though!) and Jolene has the greatest song ever written on it ("Jolene") as well as several hard-country smokers and some more poetic material that'll make your toes curl. Each album is packed with non-hit gems, even moreso now that these new CD versions include bonus tracks that are often better than the original albums. Mighty fine stuff -- I sure hope Sony-BMG is able to keep mining deeper and reissue more of Dolly's classic catalog like this. Nothing like hearing great old albums in their entirety... Especially when they're as Dolly-licious as these mini-masterpieces! (Also check out my Dolly Parton discography page.)

Pine Leaf Boys "Blues De Musicien" (Arhoolie, 2007)



A rock-solid set of Louisiana Cajun music, with fresh-sounding performances from one of the youngest -- and best -- new bands in the style. This crackerjack ensemble of youthful twentysomethings brings energy and passion to their work, and this set of French-language songs -- most of them originals written by fiddler Cedric Watson -- will bring deep satisfaction to Cajun music fans.. This is as good as the style gets, a lively, heartfelt performance that puts these fellas at the top of the game. Definitely worth checking out!
John Prine & Mac Wiseman "Standard Songs For Average People" (Oh Boy, 2007)



When you see these two guys together, and then hear them singing in such perfect synch, a lightbulb will pop up above your head and you'll think, Oh, of course... Duh!! Although even the youthful John Prine had a limited vocal range, the expressiveness and depth of feeling he's poured into his every performance has a lot in common with bluegrass elder Mac Wiseman, a superior tenor stylist who knew how to wring not just sentiment, but real, moving feeling out of all the songs he tackled. Here, they swap verses on a flock of their favorite songs, a delightful set of country and pop oldies, stuff ranging from hard country tunes like "Pistol Packin' Mama" and "I Love You Because" and a mellowed version of Charlie Feathers/Elvis kookazoid rockabilly oldie, "I Forgot To Remember To Forget" to fanciful covers of pop standards such as Patti Page's hit, "Old Cape Cod" and Bing Crosby's "Where The Blue Of The Night (Meets The Gold Of The Day)"... It's a wonderful nostalgia trip, with two loveable old farts crooning their hearts out, in a delightful musical and cultural unison. The spirit of this album is perfectly captured in their version of the Bob Wills evergreen, "Don't Be Ashamed Of Your Age"; if you like heartsongs and sentiment sung with feeling, then this disc'll be a real treat.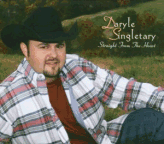 Daryle Singletary "Straight From The Heart" (Shanachie, 2007)



Where's a country boy to go, when the hits go away? Country. That's what more than a few former chartbusters have concluded recently, as the halflife of a Nashville star seems to have shortened to about the same as a Tulsa icecream cone on a September sidewalk. Getting no love from the major labels, many of country's finest singers have gone indie, so that they can get back to singing the kind of music they like, and forget the rest of the head-trips. Witness this stunning performance from Daryle Singletary, who remains one of the finest honkytonk singers in America today. It's mostly a set of cover tunes, each perfectly chosen to match his temperament and range, and he nails each one -- bam, bam, bam -- showing us all how this stuff really oughta be sung. Covering George Jones ("These Days I Barely Get By"), Merle Haggard ("Bottle Let Me Down"), Keith Whitley ("Miami, My Amy") and Conway Twitty ("Fifteen Years Ago"), Singletary leaves no doubt where his sympathies lie. And with duet partners like Ricky Skaggs, John Anderson and Rhonda Vincent, it's clear a lot of the right folks feel the same way. There are also some newer tunes, and they're knockouts, too, especially Larry Cordle's "Jesus And Bartenders" and Singletary's own "I Still Sing This Way," which hearkens back to his last album, where he reaffirmed his faith in keeping country country. We're right there with ya, Daryle -- keep up the good work!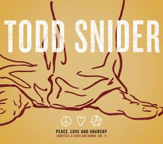 Todd Snider "Peace, Love And Anarchy: Rarities, B-Sides And Demos" (Oh Boy!, 2007)



The lacerating wit of folk-twang smartass Todd Snider is presented in its rawest form in this lively set of demos, outtakes and one-offs... There are several songs about Nashville and its secret society of half-starving songwriters, an ode or two dedicated to the rival Austin scene, and some good, old-fashioned novelty songs such as "Barbie Doll" and "Combover Blues." Some of these songs may be familiar from their finished versions, while some, particularly those with all the dirty words in 'em, never got all that much airplay. (One more reason to pick this one up: half of these songs you will never, ever hear on the radio, due to "objectionable" language...) Pals like Jack Ingram and Peter Holsapple pitch in on a tune or two, but mostly it's Snider's show, and he comes through crystal-clear on the disc's stripped-down acoustic numbers... It's a pretty strong set -- a nice addition to his ouvre; longtime fans will be stoked.

Special Consensus "The Trail Of Aching Hearts" (Pinecastle, 2007)



Another rock-solid bluegrass record from this long-lived Chicago ensemble. Old-timer Greg Cahill plunks a mighty banjo, but stays in the background for the vocals, letting the young-uns throw on all the harmonies and high notes... This disc -- the band's thirteenth album in 30+ years -- is one of their tightest, smoothest sets to date. It's also packed with great material, mostly well-chosen cover songs from folks such as Charlie Louvin, Hank Snow and Marty Robbins... Mandolinist Ron Spears contributes two new songs, including the gospel number, "Lift Your Voice In Prayer" and the secular "I'd Like To Wander Back To The Old Home," which sounds like something Mac Wiseman would have recorded in the early 'Fifties... Just to show of some hot licks, there are a couple of instrumental tunes, including a zippy Cahill original and a sweet version of "Blue Skies." All in all, another nice album from this low-key Midwestern powerhouse.

Gina Villalobos "Miles Away" (Face West, 2007)



(Produced by Gina Villalobos & Erik Colvin)
A raw, rollicking country-rock effort full of attitude and drive... There's the teeniest hint of Lucinda Williams in the mix, but in her more rockin' moments, Villalobos comes closer to the Tom Petty/Sheryl Crow school of roots-rock tunesmithing. The stylistic hallmarks of the Americana/outlaw movement are present -- fiddle, pedal steel and banjo -- but Villalobos' L.A. rocker roots are never far from the surface. She distinguishes herself with her powerful, fully captivating melodic hooks -- the sign of a noteworthy artist in any genre. If you're looking for some twang that really rocks, check this gal out!

Various Artists "TEXAS HOEDOWN REVISITED" (County, 1965/2007)



There's just something about Texas fiddling that is so super-sweet... Those fellas back in Virginia and the Kentucky had a rougher style, but over in the Lone Star state they liked to linger on the notes a little and embellish the melody. Want proof? Check out this swell set from the 'Sixties, an expanded reissue of a 1965 featuring three bowmen, Bartow Riley, Vernon Solomon and Benny Thomasson. It's a great collection, packed with captivating performances. Fourteen "new" tracks are added to the original album, including several tracks recorded a few years later; four songs from the original album have been pruned out (having already been reissued on an earlier CD of Solomon's work...) This is really sweet stuff, a real treat for fiddle fans of all persuasions. Recommended!
---



Hick Music Index
Shop Amazon, Support Slipcue



---


<! *>