<! MP3 05/21/09 > <! pix 05/21/09 > <! archived 01/01/09 > <! * >

---



Howdy, neighbors!

Here are some reviews of the new country, bluegrass and Americana records that I had the good fortune to listen to in May, 2007. This month: Jason Aldean, Darol Anger & Mike Marshall, Asleep At The Wheel, Guy Clark, Antsy McClain & The Trailer Park Troubadours, Willie Nelson, Willie Nelson/Merle Haggard/Ray Price, Peter Rowan & Tony Rice, Ann Savoy, Uncle Earl, Porter Wagoner, Bradley Walker, Clay Walker, Dale Watson, Bobby Williamson

...It's not everything I heard, but it's a nice sample of stuff that either tickled my fancy or ticked me off... Many records that aren't included here are reviewed elsewhere in my full Guide To Hick Music.

Enjoy!

---
New Stuff: May, 2007
---

Jason Aldean "Relentless" (Broken Bow, 2007)



(Produced by Michael Knox)
A new kid in Nashville, Georgia-born Jason Aldean has a tall order following up his platinum-ranked first album, which scored a #1 hit with the rollicking "Hicktown." I'm not sure the lead single on this new disc, "Johnny Cash" has quite the same mojo, but the neo-Southern rock crowd will probably dig it, and I'm pretty sure I ain't the target audience anyway. One thing that stands out about Aldean, and I think this is a real strength, is that he has a modest voice and doesn't try to overreach and get all Tim McGraw-ed out about it. Even though the songs have the same pop trappings as many other post-millennial Top Country acts, Aldean doesn't go over the top all that often, and this low-key approach allows his native drawl to come out: I'm more convinced that he's a genuine good ol' boy than I am of over half the current Top 40 hat acts. He also sings with conviction -- even with all the wailing guitars, Aldean cuts through and brings it home, especially on the slow songs. For my money, ballads like "Do You Wish It Was Me" and "Grown Woman" are the best things on here. It's not my cup of tea, but I think he's worth keeping an eye on...
Darol Anger & Mike Marshall "Woodshop" (Adventure Music, 2007)


Sprightly "newgrass" instrumentals in the classic mode, these collaborations between violinist Darol Anger and mando/multi-instrumentalist Mike Marshall cap a decades-long partnership, and show the fluidity and playfulness of their shared musical strengths. The tunes bear the emblematic mix of bluegrass, classical and jazz elements that the style is based on... The album kicks off with "Peter Pan," which gave me the willies because its the theme song to a local public radio talkshow that I hear all the time (Mike Marshall wrote it... who knew??) Another highlight is the craftily named "Who Had Whom," which is a sideways quote of the Beatles' "Michelle..." All in all, a pretty solid album by these two old pros -- focussed and not too goopy, a treat for fans while accessible to Americana and jazz buffs alike.
Guy Clark "South Coast Of Texas" (Warner Brother, 1981)



A much-welcome reissue of what is possibly the finest album by alt-country elder and master songwriter Guy Clark... This is one of my all-time favorite albums, packed with great songs, such as "New Cut Road," "She's Crazy For Leaving," "The Partner Nobody Chose," and "Heartbroke," which he co-wrote with Rodney Crowell. This also has the superior version of "Rita Ballou" (which was originally recorded on the 1975 album, Old Number One.) This album captures Clark at his most joyful and most confident -- all of these songs just leap right out at the listener, and many are true classics. It would have been swell if the CD reissue also included some bonus material (Clark's promotional interview disc from the same time, perhaps?) but I'm really not complaining. It's great to have this album back in print! Highly recommended.
Guy Clark "Live In Austin, Texas" (New West, 2007)



While I'm at it, I should mention this live 1989 recording dug up from the Austin City Limits archives... I haven't heard it yet, but I imagine it's quite good! (There's also a DVD version, if you really wanna see Clark in action...)

Antsy McClain & The Trailer Park Troubadours "Trailercana" (DPR, 2007)



Twang-ish novelty songs that purport to pander to white trash stereotypes (take the band name, for example...) but actually harken back to the goofball pop culture glibness of early Warren Zevon and old Jimmy Buffett. The prominence of a tootling horn section recalls the early 1970s when R&B-based boogie rock flirted with hippie twang, a style that was hard to get into back then and is still a tough sell today. A lot of folks seem to be diggin' Antsy's schtick, but I'm not totally feeling the love over here in Sixpackville. Some songs are just way too obvious and seem to have been done before, for example the panderdelic "I Was Just Flipped Off By A Silver Haired Old Lady With A 'Honk If You Love Jesus' Bumpersticker" certainly brings to mind Buffett's "God Don't Own A Car" and the Gold Coast Singers' "Plastic Jesus"; Cheech'n'Chong-ish stoner humor is reprised on "Prozac Made Me Stay," and "Joan Of Arkansas" is one in a long line of faux-heroic burn-the-trailer-down ballads. That being said, there are some standout tracks: "Dysfunktional," with the singer taking advantage of a mentally ill party girl, will raise a rueful smile; "I Wanna Live In A Billboard" is a perky send-up of consumer culture, and other songs have some zippy lines here and there, and "I Married Up" is almost tight enough to be a rednecky hit for Travis Tritt or someone like that. Without doubt there are legions of people who will love this album and no short supply of freeform radio DJs who will play it to death, although I find it way too on-the-nose and overly obvious for it to have a long shelf life... Folks who really dig Red Meat, Jimmy Buffett or the Austin Lounge Lizards will want to check this out.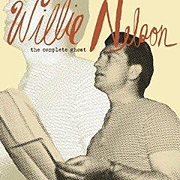 Willie Nelson "The Ghost" (Masked Weasel, 2006)


His history as a hard-working craftsman, plugging away in the bowels of Nashville is well-known, and this 3-CD set of early recordings, demos and such from the early 1960s, before he broke away from Music City's orbit, is an illuminating look at Willie's early years. Especially interesting are the lazy blues jams, showing just how far back his genre-busting inclinations go... There are also some tracks from the early '70s, some songs that are well-known and others that are not, and some overlap with other Willie discs. But this set has a nice cohesion to it, exploring the ragged underbelly of Willie's work, and stands quite nicely on its own. Also available as individual discs -- definitely worth checking out!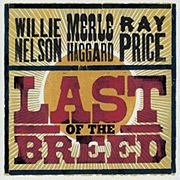 Willie Nelson/Merle Haggard/Ray Price "Last Of The Breed, v.1 & 2" (Lost Highway, 2007)



(Produced by Fred Foster)
SO SWEET. Three venerable old coots get together and sing the kind of songs they love -- sappy old standards, soulful heartsongs, gospel tunes and heartwrenching ballads, all performed with a light, loving touch. Each of these old-timers has had a creative renaissance in recent years, but it's really Ray Price who shines on here... Price sank into irrelevance during the 1970s countrypolitan years, but his old pal Willie Nelson keeps bringing him back into the spotlight, with ever-increasing creative rewards. Willie and Merle are no slouches, but Price really steals the show -- he delivers these songs with such depth and conviction, it's hard not to be blown away. What a treat to hear him in such fine form again. This 2-CD set is a worthy reprise of Willie and Ray's Run That By Me One More Time, an album that was one of my favorite country releases of 2003. And if you like this collection, you should definitely pick up a copy of Willie's recent tribute to songwriter Cindy Walker, You Don't Know Me,which was produced by Fred Foster, and taps into the same wellspring of classy, heartfelt sentimentality. Yay, Willie. Yay, Merle. Yay, Ray!
Peter Rowan & Tony Rice "Quartet" (Rounder, 2007)



Rowan and Rice renew their partnership with a fluid, melodic outing, digging deeper into their shared love of the folkie-poetic side of the bluegrass sound. They revisit several classic Rowan tunes -- "Midnight Moonlight," "Dust Bowl Children," "Walls Of Time," and others -- but also pick some intriguing cover tunes. Patti Smith's "Tresspasses," for example? Hmmm. Very interesting. Tony Rice, sadly, still can't sing due to a longstanding vocal injury, but he makes up for it in spades with his elegant, sometimes florid, guitar work. Rowan is in fine form, too, and keeps it simple with his own guitar work, while ceding the mandolin work to newcomer Sharon Gilchrist, who, along with bassist Bryn Davies, adds some lovely harmonies. Davies continues to impress as an accompanist -- one wonders how long it will be before her solo debut -- rounding out this compact, comfortable quartet. Worth checking out, especially if you enjoyed the last Rowan-Rice outing.

Ann Savoy & Her Sleepless Knights "If Dreams Come True" (Memphis International, 2007)


Having long since secured her place in the firmament of the modern cajun revival, Ann Savoy is steadily shoring up her bona fides as one of the finer, most confident vocalists in the roots music ouvre. On this elegant outing, she sings swing with a lighthearted authority, her command of jazz timing and old-school pop sensibility coming through loud and clear... There's a smattering of French in the song titles, but it comes from the other side of the Atlantic -- from the work of Django Reinhardt and Georges Ulmer -- and the swampy side of her sensibility is largely left behind. Crooning her way through standards by Joe Burke, Benny Goodman, Rogers & Hart, Ray Noble and Dorothy Fields, Savoy makes all that old jazz sound new and fresh, a joyful expression of her own inner muse, and not just another retro-torch run-through. It's quite a lovely record... If you've enjoyed her recent collaborations with Linda Ronstadt, et. al., you should love this album as well!

Uncle Earl "Waterloo, Tennessee" (Rounder, 2007)



Oh. My. Goodness. Now, see, I kinda liked this quartet's previous album, but I am completely floored by this one. A lovely set by one of the freshest-sounding, most creatively engaged combos on the bluegrass/old-timey scene today. The four gals in Uncle Earl -- Kristin Andreassen, Rayna Gilbert, K.C. Groves and Abigail Washburn -- dig deeper into the pre-bluegrass stringband tradition than anyone this side of Dirk Powell, but they do it without getting caught in the more-unlistenable-than-thou, stylistic purity trap. Unafraid to smooth out the rough spots, they've crafted a wonderfully, delightfully listenable album, cohesive and continually revelatory, admirably diverse but cannily programmed, so that one song flows easily to the next. But just when you started getting lulled into the fuzzy zone, some new surprise leaps out at you -- Washburn yodeling in Chinese, the quartet harmonizing on a sweet, archaic shape-note tune, the g'Earls knocking a Carter Family tune clean out of the park. I dunno... I suppose I could go on and on, but suffice it to say this disc is a winner. Run, don't walk, down to your local record hut and snap this puppy up. You'll be glad you did.

Porter Wagoner "Misery Loves Company" (Masked Weasel, 2005)


Although he was really a superior writer and singer of sentimental country love songs, Porter Wagoner also built up an image as a lovable hillbilly nut, and many of his albums were graced by kooky novelty songs of the highest order. And here we have some of the best, gathered together on one disc, with gems such as "Sorrow On The Rocks," "Skid Row Joe," and his magnificent rendition of the gospel recitation, "What Would You Do If Jesus Came To Your House..." It's a great introduction to Wagoner's work; pity there isn't more of his stuff still in print! If you like what you hear on this disc (and you should!) then it's definitely worth your time to track down all the other stuff as well!
Bradley Walker "Highway Of Dreams" (Rounder, 2006)



(Produced by Carl Jackson)
The answer to the question is: yes, you should drop everything you're doing, go out, get this record, take it home and see what all the fuss is about. Put simply, this is one of the finest country/grass records of the decade, and Bradley Walker is a real find. On the very first track, I was reminded of his labelmate, Alecia Nugent, a country-drenched ballad singer who's hung her hat in the bluegrass world, but who could probably make the jump into Top 40 country without batting an eye. Walker has a similar vibe: he's more of a throwback to the older heartsongs tradition of the 1950s and '60s, a guy with a great voice and an outstanding sensitivity for the nuances of the style. Although many of the songs on this album could probably hit the charts if some hat act dude picked 'em up and pumped them up with a few power chords and rock riffs, Walker (thankfully) plays 'em nice and simple, and fans of great, sweet-toned honky-tonk singers such as Carl Smith, Gene Watson, Keith Whitley and Vince Gill will appreciate his mix of conviction and restraint. After a few songs, I cracked open the liner notes and sure enough, Alecia Nugent is there, singing harmony on several songs, as do Sonya Isaacs and Rhonda Vincent, with a slew of high-powered pickers in the mix. The venerable trad-country producer Carl Jackson helped sculpt the sound -- as he did on Nugent's first two albums -- crafting the same sweet mix of heartfelt country and stringband twang. A little light went off and I finally remembered the achingly beautiful duet Nugent sang with Walker on her last album, one of the most alluring gems on a glittering, gorgeous record. As I started to pour over the notes, I realized that Walker was also physically disabled, read a bit further and discovered he has muscular dystrophy, which makes his mastery of the genre that much more impressive. The most important thing, though, is the music, and this is the kind of stuff I love to hear... I'm looking forward to hearing lots more from this fella in the future!
Clay Walker "Fall" (Curb, 2007)



(Produced by Keith Stegall & Jim Ritchie)
Walker remains one of my favorite hat-act Top 40 dudes... Sure, he records plenty of those bombastic, lavishly produced power ballads, but since he kicks off this disc with a romping, rowdy novelty tune like " 'Fore She Was Mama" (about some kids who find a shoebox full of pictures taken when their mother was a wild'n'crazy hottie), all is forgiven. There are also the usual nods towards the little guy ("Average Joe," "Workin' Man") and the current Nashville obsession with tropical vacations ("Mexico"), but there are also surprises such as a duet with the late, great Freddy Fender ("Before The Next Teardrop Falls") and a sweet, sensitive-guy tribute to all that is plain and pure of heart ("It Ain't Pretty, But It's Beautiful") Walker's voice has heft, but not too much swagger, and personally, I prefer it that way. Nice to have him back in action.
Dale Watson "The Little Darlin' Sessions" (Koch, 2007)



Dale Watson pays tribute to Little Darlin' Records, the scrappy 1960s indie that brought the world Johnny Paycheck, and helped launch an odd career or two. For this project, Dale teamed up with some of the original Little Darlin' studio crew, including steel player Lloyd Green, guitarist Pete Wade and pianist Hargus Robbins, with the old label head Aubrey Mayhew signed on as producer, plowing through a jovial set of oldies by Johnny Paycheck, Joe Poovey and others in Mayhew's old orbit. This album is an interesting idea though apparently Watson himself says it was rushed to release and is unhappy with how it turned out. Still, even with a somewhat flat feel overall, this disc has some killer country tunes on it, including soul-searing weepers like "Touch My Heart" and "If I'm Gonna Sink (I Might As Well Hit Bottom)" as well as lesser yet enjoyable novelties such as "Pint Of No Return," et. al. Dale might be ticked off about this disc, but he did a fine job bringing these old tunes back to life... I'd take a Dale Watson demo tape over almost anything on the modern-day Nashville charts... It's certainly worth checking out.
Bobby Williamson "Sh-Boom! (Life Could Be A Dream)" (Bear Family, 2007)


Here's another hillbilly who-dat, rescued from the brink of oblivion by the good people at Bear Family... Best remembered for his twanged-up cover of the doo-wop classic, "Sh-Boom," "Texas" Bobby Williamson was a regionally successful country cat and veteran of the Dallas-based Big "D" Jamboree radio show who recorded for a few years in the early 1950s, then faded from sight. This disc collects all his recordings for RCA from 1951-54... It's generally marginal material, mainly because Williamson was (to be honest) a marginal singer. There are some charming songs, though, especially original material written by Williamson himself, notably "Just Skip It" and "A Little Bit Of This (A Little Bit Of That)." The funny thing is, while the vocals are a bit iffy, Williamson's band was pretty sharp -- indeed, if they'd been a little more ragged and rough-hewn this disc might be more fun, in that way that the best old hillbilly music can be, but with a slew of Nashville studio cats backing him up, Williamson's vocals sound a bit out of place. This is actually one of the few Bear Family sets that I've purchased but not kept in my collection... Don't let that dissuade you, though: fans of old obscuro-country tunes should still check it out for themselves.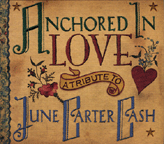 Various Artists "ANCHORED IN LOVE: A TRIBUTE TO JUNE CARTER CASH" (Dualtone, 2007)



(Produced by John Carter Cash)
An star-studded cast pays homage to the late, beloved doyenne of the Cash family... In keeping with the Carter/Cash legacy, there are several duets here, the best of which is Patty Loveless and Kris Kristofferson's stately intertwine on "Far Banks Of Jordan." Other album highlights include Rosanne Cash's sorrowful "Wings Of Angels," Brad Paisley's rock-solid rendition of "Keep On The Sunny Side" (Note to Brad: do more traditional stuff!! Could we get a whole album's worth someday?) and Billy Joe Shaver's irrefutably desolate "Kneeling Drunkard's Plea." Loretta Lynn, Ralph Stanley and Emmylou Harris weigh in as well, and doubtless many will be thrilled by Elvis Costello doing "Ring Of Fire..." Overall, a nice record, although in some ways it almost feels too soon for a tribute album to come out; so many fine June Carter reissues and the like have come out in the last few years, it feels like a record like this might get lost in the shuffle. Certainly worth checking out, especially for the fine gospel track by Mr. Paisley.
---



Hick Music Index
Shop Amazon, Support Slipcue



---


<! *>