<! MP3 05/21/09 > <! pix 05/21/09 > <! archived 01/01/09 > <! * >

---



Howdy, neighbors!

Here are some reviews of the new country, bluegrass and Americana records that I had the good fortune to listen to in June, 2007. This month: Kathie Bailie, Sam Baker, The Basement, Sarah Borges, Cadillac Sky, Elizabeth Cook, Autry Inman, Miranda Lambert, Daniel Lee Martin, Dwight McCall, Pam Tillis, Adrienne Young, Various Artists: "ANCHORED IN LOVE: A TRIBUTE TO JUNE CARTER CASH"

...It's not everything I heard, but it's a nice sample of stuff that either tickled my fancy or ticked me off... Many records that aren't included here are reviewed elsewhere in my full Guide To Hick Music.

Enjoy!

---
New Stuff: June, 2007
---

Kathie Baillie "Love's Funny That Way" (Aspiron, 2006)



(Produced by Michael Bonagura)
A fairly syrupy mix of mature country-pop and Carpenters-ish pop power balladry, this album is probably a for-fans-only effort, but folks who have hung with Baillie & The Boys over the years will psyched to hear Kathie back on wax. Guest performers include Vince Gill and Highway 101's Paulette Carlson, who sings harmony on her own mother-daughter themed "Old Glass Case," a fiddle-based weeper that's certainly one of the album highlights. Baillie's longtime partner Michael Bonagura, a veteran of the original band, pitches in as producer and sideman...
Sam Baker "Pretty World" (Sam Baker Music, 2007)



Another impressive offering from this Texas singer-songwriter, a fella who's fast making a bid to establish himself as the "next Guy Clark," and who's certainly on my list of the top country artists of the decade. Baker's allusive, impressionistic songs provide some of the best character sketches heard in Americana music in many a moon... There's something miraculous and captivating about Baker's work: his shambling melodies and half-spoken, half-swallowed lyrics have a fascinating mix of emotional directness and inexplicable mystery. Baker takes up the torch of independent twang, but sounds utterly original and unique -- from the first note, you'll be hooked. Although this disc doesn't have as the same powerful, readily haunting melodies as his debut, Mercy, the mood and tone of the entire album are hypnotic and absorbing, and slowly, favorite tracks will emerge, notably "Sweetly Undone," "Orphan" and "Slots." Anchored by the pedal steel work of Mike Daly and Lloyd Maines, Baker's sound is sorrowful but full of life... The people that populate his songs seem palpable and real, unremarkable yet beloved for their plainness and regret... Here's another album that should stand as a classic, and that calls out for wider attention. (Available through Baker's website: www.sambakermusic.com )

The Basement "Illicit Hugs And Playground Thugs" (Zealous, 2007)



A catchy mix of ragged-edged indie-rock and rapturous twang... I would never, in a million, bazillion years have guessed from just listening to this record that these guys are from Ireland -- they have the scruffy American rock-twang vibe down pat, although the lyrics fit well into the spectrum of blithe, abstruse, indie-twee-DIY poetics. The bottom line, though, is that this is a fun record -- no huge melodic hooks or obvious hits, but the band has a nice, relaxed feel and an obvious joy performing their songs. I thought it was nice stuff... worth checking out!

Sarah Borges & The Broken Singles "Diamonds In The Dark" (Sugar Hill, 2007)



A muscular mix of driving, streamlined roots-rock and twang from this LA-based powerhouse. Borges opens the album with the propulsive "The Day We Met," which recalls Ryan Adams's finer, younger moments, then abruptly shifts gear into the power-poppy, Bangles-ish "Come Back To Me." Having established her multi-genre bona fides, she settles back into a roots-rock tone that strongly recalls Lone Justice, along with a dash of Tom Petty and Sheryl Crow. Apparently this is her second album, and though she'd formed an all-new lineup of her band, she's still working with rock producer Paul Q. Kolderie (known for his work with Radiohead and The Pixies...) There are several stand-out songs as well as a few others that are less distinctive. Overall, this is a strong, noteworthy album, and although it seems likely she'll head into a more rock-oriented direction, Borges has the potential to be a dominant figure on the Americana scene. We'll see which way the wind blows... In the meantime, I'm sure plenty of folks will dig this disc.

Cadillac Sky "Blind Man Walking" (Skaggs Family, 2007)



Top-40 country songwriter Bryan Simpson has had tunes recorded by some big-name stars, folks like Gretchen Wilson and George Strait... Here he indulges his love of bluegrass music, in a set of modern progressive-grass, with songs that are a little too wordy and country-folk tinged to be considered "high lonesome," but will probably grab the attention of folks who are digging the current infusion of grassy twang into the mainstream country scene... The picking is okay, a little too drag-racey for me, but plenty fast for folks who like it that way. The highlight of this set, for me, is the slowest song, "Homesick Angel," a mournful tune with keening harmonies from Sonya Isaacs that sounds like the kind of ballad that Carl Jackson or John Starling might tackle... really quite beautiful. For me, that's the standout track, and the one that'll make it into mixes for months to come. If you like New Grass Revival,et al, you might wanna check these guys out.
Elizabeth Cook "Balls" (Zealous, 2007)



(Produced by Rodney Crowell)
Forsaking Top 40 fame, but not Back 40 notoriety, squeaky-voiced twangster Elizabeth Cook goes for novelty song gold with "Sometimes It Takes Balls To Be A Woman," a rather forthright song that lays out pretty much the case you'd expect with a title like that... It's a brash feminist blast, backed up by similarly muscular barrelhouses such as "Don't Go Borrowing Trouble" and "Time Are Tough In Rock 'n' Roll." Her subtle side comes out on the incandescent gospel weeper, "Mama's Prayers" and an appropriately understated cover of the Velvet Underground's "Sunday Morning." Almost all the songs on here are Cook originals, demonstrating yet again that Cook is a force to be reckoned with. Nashville may have slammed the door in her face a few years back, but their loss is Indietown's gain... Cook is clearly conscious of the divide, closing the album with two songs that look at success from opposite sides -- "Gonna Be" says her day is still gonna come, while the lullaby-like "Always Tomorrow" sends a gentle warning to those who feel on top of the world: don't get too comfortable, folks, 'cause there's always tomorrow. Either way, this disc is another nice one from this underrated hillbilly filly. Check it out, folks!
Autry Inman "Great Hillbilly Classics" (Binge Discs, 2006)


Ho-o-o-ly cow! What an awesome set of hillbilly oldies... I have a few chunks of vinyl floating around somewhere with Autry Inman on 'em, but nothing prepared me for what a kickass treasure trove this CD would be... These recordings, from 1949-54, are pure hard-country gold: uptempo novelty songs, sorrowful weepers, raspy twangtunes and proto-rockbilly from the hillbilly boogie era. This disc concentrates on Inman's first big contract, on Decca Records, and it's packed with gems, almost all of them originals written by Inman (or credited to his wife, Mary Drummond). It's truly a wealth of class-A, unpretentious, catchy, old-fashioned country goodness -- Inman had a singular vocal presence, like Hank Williams or Webb Pierce, that just leaps out at you, projecting energy and enthusiasm. The songs are great, too: my favorite is "Stop Stallin' (Start Fallin' In Love)" but straight weepers like "Does Your Sweetheart Seem Different Lately" and all the others are winners as well. The last half of the disc features duets with a guy named Floyd Robinson, who Inman collaborated with in a star-crossed duo known as "Jack & Daniel." Amazingly, none of this stuff really went anywhere -- Inman was just another one of those great old country singers who couldn't quite get a break. But those of us lucky enough to pick this disc up will treasure it for years to come. (Hopefully Binge Disc will do a follow-up album... They mention a lot of other interesting stuff he did later in life, and maybe that can be dug up as well. Anyway, the best way to get this album is straight from the label: www.dagmar-anita-binge.de)

Miranda Lambert "Crazy Ex-Girlfriend" (Sony, 2007)



(Produced by Frank Liddell & Mike Wrucke)
First-rate top country... On the opening tracks, Lambert lays it on pretty thick with the bad-gal/outlaw schtick... On "Gunpowder And Lead," she follows the Dixie Chicks' example of glorifying murder as a solution to domestic violence: Lambert's character sits at home in the dark, a shotgun on her lap just waiting for Mr. Wrong to come back, so she can get to the gunshot heard at the end of the track... This is followed with the similarly rowdy, but funny "Dry Town" about the arcane liquor laws of the Midwest and South (and, hey, it's written by Gillian Welch and David Rawlings! Nice indie roots, there, gal!) From there on out we are treated to a wealth of original tunes written or co-written by Ms. Lambert, all of them impressive, in various ways. "Famous In A Small Town" is a great tune about life inside a goldfish bowl, while the title track brings us back to the Gretchen Wilson-esque tough-girl routine... but it's also a funny song, and not just a gimmick. Then come some slow, sad ballads, and the force of personality that propelled us through her rowdy songs suddenly gives way to some genuine interpretive powers: this gal really can sing country, when you take the neo-Southern rock guitars out of the mix! I'm not fond of a few tunes -- "Down" and "Getting Ready" are real clunkers -- but overall this is a very impressive record. Lambert emerges as a potent songwriter (as well as an anomaly in the Nashville machine, where most singers are interpreters first, songwriters second...) and with this batch of self-penned smashes, Miranda firmly establishes herself as a force to be reckoned with. Plus, her cover of Susannah Clark's "Easy From Now On" is a nice way to close the album... Hey, I'm sold!
Daniel Lee Martin "On My Way To You" (Chin Music, 2007)


(Produced by Jan Stolpe)
A fine, independently released set of would-be Top 40 country, from the huge wellspring of talent bubbling under the surface of the Nashville hit factory. Martin has the same sort of gosh-heck, down-to-earth boyish charm as Dierks Bentley, and the same willingness to go with the flow and sing mainstream material, yet still infuse it with a sense of fun and conviction... The tracks have a lot of rock-tinged guitar, but there's still plenty of twang, and nothing ever drowns in over-the-top pop (ala Tim McGraw), so by default Martin emerges as a member of the traditionalist side of contemporary country... I guess these off-the-radar releases mostly function as demo tapes and (hopefully) stepping stones to bigger and better things. Choice tracks include "That's What God Made Rivers For," "Just What You Did" and "Crazy's All They Got," as well as his earnest covers of oldies like "Take Me Home Country Roads" and "Keep You Hands To Yourself." Top Country fans who appreciate the earthier, more honest singers such as Bentley and Blaine Larsen will also want to check this guy out... Even if he doesn't make it to the top of the charts, it's still a pretty solid record, and shows how strong the independent side of Music City can be.
Dwight McCall "Never Say Never Again" (Rural Rhythm, 2007)



Rock-solid "high lonesome" truegrass with a strong mix of secular and gospel material, and a surprisingly high proportion of newer, contemporary songs, including three fine originals by McCall himself. The son of former Stoney Mountain Boy Jim McCall, Dwight has recently been blazing a path as one of bluegrass music's new hot properties, singing lead and banging on the mandolin in J.D. Crowe's New South... Here, he cedes much of the mandolin work to veteran old-timer Alan Bibey, and concentrates on the vocals... McCall not only sings a fine, soulful lead, but (through the magic of multitracking) throws some warm baritone and tenor harmonies on top of his own voice... The result is surprisingly rich and organic sounding, adding a subtle one-two punch to an already strong album. Nice to see the folks at Rural Rhythm branching out into contemporary recordings... And if this disc is any indication, more great music ought to be headed our way soon!
Pam Tillis "Rhinestoned" (Stellar Cat, 2007)



Like many onetime Music City chart-toppers, '90s nightingale Pam Tillis has been buffeted and rebuffed by the harsh new Nashville, where most artists have about a half-year half-life... So, like many others, she's turned to the booming indie scene to put her music out, and as on her last few albums, Tillis does not disappoint. Fans will be happy to hear her sounding as solid as ever, making the kind of music they loved before, with just as much conviction and charm as she had back when she was racking up the hits in Billboard. Tillis says this record is a neotrad journey into country's past, although to my ears it doesn't seem to span back much further than fifteen or twenty years -- it's fairly slick, and it's the commercial sound of not so long ago, but for folks who dug how she sounded in the early 1990s, this'll come as a real treat. Nice song selection, too, with standouts including a jaunty version of Matraca Berg's "Crazy By Myself" and a sweet, smoky duet with John Anderson, "Life Sure Has Changed Around Us," which kinda says it all about this album. If you like Pam's old stuff, you'll definitely want to pick this up.
Adrienne Young "Room To Grow" (Addie Belle, 2007)



On her third solo record, Americana darling Adrienne Young edges away from her bluegrassy roots and goes more high-concept (and a bit closer to mainstream country...) The album opens with the in-your-face pop lavishness of "All For Good," which harkens more to Mary Chapin Carpenter or Sarah McLachlan than to Delia Bell and Alison Krauss... Young follows this adult-alt outburst with a Celtic track, giving twangfans pause: has she gone down a different path? Well, the answer is "yes," but in a good way... I didn't like the start of this album, but Young definitely hits a groove halfway through, and fans of contemporary triple-A singer-songwriter material (including the current Nashville pop crossovers) may fine a new heroine here. Young is a solid singer and musician, she sings with conviction and feeling, and she has found able collaborators in guitarist Will Kimbrough, as well as Nashville stalwart Mark D. Sanders. It's not totally my cup of tea, but I'm still on Young's bandwagon... Definitely worth checking out.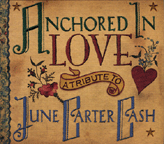 Various Artists "ANCHORED IN LOVE: A TRIBUTE TO JUNE CARTER CASH" (Dualtone, 2007)



(Produced by John Carter Cash)
An star-studded cast pays homage to the late, beloved doyenne of the Cash family, on a disc that's a companion to John Carter Cash's autobiographical memoir of the same title. In keeping with the Carter/Cash legacy, there are several duets here, the best of which is Patty Loveless and Kris Kristofferson's stately intertwine on "Far Banks Of Jordan." Other album highlights include Rosanne Cash's sorrowful "Wings Of Angels," Brad Paisley's rock-solid rendition of "Keep On The Sunny Side" (Note to Brad: do more traditional stuff!! Could we get a whole album's worth someday?) and Billy Joe Shaver's irrefutably desolate "Kneeling Drunkard's Plea." Loretta Lynn, Ralph Stanley and Emmylou Harris weigh in as well, and doubtless many will be thrilled by Elvis Costello doing "Ring Of Fire..." Overall, a nice record, although in some ways it almost feels too soon for a tribute album to come out; so many fine June Carter reissues and the like have come out in the last few years, it feels like a record like this might get lost in the shuffle. Certainly worth checking out, especially for the fine gospel track by Mr. Paisley.
---



Hick Music Index
Shop Amazon, Support Slipcue



---


<! * >