<! MP3 05/21/09 > <! pix 05/21/09 > <! archived 01/01/09 > <! * >

---



Howdy, neighbors!

Here are some reviews of the new country, bluegrass and Americana records that I had the good fortune to listen to in July, 2007. This month: Robbie Fulks, Merle Haggard, Riders In The Sky, Max Stalling, Josh Turner, Kelly Willis, Various Artists "PUTUMAYO PRESENTS AMERICANA", "JUST ONE MORE"

...It's not everything I heard, but it's a nice sample of stuff that either tickled my fancy or ticked me off... Many records that aren't included here are reviewed elsewhere in my full Guide To Hick Music.

Enjoy!

---
New Stuff: July, 2007
---

Robbie Fulks "Revenge!" (Yep Roc, 2007)



Leave it to prankster Robbie Fulks to start a live album with a studio track, in this case a comedy number in which his on-the-road band decides to make a concert album in order to fend off the contractual obligations of the faux-monolith of Yep Roc Records. Then the crowd noise fades up, and we are in the palm of Fulk's leathery little hands, awash in a fine, loping set that showcases him at his best. When Fulks dispenses with the posturing and misanthropy, he's one helluva great country musician, and his backing band give him a greta sound to work with -- cranking out loud and electric or playing with the subtlest of honkytonk heartache. Two CDs worth of live material gives a flawless picture of the entire Fulks ouvre, and you'd be hard-pressed to find a more powerful or persuasive twang-star in the whole current alt-country scene. His career has had artistic ups and downs, but this disc is a doozy. Definitely worth checking out!
Merle Haggard "Working Man's Journey" (Cracker Barrel, 2007)
(Produced by Merle Haggard)
Another surprisingly strong new album from the Hag... Actually, this is an odds-and-ends collection that Haggard put together for the Cracker Barrel restaurant chain... The tracks come from his personal vaults and include re-recordings of great old hits such as "Shade Tree Fit-It Man," "Kern River," "If We Make It Through December" and "Workin' Man Blues." There are also a half-dozen new songs, apparently exclusive to this release, and I gotta tell you: they sound mighty fine. There are no recording dates included in the liner notes, but regardless of the fuzzy timelines, the music all fits together beautifully and the performances are uniformly satisfying and strong. This is classic Haggard: rough, rugged, honest and musically rich. Merle's profound disenchantment with the current political landscape (and the war on terrorism, in particular) is an element of his recent work which may surprise long-time fans, but on "In The Mountains To Forget" he again confronts the failures of the Bush Administration, and concludes that maybe the best thing for the working man to do is sit this next one out. Probably not what Karl Rove wanted to hear, but Haggard has always been a guy who calls 'em like he sees 'em. Contemporary history is also reflected in "Stormy New Orleans," although here Haggard avoids finger-pointing while paying sincere tribute to the late, great, resurgent city... Politics aside, this is a fine record, a pure country treasure that fans will be eager to hear. (Exclusively available on the road or at Cracker Barrel.com)

Robert Earl Keen "Best" (Koch, 2007)



A rock-solid set, highlighting songsmith and Americana auteur Robert Earl Keen at his best. Includes fan faves such as "Merry Christmas From The Family," "Corpus Christi Bay," "Ride" and Keen's homage to the alt-country elders, "Willie." There are studio tracks and bravura live performances alike, with contributions from folks like Joe Ely, Nanci Griffith, Lyle Lovett, pedal steel whiz Lloyd Maines, and ex-Bad Liver Danny Barnes, plunkin' a mean banjo. This is a great portrait of a key alt-Texas artist... the perfect introduction to his work!
Riders In The Sky "Public Cowboy #1: A Centennial Salute To The Music Of Gene Autry" (Rounder, 1996/2007)



(Produced by Joey Miskulin)
A fun, free-spirited tribute to genial Gene Autry, the king of the singing cowboys... Ranger Doug and his posse put this album out in 1996 (when Autry was still around, to celebrate his 100th birthday!) and it garnered plenty of well-deserved praise. The second time around it's just as sweet, packed with Autry-identified oldies such as "Back In The Saddle Again," and hits-of-the-day that Autry recorded such as "Sioux City Sue," "You Are My Sunshine" and "Have I Told You Lately That I Love You." There's plenty of nice pickin' and sweet yodeling, songs about sunsets and dusty old trails -- and there are four added bonus tracks that weren't on the original '96 edition. Fans of the style will want to check this one out... it's pretty dandy!

Max Stalling "Topaz City" (Blind Nello, 2007)



(Produced by R. S. Field)
Folks who love their country music full of pedal steel and slinky, slurred guitars, smoky vocals and well-crafted lyrics should go ga-ga over this latest album by indie-oriented Texan songwriter Max Stalling. The set opens with a pair of mellow, novelty-ish tunes -- "If Only The Good Die Young" and "Never Need To Fall In Love Again" -- that recall the glory years of the 1970s when commercial country and the indie scene intersected: clever yet earthy, they would have fit in nicely on an old Johnny Duncan album, or something by Don Williams. Stalling himself has a laid-back vocal style that falls midway between Merle Haggard and George Strait, and he's easily as soulful and compelling as either of those country icons. Every song on here is an original and every one is a gem -- Stalling is a country singer who apparently can do no wrong. It's the kind of record that I can listen to for weeks on end, and plan to keep around for years to come... You owe it to yourself to check this one out!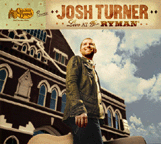 Josh Turner "Live At The Ryman" (Cracker Barrel, 2007)


(Produced by Richard Barrow & Frank Rogers)
The Cracker Barrel restaurant chain must pay a truckload of royalties to land exclusive albums like this: newcomer Josh Turner is one of the hottest young singers in Nashville, and this live set, recorded in April of '07, features relaxed, intimate versions of his many hits. If you're a fan, it'd be worth it to stop in for some chicken fried steak just to pick this one up... In keeping with the super-professionalism of modern top country, these performances aren't all that different from the studio versions (which may actually be a bit better) but they show that Turner's rough-tough neotraditionalism hold true in a live setting, and that these songs all really have legs. There's also a trio of cover tunes that aren't available elsewhere -- Hank Williams's "I'll Never Get Out Of This World Alive," Merle Haggard's "Silver Wings," and the best of the three, a smoldering rendition of the old George Jones classic, "He Stopped Loving Her Today," which would do songwriter Bobby Braddock proud. At times Turner may be a little too laid back, but his restraint is a welcome change of pace from the far-flung, soul-tinged crossover pyrotechnics of other top country stars -- he's singin' real country, and he sings it quite well. Ya gotta love that rumbly, grumbly baritone! (Exclusively available on the road or at Cracker Barrel.com)
Kelly Willis "Translated From Love" (Rykodisc, 2007)



(Produced by Chuck Prophet)
Willis touches on her rocker roots on this sleek collaboration with rock guitarist-producer Chuck Prophet, who plucks the six-string throughout and guides each song to an elegant point of least resistance. Prophet has worked on Willis' last few albums, but here he steps up to the producer's chair, giving her more of a mainstream pop touch... At first blush, this disc may seem too rock-oriented, but really it's just a couple of tracks that are jarring: the Cars-ish pop-synth keyboards on "Teddy Boys" and the extra pop layers on "Don't Know Why" sound a little out of place, although the rest of the album will feel familiar to long-time fans. Willis wrote or co-wrote half the songs on the album, often in collaboration with Prophet and fellow popster Jules Shear -- high marks go to her wistful "Losing You," a mostly-acoustic ballad that is as fine a tune as she's sever sung. Damon Bramblett, an up-and-coming Austin star, contributes two fine songs, "Sweet Sundown" and the upbeat "Nobody Wants To Go To The Moon Anymore" (also heard on his own solo album) Willis and musical guests the Gourds have tons of fun on a bouncy cover of David Bowie's "Success," which sounds for all the world like an old Sir Douglas Quintet outtake. What's most striking, though, is what's missing on this album: where are Bruce Robison's songwriting credits?? Well, the good news is she still sounds fine without the hubby in tow - there are a few tracks on here that may be too pop for her alt-country fans, but there's plenty of twang to make up for it. Another nice one from one of my favorite alt-country queens!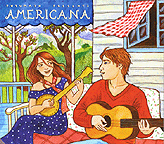 Various Artists "PUTUMAYO PRESENTS: AMERICANA" (Putumayo, 2007)


Here's a swell set of mostly-mellow, acoustic-based Americana, drawing mostly on the folk and bluegrass/stringband side of the style, and leaving the rough-and-tumble bluesy stuff behind. Although Robert Earl Keen, Tim O'Brien, Old Crow Medicine Show and Alison Brown are all top-tier twangsters, outside of the coffeehouse confines of the folk scene, most of the artists on here are pretty obscure, which to my way of thinking is a real recommendation. This disc is full of pleasant surprises and artists you'll want to explore in greater depth, the very definition of a great compilation album. Standouts include longtime cult fave Chip Taylor, whose duets with Carrie Rodriguez have lit up several fine albums in the last few years, and "Sing A New Song" by Eliza Lynn -- a track that's actually unique to this album(!)... All in all, this is a disc that's got plenty of nice new stuff on it for potential twangfans to check out. Recommended.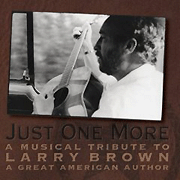 Various Artists "JUST ONE MORE: A MUSICAL TRIBUTE TO LARRY BROWN" (Bloodshot, 2007)



An interesting concept for an album, and a swell set of tunes, this collection pays homage to author Larry Brown (1951-2004), one of the finest Southern exponents of "grit lit," who wrote stories about hard-living, ground-down plain folks, people who have serious flaws and plenty of rough edges. They're the same sort of protagonists that populate innumerable Americana and alt-country songs -- charmers, scoundrels, dudes who just like to hang out with their pals, weatherbeaten men and women who sometimes get blue, and who cling to the joys found in life's little surprises, taking comfort and making friends wherever they can... Literary analysis aside, this disc is a real doozy, filled with a bunch of powerful compelling songs... Standouts include Caroline Herring's mournful "Song For Fay," Cary Hudson's "Song In C," "Blue Car" by Greg Brown and "Robert Cole" by Brent Best. Vic Chesnutt, Jim Dickinson, Alejandro Escovedo and Robert Earl Keen are among the 'mericana heavyweights who pitch in, along with several folks from Brown's native Mississippi... The album ends with "Don't Let The Door" a scabrously obscene, utterly unairable acoustic number with Brown himself on vocals, a fitting close to a set that his pals say is just the kind of mix that Brown would like to listen to while cruising along rural country roads. Definitely worth checking out!
---



Hick Music Index
Shop Amazon, Support Slipcue



---


<! *>