<! MP3 05/20/09 > <! pix 05/20/09 > <! archived 01/01/09 > <! * >

---



Howdy, neighbors!

Here are some reviews of the new country, bluegrass and Americana records that I had the good fortune to listen to in August, 2007. This month: Chet Atkins, Chester & Lester, Stevie Barr, Cherryholmes, The Derailers, Grasstowne, Alan Jackson, Waylon Jennings, John Jorgenson, Rose Maddox, Kim Richey, The Stanley Brothers, Walt Wilkins

...It's not everything I heard, but it's a nice sample of stuff that either tickled my fancy or ticked me off... Many records that aren't included here are reviewed elsewhere in my full Guide To Hick Music.

Enjoy!

---
New Stuff: August, 2007
---
Chet Atkins "The Essential Chet Atkins" (Sony-BMG Legacy, 2007)



(Various producers)
A great set profiling one of the hottest guitarists of the 20th Century... This is an excellent upgrade from the similarly-titled, single-disc RCA Essential best-of collection that came out a decade ago... This 2-CD set ranges wider, reaches back further and gives a better picture of Atkins' overall career. This is partly because of sheer size -- there are twice as many tracks -- but also, I'll admit it, because of the real-life synergy brought to bear by the merger of the Sony and BMG labels. The second disc closes with a series of duets, including one with Jerry Reed and another with Mark Knopfler that the old BMG best-of couldn't have included, since they come from old, Sony-owned albums. There are also several tracks earlier on that highlight Chet's behind-the-scenes studio work, with stunning backup on tracks such as "Should We Tell Him" by the Everly Brothers and Don Gibson's "Oh Lonesome Me." His own albums were all over the map -- I suppose Atkins could generally be pegged as an "easy listening" artist, but he had a lot of twang in there as well, particularly on the earliest stuff from the late 1940s and early '50s. Lounge fans will enjoy the numerous instrumental covers of showtunes and '50s/'60s standards, but the would-be co-optations of rock'n'roll ("Boo Boo Stick Beat," "Teen Scene") and spy jazz ("Slinkey," "Man Of Mystery," etc.) are just plain fun, even after all these years. Chet's relationship with his protege and righthand man, Jerry Reed, could have been explored further, but as an introduction to the legacy of Nashville's #1 axeman, this collection is hard to beat. Recommended!
Chet Atkins & Les Paul "Chester & Lester" (Sony-BMG Legacy, 1976/2007)



(Various producers)
A swell reissue (with bonus tracks) of this super-mellow, but super-fabled collaboration between two of the most highly regarded super-pickers of the last century. Les Paul perfected the solid-body electric guitar, and Chet Atkins was certainly one of the players who made the most of his invention. The two old coots were certainly on the same wavelength and completely simpatico with each other, as they glide through these super-mellow versions of evergreens such as "Avalon," "Caravan," Moonglow" and "Deed I Do..." It's a bit too softcore for me, but others, particularly guitarists who want to learn the tricks of the masters, will find this set to be a real treasure. (Note: the 2007 reissue includes four bonus tracks, including some more informal-sounding rehearsals...)

Stevie Barr & Friends "Along The Crooked Road" (Arhoolie, 2007)



A great set of bluegrass from Galax, Virginia banjoist Stevie Barr, of the band No Speed Limit. Barr works here in a variety of setting, both in the studio and in the equivalent of modern-day field recordings, notably live performances such as informal jam sessions and a couple of gospel tracks recorded with the guitar-picking pastor at Barr's local Baptist church. The low-key, lo-fi charm of these tracks is balanced by several utterly dazzling studio tracks, especially the instrumentals where Barr really cuts loose on the banjo... And, man, is he good! Very fast, and very good. Several is these cuts will leave even the most devoted bluegrass fans with their jaws hanging down, and the rest of the album will evoke the down-home DIY ethos that so many back-porch and tailgate truegrass pickers cherish... A nice portrait of a regular guy who can make some mighty fine music.
Shawn Camp & Billy Burnette "The Bluegrass Elvises, v.1" (American Roots, 2007)


(Produced by Dave Ferguson, Shawn Camp & Billy Burnette)
Now, see, that's funny, 'cause I thought the album title was just riffing on Camp and Burnette's relative obscurity... But actually, they're playing grassed-up version of Elvis Presley oldies. Doing a cover album is a funny choice considering what a great songwriter Shawn Camp is, but they sound like they had a lot of fun, and that's what counts. Along for the ride are some usual-suspect hotshots from the contemporary bluegrass scene, including bassist Mike Bub, fiddler Aubrie Haynie and Scott Vestal on banjo... Everybody: let's rock!

Cherryholmes "Cherryholmes II: Black And White" (Skaggs Family, 2007)



Another sizzling set from this high-powered family band... Dazzling traditional bluegrass played with the kind of drive and sincere enthusiasm that's a rare commodity in today's overly-professional entertainment world. The Cherryholmes band are clearly really into what they're doing, and they have the talent to back it up. Singer/banjo player Cia Cherryholmes is a force to be reckoned with, both with her instrumental chops and her sweet vocal tone and phrasing... Oh, and did I mention she writes great original material as well? You'll find some great new songs on here, particularly the ballads where they settle into a smoother, soulful groove. My only quibble is with some of their instrumental flights, which can sound a little too brisk and wild, but really that is only a quibble: this group is clearly one of the most powerful, potential-filled bands in modern bluegrass today. Looking forward to Cherryholmes 3!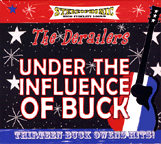 The Derailers "Under The Influence Of Buck: Thirteen Buck Owens Hits" (Palo Duro, 2007)



(Produced by Brian Hofeldt)
Not just under the influence of the late, great Buck Owens, but under his direct tutelage... During Buck's last few years, the Austin-based Derailers frequently played at the Owens' fabled Bakersfield nightclub, the Crystal Palace, and often backed Buck himself, on some of his own live gigs. The band started out in the 1990s with a heavy debt to the bouncy, popped-up "Bakersfield Sound" that Buck Owens pioneered, so here they've come full circle, paying a direct homage to their idol after having met him and done gigs in his home turf. These faithful covers of "Love's Gonna Live Here," "Tiger By The Tail," "Cryin' Time," et al., don't quite match the goofball intensity of the Owens originals, but they're still kinda fun. Wonder if they recorded any stuff with Buck himself? That's be fun to hear! In the meantime, the pop-twang of Buck is alive and well, courtesy of his pals in Texas.

Grasstowne "The Road Headin' Home" (Pinecastle, 2007)



A great country-tinged progressive bluegrass set, with a ton of talent in an all-star lineup: mandolinist Alan Bibey, guit-picker Steve Gulley and resophonist Phil Leadbetter team up with fiddler Jason Davis and bassist Lee Sawyer rounding out the band... That makes for some mighty fine picking, and even finer harmony vocals, especially when you also bring guests like Dale Ann Bradley and Stuart Duncan into the mix as well. The song selection is uniformly killer: this is the kind of sleek, soulful, rootsy sound that I really dig, and the fact that so much of it is original material makes it even better. Gulley contributes three songs, and co-writes a fourth, the haunting "That's Not What Ships Are For," which I'd say is a highlight of the album. Throughout, one is reminded of the heyday of 1970s newgrass, with eclectic folk-country influences laced in with excellent musicianship. This disc is definitely worth checking out!

Jack Ingram "This Is It" (Big Machine, 2007)



(Produced by Jerry Stover, Doug Lancio & Jack Ingram)
Success has been a long time coming for Texan Jack Ingram... He's been plugging away for fifteen years in the netherworld between outlaw Americana and the Nashville mainstream, filling roughly the same niche as Steve Earle or Radney Foster... Finally, he's decided to tamp down the twang and pump up the volume, laying down his most nakedly commercial album to date. It's paid off handsomely: Ingram hit gold, literally, with a #1 single, "Wherever You Are," and became an unlikely chart-topper after all those years as a rough'n'tumble road warrior. Longtime fans may feel let down, since this is a soft, ballad-oriented set, the smooth, croony stuff that snakes its way up the charts in between all the novelty songs and neotrad honkytonk. It is surprising that Ingram so thoroughly ditched his gritty side for this record, but I can't blame him, and I know a lot of Top Country fans will enjoy a disc like this (...as will fans of Sheryl Crow, who appears as a guest star on "Hold On"...) For now, Ingram is riding high, although if he can backpedal and reconnect with his old fans -- or whether he'll want to -- remains to be seen.
Alan Jackson "16 Biggest Hits" (Sony-BMG Legacy, 2007)



Mighty fine stuff. It's hard to argue with a nice, hefty dose of prime Alan Jackson hits, although it is a bit curious that this package only covers his work in the 1990s, stopping back in '99, even though the guy's recorded some real doozies since then. I guess this is geared towards older listeners who were listening to Jackson back in the Clinton era, and just want to hear those golden oldies. Well, it's sure fun to listen to, with neotrad Jackson classics like "Don't Rock The Jukebox," "Gone Country" and "Here In The Real World," along with chart-busting cover tunes such as "Summertime Blues," "Who's Cheatin' Who" and "Pop A Top." Personally I love listening to the original old albums -- a lot of great tunes there that never made the charts -- but just hearing the hits is a real treat as well. Ace bunny killer.
Waylon Jennings "Never Say Die: The Complete Final Concert" (Sony-BMG Legacy, 2007)



I had the chance to see Waylon and his band towards the end of their run, and while that show was nowhere near as great as the one documented on this album, it was still a real treat. Few performers, in any genre, have had as much sheer charisma as Waylon Jennings, and that comes through loud an clear on this poignant set, recorded live at the Ryman auditorium in January, 2000 with his hand-picked Waymore Blues Band putting as much heart and soul into it as ol' Waylon himself. Although at the time his health was so poor that he couldn't stand up on stage, Jennings filled the hall with his presence and joyful good nature -- it's a fine show, indeed, a powerful performance from a guy who wasn't actually doing so well healthwise. Waylon knew he was on the way out, but he had a great attitude about it, cracking jokes about being "a cripple" and even singing his on gentle epitaph on "Might Be A Good Time." He threw himself fully into each and every song, and graciously shared the limelight with buddies like John Anderson, Travis Tritt and Montgomery Gentry, as well as with his wife, Jessi Colter, who leads on a few tunes and sings some devastating duets with Waylon. (Their sweet, simple version of "Storms Never Last," where their emotional bond engulfs the stage, is a real show-stopper. I'm sure there wasn't a dry eye in the whole joint...) This edition expands the original Y2K release into the full concert length -- two CDs worth, plus a concert DVD that covers the same material. The concert film is a mixed blessing: on one hand, in technical terms, it's kinda poorly produced -- great sound quality but the cinematography and editing are both pretty rough. But as a document of Waylon's waning years, it's simply invaluable. You see what his rough'n'tumble road band was like, how they mixed showmanship and honest emotion, and of course you see Waylon, vigorous and vital, though also clearly wounded with a real weight on his shoulders. Musically, it's all very solid -- most of the songs are oldies, but none of them are played by rote, and the feeling these folks put into their performances comes through loud and clear. If you're a Waylon fan, you'll wanna check it out.
Waylon Jennings "The Essential Waylon Jennings" (Sony-BMG Legacy, 2007)


(Various producers)
Looks like ol' Hoss has gotten an upgrade... Personally, I'm still partial to the original Essential set from '96 -- it's just so well programmed and compact -- but hey, if they wanna throw a new, 2-CD set our way, with twice as much stuff, that's dandy, too. This set hews pretty closely to Waylon's RCA glory years, although it doesn't dig as deep or go as far afield as the recent Nashville Rebel box set... It's a nice, affordable midway point between the two, a strong introduction to one of country music's most charismatic, smoulderingly sexy performers, and is likely to be the standard best-of set for years to come. If you're new to the Waylon Jennings sound, this collection oughta knock your socks off.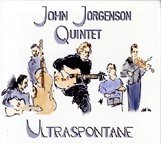 John Jorgenson "Ultraspontane" (J2 Records, 2007)



A veteran session picker with a solid country and pop pedigree, guitarist John Jorgenson also has a long and abiding love for the gypsy jazz style of Django Reinhardt and Serane Ferrat... Here he indulges that passion in a lively acoustic set featuring a strong instrumental quintet and even a guest appearance by Beryl Davis, a grand dame of the British big band era who once worked with violinist Stephane Grappelli. All the songs are Jorgenson originals, and they match the playful, dynamic glory of the classic gypsy jazz of the 1930s... A nice surprise!
Rose Maddox & The Vern Williams Band "This Is Rose Maddox" (Arhoolie, 1980/2007)



In the early 1980s Rose Maddox, a founding member of the West Coast country scene, an artist who in the 'Forties had pioneered the rollicking riotousness of rockabilly and helped define the bouncy, buoyant sound of California country, was still plugging away and playing local gigs up and down the state... After many years away from the studio she teamed up with the highly regarded Vern Williams bluegrass band for a couple of records that put her back on the map. This first album, a mostly-secular set packed with golden oldies such as "Dark As A Dungeon," "Ashes Of Love," "Silver Threads And Golden Needles" and "Single Girl," is a real doozy. The picking is fine but it's the authority and conviction with which Maddox sings that really makes this set hum. She is a masterful stylist, bringing each song to life so that listeners are completely drawn it. She had a great set of pipes, too -- a powerful performer in her fifth decade of country musicmaking. For some bluegrass fans -- and folks who dig her crazy-sounding old stuff -- this may be a bit low-key, but others will be entranced. Definitely worth checking out.
The Maddox Brothers & Rose "Ugly And Slouchy" (Bear Family, 2006)


Also, if you want to check out Rose Maddox and her brothers back in their glory years, this looks like an awesome collection from the folks at Bear Family. I'm probably not gonna pick it up, since I have the old Arhoolie albums, but if you want to hear some of the rollicking roots of rockabilly music, check this out... It's rowdy and fun as all hell... A single-CD, thirty song best-of that introduces hillbilly music at its finest. They don't make records like these anymore!
Kim Richey "Chinese Boxes" (Vanguard, 2007)



(Produced by Giles Martin)
Having all but abandoned her twangy roots, Ms. Richey has settled into a comfortable, unrepentant adult pop mode, aided here by Giles Martin (son of the fabled Beatles producer) who crafts a fine, sturdy pop framework... From an Americana/country perspective, there's not a lot here to hold one's attention, a residual hint of twang, but not much else. But folks who like mellow, melodic pop-rock might really dig it.
The Stanley Brothers "The Definitive Collection: 1947-1966" (Time-Life, 2007)


A delicious 3-CD overview of the Stanley Brothers' full career, from their earliest recordings, through their later work on the Starday and King labels... Also included are three previously-unreleased live tracks (including a fine duet between Carter Stanley their old mentor, Bill Monroe) and two gospel tracks that haven't been on CD before now. It's all marvelous material, bluegrass music at its purest and most harmony-drenched. A fine mix of gospel and secular material (agnostics, beware!) with plenty of sweet picking and sweet vocals. Lovely stuff... highly recommended!

Taylor Swift "Taylor Swift" (Big Machine, 2006)



(Produced by Nathan Chapman)
A remarkable Top Country debut, and not just because Ms. Swift cracked the Top Five coming out the gate, or because she's only sixteen years old, but also because she wrote or co-wrote all the songs on the album continuing a trend (along with Miranda Lambert and others) that bucks the trend of Nashville as a studio-led A&R machine... Swift leads this set with "Tim McGraw," a gimmicky but clever and charmingly innocent song about someone who thinks of their true love every time a McGraw song comes on the radio. Man, what better way to hit the top of the charts than to name-check some dude who's topped them himself for the last decade or so? But to do it with such grace... that's the wonderful thing here. The rest of the album is fine as well, packed with songs of love and regret, nostalgia and affirmation... Swift shies away from the rugged, neotrad outlaw gal trend of the day, and keeps her repertoire pretty mellow and romantic, and it seems to be working just fine so far. I'm curious, though, to see where she goes from here -- this record has a fairly controlled feel to it, everything on an even keel. It's sweet, but I think she's got more to give the next time around... and with the success of this disc, the next time around shouldn't be too long coming... Nice work, kid!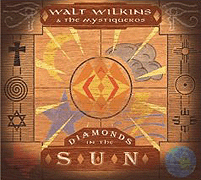 Walt Wilkins & The Mystiqueros "Diamonds In The Sun" (Palo Duro, 2007)



(Produced by Lloyd Maines)
A great set by Texas indie-twangster Walt Wilkins, a Lone Star local who made a name for himself as a Nashville songwriter, mainly through recordings by Ty Herndon and fellow Texan Pat Green... Here, Wilkins and his remarkably fluid band work in a variety of styles -- their loping cover of "Honky Tonk Road" is an album highlight, recalling the finer moments of early outlaw singers such as Rusty Weir and Gary P. Nunn, not to mention the loose-limbed ironies of Robert Earl Keen and Guy Clark... There's also a Poco-esque country-rock boogie vibe that comes out on songs such as "Diamonds In The Sun" and "You Can't Outdrink The Truth," as well as a deep, dark vein of good old, beer-soaked honkytonk... Anyone know how to pitch a song to George Jones? Because "All These Memories" would fit quite nicely into his set list... The Mystiqueros also trot their way through a brisk version of the Band's "Shape I'm In," and pay homage to Hank. Sr... All in all, these fellas make their mark as yet another fabulously talented Texas band whose records will delight indie-oriented fans for years to come... Nice record, definitely worth picking up!
---



Hick Music Index
Shop Amazon, Support Slipcue



---


<! *>