<! MP3 05/20/09 > <! pix 05/20/09 > <! archived 08/18/10 > <! * >

---



Howdy, neighbors!

Here are some reviews of the new country, bluegrass and Americana records that I had the good fortune to listen to in September, 2007. This month: Bobby Bare, Eric Bibb, Gene Butler, Johnny Cash (DVD), Emmylou Harris (box), Kane Welch Kaplin, Jim Lauderdale, Carolyn Mark, Joe Nichols, Bobby Osborne, Brad Paisley, Luke Powers, Ray Price, Charlie Sizemore, Teddy Thompson, Corrine West

...It's not everything I heard, but it's a nice sample of stuff that either tickled my fancy or ticked me off... Many records that aren't included here are reviewed elsewhere in my full Guide To Hick Music.

Enjoy!

---
New Stuff: September, 2007
---
Bobby Bare "Bobby Bare Sings Lullabys, Legends And Lies" (Sony-BMG Legacy, 1973/2007)



Writer Shel Silverstein had several high-profile admirers in Nashville, notably Johnny Cash, who struck gold with "A Boy Named Sue," as well as Waylon Jennings and Bobby Bare, who each recorded about a bazillion of his songs. In 1973, the boozy, laconic Bare commissioned Silverstein to write an LP's worth of songs for what would become Lullabys, Legends And Lies, a concept album on RCA that yielded two chart-topping hits ("Marie Laveaux" and "Daddy, What If," a saccharine duet with his son, Bobby Bare, Jr.) and put Bare's then-floundering career back on an even keel. Silverstein and Bare's partnership continued for years, and this deluxe, 2-CD reissue includes not just the Lullabys album, but over a dozen other tracks recorded in the decade that followed. The collection is one of the finer examples of the positive side of industry consolidation, since it includes a bunch of great, wonderfully offensive novelty songs recorded in the early '80s when Bobby was on Columbia. Cheerfully obnoxious tunes like "Quaaludes Again," "Tequila Sheila" and "Numbers" are really what cemented Bare's place in the outlaw pantheon, and it's great to hear them all together, better still to have them so handily placed in context, along with a couple dozen other Silverstein chestnuts. This stuff obviously isn't for everyone, but for the right folks, this will be a goldmine. Let's hope Sony-BMG keeps up the good work with these multi-label mash-ups, 'cause discs like this show the results can be pretty cool!
Eric Bibb "An Evening With Eric Bibb" (MC Records, 2007)



A sweet, personable live set with acoustic bluesician Eric Bibb, sparingly backed on electric bass at an unpretentious show in Sydney, Australia. Bibb is affable and open, providing low-key, inobtrusive melodic blues with a heavy dose of laid-back folkie mellowness... Introducing one song, he tips his hat towards his friend, Taj Mahal, an obvious and much-welcome influence. Although he's been around for a decade or so himself, Bibb still brings youthful promise to the genre that Taj Mahal helped define... Fans of the style will enjoy this disc; a perfect compliment to Bibb's studio work.
Gene Butler "Concrete Country" (YAVV Records, 2006)



(Produced by Gurf Morlix)
A fine, unpretentious set of independently produced country from a Georgia boy who's been living in LA for a while... The songs are all pretty solid, and they're all originals written by Butler himself, mostly in a robust honkytonk vein. Producer Gurf Morlix also plays guitar on here, and his pal Lucinda Williams throws in a bit of harmony as well, and veteran fiddler Brantley Kearns adds some sweet licks... The music is swell, though the mix is a little thin -- I think with a bigger budget, Butler really coulda nailed this one. As it is, it's a fine, heartfelt album, packed with interesting original material. If you're into hearing twang tunes that are a little off the radar, check this one out! (Available at www.genebutlerband.com)
Johnny Cash/Various Artists "The Best Of The Johnny Cash TV Show" (DVD) (Sony-BMG Legacy, 2007)


This two-disc set collects highlights of Johnny Cash's short-lived musical variety show, which aired on network TV between 1969-71. At the peak of the hippies-vs.-straights culture clash, Cash boldly invited guests from across the American musical spectrum -- longhairs, country traditionalists, Nashville insiders, jazz musician, rock stars, pop tunesmiths and folkies. The guest list is truly astonishing, given the tensions of the times. Bob Dylan -- one of Cash's favorite artists -- was on the first show in '69, tipping viewers off that this wasn't gonna be your typical country TV show. Appearances by Neil Young, Eric Clapton, Joni Mitchell, Linda Ronstadt, Stevie Wonder and John Fogerty followed, as well as master entertainers such as Louis Armstrong and Ray Charles. And of course, there was the cream of the country crop -- Waylon Jennings, Ray Price, Marty Robbins, George Jones, Loretta Lynn and Johnny's crew from his road show -- June Carter Cash & the Carter Family, the Statler Brothers, Carl Perkins and others. In the wings were some amazing sidemen: keep an eye out for Norman Blake plucking acoustic guitar, as well as the wealth of up-and-coming talent that Cash went out of his way to promote (notably Kris Kristofferson, who reminisces about the old shows in interview segments added in this DVD set...) Cash also didn't shy away from controversy and welcomed political content, which was really amazing given how tight TV censorship was at the time... He invited the once-blacklisted Pete Seeger onto the show, and Johnny's spine-tingling network debut of the politically blistering "Man In Black" was greeted with an electrifying standing ovation -- real history in the making. This is a great collection, generously programmed (the set list on the Menu goes on for page after page...) and many of the performances are pure gold (George Jones is awesome!) Some fans will complain that they'd rather see the original shows as broadcast at the time, and while I agree that that would be fun, I don't see any reason to give anything but praise to this set. The documentary format, with various Cash crew and compatriots interviewed and introducing different segments, is kinda cool, and for the most part they know when to get out of the way and let the music play. It's a pity they didn't shoot the whole TV show on film -- some of the video stock gets kinda flared out (the Dylan clips, in particular) but, hey -- that's history for you. Personally, I'm glad to see whatever stuff like this there is -- it's a great look back at an interesting cultural moment, when mainstream country was still pretty traditional, although the walls were starting to fall and new influences were coming into play. Cash fans and country fans alike will definitely want to check this one out!
Emmylou Harris "Songbird: Rare Tracks And Forgotten Gems" (Rhino, 2007)



I haven't had the chance to hear (or see) this 4-CD, 1-DVD box set of Emmylou's various personal faves and rarities, but it certainly promises to be a goldmine for longtime and hardcore fans. It includes over a dozen tracks that have never been released in any format before, including duets with longtime friends such as Carl Jackson and John Starling, which should be really sweet. It's not clear from the album title whether any material from her long-deleted 1969 debut, Songbird will be included -- it certainly would be welcome. Anyway, if I can get ahold of the whole magilla, I'll give you all a full report.
Kane Welch Kaplin "Kane Welch Kaplin" (Compass, 2007)



The third album from this acousto-Americana triumvirate finds them in fine form, though a bit on the doleful side. With their ELP/CSNY-like band name, Kieran Kane, Kevin Welch and Fats Kaplin want it to be known that this ain't no temporary thang, that they consider themselves a proper band, and not just an all-star jam-session... Fine by me: the picking and the tonal texture is exquisite -- get these three guys in the same room together and you'll hear some sweet guitar work... The album opens with the moody "Ain't Gonna Do It," with a rumbling, electric reverb worthy of Pops Staples, back in his prime... Other highlights include the mournful yet hummable "Last Lost Highway" (dedicated to Sonny Terry, perhaps?) and the gentle gospel oldie, "What Are They Doing In Heaven Today," which, like the other songs on this album, is unhurried and slow, letting the emotion well up and mix with the weariness of the sentiment. They lay the dustbowl poetics on a bit thick for a few tunes, but overall this is a class act... If you like your pickin' on the mellow, moody side, this disc might just be for you!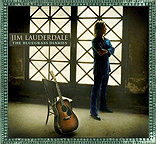 Jim Lauderdale "The Bluegrass Diaries" (Yep Roc, 2007)



(Produced by Randy Kohrs)
Lauderdale is an odd duck, that's for sure. He's written dozens of weird, asymmetrical twang tunes that shouldn't work as country hits, but do. In recent years, he's tilted towards bluegrass music, which in some ways is a much more conservative genre, and yet -- again -- his boundary-pushing songwriting style has been greeted with open arms, particularly after he cut two successful albums with trad-grass patriarch Ralph Stanley. This latest set seems geared towards Lauderdale's most faithful fans, although somewhere in the back of your mind you can imagine song after song working their way into the modern-day bluegrass canon. With solid pickers behind him and harmony vocals from folks like Cia Cherryholmes and Cody Kilby, Lauderdale sings with energy and authority... His style is still angular and idiosyncratic, but his vibe is just right. Plus, with songs co-written by Paul Craft, Shawn Camp and Melba Montgomery, this disc has talent to burn. Innovative and odd, like all his great records.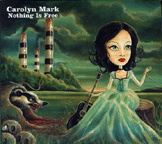 Carolyn Mark "Nothing Is Free" (Mint, 2007)



Although I'm not a huge fan of Carolyn Mark as a vocalist, I certainly accept her as a paragon of the DIY ethos in its more mature phase: she writes the songs she wants to write, she makes the records she wants to make, she gets very talented people to play with her, and in pursuing some odd song topics, she doesn't write the same-old, same-old kind of songs. Purists can debate her bona fides as a "real" country singer, but she certainly has a pleasant little rasp, and knows her way around the twangier tones -- I suppose it's easier to think of her as an urban alt-folkie, mining a certain vein of acidly-observed interpersonal barbs and party-going vignettes that bring Joni Mitchell to mind, in a way. There are several noteworthy tracks on here, notably the tart, double-edged "Point O View" and the galloping, bluegrassy "Get Along," as well as the scathing, sinister "Pink Moon And All The Ladies," which may or may not be some sort of commentary on the late Nick Drake and his legions of fans, but is certainly one of the stronger tracks on the album... Mark's lyrics can be a bit uneven, though -- the song "The 1 That Got Away With It," for example, opens with a couplet, "There's two kinds of women you let in your life/exciting new mistress and boring old wife..." that holds a bitterness worthy of Linda Thompson's newer stuff, and a poetic economy that almost makes it sound like a grand, old honkytonk classic. She doesn't sustain it, though, and the song meanders into spacy, self-referential metaphors that detract from the promise of a song that could have really gone for the jugular. Most of her songs hew close to the insular self-expression of the Pacific Northwest's lo-fi scene -- if you value small-press poets and local legend musicians just for who they are, Mark is an undeniable hero, but if the glimmers of brilliant songwriting may make you wish for a more focussed, more craftsmanlike approach. Mark remains an intriguing, challenging artist, true to her indie roots, even if this means she sometimes shies away from the symmetry and concision that make pop songs so memorable.
Joe Nichols "Real Things" (Universal South, 2007)



(Produced by Mark Wright & Brent Rowan)
I'll say this for Joe Nichols -- he sure knows which side his bread is buttered on. With a rumbling, reassuring, velvetly masculine voice, Nichols has settled into an almost entirely sensitive-guy mode, shedding the rowdiness of his previous hit, "Tequila Makes Her Clothes Come Off," in favor of slower songs designed to make the gals swoon and coo. The title track is one of those sentimental nostalgia-for-Little America tunes that are so popular in country today -- I guess these Norman Rockwell-ish ballads are a sort of secular gospel tune, affirming a bygone world of white picket fences and small town life. Nichols sings it masterfully, as he does all the songs on this album -- indeed, with his calm baritone and deep country roots, I'd say he's pretty much the new Randy Travis, a low-toned, beautiful singer who can croon soft country yet make it feel earthy, honest and robust. He's easy on the ears, for sure, although by ignoring the three-thirds rule (one third ballads, one third honky-tonk, one third filler) he kind of goes against the grain for a modern country album is expected to sound. There's only one legitimately naughty song on here, Aaron Lines's "Let's Get Drunk And Fight," and even that is a pretty sweet love song at its heart... With romantic testimonials like "She's All Lady" and songs about sobriety, baseball, working hard, and slow, snuggly makeout sessions, this is a disc aimed directly at the ladies. I suspect we'll hear few complaints: Joe Nichols is one of America's finest country singers today, and if he wants to slow down and get a little sappy for a while, it's sure not going to hurt anything. The album closes with a fine version of Blaze Foley's "If I Could Only Fly," sung as a duet with Lee Ann Womack -- a whole album by these two together would be nice as well!

Bobby Osborne & The Rocky Top X-Press "Bluegrass Melodies" (Rounder, 2007)


(Produced by Glen Duncan & Bobby Osborne)
The Osborne Brothers plowed new fields back in the 1950s and '60s, helping create "progressive" bluegrass when they pepped up their sound and made it more accessible to pop audiences, even going so far as to include drums and amplification when it suited their needs. Nowadays, Bobby Osborne, the mandolin pickin' sibling, is one of the truegrass elders, sticking to a pretty straightforward, traditional sound... Fiddler Glen Duncan accompanies him on the entire album, as does Bobby Osborne, Jr., on guitar. This isn't really the kind of bluegrass album where you comment on blistering licks or sizzling, hot-shot solos -- everybody's just keeping pace with Bobby, and he's concentrating on the songs, not on blowing anyone off the stage... For an old-timer who's 75 years young, though, he's still an incredibly solid performer... It's not surprising that this album doesn't have much of the fireworks or dynamics of his classic recordings, but once you settle into the more restrained vibe, it's a very fine disc. Osborne's voice has a pretty full tonal range, and he holds his own the harmony numbers, particularly on Vince Gill's "Go Rest High On That Mountain," a marvelous gospel duet with Rhonda Vincent, which closes the album. Another gospel tune, an Osborne original called "Are You Afraid To Speak Our Savior's Name?" is also an album highlight -- like Ralph Stanley and many others before them, the religious tunes bring out a depth of feeling that's a delight to hear. All in all, fans shouldn't be disappointed, nor anyone else who's into hearing good, old songs sung with feeling and heart.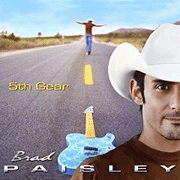 Brad Paisley "5th Gear" (Arista Nashville, 2007)



(Produced by Frank Rogers)
Once upon a time, Nashville was packed with artists who unabashedly devoted themselves to novelty songs -- Buck Owens and Little Jimmy Dickens come to mind right away. Although the country charts are still full of novelty tunes, for the most part, the big stars play it safe with tightly-crafted power ballads and by-the-numbers good ol' boy anthems, while the goofy stuff is more of a sideline. Singer-writer-guitarist Brad Paisley is the exception to the rule, a glorious throwback to the days when a country star could make a career out of making people laugh, and have a good old time doing it. Sure, he's got romantic material on here as well, but the heart of this album are his hilarious, intelligently crafted gut-busters like "Online" (about a geeky guy who has a studly self-image on MySpace), the bubbadelic "I'm Still A Guy" (where Brad's he-man persona casts a stink-eye glance at squishy-soft, fashion-obsessed metrosexuality) and "Mr. Policeman" (about a Smokey And The Bandit car-chase fantasy that devolves into an violent, OJ-style confrontation, although the mock-macho narrator is too clueless to realize how deep a pile of doo-doo he's gotten himself into). Possibly the best joke on here is "Ticks," a brilliant parody of Top 40 sensitive-guy ballads, in which Paisley opines how he's different from all the other guys and would like to take the object of his affection away from the sleazy bar scene, out wholesomely hiking in nature... and then give her a tick check when they're done. Paisley's ability to make fun of himself is certainly one of his greatest strengths as a singer -- the characters in his songs rarely know what total tools they are, so we get to laugh at them along with Brad, winking at each other about the bluster and bravado that make them so human and flawed. It's a brilliant formula, and Paisley's delivery is perfect, he lets the jokes play out nice and slow, and keeps adding layers of humor once you've already gotten the gag. His conversational style is unusual as well-- you really feel you're hanging out with a real person, not a polished star, and he's a really funny guy. Brad Paisley would be fun to hang out with, I'm pretty sure of it. There's a sincere side to his work as well -- "All I Wanted Was A Car" seems like a novelty song at the start, but shifts gear into a song about modest, middle-class American dreams, family life and the value of hard work; "If Love Was A Plane" -- a song about divorce rates -- takes a simple metaphor and blows it away ("If love was a plane/nobody'd get on"), and "When We All Get To Heaven" is a fine country gospel tune. As far as I'm concerned, Brad Paisley is the real deal -- his songs are intelligent, emotionally honest and bracingly unique, with a modern sensibility and down-to-earth humbleness that are sorely needed in today's too-slick country-pop scene. This album's another winner!
Luke Powers "Picture Book" (Phoebe Claire, 2006)


A pretty solid set of gruff-voiced, hard country-tinged, DIY folksong Americana... Fans of Greg Brown, Tom Russell, Mary Gauthier or Jon Dee Graham might wanna check this out. Different songs will stand out for different folks -- I was drawn in by some of the softer numbers, particularly "Beautiful Lie" and "Northern Lights" (a gorgeous song about living with someone who has a terminal illness...) and "Going Back To The Mountain," about the pull of the land. This didn't totally grab me, but it's certainly worth checking out.
Ray Price "The Essential Ray Price" (Sony-BMG Legacy, 2007)



(Produced by Don Law & Frank Jones)
This 2-CD best-of set is a study in contrasts, showing Price's path from honkytonker to lounge singer, paralleling the same evolution in the country music industry of the 1950s, '60s and '70s. Disc One is dominated with his deliciously robust hard country hits of the mid-1950s, back when Price was one of the most credible heirs to the Hank Williams mantle (especially since he inherited Hank's actual band, after Williams passed away. The powerful loping thump of the Texas shuffle -- Price's signature sound -- propels bombshells such as I've Got A New Heartache," "Crazy Arms" and "My Shoes Keep Walking Back To You." It's heaven. There were ballads, too, but Price excelled at uptempo material, and up through the early '60s that's what he concentrated on. Well into the 1960s, his work had a surprisingly earthy feel -- even while shifting gears to become a countrypolitan crooner, Price could cook up stunners like "A Way To Survive" and "Burning Memories," and he kept a bluesy undercurrent in his music long after contemporaries such as Hank Locklin and Eddy Arnold had abandoned all pretense at twang. This set basically picks up where the previous Essential album (from 1991) left off, and compliments that still-crucial collection: after all the twang and thunder, Price softened up and went pop, but an extra disc's worth of this later material is well worth having on hand. Gems from Hank Cochran, Kris Kristofferson and Price's longtime amigo, Willie Nelson, are nothing to sneeze at. Also, the early years are represented by a markedly different playlist: you'll want both best-ofs to grace your stereo, and every time you check this one out, you'll be rewarded in some new way. Classic country and countrypolitan at it's best!

The Charlie Sizemore Band "Good News" (Rounder, 2007)



(Produced by Buddy Cannon & Charlie Sizemore)
A rock-solid bluegrass set from singer-guitarist Charlie Sizemore, known in his teens as the kid who sang lead in Ralph Stanley's band after Keith Whitley split for Nashville, and now a forty-something tunesmith revered as a songwriter of high standing in both the country and bluegrass fields. This is his first album in five years, and fans are well-primed for its delights... Like many great craftsman, Sizemore appreciates the work of others, and in addition to several of his own fine compositions, and here he includes gems from Paul Craft, Tom T. Hall and a hillbilly boogie oldie from Eddie Noack. There are songs about the Civil War, drinking, love lost and life lived, all delivered with a soulfulness and restraint that's kind of refreshing in the drag-racing world of super-picking bluegrass bands. Highlights include Hank Cochran's sombre "My Dying Day," Sizemore's "The Less That I Drink" (one of three tracks co-written with Buddy Cannon) and a pair of clever tribute songs -- "Alison's Band" (where Sizemore cheerfully fantasizes about hitting the road with Alison Krauss) and "Blame It On Vern," which pays homage to Vern Gosdin, one of the finest honkytonk singers ever... All in all, this is a fine offering from an old pro -- hopefully it won't take so long for the next one to come out!

Teddy Thompson "Up Front And Down Low" (Verve, 2007)



(Produced by Teddy Thompson)
The third full-length album from folk-rock scion Teddy Thompson finds him in a weepy country mood, covering numerous golden oldies while surrounded by a wealth of twang-y, alt-y talent. Iris Dement duets on "My Heart Echoes," an old Bailes Brothers tune; Jim Campilongo, Greg Leisz, Tift Merritt and others also appear, as well as Teddy's dad, Richard Thompson, who plays guitar on the rollicking Charlie Louvin chestnut, "You Finally Said Something Good (When You Said Goodbye)." With hits and obscurities from the likes of Liz Anderson, Dolly Parton, Ernest Tubb and George Jones, Thompson gets big bonus points for good taste, and I also got a kick out of hearing him sing "Let's Think About Living," a loopy old tune that Bob Luman recorded back in 1960, decrying violence in the media, back in the day when the Lone Ranger show was blowing people's minds. It's still goofy, still timely, and still fun... Still, a little more variety in tempo and tone might be nice: almost every song is delivered as a whiskey-soaked, closing-time dirge, even the tunes that are nominally upbeat to begin with. Thompson's got a great voice for the material, and he's definitely got the hillbilly misery vibe down pat -- it'd be nice if he could fit a little honkytonk bounce in there as well. Nice album, though -- I'd like to hear him do more country stuff, especially more original tunes; his doleful "Down Low" is an album highlight.
Corinne West "Second Sight" (Make Records, 2007)



(Produced by Mike Marshall)
An intriguing mix of bluegrass and adult-alt/folk-pop sensibilities... Hailing from the San Francisco Bay Area, Corinne West has a tinge of Natalie Merchant and Kate Bush about her, and while her pop-folk mysticism dominates the second half of the album, the twangier stuff is pretty fun at the start, particularly for folks that are into 'grassy music with lyrics that stretch beyond the genre's traditional themes. She's certainly got a wealth of high-power talent backing her up: Darol Anger, Jerry Douglas, Tony Furtado, Mike Marshall and Tony Phillips are among the newgrass heavyweights on this album, making for some pretty compelling melodic passages. Although bluegrass traditionalists won't find much here to dig into, fans of Nickel Creek and its various spinoffs might really get into it... There's a freshness that might draw them in, and it's certainly not the same-old same-old, lyrically. Worth checking out! (Available through West's website)
---



Hick Music Index
Shop Amazon, Support Slipcue



---