<! MP3 05/20/09 > <! pix 00/00/00 - 5/09: most Xmas albums w. no pix; also Red Stick Ramblers > <! archived 08/16/10 > <! * >

---
Howdy, neighbors!
Here are some reviews of the new country, bluegrass and Americana records that I had the good fortune to listen to in December, 2007. ...It's not everything I heard, but it's a nice sample of stuff that either tickled my fancy or ticked me off... Also, check out my full Guide To Hick Music for a bazillion more record reviews and artist profiles.

This month: Benny Barnes, Ryan Bingham, Cousin Emmy, Jesse Dayton & Brennen Leigh, Bob Dylan (DVD), Larry Hosford, George Jones, Chris Knight, Alison Krauss & Robert Plant, Red Stick Ramblers, Various Artists: "Opry Video Classics" (DVD)... PLUS Holiday Albums: Johnny Cash (DVDs), Richie McDonald, Pam Tillis, and more!
---
New & Notable: December, 2007 | Previous Reviews
---


By the way, it's that time of year again: my Hillbilly Holiday section is back, for those of you who like a little Christmas cheer while you're stuffing your turkey. Hopefully we'll get to review a few new holiday records as well...
---
Benny Barnes "Poor Man's Riches: The Complete 1950s Recordings" (Bear Family, 2007)


Another set of fab hillbilly rarities courtesy of the cultural curators at Bear Family Records... Here are all the '50s recordings of Texas honkytonker Benny Barnes, a contemporary of George Jones who fared from Beaumont, and who had a big hit with his own song, "Poor Man's Riches," which hit #2 on the charts in 1956. This collection gathers all his 1950s singles on Starday, Mercury and a slew of smaller labels, and though it doesn't also include his only other Top 40 track, "Yearning," which came out in '61, it is jam-packed with some of the finest, purest hard country honkytonk you'll hear this year -- or any other! Mighty fine stuff!


<! East Texas country singer Benny Barnes scored a huge hit in 1956 with only his second record, Poor Man's Riches, cut for the legendary Starday label, and would quickly graduate from the beer joints of his native Beaumont (where he often shared the stage with George Jones) to the national spotlight of the Louisiana Hayride. He was boyishly handsome, had convincing stage presence, and an instantly recognizable vocal style that melded influences like George Jones and Lefty Frizzell with that of his early idol, Hank Snow. He had defied current trends and record industry wisdom by hitting with a hard country performance at a time when rock 'n' roll had threatened to consume everything in its path. But there are no sure bets in the record business, as Barnes would bitterly learn when neither these advantages nor the patronage of a major label, Mercury, would help him find a follow-up hit to Poor Man's Riches. While Barnes would release many more singles over the next 25 years, by the time of his death in 1987, he was essentially forgotten by the country music business. In this overdue retrospective, Bear Family gathers together Benny Barnes' complete 1950s recordings, most reissued from the original master tapes for the first time, including two previously unissued performances. It was a prolific four years for Barnes, commencing with a couple of early acoustic demos, and continuing through his singles for Starday, Mercury, Dixie, Faith, D, and finally back to Mercury at the close of the decade. Though there were a few definite missteps during this period, it's equally undeniable that Barnes's talent deserved wider recognition than it received - then and now. >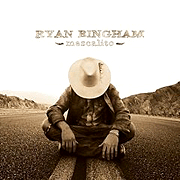 Ryan Bingham "Mescalito" (Lost Highway, 2007)



(Produced by Mark Ford)
It took me a long time to review this album because I kept getting stuck on one great track, "Bread And Water," an electrifying, foot-stomping, boogie-rock wild ride that starts off slow and then kicks into one of the best, most joyful slide guitar riffs I've heard in years. Hit repeat. "Bread And Water," an electrifying, foot-stomping, boogie-rock wild ride that starts off slow and then kicks into one of the best, most joyful slide guitar riffs I've heard in years. Hit repeat. "Bread And Water," an electrifying, foot-stomping, boogie-rock wild ride that starts off slow and then kicks into one of the best, most joyful slide guitar riffs I've heard in years. Hit repeat. "Bread And Water," an electrifying, foot-stomping, boogie-rock wild ride that starts off slow and then kicks into one of the best, most joyful slide guitar riffs I've heard in years. Hit repeat...... So about the fourth or fifth time I played it over at full volume, my mind drifted back to the Black Crowes and, sure enough, there on the back cover was a credit for ex-BC-er Mark Ford, who produced the album and plays guitar on most of the songs. The uninhibited, unapologetic retro feel of the Crowes is evident on many of the tracks, but Bingham's own personality and unique musical tilt remains in the foreground. Yet another terribly talented West Texan, Ryan Bingham has a genuine wildness and rawness that is missing in so much of country music today: the Top 40 and the Back Forty are both full of formulae, and each scene struggles in its own way to convince listeners that it hasn't forgotten its real country roots. Artists like Bingham are a blessing because they don't have to convince anybody of anything -- they simply are tapped into the fiery, gritty, greasy fun that is real roots music. Bingham's songs are weird, his emotions are raw, his spelling is bad. When you look inside the liner notes, you expect some dried up red clay to fall out on the floor, maybe with a few seeds and stems, or a couple of cigarette butts and a sweaty smell or two. Even if it's not inside the shrinkwrap, it's definitely there in the music. Bingham and Ford craft a unique sound, and in addition to a revitalized Southern-rockish sound, they get into surprisingly challenging material as well, particularly on "Sunshine," which takes the slide guitar sound and twists it into a grungy, repetitive drone worthy of Japan's Zeni Geva or indie rock's My Bloody Valentine. The grungy guitars bleed into the Neil Young-ish "Hard Times," and by this time it's pretty apparent that this ain't your average twangcore album. Bingham really seems to have something to say, or at least a way of speaking that's different from most of his alt-country contemporaries -- one sure sign is the presence of Texas cow-art icon Terry Allen, whose vocals and general vibe on "Ghost Of Travelin' Jones" make it another album highlight. The last third of the album meanders a bit, but the standout track are enough to get an jaded old fart like myself to sit up and take notice... And to hope for a follow-up album to come out real soon!
Cousin Emmy "Cousin Emmy & Her Kinfolks: 1939-1947" (Bear Family, 2007)


Folks who are interested in the early history of women in country music may want to check this one out... Cousin Emmy was a colorful performer who sang old-timey and sentimental songs, and who wrote one of the best-known songs in the bluegrass canon, "Ruby (Are You Mad At Your Man)," which is included here in a live, on-air version. The bulk of this disc comes from old radio airchecks, although tracks from a long-lost album are included as well. Minnie Pearl, eat your heart out!

Jesse Dayton & Brennen Leigh "Holdin' Our Own" (Stag Records, 2007)



A fun, funky set of hard-country duets, done up right by twangster Jesse Dayton and Austinite hillbilly filly Brennen Leigh, a husky voiced cow-gal with an obvious love of old-school country. (In an interview, Ms. Leigh pays allegiance to Melba Montgomery, which gets her plenty of brownie points in my book...!) A couple of the songs come from the George Jones canon, including Leon Payne's "Take Me" and Bobby Braddock's "Something To Brag About," along with a slew of groovy originals co-written by Brennen and Dayton. Highlights include "Let's Run Away," "Everything Looks Good On The Outside" and "Two-Step Program," a punny country novelty song in the classic tradition. Originally a brash, twangy guitar hero, Dayton has come on a little strong on previous albums -- here, he plays with a restraint and thoughtful soulfulness that should make old-schoolers sit up and take notice. This is a nice, classy record, well worth checking out!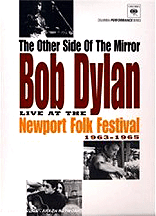 Bob Dylan "The Other Side Of The Mirror -- Live At Newport Folk Festival: 1963-1965" (DVD) (Columbia Legacy, 2007)


(Directed by Murray Lerner)
This is a fascinating document of Bob Dylan's transition from a buzzworthy newcomer to a genuine American icon. Without ornamentation or comment, this disc presents Dylan's impact on the fabled Newport Folk Festival in three pivotal years, 1963-65. In the early sequences, Dylan sits amid bluegrass and folk legends such as Doc Watson and Pete Seeger, a skinny kid paying his dues, earnestly singing his self-penned emulations of Woody Guthrie's talking blues style. There's something in the air, though, an electric charge to his aura that makes him stand out amid the studious folk-scene crowd. In the '64 festival, Dylan is more of a hovering presence, with numerous artists (Joan Baez, Johnny Cash) covering his material and calling him up on stage. There are episodic clips of Dylan and Baez making googly eyes at one another, and a momentary glimpse of the folk scene's equivalent of Beatles-mania, with Baez interviewed inside a car that drives past a gaggle of adoring fans, making light of her own celebrity. It's in 1965 that Dylan really emerges as a superstar -- the year before, there was a growing sense that he had outgrown the insularity and strictures of the overly-earnest folk scene, but in '65, when he strapped on an electric guitar and cranked up the volume, it was a clear declaration of independence, one that was met with a predictable mix of condemnation, exhilaration and adoration. This rift really didn't concern Dylan -- he'd made up his mind which direction he was flying in -- but the moment is still charged with drama and power, and Dylan's personal charisma had shot off the charts. Even in these oft-times choppy old film clips, he sizzles the very air around him, leaping out off the screen with his puckish, brooding persona metamorphosing moment by moment, an artist who was fully alive and changing the culture around him. The no-frills presentation is particularly useful -- there are separate commentary tracks, but the main film offers no narration, so you, as the viewer, are free to see and interpret the events for yourself. Dylan fans, folk devotees and students of popular culture will all find this an invaluable film. Highly recommended!
Larry Hosford "High On Livin' " (Hoe Maid, 2007)


Santa Cruz, California's legendary alt-country pioneer Larry Hosford is still keepin' it real, recording kooky songs with his signature sense of humor. This disc, which was originally recorded in 1987, is classic Hosford country: playful, willfully goofy, steeped in old-school country but clearly anchored in the present-day, this is real-live DIY twang, just as all his other records have been. This may mainly appeal to long-time fans, but if you count yourself among that number, you'll definitely want to pick this disc up, not just for "new" gems like "Ben Henry" and "February Weather," but also because Hosford has added newly-remastered bonus tracks from his notorious, long out-of-print 45, which has the hilariously un-PC "Salinas" (a huge KFAT classic, back in the day...), backed with the still-uncomfortable "Hitchhiking In Guyana," about the Jonestown massacre. It's worth it for "Salinas" alone, but it's also a nice signpost to check out the earlier work of one of alt-country's elders. (Available through Hosford's own website, www.larryhosford.com, where you can also get a better sense of his unique, self-effacing sense of humor.)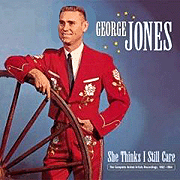 George Jones "She Thinks I Still Care -- The Complete United Artists Recordings: 1962-1964" (Bear Family, 2007)


Ah, yes -- yet another fabulous Bear Family box set that I can't quite afford to own. Good thing I have so many of these old classics on vinyl. Five CDs worth of vintage material, stuff that is underrated even among George Jones buffs. If nothing else, this will finally get more of those great duets with Melba Montgomery back into print!
Chris Knight "The Trailer Tapes" (Drifter's Church, 2007)



(Produced by Joe Hayden & Frank Liddell)
Songwriter Chris Knight hit the ground running when he came to Nashville, penning several Top 40 hits for folks such as Montgomery Gentry and Gary Allan. Knight took a stab at recording fame himself, initially on a major-label contract, and then as an indie artist with a Steve Earle-ish, alt-country sheen. Before he made his debut, however, Knight holed himself up in a trailer and made a passel of home recordings, which have been the subject of great interest and longing among his fans. Now, ten years later, the complete "trailer tapes" have been officially released, and folks can hear the ideas he was tinkering around with at the time. The first couple of songs are modern-day murder ballads, lyrics about small-town frustrations boiling over into cold rage -- they are sharply-drawn, insightful character studies, although (for me, personally) they also carry a taint of sensationalism, much like Richard Buckner's concept album, The Hill. (Okay, sure, random violence and murder are an undeniable part of the American landscape, but how often do we have to have artists continue to enshrine it in our popular culture? And when they do, how much of it is a "legitmate" artistic exploration, and how much of it is because they just think it's a "cool" topic?) Anyway, these raw early recordings, chiseled out with choppy acoustic guitar and craggy, insistent vocals, show Knight at his roughest and rawest, an intense new songsmith working out the foundations of his art. Well-crafted, if a bit bleak, this will be of interest to newcomers and fans alike.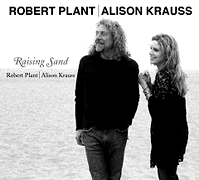 Alison Krauss & Robert Plant "Raising Sand" (Rounder, 2007)



(Produced by T-Bone Burnett)
This much-ballyhooed summit meeting of pop-bluegrass doyenne Alison Krauss and acid-rock old-timer Robert Plant topped a lot of Top 10 lists in '07... It certainly sounded like an unlikely pairing -- exciting and bold to one train of thought, gimmicky to another -- but there is no doubt upon hearing them sing that these two were on the same creative plane together, sharing a strong musical rapport. Although there is a lovely mellowness to the project, it doesn't have much to offer folk-grass traditionalists: like Emmylou Harris' collaboration with Mark Knopfler, this mostly tilts towards the world of pop and rock, and the acoustic twang that Krauss could have brought to the table was largely left behind. While they do cover some interesting old folk tunes, such as "Trampled Rose" and "Your Long Journey," the emphasis is more on molasses remakes of R&B oldies like "Fortune Teller" and "Done Moved On," stuff that Plant might have sung when he was a kid, hanging out in the English rock-blues scene that nurtured Led Zep and other bands like the Rolling Stones and Pretty Things. On balance, it's more an opportunity for Krauss to explore her pop leanings, and for Plant to reestablish his roots-music bona fides; draped in T-Bone Burnett's velvety arrangements, this is a totally comfortable and familiar outing. (Indeed, songs like "Sister Rosetta Goes Before Us" sound like outtakes from a Sam Phillips album, with Krauss matching Burnett's beloved almost note for note...) I completely understand why this is such a popular record: it manages to be simultaneously unconventional and utterly safe. It's not the sort of thing I personally would seek out or that makes my hairs stand on end, but if a friend had it on at a party, I wouldn't mind -- it's easy on the ears, and an easy home run for two A-list artists who found unexpected and alluring common ground.

Red Stick Ramblers "Made In The Shade" (Sugar Hill, 2007)



(Produced by Dirk Powell & The Red Stick Ramblers)
Louisiana's Red Stick Ramblers threw a big party a while ago -- Dewey Balfa, Hank Williams, Cab Calloway and Bill Monroe were all there and they all jammed with the band until dawn. After the sun came up, everyone sobered up and said they really had to do this again, then they went home and left the Ramblers there, amid the scattered Dixie Cups and leftover chips, but the band still felt all jazzed up, so they kept playing. Fortunately someone had the presence of mind to get a tape deck rolling and capture it all, and so we have this nice little disc -- their fifth record since 2001 -- which shows the band more relaxed and confident than ever. Most of the songs are originals written by the Ramblers,and these show better than anything their mastery of a wide array of American roots music styles. Among the bootlegger ballads, lost love songs and fiddle fling-dings there's a plunky old-time tune called "Katrina," in honor of the hurricane that flattened their home state, and several sweet, swinging country-jazz songs. The Ramblers pick up where bands like the Hot Club Of Cowtown left off: acoustic Americana never sounded better.
Various Artists "OPRY VIDEO CLASSICS" (DVD) (Time-Life, 2007)


Wow. What can I say? If you're into old-school country, real country, cool country, the best that Nashville had to offer in the 1950s and '60s, then this 7-disc DVD collection was made for you. It's a class act from start to finish, gathering 105 vintage video clips culled from a series of TV shows related to the Grand Ole Opry (with different corporate sponsors from year to year...) Although the smoothies and crooners of the Nashville Sound are well-represented, this collection digs amazingly deep into country's real past, bringing back vibrant images of craggy, rough-hewn hillbilly artists who wouldn't stand a chance in today's well-groomed, image-obsessed entertainment industry. Stars such as Jean Shepard, Hank Snow, Porter Wagoner and Kitty Wells -- heck, even icons like Johnny Cash and Loretta Lynn -- they all have that weather-bitten look of folks who have real country roots and have seen their fair share of hard times. The songs are great, the musicianship and showmanship are stellar, and the glimpses into the changing tides of the country scene are fascinating. Although it's all below the surface, you can sense how many artists, particularly in the mid-'60s segments, were already relics, which makes their performances even sweeter and more precious. Big stars like Eddy Arnold, Patsy Cline, George Jones, Ray Price, Marty Robbins, Tammy Wynette and Faron Young sing some of their biggest hits, exuding professionalism and confidence, while some of the then-newcomers show surprising flashes of humanity: Porter Wagoner's goofy exuberance in an early TV appearance (contrasted by his masterful command of the medium a few years later), Donna Fargo rushing through the sexually suggestive parts of "Happiest Girl," Jeannie Seely's discomfort with an awkward sexist joke from an oily emcee, Bill Anderson's desperate eagerness to please, Willie Nelson in 1965, chafing at a flat, hurried arrangement that crushes his jazzy phrasing, Loretta Lynn's explosive power in '68 and all of Dolly Parton's electrifying performances. Then there are the dazzling moments: Johnny Cash's impassioned version of the gospel oldie, "Were You There"; Grandpa Jones's live-wire attack during his fifty-zillionth performance of "Good Old Mountain Dew"; and fans of the Louvin Brother's will delight at seeing them in 1956, singing their hearts out on "I Don't Believe You've Met My Baby." There are a lot of show-stoppers in this collection, and the sheer force of the collective charisma is stunning. Folks in the know will get a kick out of all the supporting players, as well -- Weldon Myrick, Floyd Cramer, every sideman you can think of filling out the studio bands, old-timers like Bashful Brother Oswald (backing Roy Acuff) and future newgrassers Richard Greene and Peter Rowan lurking in Bill Monroe's band... This set really is a historical treasure trove, with high-quality prints and beautiful sound quality... Again -- what can I say? This is an awesome archival collection, a must-have for historically-minded country fans! (Available directly through Time-Life.com; also available as individually-packaged single-disc sets...)
---
Holiday Albums
---
Johnny Cash/Various Artists "The Johnny Cash Christmas Special: 1976" (DVD) (Shout Factory/CMHF Archive Series, 2007)


By the mid-1970s, Johnny Cash was a veteran TV performer, and new how to keep a show humming. This seasonal special recalls the roasts and variety shows that were so popular at the time, packed with guests, gags and corny, prepackaged humor... But there's also the obvious sincerity that Johnny and June Carter Cash brought to their holiday cheer... Filmed in their spacious ranch home, the show is conceived of as a big Christmas party, with their friends coming over for dinner and for a round-robin "guitar pull," where each guest taking a turn pickin', singing or telling a story. The performers include Hee Haw star Roy Clark and pop crooner Tony Orlando, who harmonize with Cash on a long medley of Stephen Foster classics, as well as Johnny's brother Tommy, superpicker Merle Travis (who picks a mean version of "The Cannonball Rag") and Johnny's pastor, Billy Graham, who tells a grim little Christmas parable about a rough-and-tumble mining camp that gets civilized through Jesus, but only after all kinds of violent, bloody behavior. The biggest surprise, though, comes from countrypolitan queen Barbara Mandrell, then at the height of her fame, who Cash remembers as a little girl who played steel guitar when he first met her... And sure enough, she sits down at the pedal steel and plays an impressive version of "Steel Guitar Rag." Who knew?? Although the pacing of the show is clunky, it was in keeping with the standards of live TV at the time, and it's a marvelous time capsule in many ways (especially the fashion: dig those cowboy duds on Tony Orlando!) Cash fans will definitely want to check this one out... students of the 'Seventies as well!
Johnny Cash/Various Artists "The Johnny Cash Christmas Special: 1977" (DVD) (Shout Factory/CMHF Archive Series, 2007)


The following year, Cash had a much glitzier, punchier production, trading his funky ranch home vibe for a big, shiny soundstage, decked out with a gigantic golden holly wreath and twenty-foot tall panels of frosted-glass snowflakes. This show, which broadcast on November 30, 1977, was also a tighter show, mainly featuring the seasoned cast of Cash's long-running road show: June Carter Cash, the reconstituted Carter Family, Carl Perkins and the ever-jovial Statler Brothers, and another appearance by Roy Clark, who helped anchor the previous year's Christmas show. Although there's plenty of holiday music and seasonal cheer, there's also a wealth of secular music -- Johnny and June sing a duet of "Darling Companion," and the second half of the show is devoted to a tribute to Elvis Presley, who had passed away a few months earlier. Along with Carl Perkins, Cash hosts other buddies from his Sun Records rockabilly years -- Roy Orbison is in fine form on "Oh, Pretty Woman," while Jerry Lee Lewis tears it up on a modernized "Whole Lotta Shakin' Going On," then slows things down for a sentimental reading of "White Christmas." Surprisingly, the Carter Family is kept mostly in the background -- Mother Maybelle wasn't in the show at all -- while Anita and the sisters only sang as part of a larger chorus. All in all, this is a lively, well-paced TV show, with a very sincere religious emotional core, sure to be a delight for Cash fans and country Christmas enthusiasts everywhere. Recommended!
Diamond Rio "The Star Still Shines: A Diamond Rio Christmas" (Word, 2007)


Toby Keith "A Classic Christmas" (Show Dog, 2007)


Raul Malo "Marshmallow World & Other Holiday Favorites" (New Door, 2007)


Martina McBride "White Christmas" (RCA, 2007)



McBride's 1998 Christmas album, with four new bonus tracks. Well, six bonus tracks, actually, if you consider that it originally came out as a ten-song album in '98, and the following year they added two tracks to bring it up to twelve. Ho-ho-ho! Merrrry Christmas!
Richie McDonald "If Every Day Could Be Christmas" (Loremoma, 2007)



(Produced by Frank Myers, Gary Baker & Richie McDonald)
While Top Forty's Lonestar has a new holiday album out, so does their former lead singer, Richie McDonald, who dropped out of the band just a couple of months ago... It's a pretty pop-oriented, tinkly-piano kinda album, thogh McDonald is in fine voice. The set includes a few golden oldies, such as "White Christmas" and Mel Torme's "The Christmas Song," but it's mostly packed with material written by McDonald and cohorts such as Frank Myers, Karen Kingsbury and Gary Baker. Some of the songs are new, although the title track was originally recorded by Lonestar on their This Christmas Time album, back in 2000. The newer tunes include the jovial-if-corny "Why Santa's Fat," "Christmas Lights" and "Miracles Happen," which closes the album on a sincere, if saccharine note.
Hank Snow "Snow On Christmas" (Bear Family, 2007)


A reissue of Snow's 1967 holiday album, Christmas With Hank Snow, with several additional Christmas-related tunes added on, drawn from throughout Snow's career...
Pam Tillis "Just In Time For Christmas" (Stellar Cat, 2007)



(Produced by Pam Tillis & Matt Spicher)
This yuletide offering is a bit more pop-oriented than I'd prefer, although I'm sure there are plenty of longtime Pam Tillis fans who'll love to spend the holidays with her... And with her family: Ms. Tillis sings a warm duet with her daddy, Mel, on "The Rockin' Christmas Medley." Speaking of kids and their parents, anyone know if producer Matt Spicher is any relation to the great fiddler and sessionman, Buddy Spicher? Oh, wait... lemme Google that... Yup! He's his son! He doesn't play on here, but apparently Matt plays a mean bit of gee-tar himself... Leave it to Tillis to find some new top talent to draw on.)
Randy Travis "Songs Of The Season" (Warner/Word, 2007)


Various Artists "COUNTRY CHRISTMAS 2007" (Capitol, 2007)



Some old stuff and new, mining the Capitol catalog for chestnuts from folks such as Trace Adkins, John Berry, Glen Campbell, Billy Dean, Chris LeDoux, The Oak Ridge Boys, Jamie O'Neal, Cyndi Thompson, Tanya Tucker... One big highlight is "Shimmy Down The Chimney," from Alison Krauss... Nice selection of seasonal cheer!
Various Artists "HEAR SOMETHING COUNTRY: CHRISTMAS 2007" (RCA, 2007)



Kenny Chesney, Terri Clark, Blaine Larsen, Kellie Pickler, Carrie Underwood, Alan Jackson and others in the RCA Nashville stable deliver an all-star Xmas album...
---



Hick Music Index
Shop Amazon, Support Slipcue



---