<! MP3 05/20/09 > <! pix 00/00/00 > <! archived 08/09/10 > <! * >

---
Howdy, neighbors!
Howdy, folks, here are some reviews of the new country, bluegrass and Americana records that I had the good fortune to listen to in January, 2008 ...It's not everything I heard, but it's a nice sample of stuff that either tickled my fancy or ticked me off... Also, check out my full Guide To Hick Music for a bazillion more record reviews and artist profiles.
This month:
Arthur Alexander "Lonely Just Like Me: The Final Chapter" (HackTone)
Johnny Cash "The Outtakes: Sun Studio Recordings" (Bear Family)
Johnny Cash/Various Artists "The Best Of The Johnny Cash TV Show: 1969-1971" (Sony-BMG Legacy)
Buzz Cason "Hats Off To Hank" (Palo Duro)
Cowboy Troy "Black In The Saddle" (Warner Nashville)
Howard Crockett "Out Of Bounds" (Bear Family)
Andy Hall "Sound Of The Slide Guitar" (Sugar Hill)
Levon Helm "Dirt Farmer" (Vanguard)
Mars Arizona "Hello Cruel World" (Big Barn)
Bonnie Owens "Queen Of The Coast" (Bear Family)
The Frank Vignola Quintet "Kong Man" (VM)
Rhonda Vincent "Good Thing Going" (Rounder)

---
New Stuff: January, 2008
---
Arthur Alexander "Lonely Just Like Me: The Final Chapter" (HackTone, 2007)



(Produced by Ben Vaughn)
One of the finest soul singers of the 1960s, Arthur Alexander was primed for a comeback in 1993, when Nonesuch Records commissioned a new album, Lonely Just Like Me, which showed Alexander to be a still-powerful performer -- cool, calm, authoritative and full of feeling. Sadly, he passed away from a heart attack just days after the record came out. The news of his untimely death overshadowed the record itself, so this new edition is a much-welcome revival of an excellent soul album. Also included is an interview and live performance from NPR's Fresh Air program, which further gives present-day listeners an opportunity to rediscover Alexander's charm.
Johnny Cash "The Outtakes: Sun Studio Recordings" (Bear Family, 2007)


(Produced by Sam Phillips)
What would a month of Slipcue reviews be like without at least one review of something by Johnny Cash? Here's yet another fab historical nugget, aimed at the most hardcore of fans: a 3-CD set that gathers every known outtake from Cash's formative years at Sun Records, every alternate version of classics such as "Get Rhythm," "Hey Porter," "Big River" and "Folsom Prison Blues," presented in chronological order from 1955-1958. If you're a diehard fan, you'll get a kick out the different takes, although ordinary may find themselves a little nonplussed by multiple versions stacked end to end, all with that unique Cash sound stamped indelibly on track after track. Personally, a good best-of set or two pretty much covers it for me, but I know the appeal that completism can have... Do you feel the pull of gravity? Yeah, I thought so.
Johnny Cash/Various Artists "The Best Of The Johnny Cash TV Show: 1969-1971" (Sony-BMG Legacy, 2008)



In 1969, after years on the road, Johnny Cash landed a prestigious gig as a television star, hosting one of the most eclectic shows in country music history. Nashville's A-list stars came to call, as did newcomers such as Kris Kristofferson, Barbara Mandrell and Lynn Anderson... But Cash was a real rebel, and he wasn't content to play it safe: he also invited pop and jazz stars, including icons of the hippie scene and master musicians such as Louis Armstrong and Ray Charles, and a bunch of his buddies from the old rockabilly days of the 1950s. This disc, drawn from the excellent 2-CD set that came out last Fall, showcases that diversity, with fine performances from George Jones and Tammy Wynette, Waylon Jennings and Bobby Bare, as well as longhairs like Derek & The Dominos and James Taylor, as well as the crew from Cash's long-lived road show -- Carl Perkins, The Statler Brothers and the reconstituted Carter Family. The most surprising or historically notable performances included here are a duet between Joni Mitchell and Johnny Cash, and a medley by Roy Orbison. For what it is, this is a nice collection, although some of the strongest material from the video set is, sadly, omitted, including performances by Bob Dylan (whom Cash fearlessly promoted, to the great unhappiness of the Nashville establishment) and Neil Young, who shockingly sang "Needle And The Damage Done," a provocative song about a heroin addict that included a stanza with a homosexual overtone... For whatever reason (probably financial) this set plays it safe: it's okay, but even better is the DVD collection, which is a real treasure.
Buzz Cason "Hats Off To Hank" (Palo Duro, 2007)



(Produced by Buzz Cason & Parker Cason)
A rambling, discursive, roots-rock set from craggy-voiced veteran songwriter Buzz Cason, a Nashville old-timer who formed one of Music City's first rock bands, back in the 1950s and has been plugging away ever since. This album echoes the weather-worn, stream-of-consciousness style of JJ Cale or maybe even someone more crotchety, like Jim Dickinson, with a dose of geezerly discontent and anger fueling some of the songs. These aren't pop songs, or even conventional-sounding country or blues -- they ramble and detour all over the map, and I'll be danged if I can really tell you what half of them are about. Personally, I'd go for a little pruning down and editorial control, but folks who like weird, swampy, unusual stuff might get a kick out of this... File it along with Swamp Dogg, Hasil Adkins, Chip Taylor and Guy Clark. Not bad company, depending on your taste!
Cowboy Troy "Black In The Saddle" (Warner Nashville, 2007)



What, him again? Oh, please. Clearly, CT is spoiling for a fight, as heard on this album's "How Can You Hate Me?" But really, there are country fans and then there are the folks who like what the Big & Rich "music mafia" have done with the genre. And if you're old-school like me, it isn't really worth the time to dissect everything that's wrong about this sound... again. It's just not that funny, or that much fun to listen to.
Howard Crockett "Out Of Bounds: The Johnny Horton Connection" (Bear Family, 2007)


Songwriter Howard Hausey is best known as the guy who gave Johnny Horton some of his biggest hits -- I'm A Honky-Tonk Man," "Ole Slew Foot," "Whispering Pines," and several others. He took the stage name Howard Crockett and tried to make it himself as performer, but his legacy was mostly one of obscure singles and a few "soundalike" recordings (when an otherwise anonymous singer tries to cash in on the success of a more famous artist by copping their sound; Hausey specialized in Johnny Cash-ish numbers...) Naturally, he's got a cult following in Europe, and they've finally given their hero his due, with this generously-programmed set of demos, one-offs and oddities. There's lots of material here in the cornball "historical" and folk-country vein that was popular during the Kennedy era, and some catchy honky-tonk as well. I wouldn't say Hausey was a great singer, but on some of the straight-ahead country tunes he does sound pretty rugged and nice. This is a fairly ephemeral release, mainly of interest because of the Johnny Horton connection, but for folks who groove on the obscure, it certainly has its charms. As with all Bear Family releases, it's got the best sound quality and copious archival documentation.... Certainly worth checking out.
Drive-By Truckers "Brighter Than Creation's Dark" (New West, 2008)


Andy Hall "Sound Of The Slide Guitar" (Sugar Hill, 2008)



A fine, fluid, mostly-instrumental album that showcases the slide and resophonic guitar work of Andy Hall, a founding member of the Infamous Stringdusters. Hall has also been making a name for himself as a country/bluegrass accompanist, and his picks several top sideman to back him on this lively disc. Hall reaches back to get some of the fun-loving rootsiness that superpickers such as Jerry Douglas and Bela Fleck have largely moved away from. It's a nice, unpretentious set, satisfying and familiar-sounding... Be nice to hear Hall build on this and make a few more records, maybe with more vocal material as well. Worth checking out!
Levon Helm "Dirt Farmer" (Vanguard, 2007)



(Produced by Larry Campbell & Amy Helm)
An extraordinary album by one of the great progenitors of the roots-Americana genre... Levon Helm, drummer of the late, great, fabled Band, has been off the radar for a while -- a battle with throat cancer put him out of commission as a singer -- but now he's back, and with a vengeance. In his younger years, Helm was one of those rockers who sang like he was an old geezer... Now he really is an old geezer, and he wears it well: his ragged, raspy vocals have never sounded better and the world-weariness he summoned in the 'Sixties is more potent and profound now, with each turn of phrase sculpted into pure, rugged, unmistakable Helm. Although he made his mark playing rock and R&B in the Hawks and The Band, Helm also has serious Southern country roots, having grown up in rural Arkansas listening to raw blues and real hillbilly music in the 1940s and '50s when the music was still a small-time, intimate, authentic, local experience. He summons those times with vivid power, mixing old-time classics like "The Blind Child," "False Hearted Lover" and "Single Girl, Married Girl," with new tunes, including songs from Paul Kennerley, Steve Earle and Julie & Buddy Miller, whose spooky gospel song, "Wide River to Cross" rightfully closes the set... Helm sets a funky tone, but also digs deep into the hard, crusty soil of American rural music as his daughter, Amy, buoys him with some truly gorgeous harmonies. (I'm gonna have to give her band, Ollabelle, another listen...!) Anyway, it's hard to pick favorites on an album like this, since there really isn't a false note on the entire record... If I'd caught ahold of this disc earlier in the year, it would have topped my list for the best album of '07. It's really that good.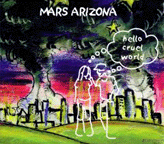 Mars Arizona "Hello Cruel World" (Big Barn, 2008)



A nice, rambling hillbilly-folk-twangadelic album from a SF Bay Area duo with a lot of cool friends... Newgrass patriarch David Grisman adds some lively mandolin on the opening track (with his son, Sam, on bass!) while pedal steel player Al Perkins also guests on a tune or two. The presence of both these old pros is a good indicator of where Mars Arizona are headed: this album echoes the rambling, eclectic country-folk of the early 1970s, bringing to mind work by bands such as the Goose Creek and New Riders Of The Purple Sage, or even older, spacier bands such as Hearts & Flowers or Fat City... Although they're notably twangier than the current crop of "folk-freak" acoustic psychedelic artists, I'd imagine fans of the style could also enjoy this album a lot. Fine musicianship along with lots of lyrics that might make you scratch your head a bit... Worth checking out!
Bonnie Owens "Queen Of The Coast" (Bear Family, 2007)


A 4-CD set honoring Bonnie Owens, one of the forgotten heros of the 1960s West Coast country scene... She's best known as the gal who married (and divorced) both Buck Owens and Merle Haggard... Here's a chance to size up Ms. Owens as her own, independent artist. This includes about an album's worth of duets with Merle, some early tunes recorded with the legendary Fuzzy Owen, a fair number of cover tunes, lots of obscurities and closes with her long out-of-print gospel album, Mother's Favorite Hymns. A real treat for longtime fans, and a nice chance to check out the best work by one of the best-known gals from the Bakersfield scene.
The Frank Vignola Quintet "Kong Man" (VM Entertainment, 2008)


Guitarist Frank Vignola leads a compact yet funky acoustic fivesome, playing in the style of David Grisman, though perhaps crossed with a bit of Medeski Martin & Wood, as well as swingster Bucky Pizzarelli (who Vignola has worked with over the years) Fans of acoustic swing will find a lot to enjoy here... (Available through www.frankvignola.com)
Rhonda Vincent "Good Thing Going" (Rounder, 2008)



Another rock-solid outing for truegrass innovator, singer-mandolinist Rhonda Vincent... She taps into the current wave of contemporary adult-pop-folk while simultaneously delivering a slam-bang dose of first-rate lightning-flash acoustic picking... The mix includes stright trad-grass, including covers of songs like Jimmy Martin's "Hit Parade Of Love" and a paean to the on-the-road-again traditions set by old-time artists who toured with the patronage of the Martha White Flour company, as well as softer, more modern material, including a duet with Top 40 country star Keith Urban, on a slightly syrupy version of the old Scottish standard, "The Water Is Wide" (which contemporary Celtic fans will love). Sadly, the copy I got doesn't include real liner notes, so I can't comment on the musicians or songwriters -- but you get the idea. It's another great record by one of the finest bluegrass bandleaders around. Recommended!
---



Hick Music Index
Shop Amazon, Support Slipcue



---