<! MP3 05/18/09 > <! pix 00/00/00 > <! archived 08/09/10 > <! * >

---
Howdy, neighbors!
Howdy, folks, here are some reviews of the new country, bluegrass and Americana records that I had the good fortune to listen to in February, 2008 ...It's not everything I heard, but it's a nice sample of stuff that either tickled my fancy or ticked me off... Also, check out my full Guide To Hick Music for a bazillion more record reviews and artist profiles.
This month:
Tommy Alverson "Country To The Bone" (Palo Duro)
The Band Of Heathens "The Band Of Heathens" (BOH)
Johnny Bond "Put Me To Bed" (Bear Family)
Dailey & Vincent "Dailey & Vincent" (Rounder)
Malcom Holcombe "Gamblin' House" (Echo Mountain, 2008)
The Hollyfelds "Saratoga" (Self-Released, 2008)
Monroe Crossing "Live From Silver Dollar City" (Monroe Crossing)
Ernest Tubb "Thirty Days" (Bear Family)
Carolyn Wonderland "Miss Understood" (Bismeaux)
The Wrights "The Wrights" (Alan's Country Records)

---
New Stuff: February, 2008
---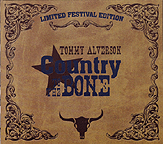 Tommy Alverson "Country To The Bone" (Palo Duro, 2007)



(Produced by Tommy Alverson & Patrick McGuire)
Another fine set from this unpretentious Texas independent... Alverson pays homage to Hank, twang and tequila -- and sounds like he means every word of it! This is real-deal, front-porch, gravel-road country music that still has plenty of ragged, rough edges to it: Alverson is the kind of guy you won't find playing halftime at the Superbowl, but you sure wouldn't mind having him pick a few tunes at your barbecue while the game is on. Several songs are Alverson originals, although there's also music by Clay Blaker, Walt Wilkins, Jim Lauderdale and Mickey Newbury, along with a tip of the hat towards Doug Sahm ("Be Real") and a few tunes from Alverson's pals, Roy and Jerri Lynn Robinson. This disc originally came out as a souvenir of the Texas Music Family Gathering festival (which Alverson promotes and organizes), but now all us folks outside of Texas can enjoy it as well... This is real country, the kind that sounds a little bit better with each you drink.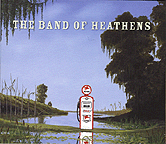 The Band Of Heathens "The Band Of Heathens" (BOH, 2008)



(Produced by Ray Wylie Hubbard)
A catchy set of Texas-born, independently produced, red-dirt roots-rock, guitar-centric stuff that sits just this side of the jam-band scene. The opening songs are cheerfully rugged and rowdy, with a Southern-rockishness that recalls the Black Crowes; after "Second Line," a mandolin-led acoustic interlude, the mood shifts and becomes softer and more reflective... It takes a while, but you'll soon place Ed Jurdi's smoky, dream-laden vocals -- for all the world, these guys sound just like Little Feat back in their Lowell George heyday -- not as jazzy, but just as funky and soulful. If these comparisons spark your interest, then you can safely pick this disc up: there's a lot here that'll make Feat fans happy, particularly on lazy slide guitar tunes like "Unsleeping Eye." Folk-pop favorite Patty Griffin seems to be pals with the band as well, singing on three songs, most notably the sweet duet, "40 Days." Definitely recommended: here's a new band that's worth keeping your eyes on.
Johnny Bond "Put Me To Bed" (Bear Family, 2007)


A cowboy singer, honkytonk stalwart and veteran novelty artist, Johnny Bond is one of those old-time country guys who was just around forever... He did some pretty rootsy, bluesy stuff in the 1940s, but by the '60s he was coasting on a few hits and recorded numerous indifferently produced tunes for Starday and other indie labels. There are a lot of Johnny Bond records out there, and a lot of best-of sets, but this is surely one of the strongest, with choice, vintage material and the great sound quality and scholarship that is the Bear Family trademark. (Part of Bear Family's rollicking "Gonna Shake This Shack Tonight" series, which opts for slam-bang single-disc sets in favor of their old, mega-box set approach.)
Dailey & Vincent "Dailey & Vincent" (Rounder, 2008)



(Produced by Jamie Dailey & Darrin Vincent)
An utterly gorgeous set of harmony-drenched traditional bluegrass, with a strong emphasis on super-sweet, super-soulful male duet vocals. The pickin' is pretty solid, too. These guys are both veteran truegrass players -- Darrin Vincent is Rhonda Vincent's brother, and went from her old band The Rage into long tenures with John Hartford and Ricky Skaggs; Jamie Dailey sang with Doyle Lawson and Quicksilver starting in the late 1990s, and has been collaborating with Vincent for a few years. It's no surprise that with this wealth of experience that they can tap so beautifully into the vocal tradition of the Stanley Brothers, or that about half this album is gospel material, as heartfelt and moving as anything you'll hear in the genre. The repertoire sounds old, but includes a lot of more modern material, including a couple of Dailey's original tunes, as well as a tune by the late Randall Hylton and even a song from indie darlings Gillian Welch and David Rawlings. This is old-school melodic bluegrass at its very best: it doesn't get any sweeter than this. Highly recommended!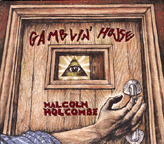 Malcolm Holcombe "Gamblin' House" (Echo Mountain, 2008)



Fans of Guy Clark might also enjoy this fellow... The Clark comparison is particularly strong on tracks like the album's opener, "My Ol' Radio," where the debt would almost be embarrassing if the song didn't sound so darn good. Over the course of the album, Holcombe may overplay his hand a bit with the don't-I-sound-gruff-and-world-weary schtick, but the record's acoustic folkie/bluesy vibe is quite pleasant and makes up for a lot of the weary-old-soul mannerisms. Worth checking out!
The Hollyfelds "Saratoga" (Self-Released, 2008)



(Produced by Ric Hordinski)
A fine set of ragged-edged, buoyant DIY-billy, with a bouncy rock backbeat behind a mostly-acoustic band and twin gal-harmony vocals. Singers Eryn Hoerig and Kate Grigsby split the songwriting chores equally, and each taps into the misery-and-drinkin' country tradition, singing novelty lyrics with a rough, modern edge. I have to confess, I'm not really fond of their vocals, but fans of Freakwater and Lone Justice will recognize kindred spirits in this clattersome quintet, and open-minded listeners will find this low-budget offering full of plenty of pleasant surprises. Highlights include Hoerig's hangover ballad, "I'm Gonna Feel Tonight Tomorrow" and the more poetic "Stars At Night." There's an abundance of songs about broken hearts and late-night, lonely drinking, and yet they avoid the forced feel of many of their alt-twang contemporaries. The Hollyfelds sing and play with a conviction and sincerity that's refreshing to hear. Worth checking out...! (Available through the band's website: www.thehollyfelds.com )

Monroe Crossing "Live From Silver Dollar City" (Self-Released, 2007)


(Produced by Monroe Crossing)
A nice, laid-back live album from this down-home Minnesota bluegrass crew... This is a jes'-plain-folks, back-porch kind of affair, perfect for fans that like the way acoustic instruments sound, but tune out when it all sounds a bit too slick. Monroe Crossing have put out a bunch of albums on their own, but they're still pretty much those neighbors of yours who got a little carried away with the whole festival thing, and started doing the bluegrass band full-time. You go to all their shows and hoot and holler, both because it's fun and also because you like seeing normal folks like yourself up there onstage. I like the repertoire: these folks tilt towards the Jimmy Martin wing of old-school bluegrass, mixing country tunes like "Crazy," "Oh Lonesome Me" and Dolly Parton's "Jolene" in, along with truegrass oldies from Jim & Jesse, Jimmy Martin and -- of course -- good ol' Bill Monroe. There's a smidge of gospel and, by my count, just one original tune, "The Atlanta Church," written by bassist Mark Anderson. Monroe Crossing aren't super-hotshot pickers or an ultra-professional all-star juggernaut, but that's a big part of their appeal: they are enthusiastic and full of pep, and about as down to earth as a bluegrass band can get. If that's the kind of music you like to hear, this album will be a breath of fresh air.

Ernest Tubb "Thirty Days (Gonna Shake This Shack Tonight)" (Bear Family, 2007)


This groovy best-of collection is part of the rollicking "Gonna Shake This Shack Tonight" series; Bear Family is best known for its gigantic, authoritative box sets, but these single-disc sets sure do kick ass. Ernest Tubb has been the focus of several big box sets covering his entire forty-plus year career, so it's no surprise that when they whittle it all down to a mere thirty songs, those thirty songs are gonna be pretty darn good. There are well-known hits such as "Walking The Floor Over You," "Let's Say Goodbye Like We Said Hello," "Two Glasses, Joe" and "Drivin' Nails In My Coffin," as well as a slew of more obscure but no less delicious honky-tonk gems... A great way to discover one of country music's major pioneers.
Carolyn Wonderland "Miss Understood" (Bismeaux, 2007)



(Produced by Ray Benson)
A really nice surprise here, with a powerful blast of raw, soulful blues from this throaty, rough-hewn Texas powerhouse. A Houstonite who used to front the Imperial Monkeys roots-blues band, Wonderland has made Austin her home for a while now, and is one of the finest blues singers in the area. The slashing steel guitar on this album's opening track should be enough to get your attention, and once you get to the mournful "Bad Girl Blues," a couple of songs later, this gal will have you in the palm of her hands. Sidestepping the smae-old raspy-Janis and sassy-mama Koko Taylor stereotypes, Wonderland taps into the more soulful tradition of gals such as Tracy Nelson, Marcia Ball and Lou Ann Barton. Asleep At The Wheel's Ray Benson produced this disc, and although he sneaks a teensy bit of twang in on a tune or two, he mostly plays to Wonderland's strengths and keeps it bluesy and brash. Her instincts aren't always right (a jarring rap interlude on "I Found The Lions" is just horrible, but it doesn't last long...) but raw power like this doesn't come around often and this is definitely an artist to keep our eyes on! <! February 5, 2008 >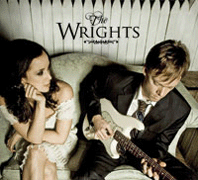 The Wrights "The Wrights" (Alan's Country Records, 2007)



(Produced by Keith Stegall & John Kelton)
Bee-yoo-ti-ful. The husband-wife team of Adam and Shannon Wright burst on the Nashville scene a couple of years ago with their major label debut, Down This Road, a wonderful set of melody-twang-and-harmony drenched commercial country that seemed just too good to be true. Maybe it was, since this new EP is and indie release (like a lot of the best country coming from Nashville these days...) Regardless of whatever's happening between them and the majors, the Wrights sure do sound good. This disc opens on a high note, with "Rewind," a soaring harmony tune written by Shawn Camp, produced in a lavish style that recalls Billy Sherrill's best years... Indeed, the Wrights are resurrecting a much-neglected tradition of country duet singing that had its heyday back when Sherrill was working with George Jones and Tammy Wynette -- it's a sound that's fallen by the wayside in recent years, and you'll wonder why when you hear these two croon one great tune after another, including originals like the twangy "Do You Still" and catchy hits-in-the-making like "Planting Flowers" and "You're The Kind Of Trouble." Guitarist Paul Kennerley plays throughout and also wrote or co-wrote several of the songs; veteran producer Keith Stegall exhibits his tried-and-true, irresistible blend of twang'n'pop, which fits these kids like a glove. If you like real, true, sweet country pop, the kind of stuff you can crank up loud and sing along to, then check this album out. It's a treat. (For more info, check out www.thewrightsmusic.com )
---



Hick Music Index
Shop Amazon, Support Slipcue



---