<! MP3 05/08/09 > <! pix 05/18/09 - except for a couple of strays > <! archived 08/09/10 > <! * >

---
Howdy, neighbors!
Howdy, folks, here are some reviews of the new country, bluegrass and Americana records that I had the good fortune to listen to in April, 2008 ...It's not everything I heard, but it's a nice sample of stuff that either tickled my fancy or ticked me off... Also, check out my full Guide To Hick Music for a bazillion more record reviews and artist profiles.
This month:
Hayes Carll "Trouble In Mind" (Lost Highway)
Carlene Carter "Stronger" (Yep Roc)
Dan Colehour "Straight To The Highway" (MCA-Nashvile)
Dime Box "Five And Dime Waltz" (Avebury Records)
Jimmy Gaudreau & Moondi Klein "2:10 Train" (Rebel)
The Gibson Brothers "Iron And Diamonds" (Sugar Hill)
Longview "Deep In The Mountains" (Rounder)
Grady Martin "Roughneck Blues: 1949-1956" (Rev-Ola)
Willie Nelson "One Hell Of A Ride" (Box Set) (Sony-BMG Legacy)
Willie Nelson "Moment Of Forever" (Lost Highway)
Webb Pierce "High Geared Daddy" (Bear Family)
Doug Stone "My Turn" (Progression, 2007)
George Strait "Troubadour" (MCA-Nashville, 2008)
Hank Thompson "Six Pack To Go" (Bear Family)
The Waco Brothers "Waco Express: Live & Kickin' At Schuba's Tavern" (Bloodshot)
The Wilders "Someone's Got's To Pay" (Free Dirt)

---
New Stuff: April, 2008
---

Hayes Carll "Trouble In Mind" (Lost Highway, 2008)



(Produced by Brad Jones)
A loud, lusty, robust dose of hard-rockin' alt-country, pure pop pleasure for folks who like their Americana to sound booze-soaked, smoke-stained and twangy. Carll sings about barmaids and sweaty nightclubs, booze, pills, wild sex and never looking back. He might be laying it on a bit thick, but he's got lots of good licks and a killer band backing him up: this is what outlaw country should sound like, and if you're into it, this is a pretty fun album. Carll is also a superior country craftsman, both as a lyricist and tunesmith -- his lyrics don't run down poetic rabbitholes or trot out bloodless stereotypes. The subject matter is raw, but believable, and the music packs enough wallop that you can easily imagine yourself pounding back a few in an old-fashioned honkytonk, nodding along and thinking, hey, this kid knows his stuff. One of the strongest alt-country albums of the year, and another strong offering from an artist who's really hit his stride. Check it out.
Carlene Carter "Stronger" (Yep Roc, 2008)



(Produced by John Carter Cash & John McFee)
Ms. Carter's first album in over thirteen years -- a rueful mix of country, rock and blues in which Carlene reflects on a pretty hard decade. If you're already a fan, you'll want to check this one out.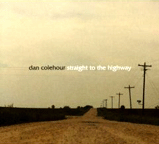 Dan Colehour "Straight To The Highway" (MCA-Nashville, 2007)


(Produced by David Grissom, Mike McCarthy & Frank Liddel)
Straight-up, roots-rockin' poppy twang, tailormade for fans of Jack Ingram, Chris Knight, Radney Foster, and old Steve Earle. And, yeah, there's a bit of John Mellencamp in there, too. Colehour's a Midwesterner who hit the Texas scene in the 1990s, moved to Nashville, and got chewed up and spat out, as many a fine musician has been before him. His first album was set to be released a few years back, but got shelved in a typical music industry merger/corporate bloodbath, and his career was put on hold until the new boss figured out what to do with him. The good news is that fans who like the whole Mellencamp/Springsteen heartland hero vibe will find a lot to cheer about here -- there's one anthemic rebel-rouser after another, and while Colehour raise the much-waved flag of the all-American, small-town everyman, he does so without the cynical commercial calculation of Top 40 acts like Toby Keith and Montgomery Gentry, et. al. This feels like a pretty sincere record, and if you're drawn to the style, you'll want to check this one out.

Dime Box "Five And Dime Waltz" (Avebury Records, 2008)



Independently-produced, pleasantly twangy, bluegrassy folk-rock-twang from Los Angeles... This all-gal five-piece ensemble wrote all but one of the songs on here, and their pride of ownership comes through loud and clear... They sing with pleasure and harmonize with joy, sort of like a 'grassier version of the Emmylou Harris/Dolly Parton/Linda Ronstadt Trio of yesteryear... The musicianship is solid, although you can hear the rough patches as well -- this doesn't sound like a big-budget Nashville album where every tic and quirk has been smoothed out in the studio... In short, this is real music made by real people: twangfans who cherish old-school folkies like the Any Old Time Stringband, Sally Van Meter or Laurie Lewis might wanna check these gals out as well. Nice to hear a little twang still coming out of SoCal. (For more information, check out www.aveburyrecords.com )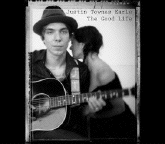 Justin Townes Earle "The Good Life" (Bloodshot, 2008)



Yup, sure enough: that's Steve Earle's kid. I haven't heard this yet, but when I do, I'll give you a full report.
Jimmy Gaudreau & Moondi Klein "2:10 Train" (Rebel, 2008)



Mandolin whiz Jimmy Gaudreau and singer Moondi Klein just finished a tenure as members of the highly-regarded bluegrass band Chesapeake... Here, they slow things down a little and take it down a notch or two, delivering a mellow, sparsely arranged acoustic set, packed with standards and songwriting gems stretching from hill country oldies like "Shady Grove" and "Arkansas Traveler" and Jimmie Rodgers' "Any Old Time" to folk-house gems such as Tom Paxton's "Last Thing On My Mind" and Eric Bogle's searing pacifist anthem, "The Band Played Waltzing Matilda." It's a sweet set, with several gems, notably "High Sierra" and "Colleen Malone." <! (Release date: March 25, 2008) >
The Gibson Brothers "Iron And Diamonds" (Sugar Hill, 2008)



(Produced by the Gibson Brothers & Mike Barber)
True-blue torchbearers of the country-tinged folk-grass tradition of hippie-era bands such as New Grass Revival and the Seldom Scene, the Gibson Brothers -- Eric and Leigh -- have recorded one solid album after another, and Iron And Diamonds may be their best to date. Stepping back a bit from the pop-tinged material of the last few years, here they deliver a pure acoustic set, one that zeros in one their greatest strengths: their deep roots in the style, their knack for crafting simple, pure melodies, and their spotless brother-act vocal harmonies. Everything on this album flows smoothly-- each song is a gem, and the transitions from track to track are seamless. This is one of those records that winds up in the CD player for week after week -- you keep thinking you'll take it out and move on to something new, but somehow it keeps popping up, sounding better each time it spins around. <! (Release date: April 8, 2008) >

Longview "Deep In The Mountains" (Rounder, 2008)



If you thought Longview was a bluegrass supergroup before, just get a look at their new lineup, with old members James King, Marshall Wilborn and Don Rigsby joined by newcomers Lou Reid and J.D. Crowe. Whew!! Talk about a truckload of talent! And the music sounds as good as the lineup -- one rock-solid, old-school traditional truegrass tune after another. Economical, levelheaded musicianship, heartfelt vocals, pitch-perfect melodies and smooth, elegant picking. What more can you say? This is a great bluegrass album -- you'll be happy to have it around.


<! April 8, 2008 >
Grady Martin "Roughneck Blues: 1949-1956" (Cherry Red/Rev-Ola, 2008)


Session guitarist Grady Martin was a key player in the early 1940s' hillbilly scene and helped sculpt the sound of several hits, such as "Hillbilly Fever" by Little Jimmy Dickens, "I'm A One-Woman Man" by Johnny Horton, and Red Foley's "Chattanoogie Shoe Shine Boy" along with early vintage rock numbers from Johnny Burnette, Buddy Holly and Brenda Lee. This collection, which concentrates on his hillbilly side, also includes a slew of more obscure recordings, with artists such as Vernon Claude, Danny Dill, Autry Inman, Wayne Raney and Don Woody -- it's the rarities that drew my attention, particularly a number by honky tonk songwriter Wayne Walker (I sure wish someone would gather all of his solo stuff on one CD!) It's the obscuro stuff that drew me to this collection, and it's all pretty groovy. There are also a few tunes credited to Martin's solo band, the Slew Foot Five, and a rare single with West Coast blues star Cecil Gant. Nice stuff -- definitely worth checking out!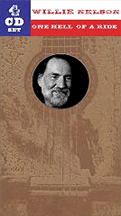 Willie Nelson "One Hell Of A Ride" (Box Set) (Sony-BMG Legacy, 2008)



To be sure, there's no shortage of Willie Nelson best-ofs out there, but this far-flung 4-CD set is a real doozy. It draws on Willie's work from a number of labels, including former rivals RCA and Columbia (now both part of Sony-BMG) as well as early '60s recordings on Liberty (owned by EMI), a couple of tracks from his lone mid-period album for Atlantic and various offerings on Universal over the last ten years. It's a fitting tribute to Nelson, a prolific trendsetter and stubborn iconoclast whose seventy-fifth birthday coincides with the album's release. The collection starts out with a prehistoric demo that Willie made around 1954 or '55, back before his early success as the songwriter of hits such as "Crazy" and "Nite Life..." Even back then, working in the real hillbilly days when Nashville was only beginning to consolidate its power as the center of a new country music industry, Willie had an odd, exceptional air about him. His phrasing was already a little bit weird and his sense of rhythm was kinda cock-eyed. This collection moves from early hillbilly gems such as "No Place For Me" (an indie single that Willie self-released back in 1957), into his early work for RCA, a period that yields several off-the-radar gems, even though Nelson found the Nashville studio system creatively frustrating... The playlists of this four CD set are not organized in strictly chronological order -- there's a much-welcome, intelligently thought-out aesthetic at play, which can pair a song from one era with another that compliments it in interesting ways. The big hits are there (although not all of them) but they are sandwiched between less well-known material that more fully illuminates Nelson's creative trajectories. After the "outlaw" era, Discs Three and Four take us into Willie's years of superstardom, and his long run of reinterpreting old standards and teaming up with old pals and heroes, first on a series of duet albums, and then on the Highwaymen records. It's all dutifully sampled, although nothing touches the transcendent beauty of "Blue Eyes Crying In The Rain," which is one of the most brilliant works of country revivalism, and possibly Nelson's finest moment as a song stylist: even with all the other great songs included here, that's the one song that I find myself playing over and over again, even after all these years. The packaging is pretty cool, too -- it's eco-friendly, with soft cardboard slipcases instead of plastic trays, so it may feel a little unusual at first... But the real treat is the glossy booklet, which has a wealth of super-groovy photographs taken at all stages of Nelson's career, as well as pictures of all of his LPs ever released, which is also pretty neat. Happy Birthday, Willie!! Thanks for all the great gifts!
Willie Nelson "Moment Of Forever" (Lost Highway, 2008)






<! (Release date: January 29, 2008) >

Webb Pierce "High Geared Daddy" (Bear Family, 2008)


Bear Family Records has long held a cherished position as an acme of roots music reissues, a highwater mark to measure other reissue labels by... They are also known for their massive, masterful, dauntingly expensive (and at times impenetrable) box sets... The first Bear Family box set that I knew I had to have was their 1951-1958 Webb Pierce collection -- I snapped it up years ago (and am eagerly awaiting the next one, with all those great early '60s recordings...) and have never looked back since. But I'm a Webb Pierce fanatic, as evidenced by my Webb Page discography, which was the first thing I posted on the Slipcue site, back in 1998. For the more casual country fan, this single-CD collection may be a better good option to discover Webb's charms. There are, of course, quibbles to be made about the song selection, but the quality of the music is all top-notch. Check this out and hear why Pierce is one of the greatest country singers ever, on a par with Hank Williams and George Jones... it's great stuff!
Doug Stone "My Turn" (Progression, 2007)


George Strait "Troubadour" (MCA-Nashville, 2008)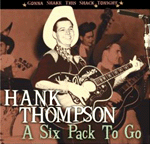 Hank Thompson "Six Pack To Go" (Bear Family, 2008)


Another top-notch, single-CD best-of set from the folks at Bear Family. Western swing-honkytonk legend Hank Thompson was one of the finest, funnest, most jovial country stars of the 1940s, '50s and '60s, and this collection boils down his best work down into one disc... and buddy, you can bet this is about as good as it gets! Includes classics such as "Whoa Sailor," "Too In Love," "Rockin' In The Congo" "How Cold Hearted Can You Get" and, of course, "A Six Pack To Go" (which I used as the theme song for my radio show for about fifteen years...) Actually, the song selection here is rather idiosyncratic -- there are a lot of other songs I would have picked first -- but with Thompson, it's all always good. Seriously. For sheer entertainment value and hard country fun, this album is hard to beat. Plus, there's that great Bear Family sound quality and fab, detail-packed liner notes... A class act from start to finish.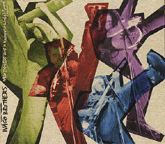 The Waco Brothers "Waco Express: Live & Kickin' At Schuba's Tavern" (Bloodshot, 2008)



The Waco Brothers -- the very heart and soul of punk-meets-country twangcore -- gallumph their way through a jovial, uninhibited live set, wearing their rowdiness and politics on their beer-soaked sleeves. Picking some of their favorite songs (and fan favorites as well!) off of their last seven albums, the Wacos choose levity over stridency -- the social conscience is there, but it's not super-scoldy this time around. This disc is a party, and from the whoops and cheers coming back from the fans, it seems a good time was had by all.
The Wilders "Someone's Got To Pay" (Free Dirt, 2008)



(Produced by The Wilders, Brendan Moreland & Dirk Powell)
WOW. This Kansas City quartet is, quite frankly, one of the most diverse, most convincing and most gratifying bands in alt-country today. I was impressed by earlier albums, but I'm totally floored by this one. It's a concept album, but it feels like a potpourri: the album opens with a clompy cowpunk tune, ala the Waco Brothers, et. al., which didn't do much for me, but then they effortlessly switch directions and lay down a sizzling, fling-ding square-dancing reel (one of several that bookend this excellent album) and stomp merrily along into an impressive mix of alt-twang, bluegrass, good old fashioned honky-tonk and some brooding, Richard Buckner-style Goth-a-billy ("Sitting On A Jury"). Highlights include "Hey Little Darlin' ", one of the finest singalong melodies I've heard in many a moon, the kind of song you'll want to play over and over until it really settles into your brain. The Wilders are an exemplary roots music band: every style they tackle, they play perfectly, hitting exactly the right emotional tone while exuding a completely authentic vibe. Obviously these folks are well-steeped in country and hillbilly lore, and while a lot of rockers-gone-twang strike poses that ring false, the Wilders absolutely do not. The only style they play here that gets short shrift is a series of piano-led instrumentals that evoke a mix of Old West saloons and Sam, the pianist from Casablanca -- these interludes are brief but tantalizing, and suggest another level of musical depth that the band might want to explore sometime. Meanwhile, twangfans will want to check this disc out -- it's one of the best country records I've heard in a long time.
---



Hick Music Index
Shop Amazon, Support Slipcue



---