<! MP3 05/07/09 > <! pix 00/00/00 - none; photoshop was broken > <! archived 08/09/10 > <! * >

---
Howdy, neighbors!
Howdy, folks, here are some reviews of the new country, bluegrass and Americana records that I had the good fortune to listen to in May-June, 2008 ...It's not everything I heard, but it's a nice sample of stuff that either tickled my fancy or ticked me off... Also, check out my full Guide To Hick Music for a bazillion more record reviews and artist profiles.
This month:
Angel Band "With Roots And Wings" (Appleseed, 2008)
Robby Hecht "Late Last Night" (2008) Sierra Hull "Secrets" (Rounder)
Walter Hyatt "Some Unfinished Business, v.1" (King Tears)
The Infamous Stringdusters "The Infamous Stringdusters" (Sugar Hill)
James King "Gardens In The Sky" (Rounder)
Kathy Mattea "Coal" (2008)
Jeb Loy Nichols "Days Are Mighty" (Compass)
Ashton Shepard "Sounds So Good" (MCA-Nashville)
South Austin Jug Band "Strange Invitation" (SAJB/self-released)
Various Artists "THE VERY BEST OF OUTLAW COUNTRY" (Sony-BMG Legacy)
---
New Stuff: May-June, 2008
---

Angel Band "With Roots And Wings" (Appleseed, 2008)



(Produced by Lloyd Maines)
A heartfelt, folkie effort from some gals who've recently been backing up the great acoustic bluesman, David Bromberg (who is also lead singer Nancy Josephson's happy hubby, and who plays in the backing band, along with producer Lloyd Maines.) These three-part, fine female harmonies are sung with gusto, and while I personally find the group too firmly anchored in the coffeehouse folk scene, people who are more tapped into that sound might really dig this.
Emmylou Harris "All I Intended To Be" (Nonesuch, 2008)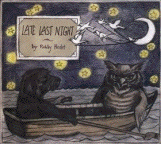 Robby Hecht "Late Last Night" (2008)



An extraordinary contemporary folk debut, with one great, groovy, leaps-out-at-you song after another. Hecht has an immensely appealing vocal presence, and adult/alt/folkie fans will hear echoes of some big heroes in this new work. Greg Brown comes to mind right off the bat, there's a similar sense of masculine virility mixed with emotional fragility and enticement; Hecht also bears more than a passing resemblance to James Taylor, not just in his vocal tone, but also in his interpretive power and his ability to connect with the lyrics, and to craft a memorable melody. He's joined here by several other new bright lights on the folk scene, including the incandescent Thad Cockrell and Mindy Smith, as well as fiddler Andrea Zonn. If you're on the prowl for a great new folk-pop album, this is your baby. It's the kind of record you can listen to for weeks on end... I did, and I've still got in in the stereo now.

Sierra Hull "Secrets" (Rounder, 2008)



(Produced by Ron Block & Sierra Hull)
The debut album of 16-year old mandolinist-vocalist Sierra Hull, who is sure to be remembered as one of the more exciting bluegrass prodigies to emerge in the closing years of this decade. While the picking on this album isn't as flashy as, say, that of Chris Thile's teenage debut, the performances and elegance of the production are rock solid -- tributes by Alison Krauss and production assist by Union Station's Ron Block point the way for Hull's future: several of these songs slide into the sweet, honeyed pop-grass balladry that has made Krauss a superstar, and with her own strong, confident voice, Hull may well follow. (Just think, if Krauss could find room for a second female voice in her band, what a potent combo that would be!) Fans of modern crossover-bluegrass will want to check this album... it's pretty impressive!

Walter Hyatt "Some Unfinished Business, v.1" (King Tears, 2008)



(Various Producers)
For a set of unfinished tracks, this sure is sweet. The late Walter Hyatt, a founding member of the Austin roots-outlaw scene, died in a 1996 plane crash, but fans will take comfort that a dozen years later his family has finally put out this sweet set of slinky-twangy acoustic R&B tunes, all written or cowritten by Hyatt, in a glorious mix of Memphis-style soul and mature, moving Americana. It's a great sound, ably framing Hyatt's richly layered vocals. I'm struck by the similarity of his voice to that of Ron Sexsmith -- and I'll bet that many of Sexsmith's fans will like this album as well. Definitely recommended!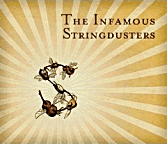 The Infamous Stringdusters "The Infamous Stringdusters" (Sugar Hill, 2008)



(Produced by Tim O'Brien)
An outstanding contemporary bluegrass album, full of youthful vigor, great musicianship and an obvious love of and mastery of the genre. The Stringdusters recall the mix of vitality, immediacy and modernity to the style that was heard in the 1970s as a younger generation of pickers first took up the torch from the founding fathers. They also share some of the same foibles and slight shortcomings of the original progressive bluegrass/newgrass scene -- you can feel them straining a bit, which personally I enjoy, as it shows there are real live human beings behind the wheel, not just perfect-to-a-T superpickers and studio professionals making another super-perfect album. I particularly enjoy the vocals -- both bassist Travis Book and fiddler Jeremy Garrett have an appealing presence: you can feel their personal warmth and hear them as individuals, not just another crew of anonymous bluegrass hotshots. Nice stuff -- stretches from traditional breakdowns to more modern folk-pop-tinged tunes, all of it quite nice. Recommended!
James King "Gardens In The Sky: The Bluegrass Gospel Of James King" (Rounder, 2008)



One of the finest, most assured vocalists in modern bluegrass, James King has worked with several fine ensembles, notably the all-star band, Longview, and with gospel-oriented bandleader Paul Williams. This generously programmed album gathers together some of the finest gospel performances in King's career, including collaborations with Williams, and several previously unreleased tracks, all of which have the heartfelt sincerity that fans of the gospel genre look for. The album opens with a pair of beautiful tunes taken from a Stanley Brothers tribute album originally out on the Doobie Shea label, with backing by Dan Tyminsky, Aubrie Haynie and other heavyweight pickers. Particularly sweet are some of the harmony vocal tunes, such as the quartet vocals on "It's Hot Down Here," one of a half-dozen songs that are new to this album. A real treat for religiously-oriented bluegrass fans; all those stray songs from various albums, gathered together in one nice, neat package. Recommended... hallelujah!

Kathy Mattea "Coal" (Captain Potato, 2008)



(Produced by Kathy Mattea & Marty Stuart)
Spurred on by West Virginia's fatal Sago Mine disaster of 2006, former Top 40 Nashville star Kathy Mattea has recorded a strong, focused set of coal mining songs, with plenty of twang in the music, and in her still-rich, rewardingly rural voice. This back-to-basics album features classics such as the Merle Travis oldie, "Dark As A Dungeon," as well as "Green Rolling Hills" and "You'll Never Leave Harlan Alive," along with several songs that unflinchingly look at the impact that coal mining has had on human health ("Back Lung") and on the rural landscape. The daughter of an Appalachian mining family herself, Mattea gives voice to the backwoods, and to the hard work and hard times of generations gone by. Folks who liked Patty Loveless's Mountain Soul abum a few years back might like this one as well.
Martina McBride "Live In Concert" (RCA-Nashville, 2008)






<! April 29, 2008 >
Jeb Loy Nichols "Days Are Mighty" (Compass, 2008)



(Produced by Jeb Loy Nichols)
A veteran of the Austin, New York and London art scenes, Nichols has a voice I've loved in a country context, but he also has a wider musical palate that ofttimes takes him away from twang. Here, he's in a mellow mood that could be described as singer-songwriter funk, soft, drifting, introspective songs that bring to mind old John Martyn, early Tom Waits, and numerous other gauzy roots-pop crooners. Gentle piano, keyboards, bass and guitar accompaniment unfold ahead of his velvety voice, and while this album doesn't share the same commercialism as the current "adult alternative" soft-pop scene, I'm sure plenty of people in search of mature-sounding music will find this disc quite satisfying. Definitely worth checking out!

Ashton Shepherd "Sounds So Good" (MCA-Nashville, 2008)



(Produced by Buddy Cannon)
She's been hailed as the next big thing in neo-traditional country, and newcomer Ashton Shepard sure does deliver a fine set of steel-drenched lovin'-and-partyin', have your beer and cry in it too kinda country. It's a powerful mix of honkytonk and countrypolitan, reminiscent in many ways of the glory years of Billy Sherrill and George Jones. Comparisons to Gretchen Wilson are inevitable as well: although Shepard is a little less balls-out, AC-DC tattoo-ish about it, she still makes it a point to fight for her right to party (on songs like "I Ain't Dead Yet") but she comes off less like a biker chick and more like a smart college kid who likes to cut loose on the weekend. Never mind that a couple of songs are virtual repeats of one another ("I Ain't Dead Yet" and "Not Right Now" share almost identical themes and lyrical motifs...) What's key here is the power of Shepard's voice and the clarity of her vision. She wrote or co-wrote almost all the songs on here, and like her fellow twang-top forty teen prodigy, Taylor Swift, Shepard really seems to get -- and to love -- what is great about real deal, twangy old-school country. This is an impressive debut, and like many of this decade's crop of powerful young female country stars, I'm looking forward to seeing where she goes from here, and hope that the industry will allow her a long enough career for her to continue growing into her considerable talent. Check it out.
South Austin Jug Band "Strange Invitation" (SAJB/self-released, 2008)



(Produced by the South Austin Jug Band)
Another nice album from these Texas lads, although you may be surprised at the brash, funky blast of acoustic soul-rock that opens the album on the song "Come To Me." The song is sexy and mellow but far less twangy than the band's earlier stuff. The rest of the album has more of a rock-oriented sheen as well, although the twang is still in there, too. The group's jam-band tendencies have coalesced into a firmer, more directed core, with several songs devoted to showing off various member's picking skills: it almost sounds like an old David Grisman record at times. The songs are both more focussed and more languid, highlighting singer James Hyland's strengths as an intimate, gauzy crooner... He's also become a little self-conscious as a songwriter, though, with lyrics about life on the road and casual hookups in local bars; the themes feel a little forced, although Hyland's delivery is consistently compelling and keep listeners entranced. I still find this group to be one of the most intriguing, promising groups in the contemporary Americana scene and look forward to their future efforts. Album highlights include "Dive Bar" and their canny acoustic cover of Beck's classic "Jack Ass."


<! "Dive Bar" B0016O82MC "Jack Ass" B0016O4S8E >

Various Artists "THE VERY BEST OF OUTLAW COUNTRY" (Sony-BMG Legacy, 2008)



This is a good set of rowdy songs, with classics by Waylon, Willie, Jessi Colter and the boys, as well as a slew of other folks feudin' like the Hatfields and McCoys... The songs are generally high-calibre, but I agree with other reviews that this collection really stretches its credibility by calling them all "outlaw country" when indeed a hefty chunk of the playlist is really made up of Southern rock and redneck boogie tunes -- Marshall Tucker's "Can't You See", Molly Hatchet's "Flirtin' With Disaster" and the Georgia Satellite's "Keep Your Hands To Yourself" are prime examples of Top 40 rock songs that are dubious inclusions in a "country" collection. In the 1970s, the longhairs who were into Willie Nelson might have also been rockin' out to Lynyrd Skynyrd and the Allman Brothers, but everyone knew there was a difference between the two genres. Still, it's a fun album, and since the macho end of modern, 21st Century Top 40 country is frequently peppered with retro-leaning Southern rock, the revisionist blurring of the two genres isn't all that hard to understand. So it comes as no surprise (and a singular delight) that Gretchen Wilson is included ("Here For The Party") although once you go down that path, one might wonder why no tracks by Montgomery Gentry or Dierks Bentley made the grade as well. There are some great songs on here -- and there could have been a bunch of others. As with any thematic collection, there's lots of room to quibble over song selection. The tracks by Johnny Paycheck and David Allen Coe ("Take This Job" and "You Never Even Called Me By My Name") are solid choices, but both artists, as legitimate members of the original outlaw scene, have a lot of other songs that would have been cool, too. "Whiskey River" is a great Willie Nelson song, but it's more of a love song, if you ask me... etc, etc. I think a 2-CD set could have covered the ground more coherently and satisfied the diehard fans... But if you're just looking for a great set of rowdy twang tunes to crank up at your next backyard barbeque, this disc packs a lot of bang for the buck.
---



Hick Music Index
Shop Amazon, Support Slipcue



---