<! MP3 05/07/09 > <! pix 00/00/00 > <! archived 08/09/10 > <! * >

---
Howdy, neighbors!
Howdy, folks, here are some reviews of the new country, bluegrass and Americana records that I had the good fortune to listen to in July, 2008 ...It's not everything I heard, but it's a nice sample of stuff that either tickled my fancy or ticked me off... Also, check out my full Guide To Hick Music for a bazillion more record reviews and artist profiles.
PS - Sorry about the lack of graphics this month. My old computer died, and it's new, supposedly sexier replacement doesn't support my version of Photoshop. Unfortunately, I can't afford to buy new software, so I'm pondering my options. Hence the lack of album art. Oh, well. At least the text is incredibly brilliant.
This month:
Jessie Baylin "Firesight" (Verve)
Mark Chesnutt "Rollin' With The Flow" (Lofton Creek)
Patsy Cline "Stop, Look and Listen (Gonna Shake This Shack Tonight)" (Bear Family)
Crooked Still "Still Crooked" (Signature Sound)
Drew Emmitt "Long Road" (Compass)
The Girls Of The Golden West "Home Sweet Home In Texas" (BACM)
The Grascals "Keep On Walkin' " (Rounder)
Jimmie Heap "The Wild Side Of Life" (Binge Discs)
Longview "Deep In The Mountains" (Rounder)
Patsy Montana "Rose Of Oklahoma" (Binge Discs)
Willie Nelson "Stardust" (Deluxe Edition) (Sony-BMG Legacy)
Dan Paisley & The Southern Grass "The Room Over Mine" (Rounder)
Ricky Skaggs "Best Of The Sugar Hill Years" (Sugar Hill)
The Stairwell Sisters "Get Off Your Money" (Yodel-Ay-Hee)
Dan Tyminski "Wheels" (Rounder)
Doc Watson "Best Of The Sugar Hill Years" (Sugar Hill)
Various Artists/Del McCoury "MONEYLAND" (McCoury Music)

---
New Stuff: July, 2008
---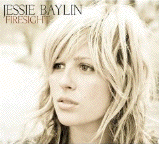 Jessie Baylin "Firesight" (Verve, 2008)



Although mostly pop-oriented and tailormade for placement in the background of a primetime TV drama, this album also encompasses wisps of jazzy cabarets with a hint of the twang of Baylin's hometown of Nashville. Several singers spring to mind, notably Dusty Springfield, Phoebe Snow and Maria Muldaur along with numerous modern musicmakers -- an eclectic mix, to be sure. Tonally, Baylin's voice shares a familiar, bluesy white-girl rasp with that of Amy Whitehouse, although her music is decidedly much mellower. Spotting similarities with Norah Jones wouldn't be misplaced, either, since one of Baylin's songwriting partners is Jesse Harris, who is also one of Norah's crew. This is a fine record for "mature" music fans looking for something new that doesn't fit into easy modern pop categories.
Mark Chesnutt "Rollin' With The Flow" (Lofton Creek, 2008)



(Produced by Jimmy Ritchey)
There's a neat side-effect of Nashville's current trend towards older established artists recording for smaller indie labels -- it gives us a chance to hear the kind of music they prefer to play when relieved of the marketing pressure that comes with a major label deal. Some artists, like Gene Watson, go whole-hog into hard-country territory, while others fall back on softer production styles, sometimes also playing in out-of-date styles that suit their strengths ('80s-style synth ballads, for example...) What's interesting about Mark Chesnutt's latest album is that, instead of cutting loose with the hardcore honkytonk (as he did on 2004's Savin' The Honky Tonk album, which did really well on the charts), Chesnutt instead goes for the soft stuff, playing an elegant set of early 1990's-style romantic ballads, with a dash of rowdiness thrown in for good measure. For example, the superb opening track, "Things To Do In Wichita," sounds for all the world like a George Strait chart-topper circa 1991, and I mean that in a good way. The rest of the album follows suit, with one well-crafted top-country tune after another. Folks who were expecting a do-over of Savin' The Honky Tonk might want something a little faster and more uptempo, but anyone who's been a Chesnutt fan all along will recognize his attention to detail and quality workmanship. Worth checking out, if you're a commercial country fan.
Patsy Cline "Stop, Look And Listen (Gonna Shake This Shack Tonight)" (Bear Family, 2008)


A great, rollicking collection of Patsy Cline's uptempo material, where she touched on blues, R&B and rock. Cline was equally adept at sappy material, but this blues-based stuff was a gas. This album has all the high standards of sound quality, song selection and tons of archival material -- footnotes and photos -- that still make Bear Family the hallmark of country collector cool. Recommended!
Crooked Still "Still Crooked" (Signature Sound, 2008)



(Produced by Eric Merrill)
This Boston-based acoustic ensemble has perfected its sound, a dark but not dour Gothic update of the old-timey Appalachian stringband music, delivered with a subtle sheen of classical and art-song influences; sort of like Ralph Stanley as interpreted by This Mortal Coil, but with firmer roots in traditional bluegrass than that formula might imply. At any rate, this is a very accomplished album, smoother, more focussed and less ostentatiously "bent" than many modern old-time revivalist bands. Lead vocalist Aoife O'Donovan is the guiding force on this album -- although all the musicians give strong contributions, she provides the band's focus and its driving aesthetic, as she intones and croons, steering listeners into dark, moody lyrical corners. Nonstandard arrangements also add to the band's unique sound, particularly with a cello helping fill in the soundscape (with newcomer Tristan Clarridge replacing founding member Rushad Eggleston in that role...) Music fans of many stripes will be struck by this album; folk, bluegrass and freak-folk fans alike will flock to this band's banner. Some more traditionalist country lovers may find them a bit arty, but they're certainly worth checking out. Recommended.
Ruby Dee & The Snakehandlers "Miles From Home" (Dionysus, 2008)



(Produced by Conrad Uno & Jorge Harada)
Raspy, raucous, freewheeling and fiesty indiebilly from up in the Pacific Northwest. This gal obviously has a major jones for 'Fifties-era Wanda Jackson (I'm with you there!) as well as a deep background in modern DIY indiephonics... It's a little chaotic for me at times, but on the more straightforward retrobilly tunes, this is a lot of fun. Bet they're fun live!
Drew Emmitt "Long Road" (Compass, 2008)



(Produced by Garry West & Drew Emmitt)
An interesting branching-out from the traditional confines of blue- and truegrass, and a logical extension of the directions Emmitt was headed in his last couple of records (and his work with Leftover Salmon, as well...) Plenty of newgrass elders are there to back him up, including folks John Cowan, Tim O'Brien and Alison Brown, as well as some "usual suspect" pickers, along with Emmitt's own band... Goofy cover tunes ("Long Way Home") coexist alongside louder, half-electric jam band rock and loping bluegrass-funk. For those in the jam band orbit, this will be a fun album, sort of in the the poppier end of the field, though with a few longer, looser tracks. And the boy sure can play the mandolin!
The Girls Of The Golden West "Home Sweet Home In Texas" (BACM, 2002)


Yeah, sure, this disc came out a long time ago, but I just found it and am pretty psyched I picked it up. The Girls Of The Golden West was a Depression-era "western" duo featuring two singers from the Midwest, Millie Fern and Dolly Laverne, is one of the great finds of the singing cowboy genre. The gals had a sweet-but-rugged sound, beautiful harmonies built around deep rural accents and a charmingly clunky rhythmic sensibility. They yodeled a bit, but mostly it's the plainspoken quality of their vocals that stands out and makes their music so eternally compelling. Although they were quite popular in the 1930s, GGW have been largely lost to history over the years - I've treasured an old vinyl LP from the '70s, and was ecstatic to see so many of their best songs on here as well. The songs are completely charming as well -- if you like cowboy songs, you'll really love this stuff. (Although, modern listeners should be forewarned that there are two songs on here that include racial terms that are upsetting to modern ears... I applaud BACM for their archival-historical vigor, but I also took the songs out of my playlists, so that my kid wouldn't pick up the term "darkies," or the even stronger N-word which, shockingly, was included in their version of "You Get A Line, I'll Get A Pole." These songs are anomalies, however, and all the other songs are about cattle, sunsets and prairies. The sound quality is great, even if the plastic-looking, black-surfaced CDR is kind of freaky looking (anyone have any technical info about these discs?) Like all releases from the British Archive of Country Music, this modestly produced marvel is unlikely to pop up at your local Megalo-Mart, but you might be able to get it by contacting BACM through their website: http://bacm.users.btopenworld.com. Tell 'em Joe set you.

The Grascals "Keep On Walkin' " (Rounder, 2008)



One of the top bluegrass bands of recent years, the Grascals sound mighty old-school and twangy on a lot of these tunes, especially songs like the album's opener, "Feeling Blue," and the gospel-tinged "Sad Wind Sighs," both of which feature hot picking and plenty of nasal vocals and sweet high harmony. There are also a few tunes, like "Choices" and "Keep On Walkin'," that have the feel of modern high-concept Nashville ballads -- give 'em to one of those hat-act fellas, and you might hear them on commercial radio sometime soon. Mostly, though, this is a slam-bang banjo'n'mandolin twangfest, with plenty of fast pickin' to keep fans of the old stuff happy as clams. Recommended!
Jimmie Heap "The Wild Side Of Life" (Binge Discs, 2006)


A great supplement to Bear Family's CD (and earlier LP) dedicated to Texas bandleader Jimmie Heap. This disc unearths 22 hitherto un-digitized Texas country gems, all recorded between 1949-51 (before the material on the Bear Family disc, which covers 1951-55). This set digs much deeper into Heap's proclivity for goofball, high-concept novelty material: with songs such as "When They Operated On Papa, They Opened Mama's Male," "Coffin Built For Two" and "There's A Broken Pane In The Window Of My Heart," this is the kind of country oldies disc you've just got to snap up when you see it... and trust me, you won't be sorry! Heap's style is mopey, boozy and slow, and somehow he makes even the silliest lyrics seem mournful and sincere. He also sang straight stuff as good as any of the best. Oh! And did I mention that this also includes the original version of the big Hank Thompson hit, "Wild Side Of Life"? Yup, here it is, in its full, late-1940s glory, one of the finest honkytonk songs ever written. Keep your eyes peeled for this one. (Available through the Binge Disc website)

Longview "Deep In The Mountains" (Rounder, 2008)



One of several bluegrass "supergroups" that emerged in the 1990s, the tradition-oriented Longview showcased the twangy talents of James King, Don Rigsby, and Marshall Wilborn -- add to that J.D. Crowe, Lou Reid and fiddler Ron Stewart, and you've got one helluva strong lineup. As you might imagine, there's an emphasis on harmony vocals -- the leads are always nice, but when the whole group kicks in to harmonize, it's as sweet as the style can get. Plenty of flawless picking and fiddling as well, and none of it sounds like it was done by rote. These guys are playing soulful, heartfelt truegrass, and fans will respond in kind. You put this album on, and you're gonna be really happy. Pick up an instrument, and sing along -- you can't go wrong with this one!
Patsy Montana "Rose Of Oklahoma" (Binge Discs, 2008)


Yummy Depression-era "western" tunes from singing cowgirl Patsy Montana, cheerfully evoking the open skies and rolling range and dreaming of a cowgirl's wedding. Montana sings most of the tunes on this generously programmed disc with her regular band, the Prairie Ramblers, but also with outfits such as the Light Crust Doughboys and the venerable Sons Of The Pioneers. It's great, goofy, sentimental cornball country, with shout-outs to Oklahoma, Texas, Kentucky and just about every other rural area you can imagine. Montana fans will be thrilled to track this disc down, as well as any of the other CDs on this hard-to-find import label. (Available through the Binge Disc website)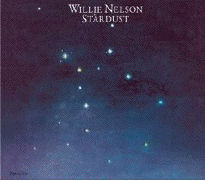 Willie Nelson "Stardust" (30th Anniversary Legacy Edition) (Sony-BMG-Legacy, 2008)



In 1978, Willie Nelson blew everyone's mind by releasing a set of old-school pop vocal standards -- "Stardust," "All Of Me," "September Song," "Someone To Watch Over Me" -- while giving a hearty tip of his bandana-ed cowboy hat to the world of classy, classic Tin Pan Alley songsmiths such as Irving Berlin, Hoagy Carmichael and the Gershwin brothers. This excursion into "square" mainstream pop came after Nelson's sustained effort to free himself from the confines of the Nashville studio system had finally paid off, making him an icon of the pot-puffing hippie-centric "outlaw" country scene... But the radical shift of direction to torchsongs from twang wasn't the only shocker: despite a cool reception from the sales execs at Columbia Records, the Stardust album yielded several huge #1 hits, crossing over into pop radio and earning Willie a Grammy award for his version of "Georgia On My Mind." The super-mellow, album transported Willie from the world of rebel country into superstardom, making his name a household word, and his voice an indelible part of the American cultural aether. It also brought to the forefront an often misunderstood aspect of his creative work, namely Nelson's unusual grasp of off-meter vocal phrasing, and his abiding love of jazz music and jazz-style singing (which he had picked up in part from Texas honkytonk pioneer Floyd Tillman). This fab 2-CD reissue includes all the tracks from the original Stardust album, as well as an additional disc's worth of tracks culled from the numerous pop standards-oriented albums that followed... Arguably, Willie went a little overboard in his devotion to commercial pop stylings, so this additional "best-of" set provides a great service to fans who want to hear the best stuff but not necessarily sift through all those early-'80s offerings. This is an essential part of the Willie Nelson saga, and definitely worth picking up.
Dan Paisley & The Southern Grass "The Room Over Mine" (Rounder, 2008)



A rock-solid, rugged set of real-deal, rough-edged bluesy bluegrass, this album will be utterly satisfying for traditionalist truegrass fans, particularly Paisley's soulful but unprettified vocals, which have the snap and twang of old Flatt & Scruggs or classic Jimmy Martin sides. Likewise, the picking is powerful but unflashy, full of bouncy rhythms and bright melodic riffs, the sort of unfussy, quick licks that dominated bluegrass in the 1950s when it was still pop music in a jukebox world. This music leaps out at you, one great song after another in the classic backwoods mode. Highly recommended!
Ricky Skaggs "Best Of The Sugar Hill Years" (Sugar Hill, 2008)



A sweet, beautiful, harmony-drenched collection of Ricky Skaggs' traditionally-oriented early solo work, recorded in tandem with his budding career as a latter-day Top Forty heartsong crooner. Although he recorded some fine updates of old country tunes, this set concentrates on his bluegrassier material, and from that material, there's an additional emphasis on the gospel music that he later made his cause while leading the Kentucky Thunder band. It's all great stuff -- for many fans, this is Skaggs' golden era, when his youthful zest was tempered with great talent and earnest dedication to tradition. Along for the ride are several longtime pals, including guitarist Tony Rice and dobroist Jerry Douglas, who was in the Boone Creek band with Skaggs (recording the first album that came out on the Sugar Hill label, back in 1978!) The set list includes several songs each from Ricky's awesome 1979 Sweet Temptation album and the equally inspired Skaggs & Rice duos album, from 1980: neither sampling will be enough for fans both new or old, but if you use this collection as a signpost to explore those albums as well, you'll be one happy camper. Rounding the set out are some fine odds'n'ends, such as a live duet with Skaggs' wife, Sharon White, taken from a 1988 concert album recorded in honor of the venerable Seldom Scene. This album might not precisely reflect the contours of Skaggs' career, but it sure has a lot of sweet music on it. Highly recommended.
The Stairwell Sisters "Get Off Your Money" (Yodel-Ay-Hee, 2008)



(Produced by Lloyd Maines)


Dan Tyminski "Wheels" (Rounder, 2008)



(Produced by Dan Tyminski)
Another impressive solo album from multi-instrumentalist Dan Tyminski, a key member of Alison Krauss' band, Union Station, and a fine singer in his own right. His last album came out eight years ago, and although he's had plenty of opportunities to shine in the Union Station setting, I'm sure many fans will be happy to hear him doing his own thing again. Tyminski continues along the much the same path as before, mixing flawless picking with well-crafted songs. This time perhaps there's a little less of a pure bluegrass feel, and more of a tilt towards philosophical, "high concept" songs, such as the vanishing-farmer tune, "Making Hay," the sort of thing that sometimes winds up as a ballad track on a Top 40 Nashville album. It took a couple of listens for it to really sink in, but the similarity between Tyminksi's sound and Ricky Skaggs' Kentucky Thunder is pretty strong, helped enormously by Tyminksi's similarly rich, warm vocal style. Indeed, folks who like Ricky Skaggs' work are gonna love this album.
Doc Watson "Best Of The Sugar Hill Years" (Sugar Hill, 2008)



Like many fans of folk, bluegrass and country music, I revere guitarist Doc Watson as a roots music avatar, one of the most serene and sincere performers in any genre... I have a ton of his music on vinyl and CD and never tire of his gentle voice and masterful picking style. Thus, this new CD collection is doubly wonderful for straying of the beaten track and presenting a set of Watson's later recordings for the Sugar Hill label that are less familiar but no less rich or resonant than his earlier, better-known work on Vanguard. Watson is a rare breed of artist, a master musician whose music never faltered or dropped in quality -- every track on this disc sparkles with depth, beauty and good cheer. A bunch of Appalachian oldies, some sweet gospel tunes, and ballads as well... A bit of pure heaven for all roots music fans!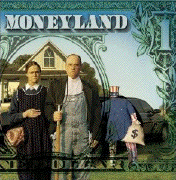 Various Artists "MONEYLAND" (McCoury Music, 2008)



In a refreshingly angry album, bluegrass patriarch Del McCoury gives voice to the millions of Americans who are getting the the strong impression that we are all getting royally screwed, and that we may be seeing the death of the American Dream unfold before our eyes. With a few new songs of his own, and about a dozen tracks picked from albums by friends such as Merle Haggard, Marty Stuart, Mac Wiseman, Patty Loveless, Emmylou Harris and Gillian Welch, McCoury explores the burning shock and resentment that many people feel as they watch the federal government being used solely for the purpose of making rich people richer, while on numerous fronts -- education, disaster relief, flood prevention, clean air, clean water, clean food and other consumer protection -- the nation is failing to lift up and protect its citizens. Although he doesn't openly take sides politically, all that fingerpointing towards "fat cats" makes me suspect that Del might not be voting for McCain this year. The album opens and closes with snippets of two "fireside chat" radio speeches by Franklin Delano Roosevelt, inspirational, anti-monopoly messages that are still shockingly relevant here in the 21st Century. Although ballads about poverty and hard times were once art of the bedrock of country music, as the music "grew up" and became more pop, social messages started to become more like window dressing -- many of the Top 40 dudes like to sing gimmicky songs about the nostalgic joys of small town living, but their personal goals in life often include buying small islands and getting a nice tan in the Caribbean. Nashville is a notoriously conservative town, and it's refreshing (and surprising) to hear an album from a well-established musician (even a bluegrasser) that so forcefully criticizes a power structure in which the odds are so grotesquely tilted towards the upper, upper crust of the wealthy and powerful. In the liner notes, McCoury says this album is meant to stick up for the interests of rural America, folks on family farms, in small towns and mining communities, and for the old and infirm (his doleful version of "When I'm 64" gives the song a whole new shade of meaning...) While congratulating McCoury for the strength of his convictions, I'd also like to say that a lot of us who are living in the big cities are feeling the pinch, too. And we hear you guys, loud and clear.
---



Hick Music Index
Shop Amazon, Support Slipcue



---