<! MP3 05/07/09 > <! pix 00/00/00 > <! archived 08/09/10 > <! * >

---
Howdy, neighbors!
Howdy, folks, here are some reviews of the new country, bluegrass and Americana records that I had the good fortune to listen to in October, 2008 This page gets updated throughout the month, so check back if you can... Also, check out my full Guide To Hick Music for a bazillion more record reviews and artist profiles.
This month:
Cadillac Sky "Gravity's Our Enemy" (Skaggs Family)
Kate Campbell "Save The Day" (Large River Music)
Michael Cleveland & Flamekeeper "Leavin' Town" (Rounder)
The Crowe Brothers "Brothers'N'Harmony" (Rural Rhythm)
Jerry Douglas "Glide" (Koch)
Jamey Johnson "That Lonesome Song" (Mercury-Nashville)
Lonesome River Band "No Turning Back" (Rural Rhythm)
Buck Owens "Act Naturally" (box set) (Bear Family)
Buck Owens "The Warner Brothers Recordings" (Rhino Handmade)
Buck Owens "Live In Scandanavia" (Sundazed)
Ralph Stanley "Old-Time Pickin': A Clawhammer Banjo Collection" (Rebel)
Aaron Tippin "He Believed" (Cracker Barrel)
Lucinda Williams "Little Honey" (Lost Highway)
Paul Williams & The Victory Trio "What A Journey" (Rebel)

---
New Stuff: October, 2008
---
Cadillac Sky "Gravity's Our Enemy" (Skaggs Family, 2008)


Kate Campbell "Save The Day" (Large River Music, 2008)



(Produced by Walt Aldridge)
You may have mixed feelings about Kate Campbell's searching spirituality, but as an artist she's certainly getting better at making a strong presentation, as heard here on this album's title track, which is one of the poppiest, most accessible tunes recordings of her career. The rest of the album tilts towards an acoustic, confessional folk feel (a later attempt at a poppy melodic song, "Shining Like The Sun," feels facile and falls flat...) and the religious message that in the past Campbell has cloaked in poetical language is much more prominent and baldly stated. Some listeners will appreciate this, others may not. Folk demigod John Prine pitches in on a track that's a musical standout, but will be a turnoff for secular-minded listeners ("Looking For Jesus") and Nanci Griffith is also on here, although her contribution didn't stand out as much. For Campbell's devoted fans, this disc will be a continuation of her long spiritual-artistic journey, although I gotta say the lack of subtlety (as compared to earlier albums) makes me wonder where she's headed with all this. Much of this album could as easily have shown up on an independently released, mom-and-pop Southern Gospel album... Which might be the audience she's aiming for, after all.
Michael Cleveland & Flamekeeper "Leavin' Town" (Rounder, 2008)



(Produced by Jeff White & Michael Cleveland)
If you're looking for some plain old, fast-paced high-lonesome style bluegrass, this set delivers the goods. Fiddler Michael Cleveland, along with lead vocalists Todd Wakestraw (who also plays guitar) and Jesse Brock (mandolin), barrels through a lively set of pure, traditional bluegrass, laying down some fine pickin' without making too big a deal of it. This disc features plenty of great songs, a few hot instrumentals, and some good, heartfelt gospel as well. Worth checking out!
The Crowe Brothers "Brothers'N'Harmony" (Rural Rhythm, 2008)



(Produced by Josh Crowe & Steve Thomas)
A nice, old-fashioned bluegrass harmony set from brothers Josh and Wayne Crowe, veterans of Raymond Fairchild's old band, whose unaffected duets harken back to the work of classic '50s acts such as Jim & Jesse or the Louvin Brothers. This disc isn't anchored in flashy, highpowered picking -- indeed, the musicianship has a choppy, occasionally awkward quality that some (myself included) might say is a blessing in this era of the too-perfectly produced bluegrass record. In contrast, these guys sound like earnest enthusiasts, the kind of folks you'd love to hear singing an informal set at a music festival tailgate party. The song selection is flawless, a delicious series of oldies and heartfelt gospel tunes, including a couple of Reno & Smiley classics, and some originals from Josh Crowe that are quite nice. If you like the old-school bluegrass of the 1950s golden era, where sentiment mixed with sizzle, you'll definitely want to check this one out -- it turned out to be a dark horse favorite around our household!
Jerry Douglas "Glide" (Koch, 2008)



(Produced by Jerry Douglas)
With apologies to Josh Graves and Mike Auldridge, Jerry Douglas has to be considered the preeminent dobro player of his generation, an expressive, fluid stylist and a stalwart "usual suspects" studio musician, Douglas has backed countless artists on bazillions of recordings, and has carved out a fine solo career as the same sort of bluegrass-pop crossover modernist as Bela Fleck and his crew. This album runs the gamut of his musical interests -- old-timey bluegrass breakdowns, modern country-folk and the smooth, poppy stuff as well. The fusion stuff doesn't do much for me, but the traditional truegrass instrumentals were fun, and the guest appearances by folks such as steel guitar legend Lloyd Green, Top 40 star Travis Tritt and Americana idol Rodney Crowell are all pretty interesting. Crowell's performance on his own song, "A Sharecropper's Dream" -- one of two tracks featuring guitarist Tony Rice -- is definitely an album highlight.
Jamey Johnson "That Lonesome Song" (Mercury-Nashville, 2008)



(Produced by Jamey Johnson & The Kent Hadley Playboys)
Wow. Great record. Jamey Johnson is one in a long line of rough-edged, roots-oriented country singers who have gotten chewed up and spit out by Nashville, and lived to tell the tale. He's had a lot of success as a songwriter, penning hit singles for Trace Atkins, George Strait and others, but as a solo act he's had his ups and downs. He hit the Top 20 a couple of years ago, but still got dumped by his label, prompting Johnson to retrench and go "outlaw" -- in a big, big way. This record is areal throwback to the glory years of the 1970s outlaw scene, sharply recalling the best work by Kris Kristofferson, David Allan Coe and -- of course -- Waylon Jennings. But while bad-boy posturing is pretty commonplace among country stars these days, Johnson seems to "get it" in a way most hat acts don't: this disc opens with "High Cost Of Living," a rueful, soul-rending song about drug abuse and addiction that's smarter and more honest than a truckload of just-say-no PSAs. Other songs follow in the same suit, songs about partying hard and losing sight of the important things in life, about trashing the house after your lover leaves you, about coming to terms with failure and loss, about being p*ssed it all happened in the first place, and trying to get your act together again. (It probably helps that, in addition to having his label drop him, Johnson also got divorced before he recorded this record: the pain and anger here are real.) Along with his own excellent compositions, Johnson covers some classics, notably Bob McDill's "The Door Is Always Open," and Alan Reynolds' "Dreaming My Dreams" -- in case you didn't quite get the point, he closes the album with a nod towards two of his heros, explaining where his records can be found, filed somewhere "Between Jennings And Jones." If you like gritty, greasy, real-deal outlaw honkytonk, give this disc a shot. Johnson might be hanging out with a bunch of 21st Century hat act guys, but this record is pure 1974 single-finger salute. I like it a lot.


<! "The Dollar" single B0013FZEIE >

Lonesome River Band "No Turning Back" (Rural Rhythm, 2008)



(Produced by Lonesome River Band)
Progressive bluegrass that mixes poetical lyrics and atypical arrangements... The current LRB lineup lacks some of the firepower of years gone by -- Don Rigsby, Ronnie Bowman and other heavy-hitters have long since moved on -- but the band still has plenty of roots and soul. There's some fine picking on here, particularly with longtime banjo man Sammy Shelor anchoring the band, but the main emphasis is on the songwriting, which runs a gamut from straight-ahead truegrass to folkier material, and a bit of gospel as well. There are country-style metaphors ("Like A Train Needs A Track") and high-lonesome harmonies, as well as funky instrumentals ("Struttin' To Ferrum") that have a tinge of Bela Fleck-style pop crossover. The song selection draws on the work of some old pros such as Ginger Boatwright and Larry Cordle (including a nice version of his "Wires And Wood") while LRB guitarist-singer Brandon Rickman penned about half the songs on here. One of his songs is an album highlight, the too-timely "We Couldn't Tell," about a backwoods family who weather out a financial depression and hardly bat a lash: since they didn't have any money to begin with, they hardly notice it "when the mighty dollar fell." Are you listening, Ben Bernanke? All in all, this is a nice record, although it may be too "soft" musically for the fans of slash-and-burn hot pickin' bluegrass.
Buck Owens "Act Naturally: The Buck Owens Recordings 1953-1964" (Bear Family, 2008)



Jinkies! A 5-CD box set covering the early years of Buck Owens -- not just the bouncy, Bakersfieldy hits that made him a coast-to-coast star in the early 'Sixties, but also all his journeyman work as a hotshot session picker, and random, under-the-radar indie recordings from the mid-1950s, in the years before Capitol got whiff of what he was up to. I'll never, ever, ever be able to afford this one, but it sure sounds cool.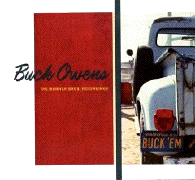 Buck Owens "The Warner Brothers Recordings" (Rhino Handmade, 2008)


While I'm at it, I may as well mention this fab set of late-vintage Buck Owens tracks that came out a while ago on Rhino's boutique "handmade" label. It's a collection of Owen's work on Warner Records from the late 1970s, drawing from two albums produced by Norro Wilson, Buck 'Em and Our Old Mansion, as well as several singles and even some unreleased tracks from an album that got shelved in '79. It's all surprisingly good, despite the absence of Buck's longtime bandleader Don Rich, who had died in '74, leaving Owens rudderless and adrift for a while. This 2-CD set gathers all of his Warner recordings together in one nice package -- and is available though the Rhino Records website.

Buck Owens "Live In Scandanavia" (Sundazed, 1970/2008)



Also, there's this tasty reissue of one of Buck's rarest albums, a commemorative record of a 1970 Northern European tour, recorded "live" at Njardhallen Hall in Oslo, Norway and originally only released in that country. Devoted fans of the Bakersfield Sound will want to check this one out, for sure!
Ralph Stanley "Old-Time Pickin': A Clawhammer Banjo Collection" (Rebel, 2008)



(Various producers)
This is without doubt one of the sweetest bluegrass albums of the year, a yummy collection of recordings from the Rebel vaults, highlighting Ralph Stanley's mastery of the archaic, backwoods clawhammer banjo style, which he learned from his mother, many, many, many years ago. Clawhammer has a brightness of tone and -- in Stanley's hands -- a lightness of meter that makes it one of the most enchanting sounds in American rural music. This retrospective stretches back to the early 1970s, when Stanley embarked on his solo career, and fast-forwards to the 21st Century, where Stanley stands as the unchallenged patriarch of traditional bluegrass. Along the way a lot of great musicians came into Stanley's orbit, and while the theme of this album is the banjo, there are plenty of great solos surrounding him. Remarkably, this set includes nearly an album's worth of previously unreleased recordings, mainly from sessions dating back to 1996, 2000 and 2001, with Stanley and his band all in fine form. This is the kind of record that will stay in your playlists for a long, long time -- I can't stop listening to it!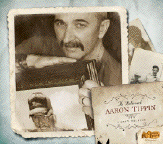 Aaron Tippin "He Believed" (Cracker Barrel, 2008)


Tippin, a Top Ten hitmaker of the 1990s, is the latest in a series of Nashville stars who've signed exclusive sweetheart deals with the Cracker Barrel restaurant chain, recording (and in some cases re-recording) a full album that'll only be marketed through the sponsor's outlets. Tippin's fans'll want to scoot down and get some chicken-fried steak along with this new CD -- it's packed with his patented formula of anthemic, more-working-class-than-thou, backbeat-heavy, rock-tinged, hyper-twangy country. Tippin is an unabashed dumber-down of his own music, he postures and self-mythologizes with the best of 'em, but with a roughnecked sincerity that sets him apart from the current crop of young'uns (Montgomery Gentry, et. al.) who seem to do the working man schtick solely out of contractual obligation. Tippin, on the other hand, is a true believer, and that's what makes his goofy tunes so much fun. Here he's going light on the patriotic chest-thumping, but he's definitely sticking up for the rednecky everyman -- indeed, he sounds more like Merle Haggard than ever before, and this disc will be a crowd pleaser, for sure. (For more info, check out the Cracker Barrel website. Hey, can I get some homefries with that...?)
Lucinda Williams "Little Honey" (Lost Highway, 2008)


Paul Williams & The Victory Trio "What A Journey" (Rebel, 2008)



(Produced by Paul Williams)
One of the greatest bluegrass gospel performers alive, old-timer Paul Williams shows -- once again -- that he's got plenty of gas left in the tank. A veteran of the Lonesome Pine Fiddlers and Jimmy Martin's band, and a contemporary of Bill Monroe and the Stanley Brothers, Williams has devoted himself to religious material since the early 1960s, and formed the Victory Trio in 1995 as an outlet for his gospel music. Williams retains the crisp, blues-inflected style of the Jimmy Martin band, giving his music great drive and bounce -- he also has complete mastery of bluegrass quartet harmonies and jubilee vocals, projecting a musical (and spiritual) authority that is wonder to hear. Although he's brought in new, younger vocal talent to beef up the band, with Dan Moneyhun singing lead on several songs, Williams probably doesn't really need the help: on spine-tingling songs such as "Sinner Don't Wait" and "I'll Be Young Again," Williams' makes real the prospect of the great hereafter, and may make even the most secular of bluegrass fans start doing a little adding and subtracting, wondering if they'll make it through the Pearly Gates after all. Good stuff, with plenty of great picking to back it up.


<! http://www.rebelrecords.com/artist.php?page_id=15 >
---



Hick Music Index
Shop Amazon, Support Slipcue



---