<! MP3 05/07/09 > <! pix 00/00/00 > <! archived 08/09/10 > <! * >

---
Howdy, neighbors!
Howdy, folks, here are some reviews of the new country, bluegrass and Americana records that I had the good fortune to listen to in December, 2008 This page gets updated throughout the month, so check back if you can... Also, check out my full Guide To Hick Music for a bazillion more record reviews and artist profiles.
This month:
The Bouchards "High Water Line" (Double Dice)
Grayson Capps & The Stumpknockers "Rott'n'Roll" (Hyena Records)
Rodney Crowell "Sex & Gasoline" (Yep Roc)
Charlie Haden "Ramblin' Boy" (Decca)
Taylor Swift "Fearless" (Big Machine)
Hank Williams "The Unreleased Recordings" (Time-Life)
Skeets Yaney "Train Track Shuffle" (Binge Discs)
Jeanette Williams "Thank You For Caring" (Blue Circle)
Neil Young "Sugar Mountain -- Live At Canterbury House: 1968" (Reprise)

PLUS: Holiday Records!
Asleep At The Wheel "Santa Loves To Boogie" (Bismeaux)
Alison Brown "Evergreen" (Compass)
Mary Chapin Carpenter "Come Darkness, Come Light: Twelve Songs Of Christmas" (Rounder-Zoe)
Faith Hill "Joy To The World" (Warner Brothers)
Mindy Smith "My Holiday" (Vanguard)
George Strait "Classic Christmas" (MCA-Nashville)

---
New Stuff: December, 2008
---


By the way, it's that time of year again: my Hillbilly Holiday section is back, for those of you who like a little Christmas cheer while you're stuffing your turkey or wrapping your presents... There are also some reviews of a few new holiday records below...
---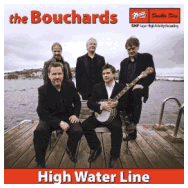 The Bouchards "High Water Line" (Double Dice, 2008)



(Produced by Jason Lockie & The Bouchards)
Nice, amiable country-rock indiebilly from the Pacific Northwest... Sort of like the Derailers, these guys mix sweet-sounding twang with melodic, 60s-ish pop-rock, with plenty of pedal steel thrown in on top. Nice, mellow, and very DIY... Worth a spin!
Grayson Capps & The Stumpknockers "Rott'n'Roll" (Hyena Records, 2008)



(Produced by Grayson Capps & Trina Shoemaker)
Murky, greasy blues-and-rock-drenched Americana, with a sleazy, sludgy, weary edge -- sort of like Robert Earl Keen with a really bad, really big hangover. The smell of whiskey-soured, days-old sweat oozes out of these clompy, thumping tunes -- fans of Drive By Truckers and more rock-oriented alt-twangsters might dig these guys, too.
Download picks:

Arrowhead


Big Ole Woman


<! CAPPS -- some other albums to add to Alt. >
Rodney Crowell "Sex & Gasoline" (Yep Roc, 2008)






<! The Dixons "Still Your Fool" (Cow Island, 2008) B001F114O4 >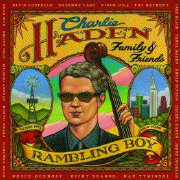 Charlie Haden "Ramblin' Boy" (Decca, 2008)



(Produced by Charlie Haden & Ruth Cameron)
Now here's a record with a real story behind it! It seems that Charlie Haden, one of modern jazz's best known bassists, got his start in the music business as a child performer in a Carter Family-style harmony-oriented country-bluegrass band, playing old-time country and gospel. Yep -- it turns out that this icon of the free jazz and post-bop scenes has country roots that run miles deep. Haden returns to those roots here, with a joyful, classy homage to the music he grew up on, with plenty of friends and family to help out. Haden himself rarely sings because of throat damage from a childhood bout with polio, but the harmony tradition lives on in his children, who sing several songs here as The Haden Triplets... Other guest performers include Rosanne Cash, Elvis Costello, Vince Gill, Ricky Skaggs and Dan Tyminski, as well as Haden's old cohort, Pat Metheny and actor Jack Black who, as it turns out, is married to one of Haden's daughters... Black wails away on a wild, wonderful version of "Old Joe Clark," which perfectly captures the unruly spirit of true, blue old-timey music. The album even includes a brief archival recording of Haden singing onstage -- in 1939, at the age of two -- as part of the Old Haden Family Show, and ends with the present-day Haden singing a warm version of "Oh Shenandoah." This track, like the whole project, evokes a warmth and sincerity that makes plain Haden's love of the material and taps into the emotional depths and nostalgia that made this old folk music so compelling to begin with. It's really pretty nice! Check it out.

Taylor Swift "Fearless" (Big Machine, 2008)



(Produced by Nathan Chapman & Taylor Swift)
It's hardly news that the new generation of Top 40 country fans have little trouble skipping from twang to rock and pop... Heck, current-day superstars like Faith Hill, Tim McGraw and Kenny Chesney do it all the time, and as fortysomethings, they are positively dinosaurs next to kids like 18-year old Taylor Swift or her contemporaries, the twenty-something Miranda Lambert. Swift's new album is exceptional, though, for the thoroughness with which she has embraced all-out teenage pop, and all but forsaken any actual twang. A couple of years ago, Swift seemed like a possible candidate to reclaim and rejuvenate the roots of the genre, now she has opened up her teenage diary and dished out a slick set of quirky confessional lyrics, set to slick prefab studio riffs. It's an interesting move and a big risk to make for a newcomer who recently soared to the top of the charts -- but Swift is clearly on a roll, and as implied by the album's title, she's willing to stick her neck out. What's even wilder is the degree to which country radio has accepted the Hannah Montana-ization of her work, the pure, earnest, girly teen angst that pours out of her prolific lyrics. (The album is becoming a big Pop crossover hit as well, which is less surprising, but also noteworthy...) In musical terms, the album is odd as well: many of Swift's songs have a loose, unconventional structure, and her vocals take on a rambling, conversational tone, just like hanging out with a teenage girl who is breathlessly telling you all her thoughts at once, projecting a worldliness that hasn't entirely been won yet. While there are parallels to contemporary pop, there are hints that she might head out into other directions, ones that will keep her from being a flavor-of-the-week star, even if she doesn't want to become the new Loretta Lynn. On the album's second track, "Fifteen," Swift presents an adolescent coming-of-age saga with an emotional authenticity worthy of Janis Ian or Nanci Griffith; I was recently heartened to see her on an awards show, performing the stinging anti-princess-myth ballad, "White Horse," a complex, compelling song that I find to be the most arresting track on the album. So is Taylor gonna go all Suzanne Vega on us? Who knows? But for now she seems to be doing just fine being herself, and straddling the charts as her glamorousness builds and builds. Once again, I'm left wondering where she'll go from here, and eager to hear her next record. The girl's a star.
Hank Williams "The Unreleased Recordings" (Time-Life, 2008)



Just when you think you've heard it all, the vaults of time peel open to reveal more fabulous gems than we ever thought we'd find. In this case, it's a 3-CD box set of live performances by the great Hank Williams, recordings originally made for the Mother's Best Flour Company back in 1951. Legend has it that the master tapes for these performances was saved from the dumpster (!) where they promptly wound up at the center of the long-running feud between Hank's various heirs. I guess Jett Williams' victory is a victory for us as well, 'cause these old recordings sure do sound sweet. The repertoire includes a lot of stuff that Williams never recorded on disc, and draws heavily on folk and gospel repertoires, as well as cowboy tunes (like "Cool Water") and of course there are a few old Hank Williams classics such as "Hey Good Lookin'," and "I'm So Lonesome I Could Cry." Country gospel fans, in particular, will be wowed by this collection, as it is heavy on hymns and religious ballads, all of it delivered in that soulful, haunting style that Williams did so well. The entire trove of recordings included almost 150 songs; this collection reissues about a third of them... So, who knows? Maybe the vaults will open again someday soon? In the meantime, diehard Hank fans will definitely want to scoop this box set up.
Jeanette Williams "Thank You For Caring" (Blue Circle, 2008)


(Produced by Jeanette Williams, Wesley Easer & Johnny Williams)
Her continuing presence as one of the true independents on the bluegrass scene makes Williams a special performer... She's a strong bluegrass performer, and when the band is cooking behind her, Williams has a nice, lively presence. On this latest outing, however, she edges out into more of a contemporary folk territory than before, with less of a mountain music feel, an a bit more of the poetic-contemplative mood. Likewise, the gospel tunes are less oriented towards high lonesome harmonies or backwoods testifying, and sound more like folk-tinged Southern Gospel. I suppose in that sense there's a little something for everyone here -- I like the faster, twangier truegrass tunes, but I also wish there were more of them on here.

Skeets Yaney "Train Track Shuffle" (Binge Discs, 2005)


A hometown hero in St. Louis, Skeets Yaney specialized in a smoother, semi-crooning style of soft-edged honkytonk. He had some real zingers in his sometimes-sarcastic lyrics, but the music was more mid-tempo and jovial, similar in temperament to Jimmy Wakely or Spade Cooley. It's fun stuff, though, a nice slice of rare recordings from a dimly remembered regional star. And, as with other Binge Disc releases, this has great sound quality -- definitely worth picking up if you can track it down!
Neil Young "Sugar Mountain: Live At Canterbury House 1968" (Reprise, 2008)



Legions of Neil Young fans will rejoice at the legit, major-label release of these live, folk-club recordings from 1968, when Young was just escaping the orbit of the Buffalo Springfield band, but clearly headed for greater things. It's an intimate set, with great sound quality. There are several classics, performed in crisp acoustic versions -- "Mr. Soul," "Broken Arrow," "The Loner," "Birds" -- and lots of discursive, offhand stage banter (listed in the parlance of the times as "raps" on the album, and thoughtfully sorted out in the mix as separate tracks, to you can just hear the music, if that's your preference...) Highlights include "Sugar Mountain" and "Birds," but it's the whole snapshot-of-the-artist angle that's the real attraction here, with Young laughing at his own jokes, forging an intimacy with his rapt, receptive audience, sharing his then-current bag of tricks. It's pretty groovy, and a nice look at his early career...

---
Holiday Albums

---
Asleep At The Wheel "Santa Loves To Boogie" (Bismeaux, 2007)


Alison Brown Quartet "Evergreen" (Compass, 2008)



(Produced by The Alison Brown Quartet & Joe Craven)
A playful holiday offering from banjo picker Alison Brown, with fleet-footed accompaniment from fiddler Joe Craven and a few of their pals. Brown plucks out a few standards -- "Silver Bells," "Sleigh Ride" -- as well as some quirky choices such as Gene Autry's "Two Santas" and "Christmas Time Is Here," from the TV adaptation of Dr. Seuss's "How The Grinch Stole Christmas," as well as a couple of Vince Guaraldi's Peanuts-related yuletide gems. Some nice, joyful, inventive performances -- perfect to have in the background as you prepare that big, yummy holiday dinner!
Mary Chapin Carpenter "Come Darkness, Come Light: Twelve Songs Of Christmas" (Rounder-Zoe, 2008)


Faith Hill "Joy To The World" (Warner Brothers, 2008)


Mindy Smith "My Holiday" (Vanguard, 2007)



(Produced by Steve Buckingham & Mindy Smith)
Yeah, this one's from last year, but it's still my favorite holiday record of the decade, so y'all are gonna have to hear about it again... I normally don't have high expectations of Christmas records, but pop-folkster Mindy Smith really outdoes herself on this one. It's heartfelt, engaging, original and quite lovely to listen to... Smith sings a few standards, and she sings them with unusually rich sincerity -- her lingering, lounge-y rendition of Frank Loesser's "What Are You Doing New Year's Eve" is a gem, while the sugary cooing on "Away In A Manger" (a duet with Alison Krauss) will make fans of holiday pop happy as clams. It's her original material that stands out here, though: the opening song, "My Holiday," is a gentle meditation on the season (and the value of artificial trees); "Santa Will Find You" is an inspirational classic in five-and-dime drag, and "I Know The Reason" is simply a beautiful song about perseverance and quiet hope, closing with the stanza, "It's been a long, long year/it's coming to an end/Looking by my side/you still have my hand", a lyric that jumps out of the lulling, melodic mix. There are only a couple of clunkers on here, a drum-heavy version of "I'll Be Home For Christmas," and the folk-rock "Come Around" which is okay in a Byrds-y kinda way, but jarring when set next to the rest of these dreamy acoustic songs... Other than that, though, this is an disc I could roast chestnuts to for several seasons to come -- and for an old Grinch like me, that's pretty high praise. Check it out!

George Strait "Classic Christmas" (MCA Nashville, 2008)



(Produced by Tony Brown)
Always a class act, neotrad icon George Strait delivers a happy, amiable set of holiday standards, all of them classic tunes such as "Deck The Halls," "We Wish You A Merry Christmas," "Joy To The World," and "Hark, The Herald Angels Sing." The arrangements, along with the warm pop-honkytonk production by Tony Brown make this a very cheerful album, just right for alla y'all to come in from the cold and have a little sip of something to warm you up, be it cocoa, eggnog, or a couple of Shiner Bocks... You'll be humming along in no time at all!
---



Hick Music Index
Shop Amazon, Support Slipcue



---