<! MP3 02/28/09 > <! pix 00/00/00 > <! archived 05/07/09 * > <! * >

---
Howdy, neighbors!
Howdy, folks, here are some reviews of the new country, bluegrass and Americana records that I had the good fortune to listen to in January-February, 2009 This page gets updated throughout the month, so check back if you can... Also, check out my full Guide To Hick Music for a bazillion more record reviews and artist profiles.
This month:
Trace Adkins "X" (Capitol-Nashville)
Dierks Bentley "Feel That Fire" (Capitol-Nashville)
Brigitte DeMeyer "Red River Flower" (Brigitte DeMeyer Music)
Steve Martin "The Crow: New Songs For The 5-String Banjo" (40 Productions)
Missy Raines & The New Hip "Inside Out" (Compass)
Blake Shelton "Startin' Fires" (Warner Brothers)
Bob Wills "The Tiffany Transcriptions" (Collector's Choice)
Various Artists "DIM LIGHTS, THICK SMOKE AND HILLBILLY MUSIC" (series) (Bear Family)

---
New Stuff: January-February, 2009
---
Trace Adkins "X" (Capitol-Nashville, 2008)



Did I ever mention that I met Trace Adkins once? I did? Oh, well.. anyway... Nice guy; we bonded over our appreciation for country crooner Ed Bruce and he told me great story about how he got screwed out of his royalties when he first came to Nashville. Great guy, with a great voice. I mention this not just to show what a consummate namedropper I am, but so that Adkins (who's like six foot-thirteen) doesn't come kick my ass when I say how disappointing this new album sounds. It's a little too smooth and slick for my tastes, and all the obligatory "tough guy" tunes ring really false. Maybe he's just too rich now and too deeply ensconced in the fame factory to really crank up the volume the way he used to... Anyway, I still like his voice, and while this record doesn't actually suck or anything, I don't think I need to add these songs to my ultimate playlist anytime soon. Standard Nashville fare from a charismatic Top 40 star who in the past has transcended the limitations of the genre. Not my cup of tea.

Dierks Bentley "Feel That Fire" (Capitol-Nashville, 2009)



Nashville Top 40 from one of my favorite 21st Century country stars... This one took a while to win me over... At first it seemed to overproduced and too overwrought (which it is on many songs) but Bentley snuck up on me with several of the slower tunes, notably sweet ballads like "I Wanna Make You Close Your Eyes" "I Can't Forget Her," which sound soulful and sincere. What's funny about this record is that Bentley, who made his mark as a jovial, thinking-man's good-old boy excels on the slow tunes here, and it's the rompy-stompy songs like the single "Feel That Fire" that fall flat, for some reason. One exception is the album's closer, "Last Call For Alcohol," a bluegrass novelty number with Bentley's pal Ronnie McCoury picking some fine mandolin; "Beautiful World" his positive-thinking duet with Patty Griffin, is simply gorgeous, and definitely worth a download.
Download picks:

Beautiful World


Last Call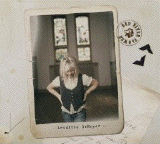 Brigitte DeMeyer "Red River Flower" (Brigitte DeMeyer Music, 2007)



(Produced by Brady Blade)
An exquisite Americana offering from this California-based, bluesy roots crooner... Where earlier albums had a rougher edge, this is a languid, mellow set, with a healthy dose of the smoky, sultry vibe made famous by Norah Jones... Indeed, this sounds sort of like the country album many wish Jones would record, filled with deep, soulful pedal steel and unhurried acoustic guitar, and excellent songwriting. Each song is a gem, as the album flows from strength to strength. Several Alt-Americana luminaries pitch in, such as Buddy Miller and Brady Blade (bandmates in Emmylou Harris' Spyboy band) as well as pedal steel legend Al Perkins, contributing some sweet licks to an album that is sure to hold up well over the years. Recommended!
Pat Green "What I'm For" (Capitol-Nashville, 2009)






<! 144 x 144 >
Steve Martin "The Crow: New Songs For The 5-String Banjo" (Rounder/40 Productions, 2009)



Dang! This is nice. I mean, yeah we all knew that Steve Martin could "really play" the banjo, but who knew that he was this damn good? This is a dazzling set of original compositions, mostly instrumentals, with the compositional strength, technical skill and just plain fun, bouncy abandon to make any bluegrass/newgrass fan jump for joy. Along for the ride are co-producer John McEuen, as well as banjo greats Earl Scruggs and Tony Trischka, and a slew of high-power vocalists, including Mary Black, Vince Gill and Dolly Parton -- Martin rambles his way through one vocal number, the comedic "Late For School," but the real razzle-dazzle here are the instrumental tunes, like "Tin Roof" (which evokes the late John Hartford), the stunning, inventive "Pitkin County Turnaround" and the winsome "Clawhammer Medley." Banjo music fans will definitely want to want to check this out -- Tony Trischka's presence is especially apt, since this recalls the originality and verve of his early solo work. Definitely recommended!
Download picks:

Pitkin County Turnaround


Tin Roof


Late For School

Del McCoury "The Best Of Del McCoury - The Groovegrass Years" (Groovegrass, 2008)






<! Condon Music Group (?) > <! stripped-down recordings , with an electro-funk mix of "Can't You Hear Me Calling?" and a duet with Doc Watson on "More Pretty Girls Than One." >
Ronnie McCoury "Little Mo' McCoury" (McCoury Music, 2008)






<! kid's music >
Willie Nelson & Asleep At The Wheel "Willie And The Wheel" (Bismeaux, 2009)






<! 180 x 180 >
Missy Raines & The New Hip "Inside Out" (Compass, 2009)



(Produced by Missy Raines & Ben Surratt)
Not surprisingly, bluegrass bassist Missy Raines tilts towards the funky and melodic as a bandleader: there's probably no way to avoid it, since every bassist in America just has to learn the "Barney Miller" theme song when they start out, and that's a hard template to shake. This disc alternates between vocal numbers (which are very sweet; Raines has a lovely, inviting voice) and muzak-y instrumental numbers... The too-cute fusion instrumentals don't do much for me (I'd rather hear a few straight-ahead bluegrass breakdowns...) but fans of Bela Fleck, et. al. will dig it. The tracks where she sings are great, though, and fit in nicely with a wide variety of folk/Americana styles. Worth checking out.
Earl Scruggs "The Ultimate Collection: Live At The Ryman" (Rounder, 2008)



Blake Shelton "Startin' Fires" (Warner Brothers, 2008)



Give the fella credit -- for a guy with a fairly limited voice, Blake Shelton has built up one heck of a career. This disc has some fun numbers, particularly the album's environmentally-themed opener, "Green," which posits that country folk were "green before green was a thing", playing acoustic guitars, growing their food, etc. (We'll leave aside the whole propane tanks in the back yard and broken trucks in the front stereotypes -- this is a funny song, so we'll leave it at that...) Generally speaking, Shelton best hits the mark on upbeat, rowdy numbers, including the bluesy hillbilly funk of "Never Lovin' You" or even a by-the-numbers blue-collar anthem like "Working Strong." Where he falls flat is on overwrought power ballads such as "She Wouldn't Be Gone" and "I'll Just Hold On" -- no doubt these are his bread-an-butter on commercial radio, but for this crusty old country fan, Shelton's voice just doesn't carry this material. Still, I'd give the rougher tunes a spin -- they'll turn up a smile or two for sure.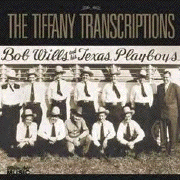 Bob Wills "The Tiffany Transcriptions" (Collector's Choice, 2009)


I personally can't afford this capacious 10-CD box set collecting the historic radio transcription recordings made by western swing legend Bob Wills for the Tiffany Transcription company in the late 1940s, but I've heard a bunch of 'em before, and this is really great music. Collectors, completists and fans will all want to pick this one up... Or at least drool over it through the record store windows. Lots of classic songs and killer musicianship -- anyone who's serious about digging deep into western swing will want to check this out. Highly recommended, even though it doesn't offer much in the way of "new" material that hadn't already been reissued on the fab series of "Tiffany" LPs and CDs of the 1980s and '90s.


<! 10-CD box set >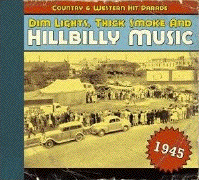 Various Artists "DIM LIGHTS, THICK SMOKE AND HILLBILLY MUSIC: 1945" (Bear Family, 2008)


This is a great series for anyone looking to explore the best of hillbilly music from the best years -- the late 1940s before things got too slick. Each volume highlights songs from a particular year, with big hits as well as goofy tunes that were a little bit farther off the radar. This first volume is a doozy, with classics such as "That's All" by Merle Travis, Eddy Arnold's original version of "Cattle Call," "Oklahoma Hills" by Jack Guthrie, Jerry Irby's awesome "Nails In My Coffin," and some classic material by Gene Autry, Spade Cooley, Al Dexter, Hank Snow, Ernest Tubb and Bob Wills. Heck, yeah. If you're not familiar with this era of country music, jump in! And if you're new to the Bear Family label, this is a great way to meet them as well -- great music from people who know how to treat great music right.


<! 1. BOB WILLS - Smoke On The Water 2. GENE AUTRY - At Mail Call Today 3. SPADE COOLEY - Shame On You 4. PHIL HARRIS - That's What I Like About The South 5. JENNY LOU CARSON - Jealous Heart 6. DICK THOMAS - Sioux City Sue 7. ERNEST TUBB - Tomorrow Never Comes 8. JIMMIE DAVIS - There's A New Moon Over My Shoulder 9. LULU BELLE & SCOTTY WISEMAN - Have I Told You Lately That I Love You 10. TED DAFFAN - Headin' Down The Wrong Highway 11. JACK GUTHRIE - Oklahoma Hills 12. 'PORKY' FREEMAN TRIO - VOCAL BY MERLE TRAVIS - Boogie Woogie Boy 13. GENE AUTRY - Don't Fence Me In 14. EDDY ARNOLD - The Cattle Call 15. AL DEXTER - I'm Losing My Mind Over You 16. FLOYD TILLMAN - Each Night At Nine 17. RED FOLEY - Hang Your Head In Shame 18. TEX RITTER - You Two Timed Me One Time Too Often 19. MERLE TRAVIS - That's All 20. WESLEY TUTTLE - With Tears In My Eyes 21. BOB WILLS - Stars And Stripes On Iwo Jima 22. ERNEST TUBB - It's Been So Long Darling 23. JERRY IRBY - Nails In My Coffin 24. JIMMY WALKER - Detour 25. ROY ACUFF - We Live In Two Diff'rent Worlds 26. HANK SNOW - Blue Ranger 27. THE RAMBLER TRIO FEAT. ARTHUR SMITH Guitar Boogie >
Various Artists "DIM LIGHTS, THICK SMOKE AND HILLBILLY MUSIC: 1946" (Bear Family, 2008)





<! 1. THE BUCHANAN BROTHERS - Atomic Power 2. ERNEST TUBB - Rainbow At Midnight 3. EDDY ARNOLD - That's How Much I Love You 4. COWBOY COPAS - Filipino Baby 5. AL DEXTER - Wine, Women, And Song 6. BOB WILLS - New Spanish Two Step 7. ELTON BRITT Someday 8. MERLE TRAVIS - No Vacancy 9. ROY ACUFF - No One Will Ever Know 10. BRAD BRADY (OWEN BRADLEY) - Zeb's Mountain Boogie 11. GENE AUTRY - I Wish I Had Never Met Sunshine 12. COWBOY COPAS - Tragic Romance 13. DELMORE BROTHERS - Hillbilly Boogie 14. THE BAILES BROTHERS - As Long As I Live 15. BILL 16. MONROE - Rocky Road Blues 17. GRANDPA JONES - Eight More Miles To Louisville 18. MERLE TRAVIS - Dark As A Dungeon 19. THE MORRIS BROTHERS - Salty Dog Blues 20. HARRY CHOATES - Jole Blon (Pretty Blond) 21. COUSIN EMMY Ruby 22. BILL MONROE - Kentucky Waltz 23. DELMORE BROTHERS - Midnite Special 24. FLOYD TILLMAN - Some Other World 25. HANK PENNY - Steel Guitar Stomp 26. T. TEXAS TYLER - Black Jack David 27. TEX RITTER - You Will Have To Pay 28. BOB WILLS - Stay A Little Longer 29. SPADE COOLEY - Three Way Boogie >
Various Artists "DIM LIGHTS, THICK SMOKE AND HILLBILLY MUSIC: 1947" (Bear Family, 2008)





<! 1. TEX WILLIAMS - Smoke! Smoke! Smoke! (That Cigarette) 2. EDDY ARNOLD - It's A Sin 3. BOB WILLS - Sugar Moon 4. SONS OF THE PIONEERS - Cigarettes, Whusky, And Wild, Wild Women 5. BILLY HUGHES - Cocaine Blues 6. MADDOX BROTHERS & ROSE - Milk Cow Blues 7. MOON MULLICAN - Foggy River 8. ERNEST TUBB - I'll Step Aside 9. ROY ACUFF - Blue Eyes Crying In The Rain 10. DELMORE BROTHERS - Freight Train Boogie 11. MERLE TRAVIS - So Round, So Firm, So Fully Packed 12. COWBOY COPAS - Signed, Sealed And Delivered 13. EDDY ARNOLD - I'll Hold You In My Heart (Till I Can Hold You In My Arms) 14. HANK WILLIAMS - Move It On Over 15. RED FOLEY - Never Trust A Woman 16. CLYDE MOODY - Shenandoah Waltz 17. JACK GUTHRIE - Oakie Boogie 18. MOON MULLICAN - New Pretty Blonde (New Jole Blon) 19. BILL CARLISLE - Rockin' Chair Money 20. THE CUMBERLAND MOUNTAIN FOLKS; vocal by MOLLY O'DAY - The Tramp On The Street 21. HAWKSHAW HAWKINS - Sunny Side Of The Mountain 22. FAIRLEY HOLDEN - Keep Them Cold Icey Fingers Off Of Me 23. BILL MONROE - Blue Moon Of Kentucky 24. CHARLIE MONROE - Bringin' In The Georgia Mail 25. BAILES BROTHERS - Dust On The Bible 26. CARL STORY - I've Found A Hiding Place 27. CHET ATKINS - Canned Heat >
Various Artists "DIM LIGHTS, THICK SMOKE AND HILLBILLY MUSIC: 1948" (Bear Family, 2008)





<! 1. RED FOLEY - Tennessee Saturday Night 2. LEON PAYNE - Lost Highway 3. ROY ACUFF - Waltz Of The Wind 4. THE MADDOX BROTHERS & ROSE - New Muleskinner Blues 5. EDDIE HILL - Someday You'll Call My Name 6. JOHNNY BOND - Bartender's Blues 7. EDDY ARNOLD Anytime 8. BILL MONROE - Little Cabin Home On The Hill 9. COWBOY COPAS Breeze 10. BILL CARLISLE - Wedding Bells 11. HAWKSHAW HAWKINS - Dog House Boogie 12. PEE WEE KING - Tennessee Waltz 13. DOYE O'DELL - Dear Oakie 14. MOON MULLICAN - Sweeter Than The Flowers 15. WAYNE RANEY - Lost John Boogie 16. JIMMIE SKINNER - Doin' My Time 17. BILL MONROE - I Hear A Sweet Voice Calling 18. STANLEY BROTHERS - Molly And Tenbrook 19. HANK WILLIAMS - A Mansion On The Hill 20. JIMMY WORK - Tennessee Border 21. T. TEXAS TYLER - Deck Of Cards 22. FLOYD TILLMAN - I Love You So Much It Hurts 23. MERLE TRAVIS - Merle's Boogie Woogie 24. JIMMY WAKELY - One Has My Name (The Other Has My Heart) 25. CARSON ROBISON - Life Gits Tee-jus, Don't It? 26. BOB WILLS - Bubbles In My Beer 27. EDDY ARNOLD - Bouquet Of Roses 28. LONZO & OSCAR - I'm My Own Grandpa >
Various Artists "DIM LIGHTS, THICK SMOKE AND HILLBILLY MUSIC: 1949" (Bear Family, 2008)





<! 1. VAUGHN MONROE - Riders In The Sky 2. SONS OF THE PIONEERS - Room Full Of Roses 3. JIMMY WAKELY - I Wish I Had A Nickel 4. HANK WILLIAMS - Lovesick Blues 5. EDDY ARNOLD - Then I Turned And Walked Slowly Away 6. LITTLE JIMMY DICKENS - Take An Old Cold Tater (And Wait) 7. DELMORE BROTHERS - Blues Stay Away From Me 8. BOB WILLS - Don't Be Ashamed Of Your Age 9. GEORGE MORGAN - Candy Kisses 10. LEON Mcauliffe - Panhandle Rag 11. FLOYD TILLMAN - Slippin' Around 12. PEE WEE KING - Bonaparte's Retreat 13. BILL NETTLES - Hadacol Boogie 14. LEON PAYNE - I Love You Because 15. HANK THOMPSON - Whoa Sailor 16. ERNEST TUBB - Let's Say Goodbye Like We Said Hello 17. WAYNE RANEY - Why Don't You Haul Off And Love Me 18. JIMMIE SKINNER - Will You Be Satisfied That Way 19. BILL MONROE - The Old Cross Road 20. JOHNNIE & JACK - What About You 21. THE STANLEY BROTHERS - The White Dove 22. MADDOX BROTHERS & ROSE - Philadelphia Lawyer 23. FLOYD TILLMAN - This Cold War With You 24. T. TEXAS TYLER - My Bucket's Got A Hole In It 25. HANK WILLIAMS - I'm So Lonesome I Could Cry 26. BOB WILLS - Warm Red Wine 27. EDDY ARNOLD - I'm Throwing Rice Tennessee 28. ERNIE FORD - Mule Train >
Various Artists "DIM LIGHTS, THICK SMOKE AND HILLBILLY MUSIC: 1950" (Bear Family, 2008)





<! 1. RED FOLEY - Chattanoogie Shoe Shine Boy 2. GENE AUTRY - Blue Canadian Rockies 3. OLE RASMUSSEN - Sleepy Eyed John 4. LEFTY FRIZZELL - If You've Got The Money I've Got The Time 5. HANK WILLIAMS - Long Gone Lonesome Blues 6. CARL SMITH - I Overlooked An Orchid (While Searching For A Rose) 7. LITTLE JIMMY DICKENS - Hillbilly Fever 8. BOB WILLS - Faded Love 9. RED FOLEY - Sugarfoot Rag 10. TED DAFFAN - I've Got Five Dollars And It's Saturday Night 11. TENNESSEE ERNIE FORD & KAY STARR - I'll Never Be Free 12. HANK PENNY - Bloodshot Eyes 13. LEFTY FRIZZELL I Love You A Thousand Ways 14. HARDROCK GUNTER - Birmingham Bounce 15. STUART HAMBLEN - Remember Me (I'm The One Who Loves You) 16. MOON MULLICAN - I'll Sail My Ship Alone 17. JOHNNIE LEE WILLS - Rag Mop 18. BILLY STARR - Steppin' Out 19. SKEETS Mcdonald - The Tattooed Lady 20. ERNEST TUBB - Letters Have No Arms 21. ARKIE SHIBLEY -Hot Rod Race 22. JIMMIE SKINNER - You Don't Know My Mind 23. BILL MONROE - I'm Blue, I'm Lonesome 24. WEBB PIERCE - Drifting Texas Sand 25. FLOYD TILLMAN - I've Got The Craziest Feeling 26. HANK SNOW - I'm Movin' On 27. STANLEY BROTHERS - The Fields Have Turned Brown 28. FLATT & SCRUGGS - Foggy Mountain Breakdown >
---



Hick Music Index
Shop Amazon, Support Slipcue



---