<! MP3 03/28/09 > <! pix 00/00/00 > <! archived 05/07/09 > <! * >

---
Howdy, neighbors!
Howdy, folks, here are some reviews of the new country, bluegrass and Americana records that I had the good fortune to listen to in March, 2009 This page gets updated throughout the month, so check back if you can... Also, check out my full Guide To Hick Music for a bazillion more record reviews and artist profiles.
This month:
Axton Kincaid "Silver Dollars" (Free Dirt)
Eric Brace & Peter Cooper "You Don't Have To Like Them Both" (Red Beet)
Sarah Borges "Do It For Free" (EP) (Sugar Hill)
Anita Carter "Songbird" (Omni)
Mickey Clarke "Winding Highway" (Ear-X-Tacy)
Mike Marshall "Mike Marshall's Big Trio" (Adventure Music)
Michael Martin Murphey "Buckaroo Blue Grass" (Rural Rhythm)
Willie Nelson "Naked Willie" (Sony-BMG-Legacy)
Jimmy C. Newman "The Original Cry, Cry, Darling" (Jasmine)
Eva Scow & Dusty Brough "Sharon By The Sea" (Adventure Music)
Randy Weeks "Going My Way" (Certifiable Records)

---
New Stuff: March, 2009
---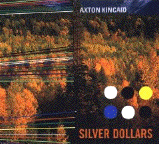 Axton Kincaid "Silver Dollars" (Free Dirt, 2008)



(Produced by Axton Kincaid & Bart Thurber)
Scrappy alt-country from the San Francisco Bay Area... Led by singer-guitarist Kate Howser, this scruffy band gallops through lively original material, rollicking songs with a wry confessional edge and a sincere appreciation for old-school honkytonk country. Just how sincere is seen in the album's closer, "I Don't Need To Wear A Hat (To Prove I'm Country)," an ardent anthem for the urban indiebilly scene... On "The Saddest Story," the band lets its rock roots show, not in loud guitar solos, but in the confident embrace of a melodic power-pop undercurrent, and, as ever, there are some finely-observed verses about drinking and flirting, big city style, sung here with perhaps a slightly lighter heart tan on their earlier album. Pretty twangy.
Sarah Borges "Do It For Free" (EP) (Sugar Hill, 2009)


An intriguing three-song sampler, with two rock songs bracketing a pleasantly twangyl alt-country track. As on her previous release, LA's answer to Neko Case mixes styles to a degree that some music fans may find disconcerting: the title song is a loud, backbeat-a-licious hard rock song that's pure Joan Jett; the last track is more of a would-be alternative tune that's fairly anemic by comparison. This disc might be a little schizo, but she does deliver on both the head-bang and the twang, so I'd say it's still up to her which world to conquer. Country fans can stick with the indiebilly tune, "Friend Of A Friend".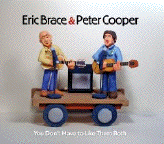 Eric Brace & Peter Cooper "You Don't Have To Like Them Both" (Red Beet Records, 2008)



(Produced by Eric Brace & Peter Cooper)
A nice folkie/twangy outing from two fellas from the band Last Train Home... A rewarding blend of laid-back honkytonk and strummy folk musings, including a piercing foray into topical material ("The Man Who Loved To Hate). There's a wide variety of styles, with some songs that are essentially solo works alongside fine duets with Everly-esque harmonies. And of course it never hurts having the ever-reliable Lloyd Green playing pedal steel... he always hits just the notes, literally and figuratively. The songs are a mix of strong originals with well-chosen covers of Jim Lauderdale, Paul Kennerley, Kris Kristofferson and others, all material that Brace and Cooper hold close to their hearts. In every song, they sing with feeling and conviction -- a nice, low-key DIY Americana disc, well worth checking out.


<! "The Man Who Loves to Hate" > <! "I Know Better Now" >
Anita Carter "Songbird" (Omni, 2009)


The sweetest voice and the prettiest face of the fabled Carter Family, Anita Carter performed with the family band from early childhood on... Although she is best known as part of the trio that backed Mother Maybelle, and as a member of Johnny Cash's 1970s roadshow, Anita also recorded a modest amount of solo material -- not much, but enough to show that she was a major musical talent. Had the mellow, folk-tinged countrypolitan sound of the '70s come a decade earlier, she might have been a major star. As it was she became a welcome fixture in the Nashville scene, and her handful of records are still cherished by a select group of fans. This long-overdue retrospective set features the best of her solo recordings, including rarities such as single-only releases and even some previously unreleased studio work. It's a real treat for old-time fans, and a great introduction for younger listeners in search of lost country gold.


<! Anita Carter is the great 'lost' voice of Nashville. The Appalachian siren, who once heard will break your heart and mend your soul. Daughter of the legendary Mother Maybelle Carter and sister to the exalted June Carter Cash, Anita sang, played (a mean upright bass) and recorded her entire life (solo, in duet and with The Carter Family). Featured here are rare and previously un-reissued sides and 45 only cuts from her mid-1960s and early 1970s tenures with RCA Victor and Columbia Records. 28 track deluxe collector's edition remastered with love and care from the original master tapes including exclusive liner notes and rare photos. >
Mickey Clark "Winding Highway" (Ear-X-Tacy, 2009)



(Produced by Jim Rooney)
A thoroughly charming Americana outing from songwriter Mickey Clark, who composed several tunes recorded by others, and who is a true American troubadour, having plugged away on the folk and indie circuits for many a year. This is a nice record, with a warts-and-all cragginess, with plenty of dusty country wit and grit, and a slew of high-power guest performers. Swapping verses with Clark on the delightful "Don't Piss On My Boots (And Tell Me It's Raining)" are three alt-twang luminaries: Kinky Friedman, John Prine and Jerry Jeff Walker, who all take great and obvious delight in the song's raunchy good humor. Walker also sings on "Goodnight Loving Trail," which was written by the late, great U. Utah Phillips, and is one of the few songs on the album not written or co-written by Clark. Other highlights include the bittersweet "Sarah," and the robust "Tijuana Tequila." Another nice record for those who are looking for an earthier alternative to the pop slickness of the Nashville charts, particularly those country fans who enjoy Jerry Jeff's brand of relaxed, ribald tunesmithing.
Mike Marshall "Mike Marshall's Big Trio" (Adventure Music, 2009)



(Produced by Mike Marshall)
A veteran of the early '80s "spacegrass" scene, mandolinist Mike Marshall has pursued an eclectic set of interests, from bluegrass, classical and jazz, to various stripes of world music, particularly Brazilian choro. Here, along with two younger players -- cellist Alex Hargreaves and bassist Paul Kowert -- he weaves these elements together in a strong, supple album that mostly sounds like classic spacegrass-jazz, but also has a distinctive feel, particularly on more forceful, exploratory tracks such as "Three Dragons," which reminds me of John McLaughlin's work with the Indian band, Shakti. Marshall is not content to rest on his laurels, and definitely seems to have been pushing himself on each of his last few records... This is one of the most focussed and direct, a fine extension of the music that gave him start. Fans'll be psyched.
Michael Martin Murphey "Buckaroo Blue Grass" (Rural Rhythm, 2009)



(Produced by Ryan Murphey)
Although we all remember weatherbeaten Michael Martin Murphey for his 1970s Top 40/AOR heyday ("...she went and called him Wiiiiiiiiiiiilldfiiiiiiiire...") and for his involvement in the early '70s Texas "outlaw" scene, he also had roots in the bluegrass world -- in addition to his association with the Monkees, he also pitched songs to Lester Flatt & Earl Scruggs, and over the years he's used a bunch of high-power bluegrass players as sidemen on his albums. So it's no big surprise, and a bit of a treat, to find him doing bouncy acoustic remakes of some of his old songs, many of which hold up remarkably well after all these years. "What Am I Doing Hanging 'Round" sounds great, and the other songs are sure to provoke smiles of recognition and nostalgia as well... Among the musicians pitching in on this understated album are mandolinists Sam Bush and Ronnie McCoury, dobro whiz Rob Ickes, fiddler Andy Leftwich and even Rhonda Vincent on harmony vocals. Murphey's voice doesn't soar up as high as it used to, but he sings with feeling and conviction -- if you're a fan, or if you just like good, simple folk-Americana, this album's a fine choice.


<! Michael's bluegrass credentials date back to when he was chosen at a young age to sing lead with Earl Scruggs Band.(? unable to verify) >

Willie Nelson "Naked Willie" (Sony-BMG-Legacy, 2009)



("Un-Produced" by Mickey Raphael)
Somewhere -- I suppose in the 1970s, certainly by the 1980s -- the concept of "overproduced" music gained currency as a way to criticize overly-commercialized recordings... It was apt for a variety of styles: soul music had given way to disco, rock morphed into new wave while pop devolved into AOR, jazz went "smooth" and country -- mimicking the lavish pop vocals sound of the '50s and '60s -- became "countrypolitan," with orchestral arrangements and unnecessary vocal choruses layered on top of the simplest of songs. Caught square in the sights of this neutering of country's vigor was shaggy songwriter Willie Nelson, who provided several of the biggest early countrypolitan hits ("Crazy," "The Night Life", etc.) but who famously chafed against the Nashville studio system when he was first trying to make it as a solo performer. Willie rebelled and left Nashville for Austin, and thus the outlaw legend was made. Now, four decades later, Nelson revisits the recordings that originally drove him away from Music City, taking the very same RCA sessions that he felt ruined his music and deconstructing them, stripping back the layers to get back at the essence of sound. It's a very interesting project, revitalizing several long-lost songs from the mid-1960s, while underscoring the innate silliness of the so-called "Nashville Sound." What's missing in this package, unfortunately, are the original studio releases, so that we can really hear what happened to these songs after they left Nelson's control. Those collectors who are fortunate enough to own the old LPs or the handful of reissues that include those tracks will enjoy a giggle or two as they compare and contrast -- less fortunate listeners will just be grateful for the chance to hear a bunch of "new" Willie Nelson songs, rescued from the vaults after all these years.

Jimmy C. Newman "The Original Cry, Cry, Darling" (Jasmine, 2009)


An interesting classic country reissue... Louisiana's Jimmy C. Newman added a dash of regional charm as Nashville's resident cajun, but eventually he became just as cheesy and tame as the rest of the mainstream country crooners of the 1960s... Still, at the start of his career he had a little more bite and a little more grit to his songs, as this collection of his earlier, more honky-tonk, recordings shows. This includes the original versions of several songs later re-recorded during his stint on Decca... Worth checking out, for sure!


<! 2009 release. For the first time, Jasmine Records preserve the beginnings of Jimmy Newman's long trip through Cajun, Hillbilly and Country Music and back home again. Savor his delightfully Louisiana tinged Honky Tonk music and hear the originals versions of songs that became better known later but arguably lost some of their laid back charm in the process. Featuring the hits 'Cry, Cry, Darling', 'Words Can't Explain' and 'Again In Your Arms plus many rarities that are available on CD for the first time. >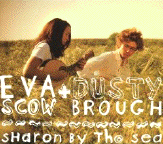 Eva Scow & Dusty Brough "Sharon By The Sea" (Adventure Music, 2009)



Drawing equally on Latin-American and bluegrass traditions, this is perfect melding of the acoustic jazz style pioneered by David Grisman and his pals, and the dynamic Brazilian improv genre called choro. The California-based duo of guitarist Dusty Brough and mandolinist/fiddler Eva Scow -- along with modest accompaniment of a tune or two -- produce a large, expansive sound that will appeal to fans of the original "spacegrass" scene of the late 1970s and early '80s. This album is surely the kind of record Mike Marshall was dreaming of when he started the Adventure Music label: inventive, eclectic and engaging.

Randy Weeks "Going My Way" (Certifiable Records, 2009)



(Produced by Will Sexton)
I was kind of surprised to see this one listed as a "rock" record, since I'd had it in my "country" pile for a while... Sure, Weeks' earlier albums had been root-rocky and rough, but I hadn't expected such an indiepoppish outing this time around. There's twang here, and rootsy blues riffs, too, but some of the best songs are closer to off-the-radar, indie lo-fi guys like Frank Bango and Michael Shelley, little wry, smartass songs of love and disaffection with echoes of the great power-pop bands. I hadn't expected it, but I dug some songs, particularly "That's What I'd Do" and the twangy "The One Who Wore My Ring." Worth checking out if you like your Americana a bit more on the bar-band side of things.


<! downloads? "That's What I'd Do" "The One Who Wore My Ring" >


---



Hick Music Index
Shop Amazon, Support Slipcue



---