<! MP3 05/07/09 > <! pix 05/07/09 > <! archived 08/12/10 > <! * >

---
Howdy, neighbors!
Howdy, folks, here are some reviews of the new country, bluegrass and Americana records that I had the good fortune to listen to in April, 2009 This page gets updated throughout the month, so check back if you can... Also, check out my full Guide To Hick Music for a bazillion more record reviews and artist profiles.
This month:
Rodney Atkins "It's America" (Curb)
Sarah Borges "The Stars Are Out" (Sugar Hill)
Alison Brown "The Company You Keep" (Compass)
Slaid Cleaves "Live At Blue Highways" (EP) (Continental Record Services)
Justin Townes Earle "Midnight At The Movies" (Bloodshot)
The Flatlanders "Hills And Valleys" (New West)
Andy Friedman & The Other Failures "Weary Things" (City Salvage)
Jeremy Garrett "I Am A Stranger" (Sugar Hill)
Hank Hardwood "Ready Or Knot" (Kinda Kindlin')
The Hollyfelds "Black Heart Blue" (Self-released)
Skeets McDonald "Heart Breakin' Mama" (Bear Family) Buddy & Julie Miller "Written In Chalk" (New West)
Cyril Neville "Brand New Blues" (M.C. Records)
Various Artists "UNDONE: A MUSICFEST TRIBUTE TO ROBERT EARL KEEN" (Thirty Tigers)

---
New Stuff: April, 2009
---
Rodney Atkins "It's America" (Curb, 2008)



(Produced by Ted Hewitt & Rodney Atkins)
Pretty cool, for Top Forty. In fact, I'd say Rodney Atkins has really arrived as a singer. He sounds robust, confident, in control, and pretty funny, too. There's plenty of Nashville formula, to be sure -- small-town chest-thumping, soulful sensitive-guy stuff, and the title track, which is one of those would-be national anthems that you either love or you don't. Where he really hits his stride is on the goofy, manly-man honkytonk novelty songs: "Friends With Tractors" is fun, and "Fifteen Minutes" is a gas, a funny song with a great chorus: "I gave up smokin', drinkin' and wimmin last night/it was the worst fifteen minutes of my life..." Great stuff, worthy of Tracy Byrd, Mark Chesnutt or Toby Keith. If you like bubba-oriented Nashville hits, this disc is pretty good.
Download picks:
Friends With Tractors
Fifteen Minutes

Sarah Borges "The Stars Are Out" (Sugar Hill, 2009)



(Produced by Paul Q. Kolderie)
Amid a music industry devoted to pigeonholing our every desire, LA's Sarah Borges really stands out for her commitment to stylistic diversity. As with her earlier releases, she's all over the map: this album opens with "Do It For Free," a thumping, banging, anthemic hard-rock number ala Joan Jett or the Runaways, then coasts into bright bubblegum pop and, yes, still a bit of twang. There are alot of interesting cover tunes as well... The most surprising inclusion is a cover of Smokey Robinson's 1970s' AOR hit "Being With You", which gives way to a cover of the Magnetic Fields '80s-ish synth-ballad "No One Will Ever Love You." It's the hard-rockin' stuff that'll stand the best shot at getting her onto the radio and into the charts, but it's also nice to see an artist wiling to take a chance by sticking with her interests in so many different styles. My pick here would be "Ride With Me" -- it's the twangiest tune on the record.
Download picks:
Ride With Me
No One Will Ever Love You
Alison Brown "The Company You Keep" (Compass, 2009)



(Produced by Alison Brown & Garry West)
An all-instrumental album featuring banjo whiz (and Compass Records founder) Alison Brown... This disc is much in keeping with her last several albums, a mellow continuation of the jazz-grass tradition started by David Grisman and his generation of acoustic virtuosi. While sticking to a generally soft-pop orientation, Brown also pushes ahead musically, placing an emphasis on musicianship and exploration... Personally I prefer a strong, hummable melody, but each to their own. Along for the flight are pianist John R. Burr, fiddlers Joe Craven and Stuart Duncan, and guitarist John Doyle, of the Celt-acoustic band Solas -- some pretty fancy pickers for a pretty lighthearted acoustic outing.


<! out April 7 >

Slaid Cleaves "Live At Blue Highways (EP)" (Continental Record Services, 2009)

Roger Creager "Here It Is" (Fun All Wrong Records, 2008)



Justin Townes Earle "Midnight At The Movies" (Bloodshot, 2009)



(Produced by R.S. Field & Steve Poulton)

The Flatlanders "Hills And Valleys" (New West, 2009)



(Produced by Lloyd Maines)
Although nobody knew it at the time, when the Flatlanders formed in 1972, they were the original Americana supergroup. The band's three members -- Joe Ely, Jimmie Dale Gilmore and Butch Hancock -- all went on to varying degrees of folk-country fame, and as their legends grew, they have infrequently come together to record new material for their avid fans. This album begins on a strongly political note, with several tunes designed to shake off the hangover of the George Dubya Bush years, about hard times, economic dislocation, Hurricane Katrina, and the much-reviled billion-dollar "wall" along the US-Mexico border. Of these songs, "Borderless Love" is perhaps the best, revealing an emotional openness that still allows for both sincere shock and gooey, love-your-neighbors altruism. This humanist streak runs throughout the album, which is a sly and strident proclamation in favor of people and emotion over pragmatism and hard-heartedness. The Flatlanders pick up the weatherbeaten, dust-blown flag of the semi-redneck hippie faction of what was once called "the counterculture," and make a pretty strong case for their beliefs. As the house of cards that was our economy falls down around our collective heads, these mellow folkie appeals to common sense and compassion sound a whole helluva lot better than anything you'll hear on the cable news channels. Admittedly, there is an air of forced profundity that has to be dealt with -- towards the end of the album, almost every couplet of the lyrics strains to deftly deliver some poetic insight or wry life lesson -- buteven so, I'm a big Jimmie Dale Gilmore fan and any chance I get to hear him sing, I'm happy. Indeed, this is probably one of the strongest, most cohesive Flatlanders albums, and it's definitely a record that came out at exactly the right time to be heard by exactly the right people. Check it out.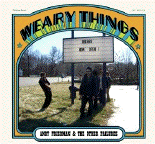 Andy Friedman & The Other Failures "Weary Things" (City Salvage Records, 2009)



(Produced by Paul Curreri)
With a shout-out to "all you young moaners, wherever you are," Brooklyn-based folkie-wiseguy Andy Friedman kicks this disc off with the mega-mopey "I Miss Being Broken, Lowdown And Alone," which lazily lampoons the rock and country addictions to self-pity and remorse. While playfully wallowing in roots-cloaked misery Friedman also indulges in a bit of wordy, uber-underachiever cleverness, the sort of stuff that used to pigeonhole brainy young singer-songwriters as Dylan wannabees... He reminds me here of folks such as Terry Allen, Steve Forbert and Andy White, with a heavy dose of the world-weary slit-your-wrist-ishness of dark-folk patriarch Leonard Cohen. Although it often seems like he's laying it on kinda thick, several songs resonate, such as on the spooky "Pilot Light," "Idaho" or the rambling, rueful "Freddy's Backroom," an eight-minute long homage to a local watering hole that begins not with chest-thumping about living the vida loca, but rather how now, after years of youthful partying and sleeping in late, the singer now gets woken up at dawn by his kid poking him in the eye and saying "wake up daddy!" Like his fleeting youth, Friedman's favorite bar is being replaced as well, torn down to make way for a parking lot. (The whistful closing chorus recalls John Hartford's "They're Gonna Tear Down The Grand Old Opry" -- feel free to make the segue when planning your next alt-country playlist...) Ultimately this is a rewarding record, rambling and discursive, verbally ostentatious but emotionally honest, and soulful enough to echo around for a while in the loneliest of hearts... Worth checking out.
Jeremy Garrett "I Am A Stranger" (Sugar Hill, 2009)



(Produced by Jeremy Garrett)
A solo album from the fiddler and singer of the Infamous Stringdusters... A nice, mellow mix of subdued, melodic truegrass and plaintive honky-tonk heartsongs, hearkening back to the sweeter, slower stuff by folks such as Jean Shepard and Webb Pierce. The best modern comparison might be to Ricky Skaggs, showing the same heartfelt appreciation for the sentimental side of old-fashioned twang. Garrett might not be the most powerful vocalist, but he's a mighty fine fiddler and clearly an accomplished student of hillbilly roots music. Nice stuff -- definitely worth checking out!
Hank Hardwood "Ready Or Knot" (Kinda Kindlin' Music, 2009)
(Produced by Christopher Earl)
The gag is that this is (supposedly) country music sung by a ventriloquist's dummy. A-cord-ingly (get it? "cord"? hah-hah.) the songs are all full of dopey, wood-related puns ("Don't Wanna Be Sawdust On A Honky-Tonk Floor," etc.) and the like. The liner notes claim allegiance to the yesteryears of true-blue hillbilly music and crudely curse Nashville for losing its soul, but this would all be easier to buy into if there was anything on here that sounded remotely sincere or soulfully twangy. Even "Hank's" voice is a letdown: a Howdy Doody-style whine would be preferable to the lazy croaks within. I dunno. I guess they were having fun, but I'm knot that into it. (Hank has a myspace page and is also on Facebook: maybe he went to high school with you?
The Hollyfelds "Black Heart Blue" (Thirty Tigers, 2009)



A nice, bouncy five-song EP, with twin female vocals and lots and lots of high-energy twang. This retro-riffic Denver-based band has a deep allegiance to the rockabilly and hillbilly hard country of the past, with propulsive rhythm that's matched by the enthusiasm of singers and pickers alike... In the future, they may slow down a little and shoot for more emotional resonance, but for folks who like passion and power -- and lots of twang -- this'll be a pretty fun outing. Nice mix of original material with a well-chosen cover of Hank Cochran's "She's Got You" (best known from Patsy Cline's fab, classic original...) If you like this short set, you might want to check out their earlier album, Saratoga as well. (Available through the band's website at: www.thehollyfelds.com.)


<! also had a 2008 album, "Saratoga" B001494T6C B0019A4S3A >
Skeets McDonald "Heart Breakin' Mama: Gonna Shake This Shack Tonight" (Bear Family, 2008)


One of the most plangent and nasal of the old-time hillbilly stars, Skeets McDonald flourished in the rough'n'rugged era of the early 1950s, recording innumerable twang tune and novelty songs... His voice is something of an acquired taste, but his band was always pretty hot, and the songs were fun, if not always immortal classics. This single-disc set is a great distillation of his work, concentrating on the peppier, more upbeat material... Bear Family also put out a massive, all-encompassing box set a few years back, but most listeners will find this more modest retrospective to be more satisfying and more to the point. It's McDonald's legacy, boiled down to its essence, and there are plenty of funny, freewheelin' old country gems here. Definitely worth checking out.
Buddy & Julie Miller "Written In Chalk" (New West, 2009)






<! ragged, yet soulful... reminds me of The Band >

Cyril Neville "Brand New Blues" (M.C. Records, 2009)



(Produced by Brian J)
A sweet solo album from drummer-singer Cyril Neville, the youngest member of the illustrious Louisiana musical royalty known as the Neville Brothers band. Not surprisingly, this record is funky and sensuous, with that distinctive, Caribbean-tinged New Orleans rhythm. Neville might be sixty years old, but he sounds as vigorous and soulful as ever, and there are plenty of good, gritty guitars behind his percussion. A strong, fresh-sounding record that's sure to make a lot of fans happy... I guess the blues aren't dead, after all!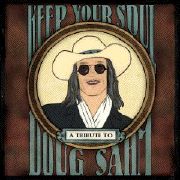 Various Artists "KEEP YOUR SOUL: A TRIBUTE TO DOUG SAHM" (Vanguard, 2009)






<! March 24 >

Various Artists "UNDONE: A MUSICFEST TRIBUTE TO ROBERT EARL KEEN" (Thirty Tigers, 2009)


---



Hick Music Index
Shop Amazon, Support Slipcue



---