<! MP3 00/00/00 > <! pix 00/00/00 > <! archived 08/11/10 > <! * >

---



Howdy, neighbors!

Howdy, folks, here are some reviews of the new country, bluegrass and Americana records that I had the good fortune to listen to in June, 2009 This page gets updated throughout the month, so check back if you can... Also, check out my full Guide To Hick Music for a bazillion more record reviews and artist profiles.

<! Tommy Duncan "Dog House Blues" (Jasmine, 2008) B0014BKGQM > <! Leon McAuliffe "Tulsa Straight Ahead - Gonna Shake This Shack Tonight" (Bear Family, 2009) B001U5Q1Q6 > <! DALE WATSON - The Truckin' Sessions: Volume Two > <! Robert Earl Keen? > <! Rhett Miller > <! Sarah Jarosz - Sugar Hill >

This month:
Ryan Bingham & The Dead Horses "Roadhouse Sun" (Lost Highway)
The Daughters Of Bluegrass "Bluegrass Bouquet" (Blue Circle)
John Doe & The Sadies "Country Club" (Yep Roc)
Nanci Griffith "The Loving Kind" (Rounder)
Dan Hicks & The Hot Licks "Tangled Tales" (Surfdog)
Shooter Jennings "Bad Magick: The Best Of Shooter Jennings & The 357s" (Universal South)
King Wilkie "King Wilkie Presents: The Wilkie Family Singers" (Casa Nueva)
Tracy Lawrence "The Rock" (Rocky Comfort)
Doyle Lawson & Quicksilver "Lonely Street" (Rounder)
Chris Pandolfi "Looking Glass" (Sugar Hill)
Dolly Parton "9 To 5 And Odd Jobs (Expanded Edition)" (Sony Legacy)
Collin Raye "Never Going Back" (Time-Life)
Barry Scott & Second Wind "In God's Time" (Rebel)
Spring Creek "Way Up On A Mountain" (Rebel)
Dallas Wayne "I'll Take The Fifth" (Smith Music)
Various Artists "STEELIN' IT: THE STEEL GUITAR STORY" (Proper)




---
New Stuff: June, 2009
---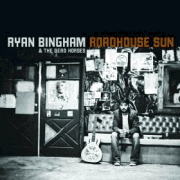 Ryan Bingham & The Dead Horses "Roadhouse Sun" (Lost Highway, 2009)



(Produced by Mark Ford)
An interesting follow-up to his debut -- the Southern rock elements are still there, but less loud, as an alluring Steve Earle-ish singer-songrocker vibe takes over. There's also a strong Black Crowes influence (not surprising, with Mark Ford on board) which makes some real gems, such as "Bluebird" and a couple of psychedelic-grunge songs (such as "Change Is") that go on a little too long. Overall, another very strong album from one of the most promising Americana artists around. If you like crunching, fuzzed-out power chords along with your cup of contemplative twang, you'll wanna check this one out.
Lea Anne Creswell "Lea Anne Sings Hank Cochran And..." (2008)


The Daughters Of Bluegrass "Bluegrass Bouquet" (Blue Circle, 2009)



(Produced by Dixie Hall, Paula Wolak & Frances Mooney)
When they say "daughters of bluegrass," they really mean "daughters of bluegrass": this disc features contributions from dozens of female artists, including folks like Carol Lee Cooper (daughter of Wilma Lee Cooper), Lisa Martin (Jimmy's daughter), Jeanie Stanley (Carter's "baby girl") and Sonya and Becky Isaacs, of the Isaacs family band... Along with a slew of other female picker, plunkers and harmonizers, including well-known artists and newcomers such as Tina Adair, Dale Ann Bradley, Becky Buller, Sierra Hull, Alecia Nugent and many more whose names are less familiar; Rhonda Vincent, who gets a teasing shout-out as a big star with a tour bus to travel in, also pitches in. It's a big helping of talent, with many faces that are doubtless familiar to folks who frequent the festivals and hang out at informal jam sessions. The project is the brainchild of Dixie and Tom T. Hall, who also wrote or co-wrote all of the songs on here, so if you're a bluegrass fan searching for new, original material, this disc is a much-welcome treasure trove as well. Good spirits, fine picking and fuzzy nostalgia mix together quite nicely here... It's a sweet humble, down-to-earth album that reflects the DIY culture of the modern bluegrass scene... Nice!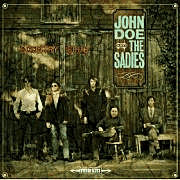 John Doe & The Sadies "Country Club" (Yep Roc, 2009)



The velvet-voiced punk icon, John Doe of X, teams up with the ultra-versatile Sadies for a heartfelt tribute to classic country songwriters such as Bobby Bare, Johnny Cash Waylon Jennings, Kris Kristofferson, Roger Miller, Mel Tillis and others. I love that this record isn't played for laughs -- there's no hint of indie-snob condescension towards these Nashville hitmakers, and the musicianship is consistently first-rate, played with conviction and depth. This is a nice lesson for all them alt-country rocker-types out there... This music doesn't have to be treated as a joke. In fact, it's usually much better when you don't, and John Doe really gets that.


<! who's the female singer? >
Nanci Griffith "The Loving Kind" (Rounder, 2009)



(Produced by Pat McInerney & Tom Jutz)
One of the things I've always loved about Nanci Griffith is how she nimbly straddled the subtle divide between "folk" and "country" -- from the very start she's been the quintessential "Americana" artist, blending the two styles. Recently, though, she's more clearly thrown in her lot with the "folk" scene, and that's especially true with this new album, which highlights her work as a songwriter (she wrote or co-wrote nine of the thirteen songs) and which takes a decided tilt towards the topical. Griffith has never shied away from politics, ranging back to Julie Gold's delicate pacifist anthem, "From A Distance" and more explicit appeals such as "It's A Hard Life Wherever You Go." Here, perhaps appropriately to the times, she is even more strident and direct, opening the album with "The Loving Touch," an homage to Mildred and Richard Loving, an interracial couple from Virginia who were jailed in 1958 for marrying each other, and who eventually won a landmark legal battle that made interracial marriage legal under Federal law. Griffith wrote the song after reading Mildred Loving's 2008 obituary, and the song is made more poignant and timely by a quote from the elderly Ms. Loving, who said she hoped her example would someday help establish the same civil rights for same-sex couples in America. It's a nice sentiment, although I have to confess I found the song itself to be a bit artless... Other songs are less blunt, but none quite hit the deft poetry of her early work. I think, perhaps, Griffith has come to a point in her life where she wants her songwriting to be less oblique, and more direct; her voice has also changed, with a definite and decisive shift into middle age, and a lot of that classic, youthful Nanci Griffith helium-voiced squeak has been replaced by a more mature, reflective purr. I'm sure many of her fans must be changing, too, and this disc may speak to them as well. I miss the lighter touch of her youth, but she's still an artist you gotta respect, and a thoughtful woman with real heart and soul.
Dan Hicks & The Hot Licks "Tangled Tales" (Surfdog, 2009)



(Produced by Chris Goldsmith)
Another intoxicating album from this hippie-string/swing veteran... Dan Hicks has been playing his unique mix of old-fashioned swing, blues and country for several decades now, goosing the tunes with kooky, goofball lyrics and plenty of retro savvy. This sizzling set, like all his albums, features contributions from his wide circle of friends, people that he's jammed with for years and who are completely on his wavelength. They seem to share a group musical telepathy, as well as a love of the lore of old-timey tunes, so when the band zips its way through some groovy riffs, doubling the leads on guitar, fiddle or mandolin, it's as if some lost old 78 by Milton Brown or Cliff Carlisle has been mashed up with a modern dada offering by Beck, or, well... like a classic old Dan Hicks record. Indeed, some of these songs are reworkings of tunes he'd recorded a few years back, while others include well-chosen covers from Bob Dylan and Horace Silver. Along for the ride are acoustic music heavyweights such as Richard Greene and David Grisman, as well as bluesmen Charlie Musselwhite and Roy Rogers. It's Marin County musicmaking at its finest: nice to see the old coot still making great music.
Shooter Jennings "Bad Magick: The Best Of Shooter Jennings & The 357s" (Universal South, 2009)



Having Waylon Jennings as your dad is a tough act to follow, especially if you go into music as well... Waylon's son Shooter has had a good run so far, as this modest, 15-song best-of set shows. Shooter seems to have mostly forsaken his country roots, opting instead for a loud, rough Southern rock sound, appealing perhaps to fans of Ronnie Van Zandt, The Black Crowes and Drive By Truckers (and fitting a little less comfortably into the current Top 40 country trend towards Southern rock revival). Shooter's music is rough-hewn and ragged, his voice is a bit thin, but he seems to have his heart in the right place, and over the course of this album you can hear a lot of stylistic growth. Of particular interest is an acoustic tune recorded for online radio, and "Living Proof," a boozy country weeper written by Hank Williams Jr., about his relation to his famous dad. This previously unreleased performance, although good, points out a potential pitfall for Jennings, which is how not to become a white-trash-stereotype self-parody while trying to live up to his father's outlaw image. Although I personally am more into pedal steel and twang, rather than loud electric solos, I think Shooter may be on the right track with the rebel rocker thing, since it's more his own style than his dad's. (For sure, Waylon was never afraid to plug in, but he remained closer to Lefty Frizzell than he did to Molly Hatchet...) This retrospective is pretty good - it's certainly made me curious to see where Jennings goes from here.
King Wilkie "King Wilkie Presents: The Wilkie Family Singers" (Casa Nueva, 2009)



(Produced by Reid Burgess & Steve Lewis)
An enchanting mix of styles, casually mixing alt-twang, boozy jug-band singalongs and art-song indierock. The first couple of tracks set the template, opening with an episodic country-harmony ditty ("Moon And Sun") that recalls the hippie-era hillbilly forays of the Byrds, a tune that gives way to "Goodbye Rose," a sweet song that sounds, for all the world, like an outtake from John Cale's Paris 1919 album; there's a hint of The Band in there as well. Numerous high-power guess appear, including Peter Rowan, Abigail Washburn, Robyn Hitchcock and John McEuen. To be totally fair, I guess it'd be more accurate to class this as a rock album than as a twang set, but either way it's quite nice. Creative and catchy, this record is packed with oddly appealing tunes. Definitely worth checking out.

Tracy Lawrence "The Rock" (Rocky Comfort, 2009)



(Produced by Tracy Lawrence & Julian King)
Hat act hero Tracy Lawrence has gone indie, starting his own label and doing what few Top Forty singers do anymore: he's put out an all-gospel country album. And it's pretty darn good. It's a work of its times, too -- Lawrence keeps the production style and the sensitive-roughneck attitude that his fans are used to, and applied it to gospel-themed lyrics, thinking about Jesus while standing over the barbeque grill. Several of these guitar-heavy nuggets sound just like his regular old radio hits, and indeed if you heard 'em on the air, it might take you a while to figure out the religious themes. Others are more direct, some shamelessly sentimental, and all seem quite sincere. Although tossing a gospel tune or two onto a mainstream album has become pretty commonplace, the country gospel album haas become kind of a lost art form on modern-day Nashville, replaced by Christmas albums and shout-outs to God in the liner notes. Lawrence is both bold and triumphant in this effort -- it's an album that will hold up pretty well in years to come.

Doyle Lawson & Quicksilver "Lonely Street" (Rounder, 2009)



(Produced by Doyle Lawson)
Over the years, Doyle Lawson and his band has been to bluegrass vocals what Art Blakey was to jazz instrumentals, a brilliant incubation nest, from which top talent springs forth, year after year. His last lineup included guitarist Jamie Dailey, who has since gone on to the dazzling harmony duo of Dailey & Vincent, and while Quicksilver's newest incarnation is less fiery for Dailey's absence, it's no less accomplished or satisfying to roots music fans. Lawson's recent tilt towards secular material -- he now seems to only release gospel albums on smaller indie labels -- invites comparisons to the classic recordings of the Osborne Brothers, and that's true on this album as well. This is one of the most youthful lineups in recent years, with three-year veteran Darren Beachley emerging as the "old-timer" in the band, amid a sea of fresh new faces. (Beachley, as it turns out, is due to become another Quicksilver alum, going solo with his own band after this album comes out...) Doyle Lawson may have a lot of turnover in his band, but his fans are always there, due in no small part to the high quality of his releases -- this one is sweet, if a bit subdued, with some nice new songs and well-chosen covers from the likes of Carl Belew, Marty Robbins and Porter Wagoner. The album closes with a lively gospel number, "When The Last Of Our Days Shall Come," an uptempo harmony song that should whet the appetite of Lawson's devoted gospel fans. Another fine album from an old pro.

Chris Pandolfi "Looking Glass" (Sugar Hill, 2009)



(Produced by Chris Pandolfi)
An excellent set of newgrass/new acoustic instrumentals from Chris Pandolfi, the banjo plunker for the Infamous Stringdusters. All the songs are original compositions, with some tilting towards Bela Fleck-ish poppishness, and others, like "Mr. Manys" having sort of a loping, John Hartford-esque feel. Along for the ride are mandolinist Matt Flinner, guitarist Chris Eldridge, fiddler Stuart Duncan and others, including fellow Stringdusters Jeremy Garrett and Andy Hall (who put solo albums of their own out earlier) the band's new guitarist, Andy Falco, and Jesse Cobb. It's a nice set -- original, exploratory, consistently satisfying and engaging, not too gooey but also not a by-the-numbers sizzler. Recommended!


<! 5/09, 08/10: not for sale as a CD on Amazon, just MP3 >
Dolly Parton "9 To 5 And Odd Jobs (Expanded Edition)" (Sony-BMG Legacy, 1980/2009)



(Produced by Gregg Perry & Mike Post)
Re-released in time to coincide with the opening of the Broadway adaptation of the "9 To 5" film, this expanded album is one of Parton's most resolutely "pop" records, a product of the transition between the lingering power of the disco era and the up-and-coming 1980s synth sound. Dolly was always open to modern pop production and crossover arrangements, as seen in a slew of mid-'70s countrypolitan recordings. This disc was a beast of a different nature, though, where the pop-rock vibe was given free reign. A cover song, "But You Know I Love You" hit #1 on the charts, and the title track was, of course, one of the biggest hits of the 'Eighties, and remains one of those great Pavlovian pop songs, like "Brick House," that just makes people burst into pure nostalgic joy. This expanded edition has a few modest bonus tracks, including a club remix of "9 To 5" and (even better yet!) a karaoke version that has the original backing tracks, stripped down and ready for your next party. There's also an intriguing cover version of Sly & The Family Stone's "Everyday People" that apparently has been shelved for the last couple of decades. Also of interest is her cover of Woodie Guthrie's "Deportees," an interesting diversion into socially conscious material (along with the feminist-populist "9 To 5") that stands out amid the glossy bombast of the rest of the album.

Collin Raye "Never Going Back" (Time-Life, 2009)



(Produced by Michael A. Curtis)
Big in the 1990s, Top Forty crooner Collin Ray is one of many former Nashville headliners who have fallen off the radar, but still find a niche with their fans. This album opens with the driving, power-chordy title track, which sounds quite a bit like "Dirty Laundry"-era Eagles; the retro vibe continues with covers of '70s oldies such as Air Supply's "Without You" and "Stuck In The Middle With You..." The rest of the album is mostly ballads, with Raye pouring himself into the songs, singing in a high-pitched, amazingly youthful voice. Interestingly, the most vital -- or at least most original -- material may be a pair of gospel songs, in which the singer's technical oompf gives way to a more open, earnest presentation, where sincerity counts more than sizzle. Worth checking out if you liked his old stuff.
Barry Scott & Second Wind "In God's Time" (Rebel, 2009)



This is an absolutely stunning, top-flight set of bedrock bluegrass gospel music - beautiful melody and harmonies, heartfelt performances and uncompromised lyrics about preparing for the Judgment Day. It's the kind of stuff that can send shivers up the spine of even the most agnostic listener. And you certainly don't have to share the band's theology to recognize the beauty of the music -- there's plenty of sweet picking and great vocals, particularly Scott's high, pure lead. This album ranks up there along with the best gospel works of Doyle Lawson, the Stanley Brothers, the Bluegrass Album Band, or Paul Williams. It's first-rate stuff: if you like the style, this record is a must-have.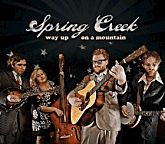 Spring Creek "Way Up On A Mountain" (Rebel, 2009)



(Produced by Jeff White)
Sweet, mellow bluegrass with a traditional sound, but little apparent interest in the whole super-picker, drag-race aspects of the genre. Now, I like sweet, sentimental material and I also like records where you can hear some just-plain-folks-ishness in the performances; there are plenty of bands that play everything perfectly, so it's nice to hear someone who plays it with a bit of individuality and personal style. This Colorado crew's got plenty of both, as this nice, unassuming set demonstrates -- it's a nice, relaxed set where the songs are given room to breathe, where you can fall in love with the tune rather than be dazzled by technique. Not that these guys are any slouches in the musical department, it's just that they focus more on the feeling in the lyrics, and let the picking speak for itself. This is the sort of record I find fun to sing along to... Really nice!


<! Aaron Watson -- late '70s, early '80s vibe; also reminds me of Brad Paisley, w/ fast chicken pickin' guitar riffs... >
Dallas Wayne "I'll Take The Fifth" (Smith Entertainment, 2009)



(Produced by Tommy Detamore & Dallas Wayne)
Nice album -- the more listen to it, the more I enjoy. When Dallas Wayne first hit the scene a decade or so ago, he was a torchbearer for the old hard country sound, and while he still has his honkytonk/indie roots, this disc has a few cool stylistic surprises. It's not that he's gone all Tim McGraw on us all of a sudden, but rather Wayne, like fellow firebrand Dale Watson, has delved into '70s-style countrypolitan, in the best sense of the word. I'm not talking about the super-orchestral Billy Sherrill stuff, but rather the more subtle kind that came after Nashville worked the over-the-top parts out of their system. It's cool musically, and gives Wayne a wider palette to work with than just plain old rompy-stompy honky-tonk and country shuffles. I guess his gig as a country DJ for XM satellite radio has given him a lot of ideas to work with. And it's given us fans a lot to listen to, time and time again. There are some great drinking songs, like the title track and weepers like "Crawlin' Is Easy (When You Ain't Got A Leg To Stand On)," which is one of those slick songs I was talking about. A great record with lots of stylistic variety, along with great vocals and a lot of good original compositions. Recommended!


<! "I'll Take The Fifth" "Crawlin' Is Easy" >
Various Artists "STEELIN' IT: THE STEEL GUITAR STORY" (Proper, 2008)



A 4-CD box set exploring the wonders of the steel guitar, in country, blues, and Hawaiian music. The discs are arranged more or less inside each of these genres with some well-known songs and artists as well as some rarer cuts. A good overview of a great, old instrument, all at a bargain basement price.
---



Hick Music Index
Shop Amazon, Support Slipcue



---