<! * > <! MP3 10/17/11 > <! pix 00/00/00 > <! archived 10/17/11 * >

---



Howdy, neighbors!

Howdy, folks! Here are some reviews of the new country, bluegrass and Americana records that I had the good fortune to listen to in September, 2010. This page gets updated throughout the month, so check back if you can... Also, check out my full Guide To Hick Music for a bazillion more record reviews and artist profiles.

<! Kenny Chesney "Hemingway's Whiskey" (Sony-Nashville/BNA, 2010) B003TO58YC Sept. 28 Jamey Johnson "The Guitar Song" (Mercury Nashville, 2010) B002J9GITC Sept 14 Randy Rogers Band "Burning The Day" (MCA Nashville, 2010) B003QNK3LE Bill Mack "Play My Boogie" (Jasmine, 2010) Various Artists "Hillbilly Bop, Boogie & The Honky Tonk Blues, v.4: 1956-57" (Jasmine, 2010) > <! Marshall Chapman "Big Lonesome" (xxxxxxxxxxxxxxxxxxxxxx, 2010) October 26 >

This month:
Rodney Atkins "Rodney Atkins" (Crackerbarrel)
Elvin Bishop "Red Dog Speaks" (Delta Groove)
The Carter Family III "Past And Present" (Cash House Records)
Laura Cash "Awake But Dreaming" (Cash House Records)
Chris Cook "Remembering" (Tree O Records)
Charlie Daniels "Land That I Love" (Koch)
Jimmy Donley "The Shape You Left Me In" (Bear Family)
Clint Eastwood "...Sings Cowboy Favorites" (Collector's Choice)
Cornell Hurd "A Bad Year For Love" (Behemoth)
Joey & Rory "Album #2" (Sugar Hill)
Jamey Johnson "The Guitar Song" (Mercury Nashville)
Sammy Kershaw "Better Than I Used To Be" (Big Hit)
Kris Kristofferson "Please Don't Tell Me How The Story Ends" (Light In The Attic)
Jon Langford & Skull Orchard "Old Devils" (Bloodshot)
Gary P. Nunn "Taking Texas To The Country" (Campfire)
Robert Plant "Band Of Joy" (Rounder)
D. B. Rielly "Love Potions And Snake Oil" (Shut Up And Play)
Wayne Walker "How Do You Think I Feel" (El Toro)
The Wrights "Red And Yellow, Blue And Green" (Tour Records)
Various Artists "GET LOW" (Soundtrack) (Rounder)




---
New Stuff: September, 2010
---
Rodney Atkins "Rodney Atkins" (Curb/Crackerbarrel, 2010)


(Produced by Ted Hewitt & Rodney Atkins)
This disc is a reissue of Atkins' 2006 album, If You're Going Through Hell, along with two new tracks, the 2009 single, "Farmer's Daughter," and "More Like Your Memory," which is exclusive to this release. On the opening track, "These Are My People," good ole boy sloganeering is taken to hew heights as the downsizing of the American dream is sold as a positive virtue in need of a singalong anthem. Here, the nostalgia-laced middle-American small town that crowds the Country charts is a graveyard of dreams: when the kids in town grew up, nobody got a good job, nobody moved anywhere, they all got thrown out of college after partying a whole bunch, but now they are as happy as can be with their limited horizons and lowered expectations. Shouting matches at Little League games and pounding back a few cold ones at the local tavern count as life's little blessings or, as the chorus goes, "it ain't pretty, but it's real." Oh, okay -- I get it. So, you're saying that all those elitist snobs who got a college degree aren't "real" Americans, like the C-minus average blue-collar bubbas in this mythical, settle-for-less small town. Gotcha. I dunno; personally I find this a little depressing and also offensive: it's not the Middle America I grew up in, and it's not the American dream I remember. Even with a bad economy and a sour political scene, do we really have to celebrate mediocrity and failure? Whatever happened to having faith in America making us better and lifting us up? I mean, look, I get that this is just another toss-off country hit that's being "dumb" on purpose because someone, somewhere decided that that's what the country audience should be into, but I've been listening to country music for forty years, and I'm getting tired of all these phony-baloney fake-redneck anthems. It's just not culturally authentic, and it's getting old. Really, really old. On the other hand, if you like this kind of stuff, the rest of this album will not disappoint: "Man On A Tractor," "About The South," "Cleaning This Gun"... Pretty much what you'd expect. Sigh.
Elvin Bishop "Red Dog Speaks" (Delta Groove, 2010)



A solid, funky set from roots music elder Elvin Bishop, one of those guys like Delbert McClinton whose work so casually interweaves country and blues that it's kinda silly trying to box him into any one category. Of course, he started out as a blues player, notably with the 1960's Paul Butterfield Blues Band, and he makes his living playing blues festivals and club gigs, but Bishop is no stranger to hillbilly twang or slash-and-burn Southern rock, and the fluidity with which he's combined these styles has been one of his trademarks over the years. Another trademark is the velvety, conversational tone of his guitar, a 1959 Gibson ES-345 named "Red Dog," which is the subject of the album's title track, a bluesy recitation in which Bishop's goofball vocal tones rise out of the aether, an old friend we're glad to hear from. It's great to hear him sounding so vigorous -- Bishop is almost seventy years old -- and so full of good humor, as always. Other album highlights include a thumping cover of Jimmy Cliff's "Many Rivers To Cross," re-imagined as a grinding blues anthem, and the comedic "Clean Livin'," in which Elvin recounts every ailment he's ever had (can't wait to put that in a playlist next to George Jones' "Nothing's Ever Hurt Me (Half As Bad As Losing You)") Nice record, definitely worth checking out!
The Carter Family III "Past And Present" (Cash House Records, 2010)



(Produced by John Carter Cash)
This homage to the Carter Family legacy includes the trio of John Carter Cash (Johnny Cash and June Carter Cash's son) and his wife, Laura Cash, along with Dale Jett, son of the late Janette Carter (daughter of Sara and A.P. Carter, and an ardent advocate of Appalachian music and culture...) They are joined by fabled musical preservationists Nancy and Norman Blake, who have been part of other Carter-related projects in the past... I suppose the band's name implies that this is the third iteration of the Carter Family itself, following the original lineup with A.P., Sara and Maybelle Carter, and the second-generation ensemble that Maybelle led with her daughters and their kin during the 1950s, '60s and '70s. Laying claim to the Carter Family legacy is a big deal -- it's a large, far-flung clan, and apparently there are a few splits between the various branches. This is made plain from the start of this album, with the inclusion of Ron Short's "Mother Maybelle's Guitar," a protest song of sorts that was inspired by a 2004 incident in which an anonymous member of the Carter clan took Maybelle Carter's historic guitar out of the Country Music Hall of Fame and put it up for sale through a Nashville auction house. (The guitar was rescued from private ownership by a hefty donation that placed it, once again, in the museum, but for many the drama came to symbolize the degradation of rural country culture in the face of crass, modern commercialism...) Anyway, this song, which carries a fair amount of implicit intra-family fingerpointing, but is balanced, perhaps self-servingly, by songs such as "In Between" and "Let It Go" that plead for reconciliation and forgiveness, and renewed dedication to traditional culture and the musical and religious beliefs of yesteryear. There are also a lot of gospel tunes on here, mostly stark, gothic ones about the end of life and heaven's call -- but for listeners who like that kind of stuff, this album certainly has a strong, heartfelt feel, and an excellent repertoire. Also of interest is how much John. Jr. is starting to sound like his dad... Naturally, this ensemble can't quite match the intensity or grace of the original Carter Family... but then again, who does? Certainly worth checking out, if you're a Cash/Carter fan.
Laura Cash "Awake But Dreaming" (Cash House Records, 2010)



(Produced by Laura Cash)
The debut album of singer Laura Cash, wife of John Carter Cash, a gal who pays allegiance to old-school country heartsongs and western swing. Backing her are several top-flight studio pickers, including steel legend Lloyd Green, fiddler Bobby Flores, Pig Robbins on piano and Pete Wade on guitar. The songs are classics from the likes of Harlan Howard, Hank Snow, Bob Wills and other hillbilly composers... Cash herself contributes one original tune, a tribute to Appalachian impresario Roy Acuff -- "Song For Roy (Country Music's King)" -- which is one of the album's highlights. Can't say I'm actually that wild about Cash's vocals, but her heart is definitely in the right place, and she knows her hillbilly history -- a very sincere and thoughtful set of traditionalist twang.
Chris Cook "Remembering" (Tree O Records, 2010)



(Produced by Chris Cook & Tim Carter)
A mix of blues and twang, with funky whiteboy vocals on some songs that bring to mind Lowell George and Little Feat, with a bit of bluegrass pickin' thrown in for good measure. I'm not that into contemporary blues, but the twangy elements made for an interesting mix... Some fun songs, too -- I enjoyed "Growing Up," a lighthearted ditty about how we all get old and sometimes turn into our parents... Good indie effort; worth checking out if you enjoy DIY twang.
Charlie Daniels "Land That I Love" (Koch Records, 2010)



And... that land would be America, just in case you were wondering. Not Estonia, or Tanzania, or Mongolia, or Seattle... America, people! Capital "U", capital "S", capital "A."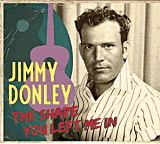 Jimmy Donley "The Shape You Left Me In" (Bear Family, 2010)


Louisiana rockabilly and "swamp pop" with a decidedly rugged, rural edge. Singer-composer Jimmy Donley was apparently a real roughneck, a hard-drinking alcoholic who was prone to getting in bar fights, and who killed himself in 1963. These late-'50s/early-'60s recordings are a nice slice of off-the-radar, old-school rock'n'roll, with a decent dose of twang in there as well... Fans of early Charlie Rich might like this as well...

Clint Eastwood "Rawhide's Clint Eastwood Sings Cowboy Favorites" (Cameo/Collector's Choice, 1963/2010)



Are yuh feeling lucky, punk? Well... are ya? If so, you might take a gamble on this novelty reissue of a full-length album (plus bonus tracks) that young Clint Eastwood recorded in 1963, when he was cast as cowpoke Rowdy Yates, on the TV show Rawhide. The repertoire is mainly old cowboy ballads, though the music is orchestrated pop, in keeping with the times. I wouldn't say Eastwood was the most arresting singer, and the arrangements are pretty placid, but you can hear his personality come out a little bit here and there... A cute old curio.
Cornell Hurd "A Bad Year For Love" (Behemoth, 2010)



A new one from these Texas indiebilly stalwarts... I haven't heard it yet, but judging from their other stuff, it's probably pretty fun! (For more info, check out my Cornell Hurd discography...)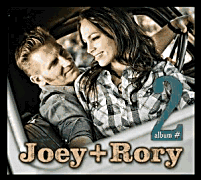 Joey & Rory "Album #2" (Vanguard/Sugar Hill, 2010)



(Produced by Carl Jackson & Keith Stegall)
The husband-wife duo of Joey Martin Feek and Rory Lee Feek became country stars after winning CMT's Can You Duet talent contest, and they really do have a great singing style: Joey sounds a lot like Kelly Willis (one of my faves) while Rory evokes any number of gruff-voiced country old-timers. They show an assured command of several styles of country, particularly sweet, old-style acoustic twang, the sort of roots-based material that was still common i the early '70s, when Porter Wagoner and Dolly Parton were in their heyday. Better still, they have a great sense of humor, as heard on this album's title track, which makes light of the pressures placed on new country artists in a mercilessly fickle marketplace. They sing about their newfound fame in a way that doesn't sound at all narcissistic or obnoxious: rather than sing about vacationing in the islands, or how tough touring is, they joke about how silly the world of image consultants and audience polling can be. They sound like real people -- folks you'd actually like to hang out with at a backyard barbecue -- and not big hat-act headliners pretending to be salt of the earth. This theme is reprised on "Farm To Fame," where they still sound remarkably down-to-earth, and other humorous tunes keep the album humming along, as well as some sweet heartsongs and gospel-oriented numbers that anchor the album in traditional values without seeming preachy or judgmental (the most overtly religious song, "Where Jesus Is," is actually partly a repudiation of the holier-than-thou crowd, kind of a bold stand for a contemporary country act to take... ) So, kudos to this amazing duo, for following their hearts and making such good music with such intelligent, entertaining lyrics. They take full advantage of working with the ever-amazing Carl Jackson, richly traditional but still in touch with the modern scene, acoustic-based but full of punch. This is a really fine record, definitely worth checking out!
Jamey Johnson "The Guitar Song" (Mercury Nashville, 2010)






<! Sept 14 >
Sammy Kershaw "Better Than I Used To Be" (Big Hit, 2010)


Kris Kristofferson "Please Don't Tell Me How The Story Ends -- The Publishing Demos: 1968-72" (Sony/Light In The Attic, 2010)



Legend has it that before he hit the bigtime, Kris Kristofferson was pushing a broom in his day job as a janitor in Nashville, and one day he pushed his demo tape into the right hands, and finally made it big in Music City. Well, here are those demo tapes, more or less -- the rough-sketch, Rosetta stone recordings that opened up all the doors... Fans will definitely want to check this album out!
Jon Langford & Skull Orchard "Old Devils" (Bloodshot, 2010)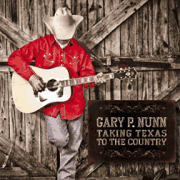 Gary P. Nunn "Taking Texas To The Country" (Campfire, 2010)



One of my favorite Texas indiebilly old-timers, tunesmith Gary P. Nunn is like some dusty old bottle of whiskey or wine that got lost on a cattle drive a hundred years ago and keeps getting better and stronger every year... Take this album, for example: he sounds great. Sharp songwriting, good performances all around and the confidence of several decades singing real country stuff for real country fans. The songs alternate between uptempo tunes and sometimes-creaky slower songs; I prefer the fast numbers, and this album includes several of gems: "A Two-Step Away," the cajun-flavored "Down To Louisiana," "The Likes Of Me," and the honkytonk weeper, "I'm Not That Kind Of Guy." Lots of variety, too, from shuffles and western swing to cajun, Tex-Mex and roadhouse, all played with authority and ease... An exemplary Texas indie set.

Robert Plant "Band Of Joy" (Rounder, 2010)



(Produced by Buddy Miller)
Former Led Zep lead yowler Robert Plant has found a new niche as a neo-roots musician (and a new audience, too, with the success of his recent collaboration with bluegrass doyenne Alison Krauss...) Here he teams up with some leading lights of the Americana scene, notably guitarist-producer Buddy Miller, singer Patty Griffin, and multi-instrumentalist Darrell Scott, and proves himself remarkably energized for being such an old-school dino-coot. Outside of a couple of tunes, the album isn't what I'd think of as particularly twangy or country-based, but Plant clearly makes the most of these talented acoustic musicians... They provide tight backing and musical colorings for a well-produced rock record, with plenty of the old Led Zep feel still in the air... There are those familiar old hypnotic effects -- the layered, intricately interlocking sub-rhythms, the textured, restrained guitars -- and although an older, mellower Plant refrains from the shrieking vocal style of his youth, there's still plenty of weird, inscrutable mysticism in his lyrics. Longtime fans will definitely be into it, though if you're an Americana listener, be aware that this really is more of a rock record than a twangfest...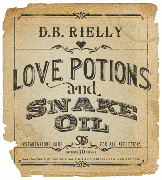 D. B. Rielly "Love Potions And Snake Oil" (Shut Up And Play, 2009)


Nice self-produced indie-Americana -- cajun dance tunes, willowy, wavy love songs, piano ballads and twang, with a healthy hint of indiepop in the rafters... Rielly (a pseudonym? all the songs are credited to someone else...) plays accordion, piano and guitar, and has a pleasantly imperfect, personable voice, sounding emotionally direct and honest. Plus the songs are all really good. This is one of those odd little gem records that float up your way when you least expect it. Definitely worth checking out if you're into real-deal DIY open-mic night Americana. (PS - since this only seems to be available on MP3 through Amazon, try this tune on for size: "I Got A Girlfriend" You can also get the CD directly from his website at www.dbrielly.com )
Wayne Walker "How Do You Think I Feel: The Singer And His Songs" (El Toro, 2010) <! label? >


I'm pretty psyched about this one... it's an album I've dreamt of making myself for a couple of decades now... Wayne Walker is sort of a cult-favorite songwriter from the 1950s and '60s; I first came across his work while pouring over all the old Webb Pierce albums... Walker was one of Pierce's favorite songwriters, and it's easy to see why since a lot of his work had a special little rock'n'roll bounce to it that set it apart from the shuffles, waltzes and weepers that everyone else was recording at the time. His songs were popular with other artists as well, and once you see his name on a record label, you know, more often than not that you'll be in for a treat. Walker recorded some songs himself, but they were mainly one-off singles spread out over a bunch of labels and a number of years; a retrospective of his work is long overdue. So, yahoo for this generously programmed album which includes a bunch of Walker's own singles as well as various artists recording a bunch of mostly-obscure oldies. Of course, as with any collection of this type, there are gonna be lots of woulda-coulda-shoulda songs that didn't make the cut, and other personal favorites that won't be included. Still, this is a nice set, rescuing the work of a little-known yet influential country songwriter... And, hey, if anyone wants to put out Volume Two, I'll snap that one up as well.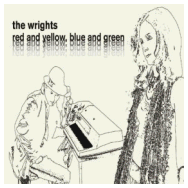 The Wrights "Red And Yellow, Blue And Green" (Tour Records, 2010) <! label? >


The husband and wife duo of Adam and Shannon Wright have gone full-bore indie on this new album, which they've released on their own, and which featured more of a rock vibe than their earlier releases. Sure, there's some twang, and more of their Everly-esque harmonies, but they're also indulging in some moody, noodly indie-rock ambiance, singing alongside a vintage-sounding keyboard with an exploratory vibe that may baffle a few fans who know them better from their Nashville and nearly-Nashville country work. It's kinda cool, but definitely a different direction, although their roots are still showing here as well. If you loved their earlier work, you'll wanna check this out as well.


<! 08/10: no CD version? rock-oriented >

Various Artists "GET LOW" (Soundtrack) (Rounder, 2010)



(Produced by T Bone Burnett)
An interesting mix of modern Rounder-related bluegrassy recordings (by Alison Krauss, The Steeldrivers, Jerry Douglas, et. al.), a new film score, and Depression/WWII-era oldies from Gene Austin, Bix Beiderbecke, The Inkspots, and Paul Whiteman... I'm not sure how well it all really hangs together, but any record that has Gene Austin's version of "My Blue Heaven" is alright by me. Looking forward to seeing the film.
---



Hick Music Index
Shop Amazon, Support Slipcue



---