<! * > <! MP3 00/00/00 > <! pix 00/00/00 > <! archived 10/12/11 > <! April 2011: >

---
Howdy, neighbors!
Howdy, folks! Here are some reviews of the new country, bluegrass and Americana records that I had the good fortune to listen to in April, 2011. This page gets updated throughout the month, so check back if you can... Also, check out my full Guide To Hick Music for a bazillion more record reviews and artist profiles.
This month:
Mr. Isaac Allen "Don't Smoke" (Horizon Music)
Bob Dylan "Brandeis University, 1963" (Columbia Legacy)
Steve Earle "I'll Never Get Out Of This World Alive" (New West)
Flying Burrito Brothers "Authorized Bootleg" (Hip-O Select)
The Judds "I Will Stand By You: The Essential Collection" (Curb)
Alison Krauss "Paper Airplane" (Rounder)
Steve Martin & The Steep Canyon Rangers "Rare Bird Alert" (Rounder)
Melba Montgomery "Things That Keep You Going" (RPM)
Heather Myles "In The Wind" (Ah-Ha Music)
The Roys "Lonesome Whistle" (Rural Rhythm)
Ralph Stanley "A Mother's Prayer" (Rebel)
Teddy Thompson "Bella" (Verve Forecast)
Brian Wright "House On Fire" (Sugar Hill)
Various Artists "ROCK AND ROLL -- COUNTRY STYLE" (Collector Records)
Various Artists "SOUTHERN FILIBUSTER: A TRIBUTE TO TUT TAYLOR" (E1)

---
New Stuff: April, 2011
---

Mr. Isaac Allen "Don't Smoke" (Horizon Music, 2010)


(Recorded by Vic Stephens & Matt Oestreicher)
Eclectic, soulful modern blues from pianist-singer Isaac Allen, who has a gritty, gruff-voiced, world-weary approach that brings to mind old Tom Waits, with a dash of Dire Straits and Muddy Waters in there as well. The music is multi-textured and dense, but slinky and sly as well... Gives fans a lot to chew on; it'll certainly be interesting to see where this twenty-something auteur will go from here.
Bob Dylan "In Concert: Brandeis University, 1963" (Columbia-Legacy, 2011)



(Recorded by Mark Wilder)
These recently unearthed live recordings capture Dylan in May, 1963 nearing the peak of his pre-electric folk-icon fame -- caustic, earnest, politically engaged, and staring down the barrel of what the 'Sixties would become. The shadow of the Cuban Missile Crisis looms large, in songs such as "Masters Of War" and "Talking World War III Blues," but an innocence prevails -- a ripple runs through the crowd when Dylan introduces his satiric broadside, "Talkin' John Birch Paranoid Blues": the confrontationalism of the decade's second half had yet to take root. Dylanologists and students of the era will appreciate this modest, 38-minute long set, particularly for the ambience it captures, of the flow of energy between Dylan and his audience. Cool stuff!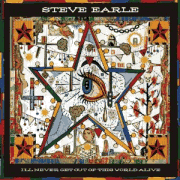 Steve Earle "I'll Never Get Out Of This World Alive" (New West, 2011)



(Produced by T Bone Burnett)
Well, it looks as if Steve Earle done got himself some religion, which, for his more secular-minded fans might ring a few alarm bells, but not to worry... Earle's spirituality is prickly and multifaceted, uncompromising, iconoclastic and searching, as heard in this album's centerpiece, "God Is God," in which he sets out his personal view of the divine which is --as far as I can tell -- that "God" exists, but is unknowable and definitely not a human-directed power. It's a great song -- a quiet, acoustic, substantive, honest inquisition into Earle's own beliefs. Spirituality pervades other songs on the album as well, and it seems that Earle is perhaps making his peace with the world, if not with those figures of hypocrisy and bigotry that are still in his sights: George W. still gets a shout-out ("Little Emperor") and the Gulf oil spill is transformed into a Celtic-flavored work ballad worthy of Great Big Sea or Ewan Maccoll. (Indeed, in addition to getting in touch with his spiritual roots, Earle has tapped pretty deep into the wellspring of British/Celtic folk, with some great results...) The collaboration with T Bone Burnett is delicious... Each song has a distinctive, ear-catching quality, with unusual textures and densities, spanning delicate folk plucking and gritty roots rock. There's only one track on here that I don't like, the grungy, overly Waits-ian "Meet Me In The Alleyway," which bears far too close a resemblance to the theme song from The Wire -- other than that, though, this is a practically perfect record, possibly my favorite Steve Earle record, other than his recent tribute to Townes Van Zandt. You'll definitely want to check this one out.


<! April 26, 2011 > <! deluxe edition with DVD: B004N5DHGM > <! no MP3 listing yet >
The Flying Burrito Brothers "Authorized Bootleg: Fillmore East Late Show" (Hip-O Select, 2011)



Bereft of frontman Gram Parsons and pedal steel player Sneaky Pete, this late-1970 edition of the Burrito featured country-rockers Bernie Leadon and Rick Roberts (later members of Eagles and Firefall) with founding member Chris Hillman on bass, playing live at New York's fabled Fillmore East. A nice slice of country-rock's formative years... worth checking out if you're a fan of the band, or a fan of the style.


<! November 7, 1970 Michael Clarke on drums >

The Judds "I Will Stand By You: The Essential Collection" (Curb, 2011)



(Produced by Brent Maher & Don Potter)
On tour again, Naomi and Wynonna Judd offer fans a revamped best-of set with a dozen old hits and two new tunes. The uptempo, anthemic "I Will Stand By You" is a forceful, assertive number, while "Back Home" (featuring sweet, Emmylou-ish harmonies from Alison Krauss) is a gentler, more contemplative tune. Co-written by Bruce Robison and Darrell Scott, it mixes religion and romance, with a delicate, mandolin-and-piano melody that somehow evokes one of Johnny Cash's spiritual numbers. These are nice additions to the Judds canon, and if you don't already have a greatest hits package of theirs, this would be a fine way to fill the gap.

Alison Krauss & Union Station "Paper Airplane" (Rounder, 2011)



(Produced by AKUS & Mike Shipley)
After sojourning into rock-pop territory on her last couple of records, Alison Krauss returns to the fold with a solid, standard-issue AKUS album, with grass-tinged folk songs galore, and a particular tilt towards songs of doomed romance and mournful loss. Her voice is still gorgeous and crystalline, and while some of us might wish there were more down-home twang, it must be said that the gal really can sing a song home, no matter what style she's in. There's a notable Brit/Celt undercurrent, and one of the album's highlights is a doleful version of Richard Thompson's "Dimming Of The Day," along with "Lie Awake" and several other aching, down-tempo ballads. This being a Union Station album, she shares the stage with her buds and I have to say, this time around the contrast is fairly jarring. I believe it's Dan Tyminski singing lead on the working-man anthem, "Dust Bowl Children" and "On The Outside Looking In," an ultra-bitter bluegrass tune sung from the perspective of an angry jilted lover. Krauss is so deep in her contemplative zone, the two style really don't mix well (although, as always, the band shows its breadth...) and listeners may find themselves zeroing in on her songs this time around. Still, these folks are a class act -- fans of their earlier albums will be quite pleased this time around, too.


<! April 12 >
Steve Martin & The Steep Canyon Rangers "Rare Bird Alert" (Rounder, 2011)



(Produced by Tony Trischka)
A delightful album, with multimedia mastermind Steve Martin and the up-and-coming Steep Canyon Rangers band deepening their relationship, and perfecting a stage act not unlike that of Hot Rize, or even some of the more winsome folk/old-timey bands of the '60s. Most of the songs are novelty numbers, and Martin hits the mark every time -- none of the shallow, mean-spirited irony of modern times, just some good, old-fashioned funny stuff - he knows how to edit down, and there's not a wasted note on this album. There are also several inventive, whimsical instrumentals, including the lively title track and "Hide Behind A Rock." Of course, you'd think that Steve Martin, being Mr. Show-Biz, could round up some top talent for his guest stars, but instead we get near-unknowns such as The Dixie Chicks and Paul McCartney... Oh, well. Paul sings a sweet love song, "Best Love," while the Chicks harmonize on another heartfelt number, "You." The Steep Canyon boys have been favorites of mine for years, and this record is a real peak for them: one of the best collaborative efforts on here is the comedy number, "Atheists Don't Have No Songs," with lyrics by Martin and flawless bluegrass-gospel harmony arrangement from the band. Other highlights include "Go Away, Stop, Turn Around, Come Back" and its sister song, the breakup breakdown "Jubilation Day." Martin's last bluegrass record was a gas; this one's even better. Highly recommended!
Melba Montgomery "Things That Keep You Going" (RPM, 2010)


A solid set of new songs from hard-country heroine Melba Montgomery. In this age of endless reissues, I am continually amazed that Montgomery's classic work remains out of print, but it sure is nice to hear her back in action (even if I can't find this new album out on CD...) She is one of the strongest songwriters I know, and has steadily kept penning winners, decades after her 1960s-'70s heyday as a country music star. I'm not sure exactly when these sessions were made, but these days Montgomery is well into her seventies, so it's not too surprising that she's got an old granny voice. But she also has the huskiness and forceful personality she had when she was young, and brings a worldly savviness to her lyrics. Plus, the songs are all first rate: fans who've seen her name pop up from time to time -- on songwriting credits with old Sara Evans hits and collaborations with Jim Lauderdale -- will be thrilled by this big batch of new songs, with Montgomery herself singing with a soulful, acoustic-based accompaniment. I'm still waiting for that big, definitive Bear Family box set, but in the meantime I'll proudly file these MP3s alongside my old, cherished vinyl.

Heather Myles "In The Wind" (Ah-Ha Music, 2010)



(Produced by Taras Prodaniuk & Heather Myles)
The spirit of West Coast country -- the classic kind from Buck Owens, Wynn Stewart and Merle Haggard -- is alive in the music of Heather Myles, a California native who really knows how to rip into a honky tonk tune. This excellent album features several stunning originals -- breakup tunes like "Smokin', Drinkin', Dancin' Again," "Broke And Broken Hearted," and "When Did You Stop Loving Me," and the poppier "Pretty Poison," as well as "Don't Call Me," a sweet duet with Willie Nelson. Myles also includes a trio of cover tunes -- "Walk On By," "Right Or Wrong" and "Vaya Con Dios" -- which are less exciting but show her range. The musicianship is top-notch (a bunch of Dwight Yoakam's pals are on board for these sessions) and her voice is as powerful and full of sly wit and good humor as ever, a robust, earthy, tawny pure-country roar... I found myself thinking throughout how much fun it would be to hear her do an album of duets with Dale Watson, a kindred spirit who has an equally strong grasp of hard-country tradition. In the meantime, this disc is a doozy, highly recommended for honkytonk fans!

The Roys "Lonesome Whistle" (Rural Rhythm, 2011)



(Produced by The Roys & Andy Leftwich)
A sweet, resolutely weepy set from the brother-sister duo of Elaine and Lee Roy, with fine bluegrass-y picking and unrepentant sentimentalism worthy of Porter Wagoner and Randy Travis. There's a strong vocal and stylistic similarity between Lee Roy and Ricky Skaggs -- making it entirely appropriate for Mr. Skaggs and The Whites to contribute vocals to the glowing religious song, "That's What Makes It Love," one of several spiritual numbers on here that should appeal to the Southern Gospel and Christian country crowd. There are also songs about coal miners, fallen soldiers, saintly mothers and small town virtues... All in all, it's a solid record which should appeal to fans of Rory & Joey or other rootsy neotraditionalists... Not too gooey, but certainly wearing their hearts on their sleeves; recommended if you go for earnest, sentimental, harmony-rich country roots.
Ralph Stanley "A Mother's Prayer" (Rebel, 2011)



(Produced by Ralph Stanley II)
Year after year, decade after decade, Dr. Ralph Stanley records some of the finest gospel songs in the bluegrass canon... and with continually surprising strength for a man of his years. This album opens with bandmember John Rigsby singing lead on the title track... I thought, uh-oh, he's just going to hand the reins to the young'uns on this one, but the rest of the record features Stanley himself, sounding heartfelt and robust, bringing hymns and prayers to life in a way that no one else can. As on many of Stanley's later recordings, the band holds back and underplays so they don't overshadow the star. But you'll hardly mind: these gospel records aren't about flash and fire, they're about sorrow, souls and joy, and this disc ranks right up there with some of Stanley's finest work in the genre. Recommended.


<! April 19 > <! opening track features lead vocals from John Rigsby >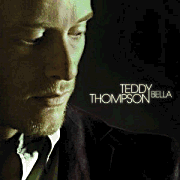 Teddy Thompson "Bella" (Verve Forecast, 2011)



(Produced by David Kahne)
The genre-hopping Mr. Thompson has found a comfortable berth in the fuzzy confines of the "Americana" genre, though he's really more of a rock-pop auteur, in the tradition of wordsmiths such as John Haitt, Graham Parker and Elvis Costello. Accordingly, this album is packed with unexpected turns of phrase, a keenly self-lacerating wit, and one irresistible pop hook after another. You'll find yourself unsettled by how catchy this record can be: the lyrics are so dark, but the melody's so sweet. In general, Thompson lays waste to the vanity and self-centeredness of clever young men, as heard on the blistering opening salvo of "Looking For A Girl," a song that mimics the earnest, youthful lust of classic rock and power-pop, then attacks the callowness and cruelty of how these emotions can play out in real life... The singer sees himself as a real catch, a swell guy with a short and not unreasonable list of what he wants in his dream girl, while we quickly come to realize what a drag he'd be as a boyfriend. This dark streak continues through to several songs with similar themes -- "Take Care Of Yourself," "The One I Can't Have," the devastating "Take Me Back Again" and the forlorn, pathetic "Take Me Back Again." After a while, you might start feeling pretty uncomfortable -- hopefully these songs aren't too autobiographical, because even with his keen observations and obvious self-awareness, this is a pretty lonely picture that Thompson has painted. Of course, when all hope is gone, there's always Mom, a theme explored on the sweet, claustrophobic ballad, "Home," an uncomfortable family portrait on a par with Loudon Wainwright III. This is a delightfully intelligent, densely packed, catchy and compelling album... Definitely recommended!
Brian Wright "House On Fire" (Sugar Hill, 2011)



(Produced by Mike Vizcarra & Brian Wright)
More rock than twang, but with definite country and bluegrass components... And it's weirdo rock, for sure, with similarities to oddball artists such as Danny Barnes and the Bad Livers or Kev Russell and the Gourds, Beck, Devendra Banhart and various lo-fi types, as well as traces of Neil Young, Dylan and the Beatles, and various long-forgotten '70s freak-folk obscuros. None of the many musicians on here are familiar to me, which has an appeal in and of itself... This isn't a record I could really kick back and relax to, but it is consistently engaging and worth checking out if you're looking for something new and new-sounding.


<! March 29 >
Various Artists "ROCK AND ROLL -- COUNTRY STYLE" (Collector Records, 2010)


A rock-solid, super-zingy obscuro-billy set with kooky stuff from the 1950s (...and '60s?) by a host of artists that nobody has ever heard of... I love this kind of stuff, and this particular album is a real standout. There are only a smattering of artists I knew of beforehand... Rose Maddox, Autry Inman, Jess Willard, Boots Faye... and the rest are all glorious nobodies, lively also-rans from the indie era of the early rock'n'roll era. The album title is misleading, since there's very little on here that could be characterized as "rock" music, but there sure is a lot of energy and a bunch of delightfully nutty, unusual songs. Another coup for the Boppin' Hillbilly series... definitely worth picking up!

Various Artists "SOUTHERN FILIBUSTER: A TRIBUTE TO TUT TAYLOR" (E1 Entertainment, 2010)



In the decade or so before Jerry Douglas hit the scene, twangster Tut Taylor was perhaps the preeminent dobro player on the bluegrass and Nashville studio scenes... This is a delicious tribute to his legacy: Jerry Douglas opens the album with "Southern Filibuster," a giddy old-school newgrass track that takes us back to the freshness and inventive spirit of the late-1960s and early '70s, followed by high-caliber performances from a host of resophonic guitar masters. Mike Auldridge, Cindy Cashdollar, Andy Hall, Rob Ickes, Randy Kohrs and Phil Leadbetter are among the soloists, all of whom play beautifully and with real soul. I was going to call out some favorite tracks (Orville Johnson on "Ghost Picker," for starters...) but the whole record is so good, there's really no point. You like the dobro? You'll love this record.
---



Hick Music Index
Shop Amazon, Support Slipcue


---