<! * > <! MP3 08/30/12 - locked > <! pix 08/30/12 > <! archived 03/25/13 >

---
Howdy, neighbors!
Howdy, folks! Here are some reviews of the new country, bluegrass and Americana records that I had the good fortune to listen to in July, 2012. This page gets updated throughout the month, so check back if you can... Also, check out my full Guide To Hick Music for a bazillion more record reviews and artist profiles.
New Stuff: July, 2012
Chris Cagle "Back In The Saddle" (Bigger Picture)
Kenny Chesney "Welcome To The Fishbowl" (Columbia)
Joey & Rory "His And Hers" (Sugar Hill)
Lonesome River Band "Chronology, Volume Two" (Rural Rhythm)
Kip Moore "Up All Night" (MCA Nashville)
Old Crow Medicine Show "Carry Me Back" (ATO)
Wade Ray "Idaho Red" (Bear Family)
Rhonda Vincent "Sunday Mornin' Singin' " (Upper Management)
Sara Watkins "Sun Midnight Sun" (ATO)
Don Williams "And So It Goes" (Sugar Hill)
Hank Williams, Jr. "Old School New Rules" (Warner/Bocephus)
Keller Williams & The Traveling McCourys "Pick" (KW)
Neil Young "Americana" (Reprise)
Various Artists "LIFE GOES ON" (Rural Rhythm)
---
New Stuff: July, 2012
---
Chris Cagle "Back In The Saddle" (Warner/Bigger Picture, 2012)



(Produced by Keith Stegall)
Top 40 star Chris Cagle is back with a robust set of mainstream material. I find it a little ironic that a twang-themed song like "Got My Country On" is so dominated by rock guitars, but, hey, that's modern-day Nashville. I gotta get over it. The whole mythic small-town country nostalgia gets an interesting twist with "I Grow My Own," which starts out as a testimony to home gardening, but then transforms into an overwrought survivalist/tea party/home schooling/NRA anthem. Cagle balances it out with romantic material, though the album as a whole has a pretty macho feel... Is anyone else getting a little tired of Nashville's current Southern rock fad? I dunno... I wouldn't mind hearing a few more fiddles and steel guitars, but maybe I just gotta get over it.
Kenny Chesney "Welcome To The Fishbowl" (Columbia, 2012)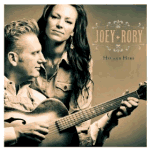 Joey & Rory "His And Hers" (Sugar Hill, 2012)



(Produced by Gary Paczosa)
On their fourth album (counting last year's delightful Christmas record) the down-home, husband-wife duo of Joey Martin Feek and Rory Lee Feek follow a familiar path for rootsy traditionalists who make it into the country mainstream -- they go more mainstream and try and follow current trends so they can keep their feet in the door before it slams shut. It happens all the time, and I can't say I blame them, especially considering how fickle and short-attention-span modern-day Nashville has become. Besides, compared to others who have gone down this road -- Sara Evans, George Strait, Martina McBride, etc. -- Joey + Rory are doing a pretty good job of keeping it real. The songs are a little more formulaic and gimmicky, but the music still has its acoustic roots, the musicianship is top-notch, and their appealing, unpretentious personalities still remind me of all those great old Dolly Parton records. And that's pretty high praise. Definitely worth a spin!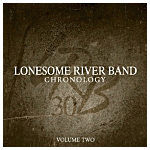 Lonesome River Band "Chronology, Volume Two" (Rural Rhythm, 2012)



(Produced by The Lonesome River Band)
Celebrating their thirtieth anniversary, bluegrass music's Lonesome River Band has rerecorded a bunch of their classic songs, with a new lineup that features singer-guitarist Brandon Rickman and banjo whiz Sammy Shelor (although no original members have been in the group for several years...) As with the first volume, this is a sharp set of traditionally-oriented old-style bluegrass, with plenty of sweet harmonies and nice, strong picking. Not quite the "best of" collection the album title implies, but good stuff nonetheless.
Kip Moore "Up All Night" (MCA Nashville, 2012)



I guess this guy's in the Nashville orbit, but he sounds like more of a roots-rocker, kind of in a John Mellencamp/John Haitt kind of mode. Certainly mellower and more circumspect than a lot of contemporary country stuff... Lots of shimmery, echoing guitars and mid-tempo ballads, that kind of thing. If you like country Top 40 but would like a little change of pace, this could be a good option. So far Moore's had modest success as a solo star ("Somethin' 'Bout a Truck," off this album went to #1) and as a songwriter (Thompson Square covered two of his songs on their debut) but I'm guessing the future looks good for this guy... Time will tell!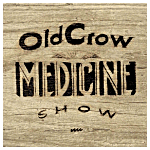 Old Crow Medicine Show "Carry Me Back" (ATO, 2012)



(Produced by Ted Hutt)
Another great set from these retrodelic champions of the old-timey sound, with lots of fun, fast-paced, foot-stompers, as well as some slow tunes and novelty numbers... There's a strong dose of jug band blues as well, with risque lyrics that are reminiscent of the classics in the genre, stuff that would make Gus Cannon proud. Indeed, there are a lot of songs on here that are original compositions by various band members but sound like oldies from yesteryear; one of the most striking examples here is the album's contemplative closing number, Ketch Secor's "Ways Of Man," which I could swear I once heard Waylon Jennings or Michael Murphey sing sometime back in the '70s. Fun stuff -- recommended!
Wade Ray "Idaho Red" (Gonna Shake This Shack Tonight series) (Bear Family, 2012)


A sizzling selection of hard-country hillbilly oldies from fiddler Wade Ray, who is perhaps best remembered as a session player, but who also worked as a solo artist, recording a fair number of western swing and honkytonk singles back in the late 1940s and '50s, and is also remembered for his work with Willie Nelson, who he met when they were working on the Opry together, back in the early 1960s. This is a great collection of hard-to-find material -- expect Bear Family's usual great sound quality and archival goodies (great liner notes and discographical info) as well as plenty of good, old-fashioned twang.


<! d. 1998 >
Rhonda Vincent "Sunday Mornin' Singin' " (Upper Management, 2012)


Sara Watkins "Sun Midnight Sun" (ATO, 2012)



(Produced by Blake Mills)
The second solo album by fiddler Sara Watkins, formerly of the band Nickel Creek... This shows Watkins going much further into pop and pop-folk experimentalism, much of it which I find, frankly, a bit dreadful or dreary. But I'm a grumpy old stick-in-the-mud, so take what I say with a grain of salt. Some tracks I like -- the simpler ones, generally -- but the songs with big, grand, ambitious arrangements leave me cold. This is a brief album, with several high-power guest performers such as Fiona Apple and Jackson Browne and will doubtless pique the interest of her longtime fans... But I'm too much of a rootsy traditionalist, I guess. I won't begrudge Watkins or her fans for their explorations into further lands, but I'll still be cuddled up with my old Stanley Brothers albums instead...
Don Williams "And So It Goes" (Sugar Hill, 2011)



(Produced by Garth Fundis & Don Williams)
Great stuff. It's true: Don Williams is just a force of nature, plain and simple. This elegantly produced album has more soulfulness to it than pretty much the entire country Top Forty of the 21st Century thus far, and at age 73, the mellow, velvet-voiced Mr. Williams shows no sign of slowing down. This is his first album in about eight years, and it's a gem, with his voice as strong and expressive as ever, and a wealth of good material. Williams opens with "Better Than Today," an optimistic, singalong ballad where a humble everyman prays for each day to go well (it's a companion piece to the similarly-themed "Lord, I Hope This Day Is Good") and puts a good face on life's little ups and downs. For years, Williams has ben a master of the kind of sentimental blue-collar mythologizing that's run rampant in country music, the big difference being that when Williams sings these songs, they feel real and sincere and not like a political bumpersticker that's been slapped onto a pop album. His characters feel real, their voices are recognizable, the songs ring true. Another highlight is his duet with Alison Krauss, "I Just Come Here for the Music," a classic country set-up with two lonely people meeting at a bar... they harmonize nicely. Producer Garth Fundis brings a big sound to this album, but it fits nicely. For example, "What If It Worked Like That" is a nice uptempo number with a George Strait-ish feel that brings the normally-folkie Williams a little closer to mainstream country-pop; a couple of tunes you could leave off of your playlist, but mostly this is an album that fans will adore. I've always like Don Williams, and thought this was a great record.
Hank Williams, Jr. "Old School New Rules" (Warner/Bocephus, 2012)



Hank's boy Bocephus is back to his same old tricks -- patriotic chest-thumping, pointless liberal bashing, reminding us who his dad was, celebrating mythical booze binges, etc. Nothing new, but he's still got that unique Hank Jr. charisma. Brad Paisley sings a duet (on the Hank, Sr. tribute, "I'm Gonna Get Drunk And Play Hank Williams") while H2's fellow country curmudgeon Merle Haggard drops by for a version of "I Think I'll Just Stay Here And Drink." Those are album highlights; tunes like "The Cow Turd Blues," a little less so.
Keller Williams & The Traveling McCourys "Pick" (KW/Sci-Fidelity, 2012)



Quirky, clever folkie singer-songwriter stuff, with bluegrassy backing by the Traveling McCourys, sort of like Greg Brown with more fancy picking... Williams is a little too self-consciously clever for me, but fans of Sam Bush or Tim O'Brien might like this a lot...
Neil Young "Americana" (Reprise, 2012)



Country-grunge rocker Neil Young revisits classic folk songs such as Stephen Foster's "Oh Suzannah," "Wayfaring Stranger," Woody Guthrie's "This Land Is Your Land," the UK anthem, "God Save The Queen," some gospel material and such, all given a crunchy chord-twisting by Neil and his buddies in Crazy Horse. Some of this is fun, the idea is neat, the execution challenges our expectations of what these songs should sound like, but truth be told, it's not all that great. I could take this in small doses, though I doubt I'll be returning to this record the way I do After The Gold Rush or Harvest... Still, I'm sure Neil Young is long past caring whether people want to keep comparing him to the Neil Young of yesteryear; also included are several video clips of the Crazy Horse crew jamming on these classic old songs, which is also kind of neat.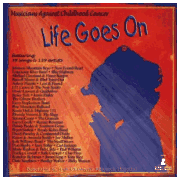 Various Artists "LIFE GOES ON: MUSICIANS AGAINST CHILDHOOD CANCER" (Rural Rhythm, 2012)



An amazingly good bluegrass benefit album features a dazzling lineup of top talent from today's truegrass scene, tilting firmly towards the traditional end of the spectrum. Great fiddling, picking and high harmony singing from folks such as Blue Highway, The Grascals, The Johnson Mountain Boys, Doyle Lawson, JD Crowe, Rhonda Vincent, Sierra Hull, Paul Williams, Tony Rice, Bradley Walker and many, many more. A strong mix of secular and gospel material, and all of it as twangy and acoustic as you could want. All the profits from this collection are donated to the St. Jude Children's Research Hospital, a worthy cause if ever there was one. Recommended!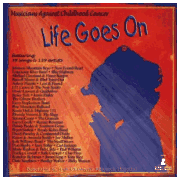 Various Artists "MEET THE PEARLS" (Bear Family, 2012)


A sampler of Bear Family's fab "Juke Box Pearls" series, which focusses on female country artists... Several of these gals have been the subject of earlier Bear Family reissues, like Charline Arthur, Anita Carter, the Davis Sisters, Rose Maddox and Janis Martin, while others are just now getting their day in the spotlight, such as Myrna Lorrie, Laura Lee Perkins and Mimi Roman. I'm psyched to see Margie Singleton on here as well, although so far no solo CD for her work yet. And still no Melba Montgomery collection? Come on, Bear Family: I'm counting on you! The world needs more Melba!
---



Hick Music Index
Shop Amazon, Support Slipcue


---