<! * > <! MP3 00/00/00 > <! pix 00/00/00 > <! archived 03/19/13 > <! Wade Bowen "The Given" (BNA, 2012) B007SBHKMU B0083WNJW8 duet with Guy Clark Tim Cooper "On The Road To Nashville" (Tate Music Group, 2012) B007SQBDAA - MP3 Loafers' Glory "Loafers' Glory" (Arhoolie, 2012) McCamy's Melody Sheiks "There's More Pretty Girls Than One" (Arhoolie) fiddler Ian McCamy and cartoonist/singer R. Crumb Jeff Smithart "Redneck Proud" (Private Stock Records, 2011) B004S5LFVQ - MP3 >

---
Howdy, neighbors!
Howdy, folks! Here are some reviews of the new country, bluegrass and Americana records that I had the good fortune to listen to in September, 2012. This page gets updated throughout the month, so check back if you can... Also, check out my full Guide To Hick Music for a bazillion more record reviews and artist profiles.
New Stuff: September, 2012
Ryan Bingham "Tomorrowland" (Axster Bingham Records)
Kix Brooks "New To This Town" (Sony Nashville-Arista)
Caroline Herring "Camilla" (Signature Sounds)
Catherine Irwin "Little Heater" (Thrill Jockey)
Little Big Town "Tornado" (Capitol)
Myrna Lorrie "Hello Baby" (Bear Family)
Dustin Lynch "Dustin Lynch" (Broken Bow)
Janis Martin "The Blanco Sessions" (Cow Island Music)
Kathy Mattea "Calling Me Home" (Sugar Hill)
Bobby Osborne "New Bluegrass & Old Heartaches" (Rural Rhythm)
Luke Simmons "Pure Down Home Raw 1950s Country" (Jasmine)
Dwight Yoakam "Three Pears" (Warner Brothers)

---
New Stuff: September, 2012
---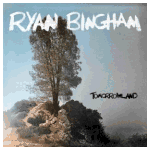 Ryan Bingham "Tomorrowland" (Axster/Bingham Records, 2012)



Another album of rough-and-tumble, grungy, bluesy rock from Ryan Bingham, who seems to have mostly left the country twang out of this album in favor of a more rough-edged Southern-rock/jamband feel... Oh, well. I'm not much of a concert-goer or speaker-cranker these days, so the thumping beats and crunchy chords don't do as much for me as slide guitar and a little bit of subtlety. I'm sure most of Bingham's peeps will dig this disc, though it's not really my kind of "Americana."
Kix Brooks "New To This Town" (Sony Nashville-Arista, 2012)



(Produced by Kix Brooks & Jay DeMarcus)
Solid country-pop from one half of the Brooks-Dunn duo... I think Kix sounds better with Ronnie Dunn harmonizing and adding his energy to the mix, but this album is way more exciting that his first solo set, from several years back. Nice mellow arrangements, with traditional instruments like the fiddle, pedal steel and mandolin mixed up in the front and surprisingly well balanced with the more aggressive synths, electric guitars and other formulaic pop touches. The more subtle stuff is best; I can skip the parts where he tries to sound all macho and gruff, like on the Southern rocky "Next To That Woman" or "My Baby," which sounds like a Big & Rich outtake. Overall, I think fans'll be happy with this one, and the folks on radio ought to find some hits to spin as well. A well-produced, confident album from an old pro and proven hitmaker.
Caroline Herring "Camilla" (Signature Sounds, 2012)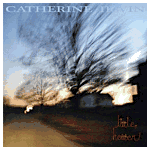 Catherine Irwin "Little Heater" (Thrill Jockey, 2012)



Another weird, unruly, mesmerizing album from Catherine Irwin, co-founder of the legendary Ameri-twang-cana band, Freakwater. Like their old stuff, this isn't for everyone. Irwin's voice is as unconventional as her lyrics, with debts to Appalachian heroines such as Hazel Dickens and Jean Ritchie, with an urban hipster twist. Generally speaking, I have no idea what any of her songs are about, but they are curious and captivating nonetheless. Longtime fans will want to check this one out, for sure.
Little Big Town "Tornado" (Capitol, 2012)



(Produced by Jay Joyce)
These guys are so totally a country Fleetwood Mac. Hence the popularity. And the Stevie Nicks-ish slow songs. And the purty harmonies. Hey, it worked in '76... why not now?
Myrna Lorrie "Hello Baby" (Juke Box Pearls series) (Bear Family, 2012)


A profile of Canadian country singer Myrna Lorrie, who had a Top Ten hit in America with "You Are Mine," which she recorded in 1955 when she was only fourteen. Lorrie went to Nashville and toured the US with several major country stars, but when more hits failed to come, she retreated from the limelight, retiring for several years until she reemerged as a TV host in the 1960s, becoming a fixture in the Canadian country scene for several decades. This excellent collection concentrates on her early work, much of it teen-oriented and full of vigor; this reissue has great sound quality as well as Bear Family's trademark attention to archival detail. Cool beans!


<! Canadian Country star. Mentored by greats like Hank Snow and Cowboy Copas who saw her talent, she was signed by the man who discovered Loretta Lynn, and made her first recordings for Abbott, where Jim Reeves and the Browns started, and like them she too departed for RCA. After RCA sessions in New York and Nashville produced some great music. but no breakthrough, she returned to Canada. A television star in Canada for years, Myrna Lorrie helped new singers just as she'd been helped. Among them was Shania Twain. Myrna Lorrie "Myrna Lorrie" (Harmony Records) Myrna Lorrie "Child To Woman" (Musicor Records) Myrna Lorrie "It's Countrytime" (MCA Records) Myrna Lorrie "Blue Blue Me" (Sibley Records, 1989) >
Dustin Lynch "Dustin Lynch" (Broken Bow, 2012)



(Produced by Brett Beavers & Luke Wooten)
Lively, good-natured Top 40 dude-country, this alternates between yearning romantic ballads and a couple of sledgehammer macho tunes like the album's mechanically-inclined opener, "She Cranks My Tractor." A Nashville newcomer, Lynch has a good, solid voice which he uses best on the more rugged, manly numbers. One exception: the closing number, a subtle acoustic gospel ballad, "Your Plan," is a gentle gem that shows another layer of depth that you wouldn't expect from the rest of the record... I'd be interested to hear more quiet stuff from Lynch... The album's production is very modern and sleek, with the echo-y rock-pop guitars that Toby Keith brought into the country mainstream -- on some songs the pop production goes a little too far for me (the too-cute backup vocals on "Last Lap" and "Dancing In The Headlights," for example) but essentially this is a pretty solid, radio-friendly modern Nashville set. Seems to me that this guy should do quite well in years to come.
Janis Martin "The Blanco Sessions" (Cow Island Music, 2012)



(Produced by Rosie Flores & Bobby Trimble)
Let's hear it for social media: A Kickstarter campaign brought this album to fruition, a sizzling set of bluesy rockabilly from 'Fifties firebrand Janis Martin, one of the wildest rockabilly singers of the original rock'n'roll era, who passed away in 2007, just months after completing these sessions. She was an old lady then, but also a total badass who threw herself into the songs, and infused them with vigor and soul. Backing her were several stalwarts of the Americana-indie scene, including guitarist Dave Biller (ripping it up on classic 'billy riffs), pianist T. Jarrod Bonta, and drummer/producer Bobby Trimble, who drove the band hard. Martin sounds great -- she's got a gruff granny voice, but the kind of granny voice you'd expect from a truck driver or the world's sweetest linebacker, with plenty of expressiveness and power. Joining her on a tune or two are hillbilly fillies Rosie Flores and Kelly Willis, who compliment Martin while never stealing focus from her powerful performances. If you loved Janis Martin's old stuff, you'll want to pick this up too: you'll really dig it.


<! sept 18 >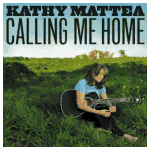 Kathy Mattea "Calling Me Home" (Sugar Hill, 2012)



(Produced by Gary Paczosa & Kathy Mattea)
A moody, mournful mix of country and quiet folk, a lushly arranged set of songs exploring the history and culture of Appalachia, with songs by Jean Ritchie, Hazel Dickens and Alice Gerrard, bluegrasser Laurie Lewis and labor activist Si Kahn. Kathy Mattea picks up where her 2008 album "Coal" left off, digging deeper and delves into the poetic soul of the mountains and forest lands. She's backed by several top tier bluegrass artists -- Stuart Duncan, Tim O'Brien, Randy Kohrs, Bryan Sutton and others, with harmony vocals from Emmylou Harris, Alison Krauss, Patty Loveless and Aoife O'Donnell (the Harris-Loveless-Mattea trio on "Black Waters" is not to be missed!) The dignity of the Eastern mountains and the people who live there is brought into modern times... Mattea's fans, particularly who liked the "Coal" album, will definitely want to check this out.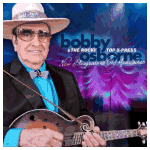 Bobby Osborne "New Bluegrass & Old Heartaches" (Rural Rhythm, 2012)



(Produced by Glen Duncan, Bobby Osborne & Bobby Osborne Jr.)
Bluegrass old-timer Bobby Osborne was half of the Osborne Brothers duo, whose 1960's heyday led them into the Pop and Country charts. Although his brother retired years ago, Bobby Osborne has been plugging away and continues to release refined, traditionally oriented records like this one, with a strong repertoire which includes new material by fiddler Glen Duncan (who anchors this album with sweet, sympathetic accompaniment) as well as a few tunes by Jake Landers and some other writers signed up with Osborne's Rocky Top publishing company. There's also a previously unrecorded original,"The Last Bridge You'll Ever Burn," a great song that Osborne wrote in the '70s but only produced in demo form. This is more nice stuff -- the tempo is generally slow and the energy level isn't as explosive as the old days, but Osborne has found a strong vocal partner in his son, Bobby Jr., who adds that special family-harmony sound, and the musicianship is solid throughout. Definitely worth a spin.
Luke Simmons "Pure Down Home Raw 1950s Country Singin' & Pickin'" (Jasmine, 2012)


A nice reissue release profiling Canadian honky-tonker Luke Simmons... Some rare old material that shows Canuck country at its finest.


<! 'Pure', 'Down Home' and 'Raw' are three words that aptly describe the driving rhythms and no-holds-barred sounds of fiddle and steel packed into the 30 tracks from the Canadian country artist, Luke Simmons. Combining influences of Hank Williams, Jimmy Rodgers and the country and rockabilly greats of his day in the early 1950s, yes siree this is without doubt as pure, raw and down home as you can get! Many of the tracks are on CD for the first time, previously just available on scarce 78s and heard only by the most ardent of collectors - now all beautifully remastered. Turn back the pages of time and listen to the authentic vocals of this great country singer who was a key link in developing the '50s country style even in places as far-fetched as New Zealand and Australia. Yee Haw! >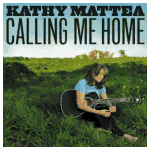 Dwight Yoakam "Three Pears" (Warner Brothers, 2012)



In my book, anything new by Mr. Yoakam is something worth sitting up an paying attention to, and his latest maintains his mix of slyly-layered, guitar-drenched pop and earnest, deep twang. There are several addictively melodic songs on here, as well as some stuff that seems a bit overwrought. As always, there's plenty to chew on, and this album will stick with you and challenge you to examine it from a few different angles while you try to determine if it's a collection of diamonds or a gritty, smoky bag of coal. Keep 'em coming, Dwight!
---



Hick Music Index
Shop Amazon, Support Slipcue


---