---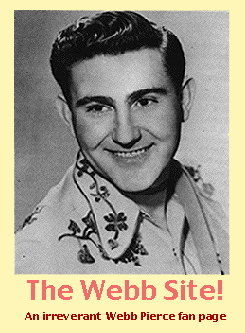 THE WEBB PIERCE PIN-UP PAGES!
OKAY, SO I'M SCARED OF WEBB, TOO. But he and his Nudie suits have helped me prove my theory of the "dork factor" in country music: sometimes you can tell an album will be great just by noticing how goofy or weird the artist looks. After all, if someone looks that dopey in a staged publicity photo, then maybe they've got something on the ball, after all. Check out Carmol Taylor, Lefty Frizzell, Wynn Stewart, Harlan Howard, Ernest Tubb, Conway Twitty, Little David Wilkins and Maybelle Carter, if you don't believe me.
Works for '70s rock, too.
---