<! MP3 00/00/00 > <! update 00/00/00 > <! pix 00/00/00 > <! icons 02/18/11 >
---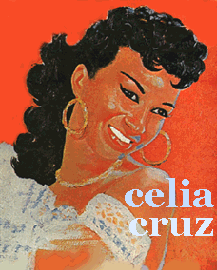 The late Celia Cruz (1924 -2003) was the undisputed "Queen of Salsa," a larger-than-life figure whose career spanned decades and bridged numerous musical styles. This fiery guaracha singer got her big boost in 1950 when she signed on as featured vocalist with the popular Cuban dance band, Sonora Matancera. This partnership continued throughout the 1950s and '60s, and Cruz's popularity soared to phenomenal heights. She emigrated to the United States in 1961, and has continued along at the top of the latin dance scene to this very day. Numerous collaborations with Tito Puente and spanish language advertisements for MacDonalds are part of her legacy, as well as dozens of reissues and retrospectives on a bewildering assortment of labels.
There are countless Celia Cruz releases on the Peerless and Seeco labels, which have been repackaged and anthologized in a variety of formats, including LP and CD re-releases on the European label, Palladium. Sound quality varies on many of these; sometimes the mastering tends towards the shrill, brassy sound often associated with old latin dance recordings. Still, the music is awesome, so it may be worth it to experiment and see which discs you like. Here are a few other recommendations...
---
Select Discography
---

Celia Cruz "100% Azucar: The Best Of Celia Cruz" (Rhino, 1997)


A killer collection. Cruz's catalog is pretty chaotically distributed across the globe, so it's nice to be able to get ahold of a single disc which captures her artistic breadth so well -- from the thunderous to the melodically sleek.... plus, this has great sound quality, which isn't always the case with the zillions of other releases in the bins. This covers her career from 1951 to 1964, after she had emigrated to the States. As ever, Rhino is a class act -- and the liner notes here are even more breathless about Celia than I am! One of the best retrospectives of her early work currently available -- highly recommended!
Celia Cruz "Cuba Bella" (Golden Stars, 2001)


A 3-CD set of fab material from la reina... I'm not sure what the vintage of these recordings is, but rest assured it's groovy stuff.
Celia Cruz & Sonora Mantancera "La Guarachera De Cuba: 1950-1953" (Tumbao, 1998)



Her first sessions with this outstanding, equally legendary band. On some of the early tracks, Cruz is still finding her feet, but when she hits her stride-- yow! Highly recommended. (By the way, when she started recording with the Sonora Mantancera, Cruz was filling in for vocalist Myrta Silva, who is can be heard on another Tumbao disc).
---
Related Records
---
Sonora Matancera "Se Formo Rumbantela: 1948-1950" (Tumbao)


Although Cruz is not on this disc, it's still a spiffy introduction to the Sonora... These early tracks are a bit rough compared to their swanky later recordings, but nice nonetheless.
---
Links
---
---



Other Cuban Artists
Main Cuba Index
International Music Index



---