<! MP3 00/00/00 > <! update 00/00/00 > <! pix 00/00/00 > <! icons 02/18/11 >
---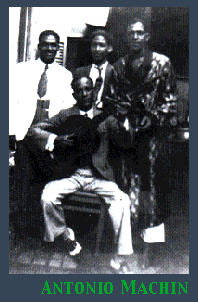 One of the early legends of Cuban music, Antonio Machin led his own acoustic band in the 1920s, and eventually emigrated from the island, first to the United States, and finally to Spain, where he lived and recorded for several decades. Machin is best known as the vocalist on the hit song, "El Manisero (The Peanut Vendor)," though he is also one of the all-time finest Cuban bolero singers. Several excellent retrospectives of his work, covering various phases of career have come out recently on the Tumbao, Harlequin and Caney labels.
---
Discography
---
Cuarteto Machin "The Original Cuarteto Machin: 1929" (Tumbao)


It's easy to understand why Antonio Machin and his small ensemble -- vocals, claves, guitar, trumpet and tres -- were so popular in the 1920s and 1930s. The melodic interplay of the tres and trumpet is exquisite, and the delicate, clear vocal delivery vibrantly brings these humorous, sentimental songs to life. Guest musicians include Puerto Rican vocalist Davilita and future mambo king, Mario Bauza, on trumpet. Highly recommended -- a real wowzer.
Antonio Machin "El Manisero: 1929-1930" (Tumbao)


Don Apiazu "Don Apiazu" (Harlequin, 1991)


Delightfully corny Cuban music from the early thirties... Apiazu's "El Manisero" ("The Peanut Vendor") was a colossal hit in 1931, and one of the earliest breakthroughs for Cuban music abroad. These songs were recorded in New York at the height of the Russ Columbo-and-Glen Gray-dominated crooner era, and bear all the goofy, loveably rinkydink musical hallmarks of the time (as well as a healthy dose of authentic Cuban rhythm). "El Manisero" features vocals by the muy fabuloso Antonio Machin, although other tracks on this CD have North Americanos who charmingly denude the music of its original bounce. Don't get me wrong: I love corny music and this collection is well worth searching out.

Cuarteto Machin "Echale Salsita: 1930-1935" (Tumbao)


Later recordings but pretty much the same ensemble as featured on earlier Tumbao discs. Lovely stuff -- of the two Cuarteto albums on the Tumbao label, this one may be melodically and rhythmically richer. Highly recommended.


<! guessing at '91 date >

Antonio Machin "Lamento Esclavo: 1932-1938" (Tumbao)


Performing with his own orchestra, including Armando Valdespi.

Antonio Machin "Volume 1: 1930" (Harlequin, 1994)


Antonio Machin "Volume 2: 1932-1933" (Harlequin, 1995)


Antonio Machin "Volume 3: 1933-1934" (Harlequin, 1995)


A mix of styles, all of them sublime. Mainly Machin's Quarteto, though on a few tracks a full Orquesta kicks out the jams, playing high-test dance music with some jokey references to American jazz ("Eeet don't mean a thing if it ain't got that swing," someone shouts during one tune...) Along with the luscious sones and danzonettes are several stunning, ultra-sentimental weepers, such as A. Valdespi's "Te Quiero Triguena." Great stuff.
Antonio Machin "Volume 4: 1934-1935" (Harlequin, 1998)


Another sweet set of antique Latin dance... Not much difference from the other volumes in this series, which is to say, it's pure gold.

Antonio Machin "1935: Cuarteto & Septeto" (Harlequin, 1998)

---



Other Cuban Artists
Main Cuba Index
International Music Index

---