<! MP3 00/00/00 > <! update 00/00/00 > <! pix 00/00/00 > <! icons 02/18/11 >
---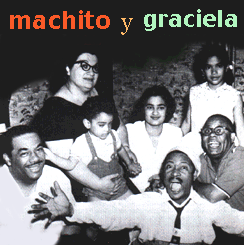 Probably the single most powerful force in the mambo scene which dominated New York in the 1940s, Machito and his orchestra played hard, fast, loud and brassy. Machito, whose given name was Frank Raul Grillo, worked with and influenced hundreds of North American musicians, creating the basis for the latin jazz sound of the 1950s and '60s. Various incarnations of his band included collaborators such as percussionist Chano Pozo, singer Miguelito Valdes, and trumpet player Mario Bauza (who married Machito's sister, the powerful vocalist Graciela). Machito records number in the zillions. Here are some of the best recent releases on CD.
---
Select Discography
---

Machito "...And His Afro-Cubans" (Harlequin, 1996)


Fiery live performances from several late '40s transcription discs, and a 1950 concert at the Birdland nightclub. Tenor saxophonist Zoot Sims guests on one of the Birdland tracks, and Machito's usual hot backup musicians are all over this disc. Graciela, of course, kicks in with some fine vocals. The disc loses fidelity and seems to warble in spots, but it's still exciting to hear these guys at work in a live, unmediated environment. Also includes several slower, big band-influenced ballads (boleros) which show his softer range as a performer.
Machito "Baila Baila Baila: 1943-1948" (Harlequin, 1999)

Machito "Mucho Macho" (Fantasy-Prestige, 1991)


Classic late '40s recordings made by Machito and his Afro-Cuban Salseros, with arrangements by Mario Bauza. Hot stuff!
Machito "Machito And His Salsa Big Band" (Timeless, 2000)

Machito "Tremendo Cumban" (Tumbao, 1991)

Cuarteto Caney "...With Machito: 1939-1940" (Tumbao, 1991)

Miguelito Valdes "Cuban Rhythms: 1942" (Tumbao, 1991)


With Machito.
Machito "Cubop City: 1949" (Tumbao, 1995)


A slightly hodge-podge-y set of bebop-era tracks featuring Machito and his sister, Graciela, during their peak as stars in the New York latin-jazz boom. But despite the historical cachet, these recordings may be a bit too shrill for even dedicated listeners to stick with. Worth checking out, though.
Machito "Carambola: Live At Birdland: 1951" (Tumbao, 1995)

Machito And His Afro-Cubans "Freezelandia: 1947-1949" (Tumbao, 1998)

Machito And His Afro-Cubans "Guampampiro" (Tumbao, 1998)


With Miguelito Valdes, Graciela, vocals.

Machito And His Afro-Cuban Orchestra "Mambo Mucho Mambo -- The Complete Columbia Masters" (Sony Legacy, 2002)


More slam-bam, high-octane Latin jazz and more traditional-sounding mambos and sones from the Machito band, with Mario Bauza as composer and arranger on many of the songs. As a major-label release, this has the advantage of first-rate sound quality... Packs quite a wallop!
Machito "Bucabu" (Musica Latina, 1999)

Machito "Tambo" (Musica Latina, 2000)

Machito "Blen Blen Blen" (Musica Latina, 2000)

Graciela And Machito "Intimo Y Sentimental" (Fania)

Machito "Asia Minor" (Fania)


Classic late '50s material, originally released on the Tico label.

Miguelito Valdes & Machito "Reunion" (Tico, 1963)


A late-vintage pairing of master crooner Valdes and the ever-energetic Machito. It's pretty late in the game for them both: Valdes's performance ranges from hammy to bland, clearly a mere echo of the brilliance of his youth. Similarly, the Machito orchestra sounds like they're going through the motions, chugging through standards like "Black Coffee" and "Blen Blen Blen"... They don't sound bad or anything, but they also don't elicit much excitement. This album is an interesting footnote, but it's definitely not the place to start if you want to check these guys out. Musically negligible.

Machito "Machito Goes Memphis" (RCA, 1968)
An amusing late-edition album, with Machito, well... going Memphis. Big, fat, funky pop-kitsch arrangements of Stax classics and current pop hits, such as "Alfie" and "Satisfaction," from the Rolling Stones catalog. The Memphis soul sound is clear enough; what's less readily evident is the Machito-ization of the material, with the Latin-jazz touches kept largely in the background. One notable exception on this mainly-instrumental album is a fun vocal tune, a Spanish-language boogaloo cover of Sam & Dave's "Hold On, I'm Coming
---
Links
---
For a second opinion on the legacy of the thunderous Machito, Vinyl Safari has a cool page, complete with a biographical essay, discography and album evaluations, as part of it's groovalicious and well-thought out site.
---



Other Cuban Artists
Main Cuba Index
International Music Index



---