<! MP3 00/00/00 > <! update 00/00/00 > <! pix 00/00/00 > <! icons 02/18/11 >
---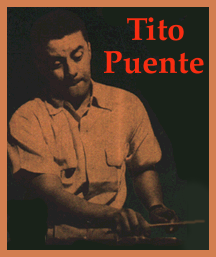 Known as "El Rey de los Timbales," Puerto Rican-born Tito Puente (1923-2000) is probably the best-known latin-jazz percussionist in the world. Puente grew up in New York City, and was working as a professional musician in the early 1940s when Cuban stars such as Miguelito Valdes began to emigrate to the City in search of greater commercial success. Puente's style -- simultaneously driving and melodic -- was hugely influential on the exploding mambo and latin-jazz scene. As a bandleader, he often worked with North American jazz musicians, and gradually shifted more towards a jazzier style. During the six decades of his career, Puente has led various bands and orchestras through a wide variety of styles. When Tito lets loose, you know it!
---
Select Discography
---
Tito Puente "El Rey Del Timbal: 1949-1951" (Tumbao, 1991)


The hippest and most happening latin dance music, from the peak of the mambo scene. A New York native, percussionist Tito Puente knew how to hit a groove better than almost anyone else, and this disc features him -- arguably -- at his peak. Vocalist Vincetico Valdes is featured on many tracks. Smooth, slinky, sexy stuff -- highly recommended.

Tito Puente "Mambo Maoco: 1949-1951" (Tumbao, 1992)


Hot early tracks by this master percussionist. The jazz sound that would later take over is starting to inch in, and Puente has several non-latino jazz guys filling out his horn section. This disc is a little less incendiary than some, a little too dreamy, and focused on Puente's big band-y leanings. Several other latin jazz heavyweights here as well, such as Mongo Santamaria, Manny Oquendo and Bobby Escoto -- well worth checking out. Pity these Tumbao collections are so hard to find...
Tito Puente "Mambos With Puente: 1949-1951" (Tumbao, 1992)

Tito Puente "The King Of The Cha-Cha Mambo" (Caney, 1995)


This picks up where the Tumbao discs leave off-- eighteen excellent tracks, culled from Puente's glory years, in this case from 1952-55. About half the tracks are instrumentals, while most of the songs feature lead vocals by Vincentico Valdes. As with other Caney releases, the programming and sound quality are exemplary.
Tito Puente "Cuban Carnival" (RCA, 1955)


With Willie Bobo and "Patato" Valdes.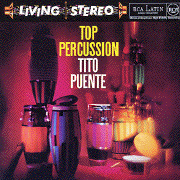 Tito Puente "Top Percussion" (RCA, 1957)


In case anyone had any doubts -- at all -- that Tito could play the real, hardcore, pure Afro-Cuban percussion, then this album should settle that question. With Mongo Santamaria and several other percussion heavyweights on board, Tito pounds away on some of the toughest-sounding rhythm work imaginable, starker and more traditional than his mambo swing of the '40s and early '50s, and shorn of all the horns and other instruments that one normally expects on a Latin jazz album. The second half of the album gets funkier and more slinky, with a subtle, jazzy bass added into the mix. This is a killer instrumental album, formidable and funky in every aspect. Recommended!
Tito Puente "Dance Mania" (RCA, 1957)


One of Tito's tightest and most soulful albums, with sharp-sounding horn charts and funky rhythms galore. Recording with the full technical expertise of the RCA studios behind him, Puente's late '50s albums had much richer, better defined sound than competitors on smaller, independent labels, and the brass tones that distort into distorted shrillness on other albums are smooth and clear here. Great material, and a ton of tight session players who were the cream of the crop in the latin dance scene. Highly recommended!
Tito Puente "Dance Mania (Legacy Edition)" (Sony-BMG Legacy, 2009)



A deluxe 2-CD reissue of the best-known album from the legendary nuyoriquen bandleader Tito Puente... Originally released in 1958, Dance Mania was a sizzling set that helped solidify the popularity of the mambo craze, and made Tito Puente a household name. Fifty-plus years later and it still sounds great, as does the 1960 follow-up, Dance Mania, v.2, which is included here as well. Both original albums were short by today's standards -- about forty minutes long -- and Sony Legacy (bless their little hearts) takes the opportunity to stuff an extra twenty-one tracks on, including outtakes and alternates, as well as a bunch of other tunes from the same era. It's classic mambo and Latin Jazz -- dense musical ideas set to addictive rhythms, with Puente's jaw-dropping percussion throughout. All killer, no filler!


<! Produced by Mickey Crofford >

Tito Puente "Night Beat" (RCA, 1957)


Tito Puente & Pepe Luis "Cha-Cha-Cha At The El Morocco" (Tico, 1958)


Tito and his band, pumping out pure, unadulterated dance music... Sure, there were some goofy novelty numbers, like a Latined-up version of "Skip To My Lou" and the "Beer Barrel Merengue," but for the most part this is another solid set recorded when Puente was at the peak of his powers. Worth checking out!
Tito Puente "Vaya Puente" (Philips, 1962)






<! Joao Donato plays trombone on these swinging salsa sessions... >
Tito Puente "Bossa Nova By Puente" (Tico, 1962) (LP)


(Produced by Teddy Reig)
At some point, nuyoriquan superstar bandleader Tito Puente got into the bossa nova craze as well... The repertoire includes some genuine Brazilian bossa hits from Tom Jobim, et. al., songs such as "One Note Samba," "Desafinado," "O Pato" and "Meditacao" as well as a bunch of "bossa"-themed Latin/novelty numbers such as "Loco Bossa Nova," "Bossa Nova A La Puente" and Latin-ized versions of "Little Brown Boy" and "Come To The Mardi Gras." Predictably, everything goes through the Puente/Tico Latin dance mill, and a lot of the "Brazilianness" gets lost in the mix, but it's still fun stuff. It's kitschy, and not the best thing Puente ever recorded, but it's also very much of its time... And in some ways, Puente's schmaltzy big-band approach is similar to that of Brazilian bandleaders such as Severino Araujo, so there is some legitimate common ground. Certainly worth a spin.

Tito Puente & La Lupe "Tu y Yo (You 'n' Me)" (Tico, 1965)


This collaboration with the odd-voiced and erratic singer La Lupe is, perhaps, not Puente's finest hour. At least it's not the same fiery dance music we know and love him for. Rather, it's streamlined and poppy, with the subdued band at the service of Ms. Lupe Victoria Yoli Raymond, aka La Lupe, "The Little Queen of Latin Soul," whose mildly grating vocals run against the grain of the normal sleekness of latin dance music. I suppose she's closer in some ways to North American R&B singers such as Etta James or Sugar Pie DeSanto, a little rough around the edges and wild in an unusual way. I know she has a big cult following, but I gotta confess: I don't quite get it. This was the followup to the wildly successful Tito Puente Swings, The Exciting Lupe Sings, which came out earlier the same year.
Tito Puente & Eddie Palmieri "Obra Maestra/Masterpiece" (RMM, 2000)


One of Puente's final recordings, made with fellow percussionist Eddie Palmieri... Guest singers include Milton Cardona, Oscar D'Leon, Herman Olivera and Pete Rodriguez... Overall, this disc is too shrill, manic and modern for me, archetypal, overly ornate "latin jazz" blare.

Tito Puente "Live At The 1977 Monterey Jazz Festival" (Monterey Jazz, 2008)


---
Best-Ofs
---
Tito Puente "The Best Of Tito Puente, Volume 1" (BMG, 1992)

Tito Puente "Cuando Suenan Los Tambores" (BMG Tropical Series, 1992)


Though really, if I had to point out just one Tito Puente disc, this might be the one. Sizzling early stuff from 1949-51, with top-notch digital remastering, excellent song selection, and it's a budget line disc, to boot. !Que fuerza!
Tito Puente "The Best Of Tito Puente" (Rhino, 1997)


A killer best-of, with great sound quality, and detailed liner notes... Another winner from Rhino, this has the advantage of being domestically easily either in stores or through Rhino's website.

Tito Puente "Puente Caliente!" (Concord Jazz, 2001)


A straight 2-CD reissue of two later albums (Sensacion, from 1985, and 1987's Un Poco Loco) which feature Puente still at his peak, although in kind of a poppy vein. As the title implies, Un Poco Loco highlights his more frivolous side; Sensacion is in more of a mellow groove, covering material by Thelonious Monk, Chick Corea and Claire Fischer. This may be too mainstream for some fans, but the playing is solid, and gives a good idea of how vigorous Tito was, even this late in the game.

Tito Puente "50 Years Of Swing" (RMM, 1997)


In terms of capturing Tito's career in its totality, there really isn't a better retropective out there... As the title implies, this 3-CD set is heavy on the jazz side of the Puente equation. A lot of this is too slick for my tastes, but don't let that stop you ... This collection includes work on numerous labels, including RCA, Tico, United Artists, Westside, Fantasy, Concord and others, and includes vocals by heavyweights such as La Lupe, Tito Rodrigues, Vincentico Valdes, Santos Colon and Gilberto Monroig. Sure, I don't need to hear Tito's version of "On Broadway" ever again, but it also includes more traditional latin dance workouts, and several jaw-droppingly hot percussion numbers, notably "Tito On Timbales," from 1955, which also features some astounding drumming by Mongo Santamaria. Overall, this is a great portrait of Puente's work over the years. Recommended!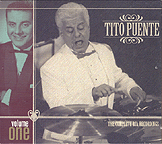 Tito Puente "The Complete RCA Recordings, Volume 1" (BMG, 2000)


The first installment of a massive reissue effort... Six CDs worth of Tito at his mindblowing 1950s best!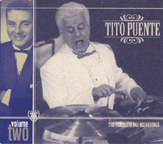 Tito Puente "The Complete RCA Recordings, Volume 2" (BMG, 2001)


And as if that wasn't enough... here's six CDs more! I own these sets, and I'm totally psyched every time I play something from them. Highly recommended!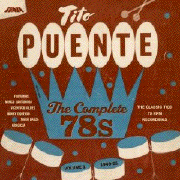 Tito Puente "The Complete 78s, v.1: 1948-1955" (Universal, 2008)


A swell 2-CD set that gathers some of Tito Puente's earliest -- and best -- recordings. Puente recorded scores of scorching 78s in the post-WWII era, laying the foundation of modern Latin jazz and dance music. These tracks from the legendary Tico label have been reissued elsewhere (notably on the ever-fab Tumbao label), but it's always nice to see a classy archival release from the major label vaults. And does the "Volume One" label mean more goodies are still to come? Let's hope so! It doesn't get much better than this.
Tito Puente "The Complete 78s, v.2" (Universal, 2008)


Tito Puente "The Complete 78s, v.3" (Universal, 2009)


The third installment in this much-welcome series gathering together songs from Latin-jazz legend Tito Puente, tracks that originally came out as 78rpm singles. Muy caliente y muy rico!
Tito Puente "Cocktail Hour" (Allegro, 2001)


A 2-CD cheapie reissue, with minimal artwork and maximal music. Due to the skimpy liner notes, I'm not sure exactly when these tracks date from, but they seem fairly glitzy and swank, so I'm guessing a little later in the game -- like mid to late '60s(?). Good budget option to check out some nice Puente tunes, although this isn't his fiery early work.
---
Related Records
---

Pupi Campo "Rhumbas And Mambos: 1948-1951" (Tumbao, 1991)



Wonderful! Dance music with a heavy North American big band influence, but still with plenty of Cuban zip and zam. Great vocals, a killer band (including Tito Puente, Chano Pozo and a bunch of yanqui jazzmen...) playing with a strong emphasis on the melody. Highly recommended.
---
Other Resources
---
"Tito Puente And The Making Of Latin Music"
By Steven Joseph Loza (University of Illinois Press, 1999)
"Recordando A Tito Puente: El Rey Del Timbal"
By Steven Joseph Loza (Random House Espanol, 2000)
---
Links
---
Still hungry for more information about El Rey? Vinyl Safari has a cool page, complete with a biographical essay, discography and album evaluations, as part of it's groovalicious and well-thought out site.
Descarga Distribution, the world's best supplier for latin-american music, put together a nice profile of Puente's larger catalog, following his untimely passing away in November, 2000...
Concord Records (one of many labels Puente recorded for) has a nice biographical essay...
---



Other Cuban Artists
Main Cuba Index
International Music Index



---