<! MP3 00/00/00 > <! update 00/00/00 > <! pix 00/00/00 > <! icons 02/18/11 >
---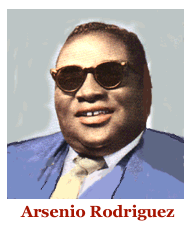 An early pioneer of salsa music, in the late '40s and early '50s, Arsenio Rodriguez led one of the most killer Cuban combos in the world. Many of their recordings still sound surprisingly modern, with sharp, melodic horn charts and fluid, expressive vocals. As a young child, Rodriguez was blinded when a horse kicked him in the head; he later found his calling as a musician, and eventually became one of the most renowned bandleaders on the island. His music emphasized the Afro-Cuban rhythm as well as the melodic lead of the tres guitar, which he helped popularize. Although he had stints in the US, Rodriguez returned to Cuba as his home base. Unfortunately, his fortunes fell in the early '60s, and in 1971, Rodriguez died a poor man, living in obscurity in Los Angeles, California, just as his style of aggressive dance music was gaining its greatest popularity in the New York and Miami.
---
Discography
---
Orquesta Casino De La Playa (Harlequin)
Sweet Cuban dance music from 1937-41. This ensemble featured several major Cuban stars, including Arsenio Rodriguez, Anslemo Sacasas and vocalist Miguelito Valdes. Nice stuff.
Arsenio Rodriguez "Montuneando Con Arsenio Rodriguez: 1946-1950" (Tumbao)


Smooth, swaying, mid-tempo dance-ballads with a heavy Afro-Cuban flavor. Rodriquez pioneered the "son montuno" style, which is a direct precursor to the "salsa" music ofthe late '60s and '70s. Also featured on these ultra-sweet tracks are trumpet legends, "Chocolate" Armenteros and Felix Chappotin. Highly recommended to those with a taste for romantic music. (Also check out the excellent companion disc, Dundunbanza, listed below.)
Arsenio Rodriguez "Dundunbanza: 1946-1951" (Tumbao)


Irresistable dance music from this pioneer of the Afro-Cuban son montuno. Features a beautiful version of "No Me Llores Mas" and Rodriquez' outstanding tres playing, as well as the band's trademark conga/horn section sound. Features trumpets by "Chocolate" Armenteros and Felix Chappotin. Highly recommended -- one of the best CDs in the Tumbao series.
Arsenio Rodriguez & Chano Pozo "Legendary Sessions: 1947-1953" (Tumbao, 1991)



With Machito. Percussionist Chano Pozo helped create latin jazz in the 1940s when he joined Dizzy Gillespie's postwar bebop outfit, adding authentic Cuban rhythms to the mix. The recordings come from the same period, when Pozo and Machito were based in New York City. Also check out his work with pianist Jose Curbelo.


<! different ASINs? >

Arsenio Rodriguez "Como Se Goza En El Barrio: 1953" (Tumbao, 1992)


Arsenio Rodriguez "La Pachanga" (Tico, 1963)


An interesting later album recorded during the early '60s "pachanga" fad... The liner notes to the CD version I picked up says this album was recorded in 1963, which is pretty amazing, considering the fat, reverb-y tone Rodriguez got on his electified guitar... It's hella funky, and incredibly innovative in a psychedelic-Santana-esque way. These latin soul brothers were really ahead of their time! If you can find this album, don't hesitate to pick it up.

Arsenio Rodriguez "Primitivo" (Tico, 1968)


A sort of back-to-basics acoustic album, recorded not long before he passed away... Rodriguez's guitar work is flawless as usual. Interesting to hear him in such a stripped-down setting, as well.
Arsenio Rodriguez "El Alma De Cuba" (Tumbao, 2008)


This awesome box set gathers all of Rodriguez's solo work recorded for RCA Victor between 1940-1956, six CDs worth of prime material -- lively, powerful, fun. It's really amazing stuff -- while I haven't actually bought this collection, I would if I could. I already have a lot of it on the albums listed above, and it's all really, really good.


<! The appearance of Arsenio Rodr'guez's ensemble in 1940 created a style that, because of its instrumental set-up and Arsenio's conception of harmony and rhythm, would change forever the path of popular Afro-Cuban music. Arsenio's deep knowledge of African culture and folklore, and the addition of a second trumpet, a piano and a tumbadora to the classic septet, converged in a new style of son, which became known as the son montuno. Later, Arsenio would adapt the traditional guaguanc— to his son montuno, creating a new style of guaguanc—s, uniquely and characteristically his, that the dancers in the most humble quarters of La Habana soon made their own. This 6-CD collection (3 double digipacks) gathers, for the first time ever, all his recordings for RCA Victor (1940-1956). It also includes two booklets with photos, history, discography and anecdotes. The first one, written by the musicologist David Garcia, is a fine review of the life and works of "El Mago del Tres." The second one was written by Jordi Pujol, producer of this project. It includes a comprehensive discography of Arsenio's ensemble, and recounts some interesting anecdotes about the musicians and singers that were part of the group until 1956. We hope this project will help immortalize and spread the musical works of Arsenio Rodr'guez, "El Alma de Cuba." -- "Featuring: Miguelito Cun', "Lil'" Mart'nez, Felix Chappot'n, "Chocolate" Alfonso, RenŽ Scull, RubŽn Gonz‡lez, "Papa Kila.">

---
Tributes
---

Orquestra Harlow "Tribute To Arsenio Rodriguez" (Fania, 1972)



The New York salsa scene pays homage to Arsenio Rodriguez, just after his untimely death in 1971. This album features the normally light-touched Larry Harlow tackling a heavier, more muscular style, and though the rhythm is a little bit sluggish, the vocals (by Ismael Miranda) are pretty fine, and the band hits some nice grooves, especially on the Rodriguez originals, "Sueltala" and "El Terror". (Note: the sound quality on the CD reissue seems pretty bad; strong rhythm performances sound weakly mixed for some reason... It may be worth the extra effort to search out the original LP.)

Marc Ribot & Los Cubanos Postizos "The Prosthetic Cubans" (Atlantic, 1998)



Avant-hipster rock-jazz guitarist Marc Ribot, known for his offkilter work with Tom Waits, and on various John Zorn-related projects, gets into a more casual mode with this oddball tribute to Arsenio Rodriguez. I guess I have to side with the faction that finds this disc a little less than stellar -- I agree that it's super-cool to have such an iconic artiste steering folks towards this wonderful, old-time Cuban music, but I can't help but feel that he doesn't quite get the tone right. I guess I had expected something either a bit truer to the languid/lively feel of the original material, or a little more twisted and "out there." As is, this is a pleasant disc, and one that a lot of people really dig. If you're at all curious, you should check it out for yourself and see what you think.
---
Links
---
Afro-Cuba Web has a nice biographical page, with links to related artists... pretty cool site.
---



Other Cuban Artists
Main Cuba Index
International Music Index



---