<! MP3 00/00/00 > <! update 00/00/00 > <! pix 00/00/00 > <! icons 02/18/11 >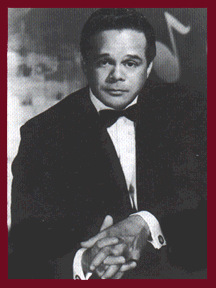 ---



One of the greatest and most revered Cuban vocalists, Miguelito Valdes (1912-1978) recorded the original version of "Babalu," later to become the theme song for Desi Arnaz. Valdes began his career performing on radio in the early 1930s. In 1936, he took a job with the Orquesta Los Hermanos Castro, but soon left the band in order to have more control over his career. Valdes and arranger Anselmo Sacasas then founded the Orquesta Casino de la Playa, which would quickly become one of the most popular and influential Cuban dance bands of all time. This was in no small part due to Valdes' phenomenal vocals -- though he often favored schmaltzy, corny romantic material, he could also belt out African-flavored sons and guarachos with the best of them.

In 1940, Valdes shifted gears again and moved to the United States, where he took a job as featured vocalist in Xavier Cugat's band, and later became a bandleader himself. Later in life, Valdes hosted a latin dance television show, and had a successful comeback which lasted several years.

Many of Valdes' best recordings can be heard on the Tumbao and Harlequin labels.


---
Discography
---

Miguelito Valdes & Orquesta Casino de la Playa "Adios Africa: 1937-1940" (Tumbao)



Awesome early recordings. According to the liner notes, Valdes was considered the Sinatra of Cuba -- and the comparison makes sense: he could swing, but he could also ham it up. Here Valdes performs with the original lineup of the Orquesta Casino de la Playa, featuring the awesome pianist, Anselmo Sacasas. This is one of the strongest collections of their work -- highly recommended!
Orquesta Casino De La Playa "Fufunando: 1937-1940" (Tumbao)


Entrancing, dreamy dance music, highlighting the vocals of Miguelito Valdes, a sometimes corny, but powerful, singer. This is the third Tumbao disc of material featuring the original 1937-40 lineup of the Casino de la Playa band, which also featured pianist Anselmo Sacasas. Plenty of slow drippy boleros, though heavier on the syncopated guarachas and conga dances. The vocal choruses add a lot, and the band is all class. Recommended!
Miguelito Valdes "1938-1940" (Harlequin, 1994)

Miguelito Valdes "Havana: 1938-1940" (Harlequin, 1996)


A perfectly programmed set of oldies by this sappy singer. The band on half these tracks is the Orquesta Havana Riverside; for the remainder it's the Orquesta Casino de la Playa. Includes several songs written by percussionist Chano Pozo, who later became famous for his collaborations with bebop jazz pioneer Dizzy Gillespie. Also a couple of nice, slower tunes written by guajira star, Nico Saquito.

Orquesta Havana-Riverside "Rompan El Cuero: 1939-1940" (Tumbao, 1995)


Deliciously sweet, corny, romantic material from 1939-40. This large band originally featured pianist Jose Cubelo (who appears on three of these recordings, and most of the vocals are by the ever-stately Miguelito Valdes. The disc opens with a wonderful version of "Perfidia," and it just gets better from there. If you like the corny, showy romantic style, this album is a treasure ttrove.
Xavier Cugat "...And His Orchestra: 1940-1942" (Tumbao)


With Miguelito Valdes, Machito, Tito Rodriguez.
Orquesta Casino De La Playa "Memories Of Cuba: 1937-1944" (Tumbao)


With Miguelito Valdes, Perez Prado and Cascarita.
Xavier Cugat "Rumba Rumbero: 1937-1940" (Tumbao)


Catchy, flashy latin dance music, featuring vocals by Valdes on over half the tracks. Cugat's arrangments could often be a bit lightweight and "poppy," though on this disc they are consistently solid and more in "authentic" Cuban territory.
Miguelito Valdes "Cuban Rhythms: 1942" (Tumbao)


With Machito.
Machito And His Afro-Cubans "Guampampiro" (Tumbao)


With Miguelito Valdes and Graciela on vocals.

Miguelito Valdes & Noro Morales "Mr. Babalu: 1949-1950" (Tumbao)


Super-corny ballads with a poppish bent. The highly esteemed vocalist Valdes hams it up mercilessly on the first half of this CD -- he plays it straighter on other CDs, including releases on Interstate Music's Harlequin series. But if you're looking for schmaltz, this might fill the bill.

Miguelito Valdes "Algo Nuevo - Mambo And Rumba Sessions" (Tumbao, 2001)


More great stuff -- these late-'40s sessions, mostly cut in New York, catch Valdes in an upbeat mood, riding the crest of the mambo craze with some swinging tunes of his own. On occasion, this lapses into mere formula, and he seems to be trying to recreate the afro-cuban jazz style of Machito, rather than stick to his strengths as an old-fashioned schmaltzy crooner... Mostly, though, what's there to complain about? When he's really into it, the guy's on fire, and most of these tracks pack real punch... Includes an instrumental version of Gershwin's "Summertime," as well as a few sly quotes of other yankee standards, such as "Someone To Watch Over Me..." Great material and nice sound quality; a different feel for Valdes, but worth checking out.


<! 110x108 >

Miguelito Valdes & Machito "Reunion" (Tico, 1963)


A late-vintage pairing of master crooner Valdes and the ever-energetic Machito. It's pretty late in the game for them both: Valdes's performance ranges from hammy to bland, clearly a mere echo of the brilliance of his youth. Similarly, the Machito orchestra sounds like they're going through the motions, chugging through standards like "Black Coffee" and "Blen Blen Blen"... They don't sound bad or anything, but they also don't elicit much excitement. This album is an interesting footnote, but it's definitely not the place to start if you want to check these guys out. Musically negligible.
---



Other Cuban Artists
Main Cuba Index
International Music Index



---