! MP3 01/12/10, 02/09/11, 02/06/12 > <! update 00/00/00 > <! outside 00/00/00 > <! pix 01/12/10 > <! icons 02/03/11 >
---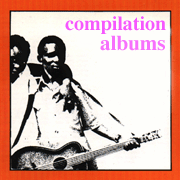 This is my second page of African Music compilation album reviews... Here are a few recommendations that may stir and excite you... I hope to add to this list as time permits and welcome your suggestions for records to review or include.
---
A | B | C | D | E | F | G | H | I | J | K | L | M | N | O | P | Q | R | S | T | U | V | W | X, Y, Z | Compilations: 1 | 2 | 3

---
MUSICAL STYLES: Afro-Beat | Music of Cape Verde | South African Jive 'n' Jazz | Main Africa Index
---

Various Artists "FREEDOM BLUES: SOUTH AFRICAN JAZZ UNDER APARTHEID" (Music Club, 1999)


Although this isn't "jive" music per se, there was a lot of crossover between the two styles as former jive musicians moved into the more serious hard jazz genre in the late '50s and early '60s. The most famous South African jazzman, pianist Dollar Brand, gained a wide audience in the European and American jazz scene, later changing his name to Abdullah Ibrahim -- his entry on this disc, "Bombella," is a bouncy mid-'70s recording that cops its melody from the Patrick Macnee novelty tune, "Kinky Boots." There's a dappling of drekky soft-jazz tracks on here, but for the most part this is a pretty solid collection, drenched in the soulful spirituality of John Coltrane and, to a lesser extent, the late-'50s cool-jazz of Miles Davis. Certainly worth checking out, although it's more a jazz set than a world music collection.


<! 109x108 >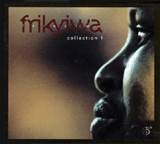 Various Artists "FRIKYIWA, v.1" (Six Degrees, 2000)


A very pleasant mix of "traditional" African music and ambient chill-room electronica, which starts of on a house-ish note, but quickly slows down and brings out some dub stylings which would be worthy of the Lee "Scratch" Perry seal of approval. I'm not sure if the DJs doing the remixes here were working directly with the original artists or not, but either way the results are pretty nice. One reason may be that this particular set of DJs were content to let the source material remain on equal footing with their studio noodlings, as opposed to other world-beat remix projects that I consider to have been fairly disasterous (Nusrat Fateh Ali Khan, for starters). As is, this more inobtrusive approach actually does allow the two styles to complement one another, and makes for a very listenable disc. Recommended!
Various Artists "FRIKYIWA, v.2" (Six Degrees, 2000)


Various Artists "GHANA FUNK FROM THE '70s" (Hippo, 2009)



(Various producers)
Rarities from the West African pop scene of the 1970s... Lush, electrified guitar music was common then; a heavier beat and a deeper groove also led to a fusion with American-style funk and soul. This is a collection that includes a bunch of lesser-known artists performing in the heyday of that scene. I haven't heard it yet, but imagine it would be pretty cool for anyone into that vintage of African pop. (Avalable through Dusty Groove mailorder


<! Heavy funk from 70s Ghana -- a sweet little set that's filled with rare and unusual grooves! The collection's got a strong focus on unreleased and very obscure material -- and from what we can tell, most of these tracks haven't been on some of the other Ghana-featured Afro Funk sets on the market in recent years! The work here is not only funky, but it's also got some really offbeat qualities too -- a bit psyche-oriented at times, in the way the production comes together, or in the style of the instrumentation -- a lot less crossover-oriented than some of the other grooves coming from other parts of the African scene in the 70s, although there's plenty of numbers here that would appeal to fans of American funk and soul. Titles include "Accra Makola" and "Kofi Wedzidzi" by Cutlass Dance Band, "Okuan Tsentsen Awar" and "Mber Papa" by CK Mann, "Kwaakwa" and "I Am Black" by Apagya Show Band, "Bolga Besia" by Gyedu-Blay Ambolley, "Dza Hunu Tso" by Amartey Hedzoleh, "Amponsah" by Ebo Taylor, and "Read The Bible" by Rob >

Various Artists "GHANA SOUNDZ: AFRO-BEAT, FUNK AND FUSION IN '70s GHANA" (Soundway, 2002)



You'd be hard pressed to find a funkier, more satisfying Afro-Beat collection than this. I first heard this album blasting out of the speakers of my local Record Hut, and felt my jaw drop as track after track kept up the relentlessly funky, muscular pace. This collection -- gathering some of the funkiest music to come out of Ghana's 1970s pop scene -- is definitely all killer, no filler. In addition to a great set of tunes, this also sports some excellent liner notes, including discographical and historical information on all of the tracks, the sort of thing that is often sorely missing from this kind of reissue release. Pretty much as good as it gets... Highly recommended!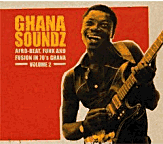 Various Artists "GHANA SOUNDZ: AFRO-BEAT, FUNK AND FUSION IN '70s GHANA, v.2" (Soundway, 2005)

Various Artists "GUITAR PARADISE OF EAST AFRICA" (Earthworks, 1995)





<! benga >

Various Artists "HIGHLIFE HIGH-UPS: LA MUSIQUE DU GOLD COAST DES ANEES 60" (Night & Day, 1996)


An excellent 2-CD overview of 1960s Ghanaian and Congolese highlife music, drawn largely from the (now out-of-print) catalog of John Storm Robert's fabulous Original Music label. Disc One represents the mellower end of highlife; Disc Two is more upbeat and perky. Both discs are gorgeous -- definitely worth tracking this one down!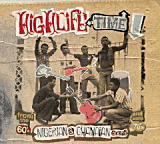 Various Artists "HIGHLIFE TIME FROM THE '60s AND EARLY '70s NIGERIAN & GHANAIAN SOUND" (Vampisoul, 2008)



Rarities and obscuro oldies from the heyday of West African guitar pop... A nice compliment to the flood of similar material out on the Sylliphone label. Groovy, hypnotic, genre-busting stuff; a bit more off the beaten track, as we've come to expect from the folks at VampiSoul.

Various Artists "THE HISTORY OF TOWNSHIP MUSIC" (Wrasse, 2000)


This survey of South African pop casts its net a little wider than just "jive" and kwela bands, but includes enough early jive goodies that it's also well worth picking up. Plus, the non-jive tracks are also pretty first-rate; it includes tracks by well-known artists such as the Mahotella Queens and Boyoyo Boys... but older material from the '60s and '70s, which may be unfamiliar to modern fans. The collection spans as far back as 1939, with such gems as Solomon Linda's "Mbube," (the original version of "Wimoweh") and deftly works its way up through 1981, when the music became sleeker and more aggressive. The disc is nicely paced and well-researched, with generous liner notes and beautiful music. Highly recommended, and definitely worth searching for! (Previously released in 1994 under the title, "FROM MARABI TO DISCO: 42 YEARS OF TOWNSHIP MUSIC.")


<! 109x108 >

Various Artists "JAMIILA: SONGS FROM A SOMALI CITY" (Original Music, 1987)


Gentle, Arab-flavored songs from the Somalian coastal town of Baraawe, which has a mixed Arabic and Bantu culture. The Arabian musical influence is unmistakable, although this has a softer, less shrill tone than similar music from the nearby Arabian Peninsula and elsewhere. The songs are from a group of musicians who play together in different combinations, each with a slightly different approach... The title track, "Jamiila," is a sinuous, dreamy number, combining a bouncy, organ-led melody and subtle vocals by Kuusow Kurtunwaarey; other songs featuring Amin Xaaji Cusmaan sound more typically "Arab," but still have a downtempo feel that is pretty nice.

Various Artists "JAZZ FROM THE TOWNSHIP" (Harrison James Music, 1959)


Vintage "jive" music from South Africa, with 1950's bands such as The African Mills Brothers, Spokes Mashiyane, Martha Mdenge, The Royal Players and others... I'm not sure what the provenance of these recordings is, but it sounds as if whese might have been informal recordings made in the 'Fifties... Anyway, it's the kind of South African "jazz" that I like... I especially dig the Zulu country yodeling of Timothy Umlaba Mkize -- awesome stuff!!

Various Artists "KERESTINA -- GUITAR SONGS OF SOUTHERN MOZAMBIQUE: 1955-1957" (Original Music, 1995)


This is a fascinating historical document of Mozambique's budding music scene in the mid-1950s. The songs are all acoustic, with rough-hewn vocals and a choppy, rhythmic guitar style. They're also largely very static musically, the real appeal being the lyrics, which were often topical or humorous (don't ask me for a translation; I'm just regurgitating what the liner notes say...) Of interest to fans of lusophone music may be the curious regionalized form of Portuguese, and how the unique, declarative accent is also present in songs using the local languages. Overall, this disc is probably not that accessible to the average listener, although it does have some gems to offer, for those willing to dig a little.

Various Artists "THE KAMPALA SOUND: 1960s UGANDAN DANCE MUSIC" (Original Music, 1988)


A lovely sampler of some rare and half-forgotten pop from mid-'60s Uganda. A poor nation, Uganda's music industry was modest, particularly in regards to its recording facilities, which were nonexistent. Thus, most Ugandan musicians traveled to Nairobi to record, and there they were usually backed by local studio bands, who played in the Kenyan pop style. Later, the influence of Congolese guitar pop became more pronounced, and the stylistic debt is equally obvious. What makes these songs distinctive, however, is the soft, restrained vocal style, presumably an outgrowth of the Luganda language, featured on all of these tracks. Ugandan politics fell apart not long after these records were made, as did the social space that made pop music possible, and the artists featured here -- Freddie Kigozi, Fred Masagazi, Charles and Frida Sonko, Billy Mbowa and others -- fell into obscurity, although their music is preserved here. Good thing, too -- this is a sweet little record.
Various Artists "KENYA DANCE MANIA" (Stern's/Earthworks, 2002)



A solid set of lovely, light guitar pop from Kenya, with half the tracks coming from Gabriel Omolo, and five others from various artists. They all share a sweetness and lilt, along with plenty of delicate, delightful guitar work and generally soft-toned vocals. Very pretty, and highly recommended.


<! 1980s-ish vintage >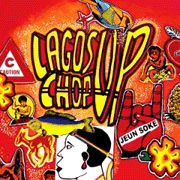 Various Artists "LAGOS CHOP UP" (Honest Jon's Records, 2005)



Wow. This album is the result of some first-class crate-digging undertaken by Damon Albarn, of the rock band Blur, during a working trip to Nigeria... The guy really knows how to find cool records: this crazy, kaleidoscopic disc blows almost every other Afro-Beat collection I've heard out of the water, mainly because the songs all sound so distinctive and unique. These aren't big-name artists or first-tier ensembles, and because they're more little guys on the margins, they take more chances and play things in ways that are surprising and new. The crazy, rhythmic keyboard attack on Dr. Victor Olaiyo's "Omelebele," for example, is the kind of thing Bernie Worrell might have pulled out on a particularly wild night in the '70s. Clattersome, shocking percussion fills the album, guitars with weird tunings, bursts of super-funky grooves and odd rhythmic changes are the hallmarks of this disc, one of the most exciting and vibrant records I've come across in recent years. This record is dynamite. Check it out.

Various Artists "LAGOS DISCO INFERNO" (Academy Records, 2010)



A crate-digging collection that features exactly what's advertised: real-deal, vintage disco music from Nigeria... If you like disco and are into its global permutations, this collection will trip you out. If you're approaching this album from an Afro-Beat orientation, and are expecting more of a funk or R&B sound, it may be too disco-y for you. Also, many songs include English-language lyrics, which I personally find less interesting than when artists work in their local languages. Anyway, this is a strong archival set, and filled with obscurities -- the only artist I recognize here is Geraldo Pino -- but it really is jittery disco, not funky Afro-Beat, so be forewarned.

Various Artists "LIGHTNING OVER THE RIVER" (Music Club, 1999)


Modern-day soukous guitar music from the Congo, with groups such as Zaiko Langa Langa, Papa Kalle, Kanda Bongo Man and Tabu Ley Rochereau... Some of the songs are quite lovely, and some are fairly monotonous... Mostly, this is a first-rate collection, well worth checking out.

Various Artists "LOS NICKELOS DE ZATHO, ZIZI ET JO RINO: 1967-1968-1969" (Sonodisc, 1995)


With no liner notes, it's a little hard to pin down just what is going on with this album, but I'll give it my best shot... These seems to be a collection of late 'Sixties guitar-pop recordings from (I'm guessing) the Congo, featuring three bands or artists, Les Nickelos de Zatho, Zizi and Jo Rino (or Rino Jo, as listed by the song titles...) It's also possible that the same band, Los Nickelos, was backing three different artists (Zatho, Zizi and Jo Rino), but I just ain't sure. (Anyone out there able to clarify?) Anyway, this is okay material, but only okay... It doesn't have the same sparkle and magic as the best guitar music of this era, and didn't enchant me the way other records have. Not a keeper, for me at least.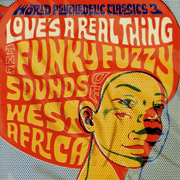 Various Artists "LOVE IS A REAL THING: THE FUNKY, FUZZY SOUNDS OF WEST AFRICA" (Luaka Bop, 2004)



Another noteworthy album, expanding the David Byrne-sponsored world music pantheon to include psychedelic funk freakouts from the 1960s and '70s... I could live without the jazz-based, Fela Kuti-inspired Afro Beat jamfests (been there, done that; not necessarily what I'd refer to as "psychedelic...") but those are only a small part of the album and there are definitely some real gems to be heard on here as well. The prettiest-sounding song is an unusual number by superstar Manu Dibongo, called "Ceddo End Title," a dreamy, spacy marimba tune that sounds like lotus blossoms melting inside your eardrums -- absolutely gorgeous. The rest of this is a bit more hit or miss. Elsewhere, there are some cool, fuzzed-out guitars and genuinely freaky melodies, and yeah, the African musical palette lent itself well to the experimental sounds that were coming out of the hippie culture in the developed Western world. But the obligatory dips back to the intrusive, staccato rhythms of the Fela-esque material are, for me, kind of a bummer (man)... There are other tracks I've heard that would have sounded much for earbendingly unique and alluring, but I guess the fact that I have heard them elsewhere may have something to do with why they didn't also turn up here. Anyway, curator Ronnie Graham (cofounder of the awesome RetroAfric label) did a great job here, and most folks will really dig it. I checked it out and decided I probably didn't need to keep the disc around...
Various Artists "LOVE, PEACE AND POETRY: AFRICAN PSYCHEDELIC MUSIC" (Normal, 2004)

Various Artists "LUCKY STARS AND ROSY MORNINGS: THE '60s IBADAN JUJU SCENE" (Original Music, 1996)





<! Unsigned local Nigerian bands on old 45s >

---
More African Music Compilations
---



African Music Index
World Music Index


---