! MP3 01/12/10, 02/09/11, 02/06/12 > <! update 00/00/00 > <! outside 00/00/00 > <! pix 00/00/00 > <! icons 02/03/11 >
---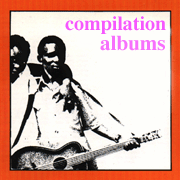 This is the third page of African Music compilation album reviews... Here are a few recommendations that may stir and excite you... I hope to add to this list as time permits and welcome your suggestions for records to review or include.
---
A | B | C | D | E | F | G | H | I | J | K | L | M | N | O | P | Q | R | S | T | U | V | W | X, Y, Z | Compilations: 1 | 2 | 3

---
MUSICAL STYLES: Afro-Beat | Music of Cape Verde | South African Jive 'n' Jazz | Main Africa Index
---

Various Artists "MONEY NO BE SAND: 1960s AFRO-LYPSO, PIDGIN HIGHLIFE, AFRO-SOUL & AFRO-ROCK" (Afrodisia/Original Music, 1995)


Some real oddities and rarities, mainly drawn from the Nigerian and Ghanaian pop scenes of the 1960s and early '70s. There are some delightful rock'n'roll "twist" tunes, as well as a lot of calypso- and ska-flavored novelty songs and a few funk tunes as well (notably "Ewele Aya" and "One Early Morning," from Professor Y.S. & His BB Band, from Nigeria). Most of these songs were sung either in English or in pidgin English, which provides a novelty appeal (although I prefer the non-English numbers, such as the lively "Eje Ka Jo.") Other highlights include Charlotte Dada's kooky, clanky-percussion cover of the Beatles' "Don't Let Me Down," and the politically charged "Lumamba Calypso," from 1961. This isn't the smoothest African pop collection you'll ever hear, but it does have some interesting historical nuggets!

Various Artists "THE MUSIC IN MY HEAD" (Stern's Africa, 1998)



Designed to accompany a book by the same name, this disc has a discernable Sub-Saharan/Arabic musical tilt. Plenty of big-name artists on here, including Salif Keita and Youssou N'Dour early in their careers... What's most notable, though, are the distinctive styles of music -- this has a lot of music with an experimental pop orientation, and is a favorite among devotees of African pop. Recommended!

Various Artists "THE MUSIC IN MY HEAD v.2" (Stern's Africa, 2002)



The second volume in this series is of similarly high calibre... If you're already heavily into African pop, many of these names may already be familiar to you, but this would be great for anyone looking for a strong introduction to the style, or just for a pleasantly structured collection to put on and groove out on... Recommended!

Various Artists "MUSIC OF THE NILE: THE ORIGINAL AFRICAN SANCTUS JOURNEY -- FIELD RECORDINGS BY DAVID FANSHAWE" (Arc Music, 2003)



Decidedly noncommercial, richly authentic tribal and traditional music gathered from along the length of the Nile River, in Egypt, Uganda, Kenya and the Sudan. Islamic prayers, cattle herding songs, children's tunes and various ritual chants intermingle on this multi-textured, fascinating collection. Not the glossy, pop-tinged world music we've come to know and love, but certainly a fascinating glimpse into several other, very different cultures. Nice.
Various Artists "MUSIKI WA DANSI: AFROPOP HITS FROM TANZANIA" (Africassette, 1995)





<! Various Artists "MUSIKI WA DANSI" (Africassette, 2001) B000008QUI Musiki wa Dansi is the latest release on the Africassette label. This various artists collection features some of the top hits and best bands from Tanzania. Included are great Tanzanian artists such as Orchestra Maquis Original, Juwata Jazz Band, Mlimani Park Orchestra and International Orchestra Safari Sound. This is a first-rate collection. 11 tracks/71 minutes. The above sample is from Homa Imenizidia by International Orchestra Safari Sound. >

Various Artists "NAIROBI BEAT: KENYAN POP MUSIC TODAY" (Rounder, 1992)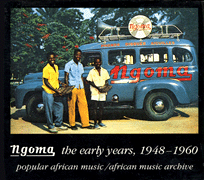 Various Artists "NGOMA - THE EARLY YEARS: 1948-1960" (Popular African Music, 1996)


An enthralling compilation of super-rare 78s and 45s made following the independence of the Republic of Congo in 1948. There's a bewildering stylistic variety here, from blues-y acoustic numbers and Big Band pop, to more traditional sounding material. This is one of those rare discs that's packed full of songs that leap out at you... well worth checking out!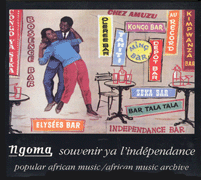 Various Artists "NGOMA: SOUVENIR DE LA INDEPENDENCE" (Popular African Music, 1997)


The acoustic sound of the first Ngoma collection (reviewed above) is superceded here by a lively, enthralling electric guitar style -- the classic West African pop sound. Great stuff from start to finish!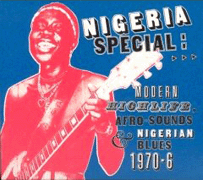 Various Artists "NIGERIA SPECIAL: MODERN HIGHLIFE, AFRO-SOUNDS AND NIGERIAN BLUES" (Soundway, 2007)



A fine, often electrifying 2-CD set of vintage Nigerian pop and funk from the 1960s and '70s... Although a few of the artists are relatively well-known, such as Sir Victor Uwaifo, this collection is mostly a crate-digger's special: it's not necessarily "representative" of the main or classic bands of the era, but it is packed with rare tracks and plenty of gems... And it's fun! There are some beautiful guitar-pop grooves, a few more challenging, dissonant tunes and several really slamming American-style funk tunes, notably "I Want a Break Thru" by the Hykkers and "Alabeke," by Dan Satch and His Atomic 8 Dance Band. There's also plenty of pure, potent Afro-Pop, with relaxed, hypnotic grooves. Great stuff - definitely worth picking up!
Various Artists "NIGERIA SPECIAL 2 -- MODERN HIGHLIFE, AFRO SOUNDS & NIGERIAN BLUES: 1970-6" (Soundway, 2010)



Various Artists "NONESUCH EXPLORER SERIES: AFRICAN MUSIC SAMPLER" (Nonesuch, 2002)



A single-disc sampling of the CD-era reissue of Nonesuch's groundbreaking "Explorer" series, which brought world music to an American audience during the hippie years. Although the original albums were a bit "folkloric" and dry, compared to the wealth of world styles we can hear today, this CD wisely plucks out some of the best sonic oddities from the original, august albums, songs that have such distinctive, alluring aural properties, that they will instantly grab the attention of even the most jaded modern listener. Includes several eerily ambient songs that are similar in feel to Francis Bebey's best work. A nice chance to check out the best this multi-album series has to offer. Be sure to also check out the many volumes of Asian music when they become available!

Various Artists "OUAGA AFFAIR -- HARD WON SOUND OF THE UPPER VOLTA: 1974-78" (Savannahtone, 2009)
A fascinating collection of uber-rare 1970's Afro-pop recordings from the former Portuguese colony of Upper Volta (now known as Burkina Faso...) These mid-'70s tracks have a funky, loose, improvisational feel to them, equal parts soul and highlife. The artists include Sandwidi Pierre, Cisse Abdoulaye, Amadou Ballake, Mange Konde -- none of whom I've ever heard before -- and various bands such as Super Volta, Volta Jazz and Harmonie Voltaique. It's cool music, although the sound quality is lamentably muffled. Worth tracking down, though, if you're into vintage African pop!

Various Artists "OUELELE" (Comet, 1999)



An interesting set with an avant and acid-jazzy orientation, curated by this ambitious French reissue label. Some of these tracks are a bit hard to take, particularly Letta M'Bulu screechy, ungainly "jazz-dance classic," "What's Wrong With Grooving," which I would say qualifies as camp, rather than super-groovy Afro-soul. But then again, I'm not a European club-hopper and, as they say, there's no accounting for taste. On the other hand, there are severl real gems on here, such as Philip Cohran's avant-based "Unity," and other songs that are perfectly fine and funky. Worth checking out!


<! date actually 2002? >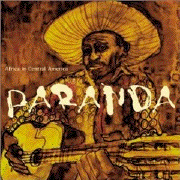 Various Artists "PARANDA: AFRICA IN CENTRAL AMERICA" (Detour, 2000)



One of the most striking world music releases of recent years! This collection highlights musicians from the Garifuna, an African enclave that once populated the Caribbean island of St. Vincent, but later spread into coastal Honduras, Guatemala and Belize. These songs are intensely African, musically as well as linguistically -- the Latin American heritage is represented by a gypsy/flamenco twist to the catchy guitar work. Apparently this particular style is dying out, but one hopeful sign about this project is that younger musicians from the newer popular style -- called Punta Rock -- also take part in these acoustic recordings. Really interesting stuff -- well worth checking out!


<! also B000NQPZME >

Various Artists "THE PULSE OF AFRICA" (Arc Music, 2004)



This set of drumming and percussive instrumentals is surprisingly compelling; I hadn't expected to be that into it, and then became transfixed as the waves of rhythm overtook me and carried me along. Five different groups perform on this well-paced collection: The El Hadj Ensemble specializes in Ghanaian and Senegalese drumming; Ipelegeng, Matodzi and the Soweto Ensemble represent South Africa and a group called African Works adds a "bush" beat to many tracks. Often these groups perform collaboratively, and the cumulative effect is quite nice. After decades of brisk, somewhat jarring drumming albums, it's nice to hear the recording methods and the presentation softening up a bit, so that the melodic and textural depths come out more clearly... There's no pop fusion going on here; the drumming is fairly pure, but it's also kind of laid back and pleasant to space out on, with plenty of stylistic variety. Very nice.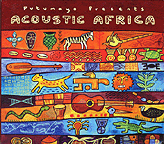 Various Artists "PUTUMAYO PRESENTS: ACOUSTIC AFRICA" (Putumayo, 2006)


A sweet, mellow set of acoustic-based ballads from contemporary artists across the African continent... This is a pretty-sounding album, not terribly challenging but also not icky or sacharrine in any way... Best of all is the high proportion of new faces and relatively unknown artists on here... I only recognized a few names -- Habib Koite, Angelique Kidjo -- and was pleaantly surprised by several of the newcomers, particularly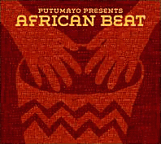 Various Artists "PUTUMAYO PRESENTS: AFRICAN BEAT" (Putumayo, 2011)



A smooth mix of African pop and modern production. The first half of this collection sounded fairly generic but more alluring, ear-bending sounds crept in towards the end, like the angular, unexpected riffs on Donso's "Mogoya," Afro Fiesta's slinky, Marley-esque reggae-funk on "Baweli" and Vieux Farka Toure's Toureg-influenced groove on "Wosoubour." The album closes with "Lagos Sound System" by Les Barons, one of the only tracks that sounds like pure Afro-Beat, in the Fela style (which is kind of what I expected this album to be full of...) The clubby stuff up front didn't do much for me, but like many Putumayo collections, this is full of signposts to a variety of artists and styles that might otherwise be hard to find. Definitely worth checking out!


<! 02/12: B005FTRH6Q - nonfunctional MP3 link >
Various Artists "PUTUMAYO PRESENTS: AFRICAN PARTY" (Putumayo, 2008)


A fun record! This collects several sweet African pop grooves from artists such as Oliver Mtukudzi, Bonga and Sekouba Bambino, as well as several lesser-known artists such as BoPol Mansiamina, from Congo, and Macire Sylla, from Guinea... The songs come from 2000 to 2008, with a lone 1990s track by Oakland, California's venerable band, Kotoja. Almost all the songs sound lively and cheerful, living up to the album's promise of a good time party vibe for all. There are one or two tracks that are a little too overproduced for my tastes, but that's still a darn good batting average: like many Putumayo discs of recent vintage, this is an excellent set, sticking to more soulful, rootsy material that will make longtime world music fans quite happy. Just the kind of album to have on all morning long to brighten up your day.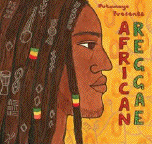 Various Artists "PUTUMAYO PRESENTS: AFRICAN REGGAE" (Putumayo, 2009)


A strong set of modern reggae tunes from various Africa countries, including Burkina Faso, Ghana, Guinea-Bissau, South Africa and several artists each from the Cape Verde Islands and Ivory Coast. The appeal of reggae music, which is a product of the African diaspora, to African artists is readily apparent -- it shares a musical heritage with Africa's past, along with a politically conscious world view in the present... Most of the artists here are unknown to me (which I usually find appealing) and several are pleasant surprises. There are some pretty cool songs on here, particularly those sung in local languages (most of the tracks on this collection) and even with an English-language tune or two that recall the dreary days of 1980s reggae, this is a pretty engaging and invigorating collection. Indeed, hearing reggae sung in different languages does a lot to help an old-timer like me to hear the music with new ears, and feel the vibes of the music again, rather than get caught up in the whole "reggae is dead" feeling of years gone by. Another strong collection on Putumayo -- definitely worth checking out!


<! and even with a tune or two that recall the dreary days of 1980s reggae (mainly English-language tracks, like Majek Fashek's seven-minute long "Man Of Sorrow", which closes the album) >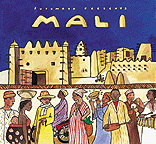 Various Artists "PUTUMAYO PRESENTS MALI" (Putumayo, 2005)


Generally speaking, I am not a Malian music true believer... Too much Ali Farka Toure too early on, I guess. But this is a first-rate set with a delightful variety of artists and styles, from mellow acoustic to more modern, techno-laced pop. All of the tracks on here are both substantive and easy on the ears -- this is a consistently enjoyable, listenable album, a nice cross-section of this venerated, fertile musical culture. Featured artists include Moussou Dianllo, Habib Koite, Tinariawen, Boubacar Traore and others... The set flows well from track to track, and makes for one lovely, listenable album. Recommended!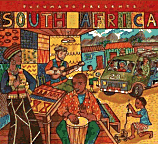 Various Artists "PUTUMAYO PRESENTS: SOUTH AFRICA" (Putumayo, 2010)


A nice sampling of contemporary South African pop, featuring recordings from 1998-2009 (and one anachronistic dip back to the '50s, for a classic Miriam Makeba track, thrown in for good measure...) Like much South African music, the production style is generally too slick and posh for my tastes, but there's some nice, mellow stuff on here. Includes a few English-language tracks, a smidge of rap and soul, and lots of traditional instruments blended with more modern sounds. If you're looking for an update from the township music of the 1980s, this disc would be a good introduction to some f the newer artists.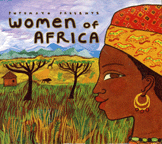 Various Artists "PUTUMAYO PRESENTS: WOMEN OF AFRICA" (Putumayo, 2004)


One of the better entries in the Putumayo catalog -- a very listenable overview of contemporary female African pop singers, ranging across the continent from the Southern horn to the Saharan expanse, from Madagasgar to the Cape Verde islands. Some of the choices include well-known artists such as Dorothy Masuka, Angelique Kidjo and Tarika; others are welcome adventures off the beaten path, introducing lesser known singers such as Dobet Gnahore of Ivory Coast, Maria De Barros, and Kaissa, from Cameroon. A well-programmed, soulful selection. Recommended!
Various Artists "RACUBAH" (Comet, 1999)



Various Artists "RED HOT AND RIOT" (MCA, 2002)



A skillfully produced homage to the classic Afro-Beat sound of Nigerian bandleader Fela Anikulapo Kuti, with a lineup of high-power musicians like you wouldn't believe... Everyone from hip-hop's Common, Mixmaster Mike and Talib Kweli to neo-soulsters such as D'Angelo, Macy Gray, M'Shell Ndegocello to African pop stars such as Ray Lema, Cheikh Lo and Baaba Maal and even a few Brazilians and avant-jazz cats in the mix, for good measure (folks like Jorge Ben Jor, Lenine, Ron Blake and Archie Shepp...) Plus, Fela's old drummer Tony Allen and son Femi Kuti are on board as well... For and album with such a far-flung cast of characters, this is remarkably cohesive; producers John Carlin, Paul Heck and Andre Levin did an amazing job threading the performances together and giving this project an organic feel that flows from track to track. Plus, it's a for a charitable cause...! What more could you want? This is a very skillful and noteworthy extension of the classic Afro-Beat style... Worth checking out!
Various Artists "THE ROUGH GUIDE TO AFROBEAT REVIVAL" (Rough Guide, 2009)


Various Artists "THE ROUGH GUIDE TO AFROBEAT REVOLUTION" (Rough Guide, 2009)


Various Artists "ROUGH GUIDE TO CONGOLESE SOUKOUS" (Rough Guide, 2001)

Various Artists "ROUGH GUIDE TO MARRABENTA MOZAMBIQUE" (Rough Guide, 2001)


Various Artists "ROUGH GUIDE TO SOUTH AFRICAN GOSPEL" (Rough Guide, 2003)


I'm not, personally, a huge fan of the South African gospel/group vocal style... (Living in Berkeley in the 1980s, I kind of got overexposed to the secular version, exemplified by groups such as Ladysmith Black Mambazo, et al...) Still, I can recognize a class act when I see one, and this collection of harmonically rich, dense, soulful religious songs, sung primarily in Zulu and Sotho, is an excellent introduction to the genre. Drawing on the archives of several record labels, this concentrates mainly on recordings made in the 1980s and '90s, but also dips lightly into the '60s and '70s, when the music was going through a period of intense development and modernization. If you like the style, or you're just curious what it's all about, this is a fine disc to try out.
Various Artists "ROUGH GUIDE TO WEST AFRICAN GOLD" (Rough Guide, 2006)



Various Artists "ROUGH GUIDE TO THE MUSIC OF ETHIOPIA" (Rough Guide, 2004)


While this does have some cool stuff on it, mostly they play it pretty safe in the song selection, leaning heavily on smoother, more modern sounding material. If you'd hoped for a single disc selection that would double for a "best-of" of the ETHIOPIQUES series, this one ain't it. It ain't bad, though...
Various Artists "SALSA AFRICA" (Tinder Records, 2000)


A fascinating mix of African and Cuban music... For centuries, Afro-Cuban rhythms has wafted back and forth over the Atlantic, inspiring the growth of Cuba's various musical styles, and in turn, the West African "rumba" music of the 1950s and '60s. This disc is fairly unique in that it collects hits by African artists who plays specifically "salsa" style music, sometimes singing in French or their local languages, sometimes mixing the style with lovely, lush African guitar work. This is a companion disc to an earlier collection of international salsa acts (from as far afield as Israel...) As interesting as that disc was, though, this one is superior -- the music is more powerful, and the pacing is more cohesive. Highly recommended!

Various Artists "SONGS OF THE AFRICAN COAST: CAFE SONGS OF LIBERIA" (Yarngo, 2007)


A fascinating set of late 1940s recordings, documenting the "cafe music" of coastal Liberia, originally recorded by ethnographer Arthur S. Alberts and released on 10" records in the 1950s. This disc reprises most of the songs from those old discs, along with six previously unreleased tracks that amplify the other material. In a timeless chicken-or-the-egg scenario, the music of this former American protectorate echoes and overlaps American blues (and, indeed, some songs will be familiar to folk-blues fans from reinterpretations made in the '60s, after the originals had circulated through the Greenwich Village scene...) Unlike much popular African music, this is linguistically accessible to American audiences -- the songs are sung mostly in English and pidgin English, with some local slang, so on the whole, the meaning of the lyrics is readily apparent. Most songs are comedic takes on romantic or ribald themes, a few are topical (although the meaning may be lost on the modern listener: the reprinted old liner notes come in handy...) and all bear the obvious stamp of a relaxed nightclub/cabaret culture. The similarities between these recordings and classic calypso are quite striking, both musically and in the lyrical form, with a tinge of the American and British music halls as well. Like old-school calypso, this might not appeal to the average world music fan -- it's far less about the melodies and rhythm than about wordplay and story-related entertainment. But students of African cultural history will find this collection fascinating, as will those of us who just like the sonic qualities of old things... It's definitely an echo of a time and place that are long gone, but enchanting nonetheless.

Various Artists "THE SOUL OF CAPE VERDE" (Lusafrica/Tinder Production, 1996)


A gorgeous collection of deeply lush, romantic material from Cape Verde. This is, flat out, one of my favorite "world music" albums ever. If you don't have it already, you should correct that problem as soon as possible. The basic form here is the morna, a languid, florid ballad style which is closely related to the Portuguese fado. This album includes big name artists such as Cesaria Evora (Cape Verde's first verifiable international star), and her protege, Maria Alice. More precious still, though, is the older material from the mid-1960s, which I imagine is pretty hard to come by. (Note to music labels: an album of stuff by Luis Morais, or even just more music in this general vein, would be wonderful wonderful wonderful). HIGHLY RECOMMENDED.
Various Artists "SWAHILI MUSIC -- 78RPM RECORDINGS: 1930-1955" (Musical Ark, 2006)


A beautiful set of archival recordings from Kenya and Tanzania... Too bad it's only available as a download; I'd love to spend more time with this glorious acoustic music!

Various Artists "TOWNSHIP JAZZ'N'JIVE" (Music Club, 1997)


This is the single best collection of South African "jive" music that I've heard. A stellar set of South African pop music from the 1940s and '50s. American swing and pop vocal styles are gloriously transmuted into utterly delectable melodic forms -- the perfect thing to put on some day when you're down in the dumps and want to feel really, really warm and fuzzy. This disc features the best artists of the time, the recordings of many of whom are maddeningly impossible to find anywhere else. Especially cool are Miriam Makeba's original vocal ensemble, The Skylarks, and the beautiful pennywhistle music of groups such as the Solven Whistlers. This is a fun, fascinating album, and highly, highly recommended! (Note to Music Club: I eagerly await Volume Two!)

Various Artists "TOWNSHIP SWING JAZZ! Vol. 1" (Celluloid, 1990)
An earlier compilation with slightly murky sound quality, and a predilection towards instrumentals, this disc nonetheless has bragging right over the other collections, at least in the sense that it came out several years earlier. The Music Club collection is far superior -- more varied and punchier material -- but this set has a more ragged, jazzier edge. The liner notes are minimal, but like the other discs, this features material from Gallo Records... a cool cast of characters, including more Skylarks, and a couple of tracks by Dorothy Rathebe. If you can find it, pick it up!


<! 109 x 108 >

Various Artists "TOWNSHIP SWING JAZZ! Vol. 1" (Harlequin, 1991)


Same title, superior record. Another out-of-print goodie to keep your eyes peeled for... I haven't heard this one, but considering the high quality of other Harlequin releases, this is probably an astonishing album.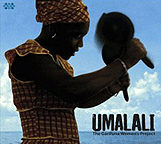 Various Artists "UMALALI: THE GARIFUNA WOMEN'S PROJECT" (Cumbancha, 2008)



The Garifuna people, who live in enclaves along the Caribbean coast of Belize and other Central American countries; they have strong, vibrantly alive African roots and, up until modern times, their own distinctive language and dialects. Because of external economic and cultural pressures, the Garifuna culture was in danger of dying out in the 1980s when a group of younger artists seized it back from the precipice, embraced it, and brought it into the 20th Century. One of the most prominent artists, Andy Palacio, delved into the wellspring of Garifuna traditional music, both preserving the fading oral tradition and combining it with rock, jazz, and other outside influences. He led several bands, and more recently released solo albums including his last one, Watina (also on the Cumbancha label) which brought widespread acclaim, just before his untimely passing away early in 2008. Despite the loss of its great champion, Garifuna culture appears to be healthy and thriving, at least if this fine compilation album is any indication. This is a set of music featuring several women from Palacio's own region of Belize, with keening vocals set against sleek, velvety modern arrangements. Sofia Blanco, Desere Diego, Bernadine Flores, Damiana Gutierez, Sarita Martinez -- none of these are famous musicians, indeed, their singing style is marked by its roughness and authentic rural character, a sharp, distinctly African vocal style that's rather similar to the roda de samba sung by older women in Bahia, Brazil. The pairing of the contemporary pop production and their other-worldly chanting seems potentially perilous, but much to the producers' credit, they don't subsume the women's vocals, don't remix or gussy them up, but rather play off of them, and support them delicately and with admirable restraint. Although the rugged core of their pre-modern culture is left intact, the album is surprisingly rich and engaging... Another nice one from this up-and-coming new label!

Various Artists "VIBRANT ZIMBABWE" (Vibrant/Zimbob, 1993)


A nice sampler of contemporary Zimbabwean pop bands of the early 1990s... The disc opens with an super-catchy dance tune by John Pound, where the thumping rhythm that drives South African mbaqanga is joined by jangly, hypnotic guitar riffs that sound more typical of the West African pop scene: the very epitome of modern Zimbabwean music. The beat continues for several songs (and even gets a bit monotonous at times), then is broken by a reggae riddim or two. If you want to check out some of the newer music from this impoverished nation, this collection is a nice place to start.
Various Artists "THE WASSOULOU SOUND -- WOMEN OF MALI, v.1" (Stern's Africa, 1994)


Various Artists "THE WASSOULOU SOUND -- WOMEN OF MALI, v.2" (Stern's Africa, 1994)


Various Artists "THE WORLD ENDS: AFRO-ROCK & PSYCHEDELIA IN 1970's NIGERIA" (Soundway, 2010)


Various Artists "ZANZIBARA 1: A HUNDRED YEARS OF TARAAB IN ZANZIBAR" (Buda Musique, 2006)


Various Artists "ZANZIBARA 2: THE GOLDEN YEARS OF MOMBASA TARAAB" (Buda Musique, 2007)


Various Artists "ZANZIBARA 3: UJAMAA: THE 1960s SOUND OF TANZANIA" (Buda Musique, 2007)



A sweet set of '60s grooves from Tanzania. Includes work by the Jamhuri Jazz Band, Nuta Jazz Band, Atomic Jazz Band and others... (Note: Volumes Four and Six of this series were devoted to individual artists -- Bi Kidude and the Mtendeni Maulid Ensemble -- and are not listed here with the compilation albums.)
Various Artists "ZANZIBARA 5: HOT IN DAR: THE SOUND OF TANZANIA 1978-83" (Buda Musique, 2009)


Various Artists "ZULU WORKER CHOIRS IN SOUTH AFRICA" (Heritage, 1999)

---
---



African Music Index
World Music Index


---