! MP3 01/09/10, 02/07/12 > <! update 00/00/00 > <! outside 00/00/00 > <! pix 01/09/10 > <! 02/20/09: new notes: Karin Mensah, Mtukudzi needs own page probably > <! icons 02/04/11 >
---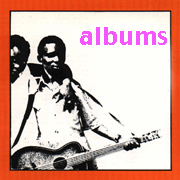 Hi -- welcome to my African music review section. This is the second page reviewing records by artists under the letter "M" More African music resources can be found at the main index page.
By the way, this list is a "work in progress," so please feel free to make comments or recommendations.
---
A | B | C | D | E | F | G | H | I | J | K | L | M-1 | M-2 | N | O | P | Q | R | S | T | U | V | W | X, Y, Z | Comps

---
MUSICAL STYLES: Afro-Beat | Music of Cape Verde | South African Jive 'n' Jazz | Main Africa Index
---

<! PRINCE NICO - Nigerian highlife musician nine albums with Rocafil Jazz, also the London-based Ivory Coasters B003CCS8OI - LP >

Prince Nico Mbarga "Aki Special" (Rounder, 1987)


Prince Nico Mbarga "Cool Money" (LP)


With Rocafil Jazz International...
Prince Nico Mbarga "Sweet Mother" (Rounder, 1990)





<! LP = B00008FPBJ >

Prince Nico Mbarga "Free Education" (Rounder, 1990) (LP)

Prince Nico Mbarga "The Best Of..." (Rogers All Stars, 2003)

Prince Nico Mbarga "Na Mi Choice: The Best Of Prince Nico Mbarga & Rocafil Jazz, v.2" (Rogers All Stars, 2010)





<! Boy Ge Mendes >

Nicolas Menheim & Le Super Sabador "Commandante Che Guevara" (Popular African Music, 2002)


Senegalese bandleader Nicolas Menheim is one of his country's most accomplished salseros, mining deeply into the cross-connections of African pop and Afro-Cuban dance music. This album, drawing from two cassette-only releases that came out in 1999 and 2000, is an impressive set of smooth, hypnotic, classic '70s-style salsa grooves, a bit slack-sounding at times, but basically performances that could stand side by side with the best that Havana, Miami or New York has to offer. Menheim is an old-timer, having apprenticed in the 1980s with mbalax stars Papa Seck and Nico, and was a founding member, along with Seck, of the highly regarded Africando band. This is material that's pretty similar to the Africando sound, but which hews more closely to the Cuban/Carribean side of the equation, with most of the vocals sung in Spanish. For fans of modern African pop, this disc will be a bit of a revelation!

E.T. Mensah "All For You: Classic Highlife Recordings From The 1950s" (RetroAfric, 1990)



Essential early recordings from one of the greatest African pop musicians. Ghanaian bandleader E.T. Mensah was one of the key innovators of the style, taking it from its society danceband and calypsonian roots into a more modern mix of jazz, pop and Cuban-flavored rhythms. These '50s recordings have a delicious antiquity to them, but also an Afropop style that is easily recognized from its modern echoes. Highly recommended!!
E.T. Mensah "Day By Day" (RetroAfric)






<! Karin Mensah - Cape Verde artist >
Ruy Mingas "Temas Angolanos" (Strauss, 1973)


A very pretty, uptempo album from this Angolan star, with a strong flavor of Brazilian samba not too far under the surface, and a bouncy African vibe as well. Quite nice!
Ruy Mingas "Monangombe" (Strauss)


A beautiful, and intensely political album by one of Angola's most prominent musicians (who has also served as the country's Minister Of Culture...) Nice acoustic balladry, with ornate but tasteful arrangements... A lovely album by an overlooked but very lyrical artist. Recommended!

Mlimani Park Orchestra "Sikinde" (Africassette, 1994)


Gorgeous 1990s guitar pop from Tanzania, with sleek, sensual vocals and funky rhythms that seem to stretch back to the James Brown idolization of the late '60s Afropop scene, but with a softer modern edge. Mostly, it's the super-duper, super-pretty electric guitar work that's the wow-factor here -- really nice stuff that's the perfect update of the best West African pop of the '70s. Beautiful music; this band may not be very well-known outside of their home, but don't let that stop you from picking this record up. You'll be happy you did.

Pamelo Mounk'a "L'Essential" (Syllart, 2008)


A sweet set of classic, gentle West African soukous, highlighting vocalist Pamelo Mounk'a, who worked with Les Bantous De Capitale and several other groups... Included on this particular set are bandleader Tabu Ley Rochereau and singer M'Bilia Bel... Really lovely material, a little bit on the more mellow side of the style. Highly recommended.


<! also B0019RVFRK >

Pamelo Mounk'a "L'Incontournable" (Syllart, 2008)





<! also B001E1BO0O >

Pamelo Mounk'a "L'Indispensable" (Syllart, 2008)

Pamelo Mounk'a "Merveilles Du Passe, v.1: Pamelo Mounk'a & Les Bantous De La Capitale" (Cyriaque Bassoka, 1995)


Pamelo Mounk'a "Volume One: Deogratias" (Cyriaque Bassoka Productions, 2007)






<! religiously-themed album >

Mtendeni Maulid Ensemble "Zanzibara, v6: The Moon Has Risen - A Sufi Performance From Zanzibar" (Buda Musique, 2012)


Volume Six of the Zanzibara series, focussing in this case on one band, the Mtendeni Maulid Ensemble.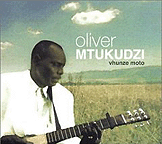 Oliver Mtukudzi "Vhunze Moto" (Putumayo, 2002)



Mellow guitar music from Zimbabwe -- more nuanced, relaxed and varied than Zimbabwean music tends to be. A pleasant surprise!

Oliver Mtukudzi "The Oliver Mtukudzi Collection" (Putumayo, 2003)


More lovely stuff from this Zimbabwean bandleader... This best-of draws on several recent albums, and is mostly pretty listenable, with lots of sleek, melodic guitar work and soulful vocal choruses. A couple of songs which close the album out are sung in English, and are a bit less captivating, but on the whole, this is a nice record. Certainly a good introduction to his work.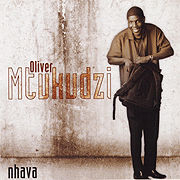 Oliver Mtukudzi "Nhava" (Heads Up, 2005)



Outstanding! An album of simple and surpassing beauty, quite lovely from start to finish. Zimbabwe's Mtukudzi has created his own style of music, called "tuku," in which he slows the typically manic pace of Zimbabwean pop down to a relaxed, introspective crawl. Content to have the guitar play a support role, acting as part of the rhythm section, Mtukudzi repeats short, alluring riffs that settle in your mind and softly echo with each repetition, gradually building your affection for the tune, as the vocals drop in and lead the melody into a sublime sweetness. Mtukudzi's method plays against the expectations of most modern pop: he's in no hurry to go anywhere, and simply lets the songs luxuriate and resonate, sounding pretty without driving the listener along into some frantic musical climax. It's a welcome change of pace, and made this disc one of the most listened to records in my household this year. While to some folks that may sound like a prescription for saccharine easy listening, the vocals by Mtukudzi and his chorus add passion to the songs, adding gentle urgency to the songs... I haven't the slightest idea what he's singing about, but the simple musical framework highlights the rhythms of his language, and makes you want to learn. This album may be too soft for some listeners, but if you're in the right frame of mind, you'll find it very, very rewarding. Highly recommended.

Oliver Mtukudzi "Tsimba Itsoka" (Heads Up, 2007)



A smooth, super-mellow African pop set from this Zimbabwean pop star... Mtukudzi has a wide stylistic range, and this album sits pretty firmly on the softer side of his spectrum. It's a little too sedate for me, but it isn't gooey or maudlin... Nice, but very gentle and relaxed.
George Mukabi "Sengula Nakupenda" (Music World, 1993) (CD-R)



Old-school acoustic guitar from Kenya... Repetitive, but very sweet when taken in small doses...


<! George Mukabi George Mukabi's guitar style is somewhat similar to that of the Congolese greats, but with a distinct local flavor, and though he is less well known, his playing is as varied and exciting as anyone's in the genre and inspired generations of imitators. Meanwhile, the Kenyan recording industry went far beyond acoustic guitar, and a collection of 1950s-era Kikuyu recordings includes everything from yodeling cowboys to a cappella women's choruses accordionists reminiscent of Louisiana zydeco. --Elijah Wald-- >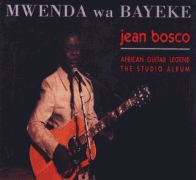 Jean-Bosco Mwenda "Mwenda Wa Bayeke" (Rounder, 1995)



An absolute delight. Acoustic guitarist Jean-Bosco Mwenda was one of the key pioneers of the Congolese acoustic guitar style, and this disc gathers some of the best of his all-too-rare recorded work... This music is a singular pleasure; once you hear it, you'll be hooked, and you'll be glad it came into your life. Gentle, fluid acoustic music, with equally appealing vocals. Highly recommended! (Note: for more of Mwenda's work, you might also contact folklorist Elijah Wald, who has put out some collections of Mwenda's old, hard-to-find singles, as well as some material recorded over the years for Congolese radio. There's more info at Wald's website, which also includes info on some other, similar artists.
---
---



African Music Index
World Music Index


---