<! cd = 02/14/09, posted 02/04/11 > <! MP3 02/14/09 > <! update 02/14/09 > <! outside 00/00/00 > <! pix 00/00/00 > <! 02/09: many albums can't be found, confirmed on Amazon. Need another discography to work from > <! icons 02/02/11 >
---
African troubadour Bonga is one of Angola's major stars, an artist who came to prominence in the early 1970s, when Angola was still torn apart by a brutal anti-colonial civil war. For many, he came to represent a new national pride and independence -- those political connotations may be lost on outsiders, but the beauty of his music is hard to miss, and all these decades later, Bonga's music still sounds as pretty as ever. Here's a quick look at his work...
---
Discography
---

<! Bonga Kwenda (born José Adelino Barceló de Carvalho), better known as Bonga... >
Bonga "Bonga '72" (Morabeza/Tinder Productions)


Reissue of the first fab African-pop album by one of Angola's most beloved stars, former athlete Barcelo de Carvalho (aka Bonga...) This disc spans a wide variety of styles; reflective acoustic music to bouncy, highlife-flavored dance tunes. The content was politically subversive, having been recorded after Bonga fled Angola to live in European exile... the mere fact that these songs weren't sung in Portuguese was in and of itself a strong politcal statement. Still, no matter what language you speak, Bonga's voice and sense of melody are quite moving -- definitely worth checking out.
Bonga "Bonga '74" (Tinder Productions)


On his second solo album, Bonga began edging into the poppier production that would mark much of his later career. This album has its moments, but is a little stiffer-sounding and less reflective than Bonga '72, a bit more prefab. It's okay, but not quite as moving. However, the album is notable for its broadened scope - here Bonga sings in Portuguese on several tunes, and embraces a variety of styles, including Brazilian pagode and Cape Verdean mornas, reflecting the excitement, optimism and sense of shared purpose in the former colonies, as Portugal withdrew from Angola and its other African possessions in the early months of 1974. Includes his version of the song "Sodade," later made famous by Cape Verde's Cesaria Evora.


<! Bonga's first album, the politically charged Angola 72 recorded in European exile, was a landmark hit record that set the pace for acoustic African troubadours and set the tone for the successes of Waldemar Bastos and Henri Dikongue 25 years later. His follow up, Angola 74, was recorded on the run in Europe just as Angola's colonial government was being overthrown, and adds a more upbeat flavor to his trademark introspective style. Still using acoustic and traditional instrumentation, he is abetted by Guinean sax man Jo Maka and some of Cape Verde's finest musicians. Included is a version of "Sodade" (made famous by Cesaria Evora), a perfect vehicle for Bonga's raspy voice, replete with a thousand years of African soul in spiritual counterpoint to the "morna"-full arrangement. Elsewhere the inclusion of additional percussion, sax, and flutes provide a celebratory, if somewhat edgy, carnival feel that spins the compass between Africa, Brazil, and Portugal. Bonga later moved into a more cabaret mode of expression, so these are watershed recordings for Angolan music. --Derek Rath >

Bonga "Raizes" (1975)





Bonga "Angola 76" (1976)





Bonga "Racines" (1978)





Bonga "Kandandu" (1980)





Bonga "Kualuka Kuetu" (1983)





Bonga "Marika" (1984)





Bonga "Sentimento" (1985)





Bonga "Massemba" (1987)





Bonga "Reflexao" (1988)





Bonga "Malembe Malembe" (1989)





Bonga "Diaka" (1990)





Bonga "Jingonca" (1991)




<! same as below - is this really a best-of? >

Bonga "Geracoes" (1992)





Bonga "Mutamba" (1993)





Bonga "Tropicalissimo" (1993)





Bonga "Traditional Angolan Music" (Playasound, 1993)





<! same as best-of on Playasound? ?

Bonga "Fogo Na Kanjica" (1994)





Bonga "O Homem Do Saco" (1995)





Bonga "Preto E Branco" (1996)





Bonga "Swinga Swinga" (Piranha, 1996)





<! live album >

Bonga "Roca De Jindungo" (1997)





Bonga "Dendem De Acucar" (1998)



<! 02/09: can't find on Amazon > <! Bonga "Falar De Assim" (xxxxxxxxxxxxxxxxx, 1999) - listed on Wiki as an album, but appears to be a track of "Mulemba Xangola" >

Bonga "Mulemba Xangola" (Lusafrica, 2000)



Nearly thirty years down the line, and Bonga is still running strong... Some may find this acoustic-based release a bit on the lighter side, but I think it sounds fine... Very much in keeping with his older work. At sixty, Bonga's voice is getting a little gravelly, but he's far from diminished as an artist. Worth checking out!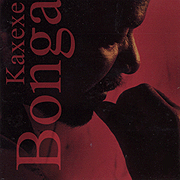 Bonga "Kaxexe" (Lusafrica/Times Square, 2004)



A rich, resonant, beautiful acoustic-based album by Angolan pop star Bonga, who has been recording since the early 1970s. The years have treated him well, and this is one of his best albums yet, with the calm melancholy of age apparent in every performance. Hints of Portuguese fados and Cape Verdean mornas creep in on several tracks, but mostly it's the power of his considerable charisma that comes through loud and clear -- this is a fine, melodic album by a veteran performer... Well worth checking out!
Bonga "Maiorais" (Lusafrica, 2004)


Bonga "Bonga Live" (Lusafrica, 2005)


Bonga "Bairro" (2009)

---
Best-Ofs
---
Bonga "Angola" (Playasound, 1988)


Bonga "Paz Em Angola" (Rounder, 1991)

Bonga "Katendu" (Melodie, 1993)







Bonga "20 Sucessos De Ouro" (1995)




<! 2-CD but only 9 tracks? 1. Sodade 2. Balumukeno 3. Paxi Ni Ngongo 4. Muimbo Ua Sabalu 5. Venda Poro 6. Makongo 7. Mona Ki Ngi Xica 8. Luanda Nbolo 9. Mu Nhango >

---
Links
---
Wikipedia <! PER WIKIPEDIA (02/09) Bonga "Angola 72" (1972) Bonga "Angola 74" (1974) Bonga "Raizes" (1975) Bonga "Angola 76" (1976) Bonga "Racines" (1978) Bonga "Kandandu" (1980 Bonga "Kualuka Kuetu" (1983) Bonga "Marika" (1984) Bonga "Sentimento" (1985) Bonga "Massemba" (1987) Bonga "Reflexao" (1988) Bonga "Malembe Malembe (1989) Bonga "Diaka" (1990) Bonga "Jingonća" (1991) Bonga "Pax Em Angola" (1991) Bonga "Geracoes" (1992) Bonga "Mutamba" (1993) Bonga "Tropicalissimo" (1993) Bonga "Traditional Angolan Music" (1993) Bonga "Fogo Na Kanjica" (1994) Bonga "O Homem Do Saco" (1995) Bonga "Preto E Branco" (1996) Bonga "Swinga Swinga" (1996) (live album) Bonga "Roća De Jindungo" (1997) Bonga "Dendém De Aćúcar" (1998) Bonga "Falar De Assim" (1999) Bonga "Mulemba Xangola" (2001) Bonga "Kaxexe" (2003) Bonga "Maiorais" (2004) Bonga "Bonga Live" (2005) (live album) Bonga "Bairro" (2009) [edit] Compilations Bonga "Angola" (1988) (best-of album) Bonga "Paz Em Angola" (1991) (best-of album) Bonga "Katendu" (1993) (best-of album) Bonga "20 Sucessos De Ouro" (1995) (best-of album) >
---


African Music Index
World Music Index



---