! MP3 00/00/00 > <! update 00/00/00 > <! outside 00/00/00 > <! pix 00/00/00 > <! icons 02/02/11 >
---
Cape Verde's Cesaria Evora (1941-2011) was a singer of global stature, her country's superstar and an ambassador of Cape verdean culture. The devotion she inspired is justified: her music is solid and sensuous, while her husky voice is a close match with Brazil's Maria Bethania, although with much better arrangements. Many of her older records have been reissued recently in the United States on the Nonesuch label, and are now fairly easy to find. Here's a quick look at her career...









---
Albums
---
Cesaria Evora "La Diva Aux Pieds Nus" (Lusafrica, 1988)

Cesaria Evora "Distino Di Belita" (Lusafrica, 1990)

Cesaria Evora "Mar Azul" (Lusafrica/Nonesuch, 1991)


A typically gorgeous album, from early in Evora's career... Sweepingly graceful melodies and Evora's dreamy vocals create a winning sound. These recordings fall in the middle of her style - they aren't her most innovative or distinctive arrangements, but they're still jaw-droppingly beautiful. Recommended.
Cesaria Evora "Miss Perfumado" (Lusafrica/Nonesuch, 1992)


A beautiful album, though much sparser than her later works. Absent are the lush horn arrangements -- instead this album is defined by a stark, bright, piano style and the gentle rhythmic swish-swish of the cavaquinho. Although the piano gets grand and expansive on a few tracks, for the most part it seems a little rinky-dink... in a very good way, though: listening to this album it is easy to imagine Evora performing in a local cabaret, and as a singer, not a superstar. Mournful and evocative; exactly what want you expect and desire.
Cesaria Evora "Cesaria Evora" (Lusafrica/Nonesuch, 1995)

"A L'Olympia (Live)" (Melodie-France, 1999)

Cesaria Evora "Cabo Verde" (Lusafrica/Nonesuch, 1997)


Cesaria Evora "Cafe Atlantico" (Lusafrica/BMG Classics, 1999)


In her lushest album to date, Evora pushes her presentation to match the power of her voice, solidifying familiar arrangements into a grand, sweeping sound. The production on here is flawless, as is the selection of material; in addition to the standard mornas and fados, Evora travels to Havana to tackle a bit of Cuban son, with the help of some of the island's best players. And not for a single second does this album drag or lose your attention... Not to put down her earlier stuff, but this is certainly her best record yet, and one of the most powerful world music releases in the last year or so. Whether you're already a devoted fan, or just checking her out for the first time, this is definitely the Cesaria Evora album to look for. Ace bunny killer!

Cesaria Evora "Sao Vincente" (Lusafrica/Windham Hill, 2001)


A pretty, but strangely unmoving effort, wherein Evora finally seems to have fallen prey to the temptations of the "world music" pop-crossover trap. Although most artists would give their right arm to produce an album this accomplished, coming after her sublime Cafe Atlantico album, this is a bit of a letdown. Mercifully, there are no hip-hop beats or electronica filligrees, but the extra-cheery brightness of the arrangements and the occasional, bouncy reggae riddim are mildly troublesome. There are also plenty of guest stars, some, like Bonnie Raitt, who seem pretty extraneous, and others, like Caetano Veloso, who should cut a whole album with Cesaria. Evora continues her exploration of the musical relationship between Cape Verde and Cuba, with assist from Orquesta Aragon and Chuco Valdes -- on balance, this is a pretty good record, but it seems to lack the gravity and soulfulness of her earlier albums.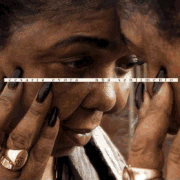 Cesaria Evora "Nha Sentimento" (Lusafrica, 2009)



Another utterly gorgeous album from Cesaria Evora, the queen of the Cape Verde singers... I have to confess that in recent years my attention had wandered away from Ms. Evora's work; after she hit a certain level of global fame, her records started sounding a bit too predictable and ornate. I'm not sure what the difference is here -- less heavy orchestration, a return to simpler, more acoustic instrumentation, or maybe just a simple reconnection with the magic and her muse. At any rate, this is a lovely record -- mysterious, evocative, alluring, pleasantly open-ended in a way that make you wish for more -- every bit as satisfying as her previous masterpiece, 1999's Cafe Atlantico. Highly recommended!
---
Best-Ofs
---
Cesaria Evora "Sodade: Les Plus Belles Mornas De Cesaria" (BMG, 1994)

Cesaria Evora "Best Of RCA" (RCA/BMG, 1999)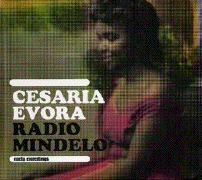 Cesaria Evora "Radio Mindelo" (Lusafrica/Columbia, 2008)



I have to confess, I have, over the years, gotten a bit sick of hearing Cape Verdean diva Cesaria Evora... At coffee bars, in restaurants, and particularly in our own family, where gift copies of various albums have floated around for years now, and have been played at family occasions many, many, many times. It's not that I dislike Evora's music -- not at all! -- it's just that it's so rich and overpowering, like a chocolate mousse, that after a while a little bit goes a long, long way. That's why this new collection, documenting Evora's early years, is such a gem. She sounds new again -- she was new at the time, barely past her teens -- and the youth and fragility of her voice is an amazing contrast to the pathos and gravitas of her later years. Fans will definitely want to check this disc out.
---
Other Media
---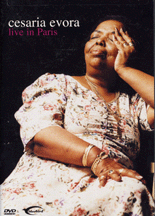 Cesaria Evora "Live In Paris" (DVD) (Lusafrica/BMG-Bluebird, 2003)


For those of us unlucky enough to be unable to attend any of her concerts, here is a splendid presentation of Cesaria and her band, recorded live at the Zenith Theatre in Spring of 2001. The music is all heavenly, a selection of favorites drawn from several albums, including sleek ballads such as "Sodade," "Miss Perfumado," and "Angola." Hovering behind Cesaria are images of Cape Verde's hills, beaches and towns, while onstage, some of the country's finest musicians strum out gorgeous melodies. The one trouble with this video is the editing: the French producers seem to favor montages, including crossfades and overlays of the rear-projected images and the musicians onstage. This technique quickly becomes intrusive and detracts from the beauty of the performance -- personally, I would have preferred a few more lingering close-ups of the singer and her guitarists as they sank into the melancholy depths of the music. But still, this is a lovely glimpse at one of world music's great modern divas. Special features include videos of Evora travelling to Cuba, France and Brazil, a highlight of which is a recording session with Brazilian MPB star Caetano Veloso. (Subtitles in French and English.)
---
Links
---
Cape Verde.Com has an excellent discography page which profiles each album (including several which have not been released in the U.S. yet...) and includes tour information as well.
Evora's label, Lusafrica Records, has a page for her... However, I have been unable to connect with their site and I suspect it is in the process of being updated. I'll keep y'all posted...
---



More Lusophone Music
World Music Index




---