! MP3 02/10/09 > <! update 02/10/09 > <! outside 00/00/00 > <! pix 02/02/11 > <! icons 02/02/11 >
---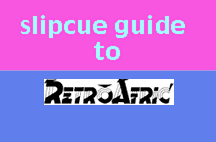 RetroAfric Records is one of the best independent labels specializing in archival African pop releases. It was started as a collective effort of several world music scholars who looked at each other one day and said, "Hey! We know a lot about this stuff, and we have access to a lot of great music that the world would love to hear...!" Thus was a great label born. Here's a quick look at their catalog, modest in size, but stunning in quality.
---
Recommended Records
---
Various Artists "AFRICAN CAVALCADE: THE GLORY DAYS OF AFRICAN MUSIC" (RetroAfric, 1996)



An outstanding collection of songs by artists profiled in the fab archival series on the RetroAfric label... Fourteen prime tracks featuring artists such as Henri Bowane, Franco, Fundi Konde, E.T. Mensah, Shikamoo Jazz and Zaiko Langa Langa... I strongly recommend tracking down the original collections of work from each artist, but this sampler will certainly let you know if this label is right for you.

E.T. Mensah "All For You - Classic Highlife Recordings From The 1950s" (RetroAfric, 1990) (CD-01)



Essential early recordings from one of the greatest African pop musicians. Ghanaian bandleader E.T. Mensah was one of the key innovators of the style, taking it from its society danceband and calypsonian roots into a more modern mix of jazz, pop and Cuban-flavored rhythms. These '50s recordings have a delicious antiquity to them, but also an Afropop style that is easily recognized from its modern echoes. Highly recommended!!

Franco "Originalite: The Original 1956 Recordings Of O.K. Jazz" (RetroAfric, 1990) (CD-02)



The earliest work of one of Africa's great pop great pioneers. In the late 1950s, Congolese guitarist Franco Luambo Makiadi (usually just known as Franco) opened African music up to the hypnotic, shimmering style of intricate, echo-y electric guitar work which later became dominant in the music of so many African countries. Artists as diverse as Tabuley Rochereau and King Sunny Ade all owe a debt to Franco's experimental early work. This album collects Franco's best work from 1956-59... it's great stuff, and entirely essential to any student of African pop.
E.T. Mensah "Day By Day" (RetroAfric CD-03)



Alick Nkhata "Shalapo And Other Love Songs -- Original Zambian Hits From The 1950's" (Retroafric, 1994)


Zaiko Langa Langa "Zaire - Ghana" (RetroAfric CD-05)



Henri Bowane "Double Take - Tala Kaka" (RetroAfric, 1994) (CD-06)



A great record, tracing the roots of the hypnotic ju-ju style popularized by King Sunny Ade... In the 1950s, guitarist Henri Bowane was the bandleader of the Congo's Loningisa Studios, and guided the career of the great pop star Franco; in the '60s he worked with Ry-Co Jazz, and later with Sam Mangwana. This is the first release of Bowane's only solo album, recorded in 1976 and shelved for many years. It's groovy stuff, full of ringing guitars and a clear James Brown influence in the driving, back beat-heavy rhythm. Highly recommended!

Mose Se (Fan Fan) "Belle Epoque" (RetroAfric, 1994) (CD-07)



More great Congolese guitar music, with mellow, loping grooves galore. Fan Fan is a guitarist who over the years worked with OK Jazz and Zaiko Langa Langa... These tracks are taken from sessions he did in the early '70s and early '80s... and they're all rather good! Nice album.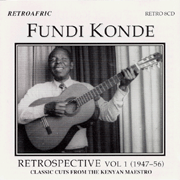 Fundi Konde "Retrospective v.1: 1947-56" (RetroAfric, 1994) (CD-08)



This is my favorite of the RetroAfric albums, since it highlights such a different, older musical style. Kenyan guitarist Fundi Konde began his career during WWII, and started recording in the late 1940s. This mellow, acoustic version of the popular rumba style has a distinct calypsonian feel to it, and an unusual instrumental flavor -- country-flavored accordions and a light clarinet poke up next to a gently strummed acoustic guitar. Konde's vocals are similarly whistful and relaxed, underscoring the sense of novelty and antiquity in these classic tracks. There's not a lot of African pop (that I've heard) that sounds like this -- it's a real treat, and highly recommended for anyone in search of something really new and different to check out.
Shikamoo Jazz "Chela Chela, v.1" (RetroAfric, 1995) (CD-09)



This disc provides a new twist on on RetroAfric's preservationist mission: the songs themselves by this Tanzanian ensemble are vintage 1960s Afro-pop, but the performances are from the 1990s. Shikamoo Jazz is an 11-piece ensemble that keeps alive the classic music of Tanzania's early-'60s, East African "jazz" scene, but makes the material live again for modern audiences. They call their music "chela chela"; I call it awesome. More lovely stuff, with some offbeat touches, such as the antique-sounding keyboard, which calls to mind the Arabic-flavored explorations of Ethiopia's Mahmoud Ahmed (who is featured in the fabulous ETHIOPIQUES series, on Buda Records.) Unique sounding, and definitely worth checking out!

Ry-Co Jazz "Rumba 'Round Africa: Congo/Latin Action From The 1960s" (RetroAfric, 1996) (CD-10)



An absolutely delightful collection of tunes by one of the best Congolese bands of the 1960s. True to its title, this features plenty of tunes directly influenced by Cuban dance music, yet with a sweet African guitar twist. The first half dozen tracks on here are almost pure Cuban son, with chiming, hypnotic electric guitars and a dash of calypso thrown in for good measure. Things get funk with a cool French-language "twist" tune (Bill Haley-flavored rocknroll, that would have made Johnny Hallyday proud...), and then coasts into a pleasant set of more mature, mellow dance tunes. Great record... Highly recommended!
Various Artists "AFRICAN CAVALCADE" (RetroAfric, 1997) (CD-11)



(See above.)
Bi Kidude "Zanzibar" (RetroAfric, 1997) (CD-12)



King Bruce And The Black Beats "Golden Highlife Classics" (RetroAfric, 1997) (CD-13)


Classic old-style highlife from one of the pivotal Ghanian bands of the 1950s and '60s. There's a heavy Cuban rumba influence, as well as a hint of ska-like Caribbean dance grooves. This large, horn-led ensemble was one of the first big commercial successes in the West African pop scene, and was a proving ground for a whole generation of great musicians. Another winner from the folks at RetroAfric.


<! 02/09: no MP3 on Amazon? even though other RA records are linked to >

Thu-Zahina "Coup De Chapeu" (RetroAfric, 1997) (CD-14)



A beautiful set of dreamy, drifty early '70s Congolese pop, dominated by a gently hypnotic electric guitar. Thu-Zahina were one of the pivotal "youth" bands which brought American funk and acid rock influences into the already vibrant Kinshasha pop scene. With the expansive guitar work of Roxy Tshampaka, Thu-Zahina broke out of the tightly-arranged musical mould set by the older, established rumba bands led by Franco and Tabu Ley Rochereau. Later, bands such as Zaiko Langa Langa picked up this rock-influenced "new wave" and tightened the sound, re-establishing the dominance of intricate arrangements and precise musicianship in Congolese music. Here, though, the sound is new and still quite fluid, perhaps more expressive, if you're inclined to think of it that way. (In fact, after Thu-Zahina helped Zaiko Langa Langa get its start, the younger band eclipsed them, and stole their famed guitar player...) Anyway, this is a great record. It's pretty stuff, and it's a shame more of this band's classic catalog isn't available for us to check out. Highly recommended.

Orchestre Veve "Vintage Verckys" (RetroAfric, 2001) (CD-15)



A nice collection of recordings by saxophonist Verckys Mateta, an influential Congolese pop musician who helped pioneer the soukous style that became popular in the 1980s. Verckys was originally a star performer in the OK Jazz ensemble, but set out on his own in the late '60s. He used saxophone riffs where other bands would have guitar leads, and also had a fairly expansive sound mix. Nice stuff, which becomes more elaborate and groove-oriented as the disc progresses -- fans of Afro-Beat who are looking for something less strident and more melodic than Fela Kuti's brand of funk-jazz might really enjoy this album. Definitely worth checking out!

Guy Warren "The Divine Drummer" (RetroAfric, 2002) (CD-16)



These kooky, free-jazz/world beat percussive explorations probably are not for everyone, but they are kinda weird and unique. Ghanaian drummer Guy Warren (aka Kofi Ghanaba) is one of the more elusive figures in the jazz world, as well as the African pop scene. He did a lot of work with a lot of great African bands in the '40s and '50s, founding the Tempos band that later made E.T. Mensah famous, and later got into the hard bop and free jazz scenes of the 1960s, gigging with some of the greats of the style. Then he kinda wigged out and got super-experimental, as these 1969-70 sessions amply demonstrate. It's weird stuff, Max Roach meets the rainforest, recorded with minimal instrumentation and a trance-y overall vibe, though also fairly artsy and irritating, in a way that might be familiar to folks who have heard Alice Coltrane or Pharoah Sanders.

Super Eagles "Senegambian Sensation" (RetroAfric, 2002) (CD-17)



This electrified Gambian dance band sprang out of the ashes of the early 1960s group, African Jazz (heard on the EAST OF AFRICA collection) and later provided the core group of Africando, one of the great Afrocuban bands of the '80s and 90s. This disc captures the Super Eagles in their late-'60s/early-'70s heyday, playing a kind of music called ndagga, which was the roots of the mbalax pop style made popular my Youssou N'Dour and Etoiles de Dakar. This album opens with some beautiful, mellow guitar music, then shifts into American-style R&B and pop, including a Beatles song and several English-language soul numbers, sung by Badou Jope, who pioneered the genre inside Africa. The soul stuff might not be for everyone, although fans of Afro-Beat may find it an interesting stylistic footnote...

Geraldo Pino & The Heartbeats "Heavy Heavy Heavy" (Retroafric, 2005) (CD-20)



A welcome collection of formative Afro-funk by a Sierra Leone bandleader who was a major influence on Nigeria's legendary Fela Kuti.

Gaby Lita Bembo & Orchestre Stukas "Kita Mata ABC" (RetroAfric, 2005) (CD-18)



An interesting set of late '70s/early '80s recordings featuring Zairean vocalist Gaby Lita Bembo and the Orchestre Stukas... This album gathers several singles, some of which were recorded with lamentably lo-fi production, but all of which have stunning musicianship, particularly the guitar work of Samunga Tediangaye (who I believe is on at least some of these tracks). These 1974-83 recordings were wildly influential, and gve some impression of the legendary dynamism of the band, and of Bembo in particular. Worth checking out, although the sound quality may be disappointing.
Les Mangalepa "Endurance" (Retroafric, 2006) (CD-21)


Captain Yaba "Yaba Funk Roots" (Retroafric, 2003)






<! "Tinanure" cool song! A bit modern, but nice mix of African and Arabic styles >
Andre Marie Tala "Bend Skin Beats" (Retroafric, 2009) (23-CD)


---
Links
---
The RetroAfric website has extensive information about all their releases (adapted from the the album liner notes), sound samples, and info about the label owners
A book written by the label's co-founder, Ronnie Graham, is reviewed in my book review section.
---



African Music Index
World Music Index
Slipcue Main Page



---