! MP3 02/25/09, 01/11/10, 01/23/12 > <! outside 00/00/00 > <! pix 00/00/00 > <! icons 02/02/11, 01/23/12 > <! UPDATES: 02/25/09 > <! -- add/update Tony Allen -- >
---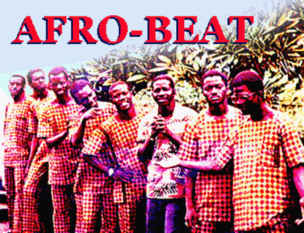 The "Afro-Beat" sound -- African dance music fused with rock and modern funk -- was pioneered by Nigerian superstar, Fela Kuti, but it soon spread throughout the African continent, with dozens of bands taking up the new style. Many of the best Afro-Beat songs of the 1960s and '70s only came out on cassette tapes or on rare, fragile singles, recordings that seldom were heard outside of their countries of origin. Recently, however, an impressive flood of compilation records have come forth, largely compiled by European club DJs who have been digging into the forgotten trove of African grooves, gathering these rare funk fusions for a new generation of listeners to explore. Fans of funk and soul, as well as modern African pop may find a lot to celebrate in these fabulous collections. Here's a quick look at some of the best Afro-Beat available today.
---
Recommended Records
---

The Allenko Brotherhood Ensemble "The Allenko Brotherhood Ensemble" (Shanachie, 2002)



Tony Allen was the much-revered drummer for Fela Kuti's legendary Africa 70 ensemble; as such he was largely responsible for crafting the relentlessly infectious, driving marathon beat of the Nigerian supergroup. This remix project features a host of artists, from soul-oriented rappers to electronic mixmasters. Several tracks, particularly the instrumentals, are appropriately hypnotic and captivating, while some of the vocal numbers seem a bit off the mark. Maybe that's because Allen's genius was rhythmic and nonverbal, and by wedding his work to flavor-of-the-day lyrics, it pulls the listener in unnecessary directions. Anyway, keep in mind that's just my reaction, and I'm pretty picky. Most Afro-beat fans will probably not be disappointed by this album.

Tony Allen "Lagos No Shaking" (Honest John's, 2006)



A mellower than usual offering from this legendary Afro-Beat drummer... Recorded in Lagos in '05 -- marking Allen's return to Nigerian studios, after many year's absence -- this has plenty of long, loping grooves, and lissome vocal choruses, with Allen's trademark beat held at a steady, sly pace. Fans of Fela Kuti and Allen's earlier solo work will dig this latest record, too!

Antibalas Afrobeat Orchestra "Liberation Afrobeat, v.1" (Afrosound /Ninja Tune, 2001)



Picking up the mantle of Afro-Beat straight from the Fela tradition, this Brooklyn, New York-based musical collective has a fiercesome groove, with plenty of drive and a sharp melodic sense. Although Antibalas follows the Fela template very closely, they also hint at their local NYC salsa heritage, and have a much tighter compositional sense -- although songs stretch on to six and seven minutes in length, they seldom improvisationally wander and drift the way Fela often would. (Hey, let's be honest...!) The original Afro-Beat leftie political slant is also kept intact, notably on the Jazz Poets-y "World War IV," recorded live in London, where they point the finger at Bill Clinton, of all people, for maintaining the blockade of Iraq, and at the Mexican government for its tiffs with the Chiapas guerillas. Behind it all, a magnificently produced, rock-solid beat, along with plenty of those classic saxophone squonks we know and love so well. The best thing about Antibalas is that they are an actual, functioning musical group, not just some haloed band from the hazy past of African popular music. If you get a chance to see them play live, go for it. In the meantime, their records are also highly recommended and very enjoyable.

Antibalas Afrobeat Orchestra "Talkatif" (Ninja Tune, 2002)



A fab follow-up album, which appropriately enough shifts from the harder-edged Afro-Beat of Fela Kuti into something closer to the sleek juju highlife of King Sunny Ade, who became Nigeria's next superstar, as Fela's star faded. This is a beautiful record, and probably a lot more accessible to the casual listener who might have been put off a bit by the squonking saxes and rugged rhythms of the first Antibalas album (or the entire Fela catalog!). Hyponotic and graceful, this is a superior space-out groove album. Highly recommended. (For more info on this band, check out the Antibalas website.)
Antibalas Afrobeat Orchestra "Who Is This America?" (Ropeadope, 2004)


Antibalas Afrobeat Orchestra "Security" (Anti-, 2007)






<! http://en.wikipedia.org/wiki/Antibalas >

Antibalas Afrobeat Orchestra "Government Magic" (EP) (Idea, 2007)



Segun Bucknor "Poor Man No Get Brother -- Assembly & Revolution: 1969-1974" (Strut, 2002)


Early '70s Nigerian funk, with a heavy, heavy debt to James Brown's Bootsy-era jams. This disc collects music from two incarnations of Bucknor's band, the first being the Assembly, and the second, the more politically inclined Revolution. Like Fela Kuti, Bucknor saw music as a way to attract people to politics (and politics as a way to attract people to music), and many songs have an interesting socially conscious component. Overall, this collection sounds pretty static, with one song after another "staying on the one," in the James Brown style, but it's still a pretty cool document of a little-known chapter in African pop history.


<! Budos Band - produced by RZA? >

Daktaris "Soul Explosion" (Desco, 1998)



The Daktaris are actually kind of an in-joke, a modern band packaged as a "lost gem" of the Afro-Beat past. Supposedly these guys are alumni of Fela's band, but also I've heard they are a studio concoction of non-African aficionados who know how to make things funky. Regardless of the particulars, this band does rock, quite heavily, and if you like the whole James Brown-by way of Lagos funk sound (with maybe just a smidge of '60s retro kitsch), then this is an album you might just love. Lots of fun, and worth checking out.

Follow, Follow "Afro-Groove" (Ombu, 2005)
Canadian devotees of Fela Kuti's driving afrobeat sound, this Quebec-based sextet throw themselves wholeheartedly into the material, covering a half dozen Fela classics, one tune by Maceo Parker (tipping us off to their funk-jazz leanings) and add a couple of original compositions to the afro-funk canon, written by guitarist Rainier Weins, who has kind of a Terry Haggarty vibe going on... These guys aren't as tight as other revivalists such as Antibalas (for example) but they also aren't as rigid or jittery... They're pretty loose and funky, and this disc seems like a good approximation of what their live sets must be like; certainly worth checking out if you're into the whole Fela sound, or even into the more danceable jam-band stuff... (Available through the band's website: www.ombu.ca )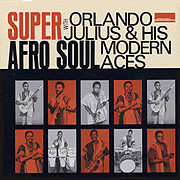 Orlando Julius & His Modern Aces "Super Afro Soul" (Afro-Strut, 2000)


Sizzling '60s funk from this Nigerian Afro-Pop pioneer. Bandleader Orlando Julius eventually made his way to the U.S., where he worked in the soul scene... But here he was ripping his way through a blend of local highlife and furious, James Brown-style R&B. The music is aggressive and punchy, but it also has some deep, serious grooves. If you want to hear where Fela and the bands that followed got their groove from, you'll want to check this guy out!


<! 1. Mapami 2. Efoyeso 3. Ise Owo 4. Solo Hit - Orlando Julius, Fayehun, Eddy 5. Oni Suru 6. Wakalole 7. Ma Fagba Se Ye Ye 8. Bojubari 9. My Girl - Orlando Julius, White, Ronald 10. Jagua Nana 11. Ijo Soul 12. Topless 13. Olulofe 14. E Se Rere >
Orlando Julius & His Afro Sounders "Orlando's Afro Ideas: 1969-1972" (Soundway/Ekosound, 2004)

Orlando Julius & His Afro Sounders "Super Afro Soul" (VampiSoul, 2006)






<! 2-CD set - different than Y2K collection? >

Peter King "Shango" (Strut, 2002)


Vintage Nigerian afrobeat, from a previously-unreleased album recorded in 1974. Although this opens in a typically James Brown-ish rhythmic romp, it quickly settles into mellower, acid-jazzish explorations, such as the nice soft, flute-led groove of "Mr. Lonely Wolf." In general, King's horn section seems a bit too brash and atonal, and prone to overly-muscular playing -- sounds like everyone wanted a solo, and hadn't quite gotten the power of an ensemble playing "on the one." But the drumming -- King himself, if I'm not mistaken -- is consistently sinuous and creative, dancing around the margins of the rhythm, playful and dexterous, and even if the trumpets are blaring a bit offkey, it's fun to follow what King is up to on the snares. Cool stuff -- worth checking out!
Kokolo Afrobeat Orchestra "Fuss And Fight" (Afrokings, 2002)


Kokolo "More Consideration" (Full Cut, 2004)


Kokolo "Love International" (Freestyle, 2007)

Kokolo "Heavy Hustling" (Record Kicks, 2009)


Konono No.1 "Congotronics" (Crammed Disc, 2005)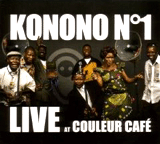 Konono No.1 "Live At Couleur Cafe" (Crammed Disc, 2007)



Awesome! The Konono ensemble cut a wide swath through the world of African pop, but while their studio albums were quite striking, they also had a slightly stiff, contrived air about them. However, this live concert performance is mindblowing, an irresistibly energetic, propulsive burst of musical giddiness and joy. The centerpiece sound is an amplified finger piano that blasts away with full-throttle melody and deliciously gritty electronic distortion. The rest of the band follows suit, with some of the wildest, giddiest party music ever recorded. The band goes at it full tilt boogie, and their audience responds in kind -- this is a crazy-sounding record, but it sure is lots of fun!
Fela Kuti - see artist discography
Femi Kuti "Femi Kuti" (Motown, 1995)


Femi Kuti "Shoki Shoki" (MCA/Barclay France, 2000)



Nigerian bandleader Fela Kuti's son weighs in with a sharp, no-nonsense pop release. This starts off with the dynamic, aggressive, and irresistible "Truth Don Die", a lightly political dance tune with a hyperactive beat that just won't quit. The rest of the album mellows down pretty quickly, dipping into lite jazz motifs from time to time. Overall, though, I'd say Femi has got the goods to take over where the old man left off. Definitely worth checking out.
Femi Kuti "Shoki Remixed" (Nuphonic, 2000)






<! remixes featuring Ashley Beedle, Kerri Chandler, Francois Kervorkian, Mateo & Matos, Nuyorican Soul & many more >

Femi Kuti "Fight To Win" (MCA/Barclay France, 2001)



This disc delves deeper into "world beat" crossover territory... When the band is blazing away, it's tight, compact and compelling. But a few touches -- a chord change here, a production twist there -- may raise warning flags for a few listeners. Also, the decision to sing the songs in English may be a drawback, both because Femi seems uneasy with the rhythm of the language, and because the baldness of his revolutionary politics comes off as belaboured and a bit flat aesthetically -- distracting, overall. But for those of us looking for a funky soundtrack to the revolution that will not be televised, this could certainly fill the bill. Not my cup of tea, but Fela/Femi fans should find plenty here to keep them happy.
Femi Kuti "Africa Shrine" <! live > (P-Vine, 2004)


Femi Kuti "Live At The Shrine" (Deluxe Edition DVD) (Universal, Palm Pictures, 2005)


The Africa Shrine album, along with a concert DVD of the same show.
Femi Kuti "Day By Day" (Wrasse/Mercer Street, 2008)


Femi Kuti "The Best Of Femi Kuti (Universal/Wraase, 2004)


Femi Kuti "Femi Kuti The Definitive Collection" (Wraase Records, 2007)



A 2-CD set


<! (NOT SURE WHAT THESE ARE...) * No Cause For Alarm? (1989, Polygram) * M.Y.O.B. (1991, Meodie) * Femi Kuti (1995, Tabu/Motown) >

Seun Kuti "Seun Kuti & Fela's Egypt 80" (Disorient, 2008)



Lafayette Afro Rock Band "Darkest Light: The Best Of" (Strut, 1999)


A widely-sampled funk band from the disco era, this group was also known as Ice, and though centered in Paris during the African pop boom of the 1970s, they actually hailed from the U.S. Nonetheless, their Kool And The Gang-meets-LA Express instrumental jams are often thought of in terms of the Afro-Beat that influenced them. Either way, their music is pretty darn enjoyable, and solidly performed throughout. The band flipped back and forth between its two different names; as far as I can tell these tracks are all Afro Rock Band recordings. Gets repetitive, but mostly it's pretty funky.
Lafayette Afro Rock Band "Soul Makossa" (1974)



Features their version of Manu Dibango's hit, "Soul Makossa."
Lafayette Afro Rock Band "Malik" (1975)

Lafayette Afro Rock Band "The Ultimate Collection" (New Power Soul, 2001)






<! * Each Man Makes His Own Destiny (1972, as Ice) * Soul Makossa (1974) * Voodounon EP (1974) * Malik (1975) * Frisco Disco (1976, as Ice)[2] * Afro Agban (1977, as Ice)[2] >

The Lijadu Sisters "Danger" (Afrodisia/Knitting Factory, 1976/2011)



(Produced by Biddy Wright)
A very cool reissue of the first album by the Lijadu SIsters, practically the only female stars of the Nigerian 1970's pop scene... The Lijadus, sisters Kenhinde and Taiwo, were relatives of the legendary Fela Kuti and performed behind the scenes as session vocalists, and went on to record their first single in the late 1960s, and later toured with prog-rock drummer Ginger Baker during his early '70s foray into African music. The Lijadus released four albums in the 1970s, all produced by and featuring the music of multi-instrumentalist Biddy Wright, whose distinctive funk-meets-psychedelic guitar work gives an unusual edge to this debut disc. The sisters also have fabulous voices and gorgeous harmonies, particularly on the opening tracks (the album's second half is a bit ragged, but the opening track, "Danger" is awesome...) A genuine gem from the classic Afro-Beat scene. This disc is the first of four straight-up reissues of their music, and is definitely worth tracking down.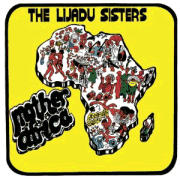 The Lijadu Sisters "Mother Africa" (Afrodisia/Knitting Factory, 1977/2012)



(Produced by Biddy Wright)
Neat! This album has a much different feel than their first, opening with a beautiful vocal harmony, backed only by sparse talking drums by Ayanwunmi Ayanleke and his band -- only later do the guitars join in, and when they do, there are some really weird, distinctive riffs, stuff that sounds a lot like the art-rock-meets-Africa explorations of Brian Eno and Talking Heads, later in the decade. Hearing the Lijadus sing in Yoruban as opposed to English is a real treat; this sounds like a set of children's tribal chants, but with a mystical, psychedelic edge. An intriguing, unusual album... Highly recommended!

Orchestre Veve "Vintage Verckys" (RetroAfric, 2001)



A nice collection of recordings by saxophonist Verckys Mateta, an influential Congolese pop musician who helped pioneer the soukous style that became popular in the 1980s. Verckys was originally a star performer in the OK Jazz ensemble, but set out on his own in the late '60s. He used saxophone riffs where other bands would have guitar leads, and also had a fairly expansive sound mix. Nice stuff, which becomes more elaborate and groove-oriented as the disc progresses -- fans of Afro-Beat who are looking for something less strident and more melodic than Fela Kuti's brand of funk-jazz might really enjoy this album. Definitely worth checking out!

Geraldo Pino & The Heartbeats "Heavy Heavy Heavy" (Retroafric, 2005)



A welcome collection of formative Afro-funk by a Sierra Leone bandleader who was a major influence on Nigeria's legendary Fela Kuti.
Geraldo Pino & The Heartbeats "Afro Soco Soul Live" (Soundway, 2005)


A vinyl-only release of more vintage Afro-funk by Geraldo Pino...
Geraldo Pino & The Heartbeats "Let's Have A Party" (Soundway, 2005)


A vinyl-only release of more vintage Afro-funk by Geraldo Pino...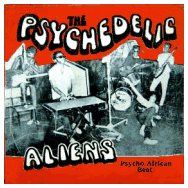 The Psychedelic Aliens "Psycho African Beat" (Academy Records, 2010)



Cool vintage recordings of a Ghanaian band with an audacious mix of African funk and '60s-style American hippie rock -- soul rhythm riffs and soaring electric guitars worthy of a night at the Fillmore. Indeed, if it weren't for the African dialect, you'd be hard-pressed not to think that this was a board recording of one of the opening acts at a Big Brother & The Holding Company gig. This disc collects three rare singles that the band put out between 1970-71, gathered together courtesy of cratedigger Frank Gossner (of the band Squarepusher) who researched the group and found that several bandmembers were of non-Ghanaian backgrounds (perhaps explaining their affinity for American-style rock and soul...) The early songs are spaced-out jam sessions, without a lot of pop concision or melodic drive, but by time they recorded "Gbe Keke Wo Taoc," a clearer-cut, more aggressive, Fela-influenced Afrobeat sound emerges, although still with a little Summer Of Love twist. Not necessarily the most awesome Afro-pop ever, but definitely a nice time capsule... Nice to hear an entire album's worth of material by one of these long-forgotten bands, and not just have them sandwiched in on a compilation album.

Nii Tagoe "African Roots" (Arc, 2006)



Cool...! Ghanaian drummer Emmanuel Nii Okai Tagoe is a rising star in the world-beat scene, principally known for his association with the world-fusion band, Baka Beyond, as well as his work with Femi Kuti, Osibisa and African Headcharge. Coming to the fore as a solo artist, he displays impressive, imaginative breadth and will compel your rapt attention from one song to the next. There's a nice mix of driving Afrobeat rhythm, West African electric guitar riffs, and delicate indigenous percussion pieces, each track anchored by Tagoe's expressive drumming and gentle vocals. Nice record -- a lot of different tones and musical modes, never static and consistently engaging.

Sila & The Afrofunk Experience "Funkiest Man In Africa" (Visila, 2006)



Kenyan expatriate Sila, backed by a loose-limbed, funky SF Bay Area band, revives the original, politically-charged spirit of '70s afrofunk with this earnest set of loping, danceable groove tunes. The long shadow of Fela Kuti hangs over the first half of this album, with a bit of Gil Scott-Heron in there as well... Things are pretty groovy until the last few tracks, when the band gets a little dubby, slower, and more experimental. That, and Sila's occasional vocal similarity to Sting are the main downsides -- other than that, this is a pretty solid set from this San Francisco-based ensemble... Bet they're a blast live!
---
Afro-Beat Compilations
---
Various Artists "AFRICAFUNK v.1" (Harmless, 1998)

Various Artists "AFRICAFUNK v.2" (Harmless, 1998)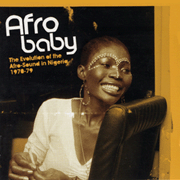 Various Artists "AFRO BABY -- THE EVOLUTION OF THE AFRO-SOUND IN NIGERIA: 1970-79" (Sound Way, 2004)


A first-rate set of vintage Nigerian Afro-Beat, which touches lightly on Orlando Julius and the famed Fela Ransome Kuti, but goes on to include numerous less well-known artists, such as The Sahara All-Stars, Bola Johnson, The Mebusas, Tunji Oyelana & The Benders, Thony Shorby Nyenwi, Victor Olaiya, et al. These bands may not have had the same overwhelming firepower as Kuti's juggernaut Africa 70 orchestra, but often made up for it with the rhythmic and melodic grace that Kuti often distained. I have to confess, I'm not a huge fan of this particular style of African pop, but I found this disc to be quite listenable and quite pleasant -- a cut above many similar collections. Strongly recommended -- an ideal introduction to the genre!




Various Artists "AFRO BABY, v.2" (Sound Way, 2004)



<! did this really come out? >
Various Artists "AFRO-BEAT AIRWAYS" (Analog Africa, 2010)



(Various producers)


Various Artists "AFRO-BEAT: NO GO DIE" (Shanachie, 2000)



This is a top-flight collection of modern Afro-Beat recordings, including new stuff Femi Kuti and Tony Allen. It's not quite as mysterious or exotic as discovering the old stuff, but this is still a first-class collection of African pop, showing the contined vigor of the style right up to the present day. Recommended!


<! Afro Funk Explosion: Motherload from the Motherland" (Explo, 2000) B000053F3M >

Various Artists "AFROJAZZFUNK, ROUND 2" (Superclasse, 2000)


Various Artists "AFRO-ROCK, v.1" (Kona, 2001)



One of the best, and most consistent of the current crop of afrobeat collections. The companion disc to the HEAVY HEAVY HEAVY - AFRICAN STOMP compilation, this features several songs with wild, unusual melodic hooks, and long, loping grooves. Some of the tunes are just plain kooky, like Geraldo Pino's "Heavy Heavy Heavy," and Steele Beautttah's "Africa," while others, such as K. Frimpong's "Kyenkyen Bi Adi M'Awu," have killer grooves a mile and half deep. A couple of tunes were never released on vinyl, and all the tracks on here are pretty cool. A lot of "new," different-sounding music -- highly recommended!

Various Artists "ASAP: THE AFROBEAT SUDAN AID PROJECT" (Mobida, 2005)


A plea for help and a call to action come forth from this driving, impassioned set of modern-day Afro-Beat, a benefit album for the thousands of people dying in the Darfur region of the Sudan. Darfur is caught in what is politely called a "humanitarian crisis," although brutal genocide is more like it -- the light-skinned, Arabic elite that controls the Sudanese government has countless people penned up in the country's remote Darfur region, starving to death those they don't kill outright, through the use of paramilitary proxy militias. It is estimated that over 400,000 people have died there in the last few years, and millions more are at risk. The spirit of Afro-Beat apostle Fela Kuti runs strongly through this set, where his loping, unceasing beat sets the stage for squonking, muscular horn sections and political lyrics up the wazoo. There's one actual Fela track on here, but the work of his spiritual grandchildren -- bands such as Kokolo, Antibalas and the Akoya Afrobeat Ensemble -- adopts Fela's style almost whole cloth, and shows that the music Kuti made is alive and well, nearly a decade after his passing away. If you're an Afro-Beat fan, this disc might really wow you; plus, the money goes to a good cause. To order the album, check out Mobida's website at: www.mobida.net; for more information about Darfur, go to www.savedarfur.org. )
Various Artists "BILONGO: A THIRD COLLECTION OF MODERN AFRO RHYTHM" (Comet, 2000)


Various Artists "BOONIAY: A COMPILATION OF WEST AFRICAN FUNK" (Afrodisiac, 2000)


This set concentrates on longer makossa and highlife jams, material that is "funky" more by way of Bernie Worrell or The Meters, rather than, say, James Brown or Fela. Several tracks on here are quite nice, though it helps to have an ear for the '70s-style club music to really get deeply into it. As with many of these collections, there isn't a ton of information about the artists, which I suppose is to be expected, since these tracks come from some pretty rare 45s and LPs... The pictures of the original album art are pretty cool, though! The Afrodisiac label also has several vinyl 12" reissues of similar material, which can be gotten through their website...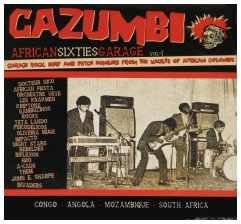 Various Artists "CAZUMBI: AFRICAN SIXTIES GARAGE, v.1" (No Smoke Records, 2008)


I looked for this one for a long time -- one afternoon I heard a track played on my old radio station and I thought, "Woah! gotta get that!!" For folks delving into classic African garage rock and American-style vintage acid-rock, this colleciton is a goldmine... There are a lot of great compilations that touch on similar material, but this one has some of the rawest, grittiest, really rock'n'roll flavored material, with only a few tracks that drift into the multi-textured, super-groovy African pop styles that were more typical in the '60s and '70s... This is less local and more "foreign"-sounding, although along with the three-chord workouts there are many tracks sung in local dialects, which is the ideal combination for me: imitative, but still stamped with the regional culture. Some of the tracks are a little sketchy or poorly recorded -- pretty demo-y or of dubious merit to begin with, but the stuff that's cool is really, really cool. If you're looking into vintage African rock music, you should definitely try and track this one down.
Various Artists "CLUB AFRICA v.1" (Strut, 1999)


The producer of the first AFRICAFUNK collection moves on to unearth further groove-ridden tracks. These are mainly of mid-'70s vintage, drawn from countries as diverse as Ghana, Nigeria and Kenya, and even a surprise entry from Columbia (Wganda Kenya's "Shakalaode," which is one of the strongest tracks on the album...) Some of the tunes are languid to the point of monotony, but others are dense and hypnotic. Also includes a '90s track from the Daktaris, and a bit of Miriam Makeba in her funkier years...
Various Artists "CLUB AFRICA v.2" (Strut, 2000)

Various Artists "THE DANQUE: A COMPILATION OF WEST AFRICAN FUNK" (Afrodisiac, 2000)





<! on Birdman? >

Various Artists "ESSENTIAL AFROBEAT" (Family, 2005)


Various Artists "GHANA SOUNDZ: AFRO-BEAT, FUNK AND FUSION IN '70S GHANA" (Soundway, 2002)


Awesome! You'd be hard pressed to find a funkier, more satisfying Afro-Beat collection than this. I first heard this album blasting out of the speakers of my local Record Hut, and felt my jaw drop as track after track kept up the relentlessly funky, muscular pace. A lot of these Afro-Beat rarities discs are kind of spottily programmed, but this one, gathering some of the funkiest music to come out of Ghana's 1970s pop scene, is definitely all killer, no filler. In addition to a great set of tunes, this also sports some excellent liner notes, including discographical and historical information on all of the tracks, the sort of thing that is often sorely missing from this kind of reissue release. Pretty much as good as it gets... Highly recommended!
Various Artists "GHANA SOUNDZ: AFRO-BEAT, FUNK AND FUSION IN '70S GHANA, v.2" (Soundway, 2004)

Various Artists "LAGOS ALL ROUTES, v.1" (Honest Jon's Records, 2005)



Various Artists "MONEY NO BE SAND" (Original Music, 1995)


Though long out of print, this collection on the sadly now-defunct Original Music label is definitely worth tracking down. It's not an "afrobeat" collection, per se, but a couple of tunes by Prof. Y.S. & His B.B. Band have a familiar, groovalicious James Brown-ish feel to them, and Charlotte Dada's odd, interminable version of the Beatles song "Don't Let Me Down," accompanied by clanking, tinkly traditional African percussion played on metallic objects, is a weird and wonderful collision of cultures which should appeal as well. There are also a couple of surf-garage-ish rock tunes from the early '60s which are a style of African pop not often heard in the West -- I'd love it if someone could put out a collection of this kind of music as well!!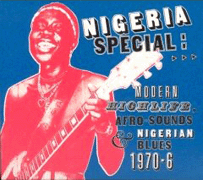 Various Artists "NIGERIA SPECIAL: MODERN HIGHLIFE, AFRO-SOUNDS AND NIGERIAN BLUES" (Soundway, 2007)



A fine, often electrifying 2-CD set of vintage Nigerian pop and funk from the 1960s and '70s... Although a few of the artists are relatively well-known, such as Sir Victor Uwaifo, this collection is mostly a crate-digger's special: it's not necessarily "representative" of the main or classic bands of the era, but it is packed with rare tracks and plenty of gems... And it's fun! There are some beautiful guitar-pop grooves, a few more challenging, dissonant tunes and several really slamming American-style funk tunes, notably "I Want A Break Thru" by the Hykkers and "Alabeke," by Dan Satch and His Atomic 8 Dance Band. There's also plenty of pure, potent Afro-Pop, with relaxed, hypnotic grooves. Great stuff - definitely worth picking up!

Various Artists "OUELELE" (Comet, 1999)



An interesting set with an avant and acid-jazzy orientation, curated by this ambitious French reissue label. Some of these tracks are a bit hard to take, particularly Letta M'Bulu screechy, ungainly "jazz-dance classic," "What's Wrong With Grooving," which I would say qualifies as camp, rather than super-groovy Afro-soul. But then again, I'm not a European club-hopper and, as they say, there's no accounting for taste. On the other hand, there are severl real gems on here, such as Philip Cohran's avant-based "Unity," and other songs that are perfectly fine and funky. Worth checking out!
Various Artists "RACUBAH" (Comet, 1999)



Various Artists "RED HOT AND RIOT" (MCA, 2002)



A skillfully produced homage to the classic Afro-Beat sound of Nigerian bandleader Fela Anikulapo Kuti, with a lineup of high-power musicians like you wouldn't believe... Everyone from hip-hop's Common, Mixmaster Mike and Talib Kweli to neo-soulsters such as D'Angelo, Macy Gray, M'Shell Ndegocello to African pop stars such as Ray Lema, Cheikh Lo and Baaba Maal and even a few Brazilians and avant-jazz cats in the mix, for good measure (folks like Jorge Ben Jor, Lenine, Ron Blake and Archie Shepp...) Plus, Fela's old drummer Tony Allen and son Femi Kuti are on board as well... For and album with such a far-flung cast of characters, this is remarkably cohesive; producers John Carlin, Paul Heck and Andre Levin did an amazing job threading the performances together and giving this project an organic feel that flows from track to track. Plus, it's a for a charitable cause...! What more could you want? This is a very skillful and noteworthy extension of the classic Afro-Beat style... Worth checking out!
Various Artists "THE ROUGH GUIDE TO AFROBEAT REVIVAL" (Rough Guide, 2009)


Various Artists "THE ROUGH GUIDE TO AFROBEAT REVOLUTION" (Rough Guide, 2009)


Various Artists "THE SHRINE PRESENTS: AFRO-BEAT" (Ocho, 2000)

---
Afrobeat Links
---
If you like Afro-Beat, you may also be interested in checking out my Brazilian Soul discography, to see how the African pop beat blossomed in the heart of South America.
---


African Music Index
World Music Index



---