! MP3 02/25/09, 01/12/10 > <! update 02/25/09 > <! outside 00/00/00 > <! pix 00/00/00 > <! -- more "jazz" albums, but not of interest; some overlap between "jive" titles, hard to sort out -- > <! icons 02/02/11 >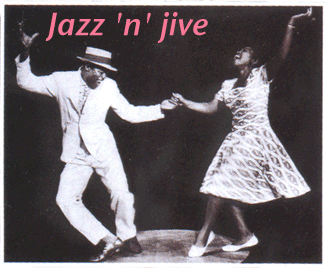 ---
I'll admit, I was never a huge fan of modern South African pop, particularly the slick, upbeat mbaqanga pop, or the choral music that was all the rage in the "world music" scene in the mid-'80s... I always thought, yeah, it's powerful and dynamic... but kinda boring. Imagine my delight, then, when I came across the "jazz" and "jive" music of the 1940s, '50s and '60s, with its delirious collision of ska-like African rhythms and American-style swing and rock melodies. It's some of the greatest music I've ever heard. Completely irresistible, although a little hard to track down. Here are recommendations from what I've heard so far.
---
Recommended Records
---
Big Voice Jack "Colours & Moods" (Gallo, 1996)


Big Voice Jack "Zimanukwenzeka (Things Just Happen)" (Sheer Sound, 2003)


The South African kwela, or pennywhistle -- one of my favorite instruments -- taken into the modern era, but still with a lot of the old-fashioned sound of the 1950s when it was still quite popular. The band, Big Voice Jack, backs the elderly Louis Mhlanga, one of the last great kwela players, and while some of the modern sounds that are draped around him inch towards the mbaqanga pop style, mostly this retains the buoyant feel of the olden days. Nice record... worth checking out!


<! The Blue Notes "Township Bop" (2002) B000069DX1 > <! The Blue Notes "The Complete Blue Notes" (Ogun, 2009 - coming out 08/09 -? Chris McGregor, a white man, and five black men produced eminently listenable jazz--accurately dubbed "Township Bop"--way back in 1964, when such music, produced by an integrated band, was thought to be "inappropriate" for segregated South Africa. Indeed, The Blue Notes, despite being perhaps the most loved of all South African groups of that benighted era, were forced to leave their beloved country and take up residency in England. And what a group it was! McGregor, the leader, was perhaps the least notable of the members of this stellar band, all of whom (save Nick Moyake) went on to have brilliant solo careers. Dudu Pukwana, alto sax, made many fine records of township jazz. Johnny Dyani, before his untimely death, was a leading figure on the British jazz scene and recorded some remarkable albums for Steeplechase (esp. Witchdoctor's Son, Afrika, and Angolian Cry). Louis Moholo (drums) was perhaps the biggest star of this outfit, becoming a leading light of the European free jazz scene, and a bandleader of note (check out his brilliant discs on Ogun, Viva la Black Exile and Freedom Tour) as well as recording several fine sessions with Evan Parker (esp. Bush Fire, also Ogun). Even as far back as 1964, you could tell there was something special about this group--a raw energy, a new take on an original American art form filtered throught all the hardship and oppression that was South Africa under Apartheid. "Township Bop" is certainly worth owning, and you might also want to check out the Blue Notes Ogun disc (unfortunately not available on Amazon) Live in South Africa in 1964. Also on Ogun featuring expat South Africans Henry Beckett, Claude Deppa, and Mark Charig are the two fine Dedication Orchestra big band outings from the early 1990's, Spirits Rejoice and Ixesha. Also, check out Chris McGregor's big band, Brotherhood of Breath. >

Dark City Sisters/Flying Jazz Queens "Dark City Sisters And Flying Jazz Queens" (Virgin-Earthworks, 1993)


This isn't really the kind of South African "jive" I'm talking about here, although it is the bridge between the classic style and the more widely known township styles of the Mahotella Queens and other groups who came to our outside attention in the 1980s. I prefer the older style, but if you like more modern South African pop, this is a really nice disc, and is surprisingly modern, considering that these recordings date back to the early 1960s. A young Malathini plays on several of the tracks. (Note: this CD is frequently mistaken for a compilation, in fact it is material by two different bands, mainly by the Dark City Sisters, which was the more famous of the two groups.)

The Elite Swingsters With Dolly Rathebe "A Call For Peace" (Indigo)


The Elite Swingsters With Dolly Rathebe "I Love Soweto" (Sony Globe Trotter, 1998)


One of the most striking vocalists of the classic era of South African jive, Dolly Rathebe has kept the torch alive with her new group, the Elite Swingsters. The band debuted in 1991, and has issued several top-notch releases since then.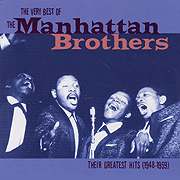 The Manhattan Brothers "The Very Best Of The Manhattan Brothers: 1948-1959" (Sterns, 2000)



A stunning, joyous set of doo wop-like "jive" vocals from some of South Africa's greatest post-WWII musicians. The Manhattan Brothers were one of the first groups to benefit from the booming postwar economy that brought black South Africans into the cities in large numbers, making their sort of pop success possible. Singing in Shona, Xhosa, Zulu and English, the Manhattan Brothers mixed sleek swing vocals with proto-doo wop and jubilee gospel, and were the group that set the standard for the many vocal groups that came in their wake, including Miriam Makeba's late-'50s ensemble, The Skylarks. Makeba herself first came to prominence as a soloist in the Manhattan Brothers ensemble, and appears on several of these tracks. The feel is playful and glorious, with some of the lushest, most swinging vocals you're ever likely to hear on disc. This is a great record -- a highly welcomed addition to the all-too-small pool of similar records that uncover this forgotten style of American-influenced South African pop. HIGHLY recommended!


Miriam Makeba & The Skylarks v.1 (Teal Records, 1991)


Miriam Makeba & The Skylarks v.2 (Teal Records, 1991)


Absolutely mindblowing. Before her days as a 1960s folk scene/world music crossover superstar, South African diva Miriam Makeba was part of this somewhat humbler (but way more rocking!) "jive" group. A jazzy, Tin Pan Alley vibe predominates, though mixed with a skiffle beat and complicated, doo-wop-tinged group vocals. Beautiful female vocals and great guitar work -- these two discs are a real treat. If only more of this style of '50s African pop were available!
Miriam Makeba & The Skylarks "The Best Of" (BMG, 1998)


An 18-track best-of that covers the same turf as the Teal albums (listed above). Personally, I can't get enough of this stuff, so I'd recommend the two volume version as a matter of principal, but the fact of the matter is this music is so hard to find that if you come across this single-CD collection, don't hesitate to snap it up. It's great.

Spokes Mashiyane "King Kwela" (Gallo, 1991)



Bouncy South African pennywhistle, or kwela, music from the leader of the Solven Whistlers, and frequent early collaborator with Miriam Makeba and the Skylarks. Mashiyane pretty much made the pennywhistle a popular sound, and few people could match him for the expressiveness he brought to such a seemingly limited instrument. For an all-instrumental album highlighting a fairly oddball sound, this disc is far more captivating than one might imagine. Recommended!

Dorothy Masuka "The Definitive Collection" (Wrasse, 2002)


An early contemporary of Miriam Makeba, Dorothy Masuka was part of the 1950s South African "jive" scene, mixing American-style group vocals and swing beats with local melodic and harmonic styles. She's best known as the author of the song, "Pata Pata," which was one of Makeba's earliest and biggest international hits. Like Makeba, Masuka found herself in exile in the early 1960s, as the campaign against apartheid intensified and artists seen as sympathetic to the African National Congress were proscribed and placed under threat of arrest. Unlike Makeba, she was unable to crack into the international market in Europe and the USA, performing (and for a while retiring from music, in order to keep a low profile) mainly in the other African countries that were able to shelter her. This collection gathers some of her rare early work on the Gallo label, off of stellar albums such as Hamba Notsokola, (her 1950s debut), and moves on to include later, glossier material from the early 1990s, when she made her comeback. It's the old stuff that I find irresistible: I just love the original "jive" sound. It's nice, though, to see Masuka finally getting her due, and this retrospective is a most welcome addition to any African pop library. Recommended!

Dorothy Masuka "Pata Pata" (Island-Mango, 1991)


A "comeback" album that features updated, modernized versions of many of her old hits... "Pata Pata" starts things off, in a slick rendition that's more in keeping with the '80s-ish production of the following songs than with Masuka's classic work of decades before... But deeper into the album, the old "jive" style comes more clearly to the fore. Although this album is mostly too glossy (even monotonous) for me, on the whole it still speaks well to Masuka's continuing musical strength, beginning her fifth decade as a performer. Worth checking out, though you shouldn't expect much.

West Nkosi "Sixteen Original Sax Jive Classics" (Gallo, 1991)


A virtuoso of the South African pennywhistle, or kwela, West Nkosi switched to sax in the '60s and became a major performer as the jazz scene began to flourish and diversify. This album features a slew of his early and extremely rare "jazz" recordings -- but if the truth be told, the music is fairly repetitive and might not hold your attention long. I was into it for a while, but found the novelty didn't hold up.
West Nkosi "Rhythm Of Healing" (Earthworks, 1992)


---
Jive Compilations
---

Various Artists "AFRICAN JAZZ 'N' JIVE" (Gallo, 2000)



An excellent collection with two dozen prime tracks from the jive scene of the '50s and '60s... There's surprisingly little overlap with the other jive compilations out there: included are some of the greats -- the Manhattan Brothers, the Skylarks, Dolly Rathebe and Dorothy Masuka, but there's also a whole host of unfamiliar names, all first-rate material, and plenty of fun. Highly recommended! Includes all the tracks previously gathered on the TOWNSHIP JAZZ'N'JIVE album (below), plus a handful of others. Highly recommended.


<! 109x108 >

Various Artists "ARCHIVE AFRICA: JAZZ, JIVE AND JIBE" (Afribeat, 2002)


As with many of these vintage South African sets, it's hard to judge a book by its cover. This is particularly true as the terms "jazz" and "jive" are often used interchangeably (although usually just to mean straight-ahead jazz, which seems to be more popular, at least with the folks who put these kind of collections together. Like many other discs, this collection concentrates mainly on jazz -- instrumental ballads, perky, poppy Young-Holt imitators, some stuff in the cool school, a couple of more difficult tracks -- but precious little "jive," per se. I picked up a copy, listened to it, then set it free, back into the used bins, as it wasn't really the kind of stuff I was looking for. Still, it's more engaging and adventurous than similar sets I've heard, and is definitely worth checking out. The songs -- dating from the 1950s and '60s and culled from the archives of the South African SABC radio network -- are well-chosen and show a real variety of styles, some of it quite fun.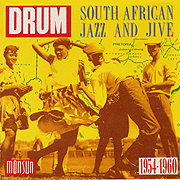 Various Artists "DRUM -- SOUTH AFRICAN JAZZ & JIVE: 1954-1960" (Line Records, 1991)


Another first-rate set of classic jive, this disc takes its name from Drum magazine, one of the lifelines of the townships during the post-WWII era... This collection hits many of the same notes as other colelctions that are listed here, including songs such as the Solven Whistlers' irresistible pennywhistle tune, "Something New From Africa" and tunes from the Manhattan Brothers, the Skylarks and Spokes Mashiyane. There are also several jazz tunes that are more clearly derived from the "jump" style popular in the US at the time, notably tracks from the Philharmonic Stars and the Jazz Maniacs... One notable highlight is Dolly Rathebe's R&B vocal on "Kitty's Blues" (which I haven't heard anywhere else but here) and a similary themed scat number featuring Miriam Makeba with the Jimmy Pratt band... A little more rooted in mainstream jazz and R&B than the other sets, this album is certainly worth tracking down!

Various Artists "FREEDOM BLUES: SOUTH AFRICAN JAZZ UNDER APARTHEID" (Music Club, 1999)


Although this isn't "jive" music per se, there was a lot of crossover between the two styles as former jive musicians moved into the more serious hard jazz genre in the late '50s and early '60s. The most famous South African jazzman, pianist Dollar Brand, gained a wide audience in the European and American jazz scene, later changing his name to Abdullah Ibrahim -- his entry on this disc, "Bombella," is a bouncy mid-'70s recording that cops its melody from the Patrick Macnee novelty tune, "Kinky Boots." There's a dappling of drekky soft-jazz tracks on here, but for the most part this is a pretty solid collection, drenched in the soulful spirituality of John Coltrane and, to a lesser extent, the late-'50s cool-jazz of Miles Davis. Certainly worth checking out, although it's more a jazz set than a world music collection.


<! 109x108 >

Various Artists "THE HISTORY OF TOWNSHIP MUSIC" (Wrasse, 2000)


This survey of South African pop casts its net a little wider than just "jive" and kwela bands, but includes enough early jive goodies that it's also well worth picking up. Plus, the non-jive tracks are also pretty first-rate; it includes tracks by well-known artists such as the Mahotella Queens and Boyoyo Boys... but older material from the '60s and '70s, which may be unfamiliar to modern fans. The collection spans as far back as 1939, with such gems as Solomon Linda's "Mbube," (the original version of "Wimoweh") and deftly works its way up through 1981, when the music became sleeker and more aggressive. The disc is nicely paced and well-researched, with generous liner notes and beautiful music. Highly recommended, and definitely worth searching for! (Previously released in 1994 under the title, "FROM MARABI TO DISCO: 42 YEARS OF TOWNSHIP MUSIC.")


<! 109x108 >

Various Artists "JAZZ FROM THE TOWNSHIP" (Harrison James Music, 1959)


Vintage "jive" music from South Africa, with 1950's bands such as The African Mills Brothers, Spokes Mashiyane, Martha Mdenge, The Royal Players and others... I'm not sure what the provenance of these recordings is, but it sounds as if whese might have been informal recordings made in the 'Fifties... Anyway, it's the kind of South African "jazz" that I like... I especially dig the Zulu country yodeling of Timothy Umlaba Mkize -- awesome stuff!!

Various Artists "TOWNSHIP JAZZ'N'JIVE" (Music Club, 1997)


A stellar collection of South African pop music from the 1940s and '50s -- probably the best introduction to this style that you can find, and fairly easy to track down. American swing and pop vocal styles are gloriously transmuted into utterly delectable melodic forms -- the perfect thing to put on some day when you're down in the dumps and want to feel really, really warm and fuzzy. This disc features the best artists of the time, the recordings of many of whom are maddeningly impossible to find anywhere else. Especially cool are Miriam Makeba's original vocal ensemble, The Skylarks, and the beautiful pennywhistle music of groups such as the Solven Whistlers. This is a fun, fascinating album, and highly, highly recommended! (Note to Music Club: I eagerly await Volume Two!)


<! 123 x 122 >

Various Artists "TOWNSHIP SWING JAZZ! Vol. 1" (Celluloid, 1990)
An earlier compilation with slightly murky sound quality, and a predilection towards instrumentals, this disc nonetheless has bragging right over the other collections, at least in the sense that it came out several years earlier. The Music Club collection is far superior -- more varied and punchier material -- but this set has a more ragged, jazzier edge. The liner notes are minimal, but like the other discs, this features material from Gallo Records... a cool cast of characters, including more Skylarks, and a couple of tracks by Dorothy Rathebe. If you can find it, pick it up!


<! 109 x 108 >

Various Artists "TOWNSHIP SWING JAZZ! Vol. 1" (Harlequin, 1991)


Same title, superior record. Another out-of-print goodie to keep your eyes peeled for... I haven't heard this one, but considering the high quality of other Harlequin releases, this is probably an astonishing album.
---
Links
---
Music.Org.Za... has plenty of good info about South African musicians of many stripes (though not that many of the older kwela and jive bands...)
South Africa.com has an extensive 11-page overview of South African music... Very informative and succinct. .
---



African Music Index
World Music Index



---