! MP3 00/00/00 > <! update 00/00/00 > <! outside 00/00/00 > <! pix 00/00/00 >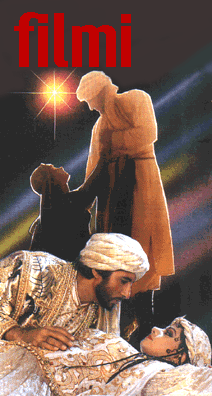 ---
The world of "filmi" music is exhilarating, bewildering and a bit overwhelming. India, with one of the world's largest movie industries, has an equally vast array of soundtrack recordings, known collectively as filmi. The availability of these records pretty much depends on whether or not you live in an area with sizable Indian or Pakistani communities -- cassettes, CDs and old vinyl are often available in specialty food markets or clothing stores, next to the cardamon, bolts of sari cloth and masala curry mixes.
Generally speaking, filmi recordings follow a distinct pattern. Almost invariably any soundtracks from the 1950s through the late '80s will include any or all of the following singers: Mohammad Rafi, Ashe Bhosle, or Bhosle's incredibly prolific sister, Lata Mangeshkar. These three artists have each recorded literally thousands of songs as "playback" singers, brought in to dub the vocals for the elaborate dance-and-song sequences in "Bollywood" films.
Perhaps when compared to the more formalized, intensely reverential, Indian classical traditions, filmi may seem frivolous or lowbrow. But so what? It's fun! The chaotic and kaleidoscopic arrangements of Indian soundtracks include some of the most creative and challenging popular music in the world, comparable in many ways to the mix-and-match methods of Brazilian tropicalia. Indian classical, European pop, rock, spy jazz and (more recently) soul music all mix together in delightfully inventive ways.
When shopping for filmi records, keep in mind that sound quality varies widely. Unfortunately many outstanding older performances are marred by the terrible recording conditions of the early Indian film industry; this is true even on mainstream labels such as EMI/Odeon. You just have to balance this pitfall against the thrill of hearing such inventive, playful pop music. One way to ensure better sound quality is to try to avoid cheap pressings or pirated copies, and stick with legitimate releases. Also, it's true that after a while, most of these records start to sound a lot alike -- a little filmi can go a long way -- but it's equally true that you are unlikely to find an album without at least something to grab your attention. I have also come across some online sites which carry filmi and classical records, but since I haven't bought anything from one, I hesitate to provide any links for you to follow.
---
Filmi Albums
---
Various Artists "GOLDEN VOICES FROM THE SILVER SCREEN v. 1" (GlobeStyle, 1990)

Various Artists "GOLDEN VOICES FROM THE SILVER SCREEN v. 2" (GlobeStyle, 1991)

Various Artists "GOLDEN VOICES FROM THE SILVER SCREEN v. 3" (GlobeStyle, 1991)

These are THE collections to look for. What David Byrne's "BRAZIL CLASSICS" series did for Brazilian pop, these discs do for filmi... the best performances by the best singers, along with some of the wildest (yet most tuneful) arrangements are collected in one super-nice package, with great sound quality. It's too bad this series hasn't continued into further volumes, but what's on all of these is quite nice. Highly recommended!
Various Artists "BOLLYWOOD FUNK" (Outcaste, 2000)

I have friends who absolutely love this collection of funk and spy-jazz oriented collection of soundtrack music... I, on the other hand, find it to be OK, but a little static. Some tracks are catchy, but few live up to the promise of a specifically "funk" oriented collection... Instead, what we have here seems to be a set of spy jazz tunes which don't veer as far into as much musical nuttiness as your typical Bollywood score, as well as a few English-language numbers. It's all very well and fine, but not as dynamic or varied as other recent hipster-oriented filmi collections, such as the DOOB DOOB-O-RAMA discs. Also, would it have been that hard for the album's producer to bother to tell us who the artists on these songs were? A small quibble, perhaps, but some of us like that sort of, well, basic info on our albums.
Various Artists "BOMBAY THE HARD WAY" (Motel, 1998)

A fun mix of typical filmi music and soul-grooved, spy-jazzy themes taken from early '70s "Brownsploitation" films -- India's answer to Bruce Lee and Shaft. Originally, these incidental recordings -- composed by the Shah Brothers, Kalyani and Anadji -- were mere snippets, woven throughout the films. Now, through the magic of digital technology, American beatmaster Dan "The Automator" Nakamura has tweaked and lengthened these short passages, refashioning them into full-length album tracks. A few folks objected to the "inauthentic" nature of these remixes, but these are probably the same people who got all snippy about Paul Simon's "rip off" of Brazilian and African music in the late '80s... as if "filmi" music were a culturally "pure" art form to begin with! Heck, half the fun here is trying to figure out where the old stops and the new begins, anyway! This is pretty cool stuff, more groovalicious and less shrill than a lot of the older filmi recordings. Check it out!
Various Artists "DOWN MELODY LANE: RARE FILM HITS FROM THE '30s AND '40s" (EMI Gramophone, 1991)
If you want to go wa-a-a-a-a-y back, to the initial collision of Indian devotional vocals and western pop singing, this is the place to start. The EMI vaults are packed with great Indian music, including a lot of the older filmi songs. This disc is programmed in strict chronological order, and it's cool to hear the gradual shift towards a broader sound. Still, even by the last track (from 1945) the wild spy jazz cacophonies of the '50s and '60s are still a long way off. It's also cool because none of filmi's usual suspects (Lata, Asha, etc... ) are present in this collection.
Various Artists "KHUDA GAWAH" (Melody International, 1991)
A more modern recording, with lots of really fun, powerful percussion. Composer Laxmikant Pyarelal is one of the more creative new filmi writers, with an ear for strong, memorable melodies -- when I saw this film, I left the theatre singing the theme song for hours. Also notable for its wealth of newer playback singers; Lata Mangeshkar sings on one track, and Mohammad Aziz on several others, but mostly this is a new crop of performers.
---
Artist Albums
---
Vijaya Anand "Asia Classics I: Dance Raja Dance - The South Indian Film Music of Vijaya Anand" (Luaka Bop, 1992)

A bouncy retrospective of modern Indian filmi from one of the up-and-coming composers of the 1990s... It's easy to see why David Byrne would be attracted to such perky, goofy material - Anand's got a lighter touch than many filmi composers, and favors a perky, synth-heavy style that anticipates the gleeful dorkiness of bands such as Pizzicato Five and Stereo Total. Still, despite the creative vigor this once represented, I don't really think these tracks from the 1980s hold up all that well. There's way better playback music to be found out there.
Kronos Quartet & Asha Bhosle "You've Stolen My Heart: Songs From R. D. Burman's Bollywood" (Nonesuch, 2005)

San Francisco's Kronos Quartet have made a career out of unlikely musical associations -- a baroque arrangement of Jimi Hendrix, versions of Philip Glass music that don't put you to sleep -- and recently they have turned their attention to "world music," most notably in their imaginative Mexican odyssey, Nuevo, which came out in 2002. Here they immerse themselves in the rich, dense musical world of India's "Bollywood" film soundtrack industry, and more specifically of R. D. Burman, one of the most prolific and prestigious "filmi" composers. Joining them on this album is the ubiquitous "playback" singer, Asha Bhosle (who is also married to Burman), who has a voice that is instantly recognizable and iconic... Indeed, Bhosle is such a strong presence that her vocal tracks sound like they were sampled from films, rather than contributed to the album in fresh performances... This is a subtle album, not as gimmicky or as overtly arch and artsy as many other Kronos releases -- the opening third of the disc is mystical and mellow, with the manic, cut-and-paste techniques of Bollywood only rising to the fore towards the end, where they comfortably dovetail with the modernist avant-gardisms that are Kronos's stock in trade... It takes the Quartet a while to assert itself as an active partner in this album; perhaps it's because Burman's music is so multilayered and kooky to begin with, it takes Kronos a while to find an entry point with which to add some new twists... Or maybe they're simply content to present his music to heir audience, and not impose themselves on the proceedings. Regardless, this disc gathers momentum slowly, but it delivers richly on its promise, with a set of spooky, sensuous performances, certainly worth checking out for anyone in search of something new, outside of the usual crazed Bollywood fare. It's cool stuff.
State of Bengal "Visual Audio" (One Little Indian/Six Degrees, 2000)

This isn't exactly "filmi" per se, but the mix-and-match vibe is close enough that I figure I can park this review here for now, until the day that I delve deeply enough into Asian electronica and bhangra that it'll merit a separate page... Anyway, State of Bengal is the club name for London DJ Sam Zaman, who was part of the whole "Anohka" crowd, and later became pals with Bjork. This disc highlights his mixing skills at their best -- a smooth, flowing set that blends Indian vocals, funky bass lines and breakbeat & drum'n'bass sensibilities with equal ease. It does occassionally dip into the the doledrums, but for the most part this is pretty engaging. Certainly worth giving a shot.
---
A Few Films
---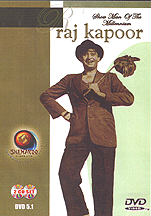 Raj Kapoor "The Show Man Of The Century" (Shemakoo, 2001)
One of the most important talents of Bollywood's early years and its transition into a more modern style, actor/director Raj Kapoor (1924-1988) playfully appropriated ideas from Western films and adapted them to use in the booming Hindi film market. His most obvious debt was to Charlie Chaplin, whose "Little Tramp" persona he transposed into a bedraggled yet joyful comic character, particularly in early films such as Shree 420, where the smiling hobo is recruited into a brotherhood of thieves, which interferes with his courtship of a fine, proper lady. In other films, such as Aah, Kapoor takes on a more dashing, manly role, seeming for all the world like a Hindi Clark Gable. This sprawling 2-DVD set gathers 120 (!) of the best dance numbers from dozens of films starring or produced by Kapoor. The transition into color during the 1960s found Kapoor starring less frequently in his own films, but also afforded him the chance to explore the bright, vivid spectrum familiar to Bollywood fans of today. While there are perhaps a few too many romantic scenes played out in forests or fields of flowers, there are also delirious spectacles such as the insanely imaginative psychedelic sets of Satyam Shivam Sundaram, which simply have to be seen to be believed. As a window into the work of one of India's major film talents, this collection is pretty amazing. (Note: there are also defects in the manufacture of the disc; a couple of tracks have sound dropout, and picture clarity, while generally good, is also somewhat variable.)
Raj Kapoor "Raj Kapoor Forever: His Life, His Songs, His Films" (Yash Raj, 2002)
A perhaps more above-board release featuring 44 song & dance numbers, with near-total overlap with the 2-disc set listed above, this time presented in chronological order, and with all the songs from specific movies grouped together (so that all the songs from Aawara, for example, play together, followed by all the songs from Shri 420). A nice set, which also includes contact information on the company, through their website, www.yashrajfilms.com: they also carry about a dozen old Raj Kapoor titles, if you're interested in seeing the original films. (For more about Kapoor's career, check out this excellent website.)
---
Links
---
---



Asian Music Index
World Music Index


---