<! MP3 12/18/08 > <! update 00/00/00 > <! outside 00/00/00 > <! pix 00/00/00 * > <! icons 01/02/11 > <! Various Artists "WHERE LINNETS SING" (Goilin) If you're ever in Dublin and you're looking for the best in traditional Irish singing, the place to head for is the Goilin club. This new CD features four of their resident singers: Jim McFarland, Grace Toland, Mairead Ni Oistin and Antaine O Farachain. - obscure - no ASIN Various Artists "MELODEON GREATS" (Topic, 1978) B00000591L B000S52UB4 Various Artists "Owdham Edge, Popular Song And Verse From Lancashire" (Topic, 1970) > <! Various Artists "Who Owns The Game? Traditional Songs and Melodeon Tunes From Central Suffolk" (Home-Made Music, 1984) Traditional Songs and Melodeon Tunes From Central Suffolk. Comes with the original 4 page booklet. Musicians include: Cecil Pearl (from Claydon) Charlie Stringer (from Wickham Skeith) Dolly Curtis (from Dennington) Fred Whiting (from Kenton) Cyril Barber (from Felsham) Roy Last (from Mendlesham Green). > <! Various Artists "SCOTTISH TRADITIONS 1: BOTHY BANDS - MUSIC FROM THE NORTH-EAST" (Greentrax) 'Bothy Ballads - Music from the North-East' Jimmy MacBeath, John MacDonald, Charlie Murray, Jamie Taylor etc. A great collection of traditional singing and tunes from the archives of the School of Scottish Studies. > <! Various Artists "MELODEON GREATS: A COLLECTION OF MELODEON MASTERPIECES" (Topic) Remarkable 78 rpm recordings from Peter & Daniel Wyper, James Brown, Fred Cameron, Peter Leatham, Pamby Dick, Jack Williams, W F Cameron and William Hannah Various Artists "ENGLISH COUNTRY MUSIC FROM EAST ANGLIA" (Topic, 1973) Billy Bennington, Percy Brown, Harold Covill, Oscar Woods - OH OOPS -not actually a comp: Billy Bennington - hammered dulcimer; Percy Brown - melodeon; Harold Covill - mouth organ; Oscar Woods - melodeon. > <! Various Artists "SCOTTISH TRADITIONS 2: BOTHY BANDS - MUSIC OF THE WESTERN ISLES" (Greentrax) Various Artists "MORPETH RANT: NORTHUMBRIAN COUNTRY MUSIC" (Topic, 1975) Various Artists "SHETLAND FIDDLERS" (Leader, 1973) Classic Scottish Shetland Isles folk music played on the fiddle recorded in 1971. Musicians includes Aly Bain, Tom Anderson, Da Forty Fiddlers, The Cullivoe Traditional Players, Bobby Jamieson, Willie Barclay Henderson, John Henderson, and others. > <! Various Artists "TRAVELLER'S TALES, v.1-2" (Kyloe) Scottish > <! Various Artists "SOOK AND BLAW" (Ythan Music Trust) 'Melodeon, Harmonica and Concertina Classics from 1910 to 1950' James Andrews, Alec Bisset, Donald Davidson, Pamby Dick, William Hannah, Willie Kemp, George Morris, Ian Powrie, Will Porie, Jimmy Shand, Daniel Wyper, Peter Wyper, The Silver City Harmonica Band. > <! Various Artists "SCOTTISH TRADITIONS 3: WAULKING SONGS FROM BARRA" (Greentrax) A collection of work songs from the Western Isles > <! Various Artists "SCOTTISH TRADITIONS 4: SHETLAND FIDDLE MUSIC" (Greentrax) Willy Henderson & Bobby Jamieson, Tom Anderson, Bobby Peterson, Jimmy Johnson with Pat Sutherland, William Hunter and the Gullivoe Traditional Fiddle band. Recordings illustrating the distinctive arts of some of unaccompanied and accompanied fiddlers. > <! Various Artists "SCOTTISH TRADITIONS 5: THE MUCKLE SANGS - CLASSIC SCOTS BALLADS" (Greentrax) Jeannie Robertson, Lizzie Higgins, Betsy Whyte, Jane Turriff, Jimmie McBeath . This is a classic album featuring some of Scotland's finest traditional singers. > <! Various Artists "SCOTTISH TRADITIONS 6: GAELIC PSALMS FROM LEWIS" (Greentrax) A unique choral singing tradition, described as a moving experience! > <! Various Artists "SCOTTISH TRADITIONS 9: THE FIDDLER AND HIS ART" (Greentrax) Hugh Inkster, Pat Shearer, Andrew Poleson, Donald MacDonell, Hector MacAndrew. Fiddle music from five different regions of Scotland, including strathspeys, reels, marches, waltzes & slow airs. > <! SERIES GOES UP TO AT LEAST #17 > <! Various Artists "SONGS OF IRISH TRAVELLERS" (Pavee Point, 1983) Originally released in 1983 on cassette, these are the songs Tom Munnelly chose himself when he was asked to make a selection of Travellers' songs for the publication by The European Ethnic Oral traditions. Now re-issued by Pavee Point with a large informative booklet. > <! Various Artists "TRAVELLERS AND FELLOW TRAVELLERS: KEEPERS OF THE FLAME" (Pavee Point, 2003) Produced for the twentieth anniversary of the travellers' organization Pavee Point, this CD is a celebration of the music of Ireland's travellers. Travellers featured include Felix Doran, Finbar Furey, John Doherty, John Rooney, Pecker Dunne, Mickey Dunne, Christy Dunne, and Paddy Keenan. All of these tracks have been previously released. Tracks that have never been heard before are by Kitty Cassidy, and an exciting young singer from Ennis, Mary Frances Keenan. There is also a long track (four reels) from the astonishing Galway family The Raineys, fiddle music recorded in the 1950s and never before released. The fellow travellers are Christy Moore and Sean Tyrrell. Christy has recorded 'The Travelling People' with Declan Synnott especially for this album and Sean has likewise recorded 'Will There Be Any Travellers in Heaven'. >
---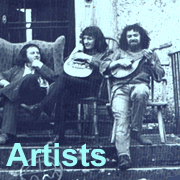 Celtic & British Traditional Music
Compilation Albums



Hello! This is the third page of reviews of Celtic and British folk music compilations... It's part of an opinionated overview of the music, written by me, DJ Joe Sixpack... This is not meant to be taken as a "definitive" resource, but rather as a loose assortment of some of the music which has caught my interest. I am always looking for more good music to explore, so your comments and suggestions are welcome.

This is the third page covering Compilation Albums.




<! Various Artists "SARK VOICES" (Sark Records, xxxxxxx) A rare set of archival recordings from this relatively unknown musical tradition from the Island of Sark in the Channel Isles. Seventeen tracks of songs and melodeon playing recorded in 1938 and 1957. Compiled by Ken Lees for La Societe Sercquaise. http://www.veteran.co.uk/English.htm#Stick > <! Various Artists "THE QUIET HILLS" (Kyloe) Alice Burn, Graham Dick, Richard & Fiona Johnstone, Chris Ormston, Andrew & Margaret Watchorn An Anthology of music and song from Northumberland performed by musicians and singers who are currently upholding this vibrant tradition. http://www.musicinscotland.com/acatalog/Kyloe_Records.html > <! Various Artists "PADDY IN THE SMOKE" (Topic) The classic album of Irish music from London's 'Favourite' pub recorded in the 1960s. Including: Martin Byrnes, Danny Meehan, Sean O'Shea, Bobby Casey, Tony McMahon, Julia Clifford, Con Curtin, Andy Boyle, Jimmy Power & Lucy Farr. > <! Various Artists "PAST MASTERS OF IRISH DANCE MUSIC" (Topic) Re-mastered from 78 rpm recordings with Belhavel Trio, Four Provinces & Ballinakill Bands, Michael Grogan, & The Flanagan Brothers. > <! Various Artists "ROUND THE HOUSE AND MIND THE DRESSER" (Topic) 'Irish Country Dance Music' Polkas, slides, flings, hornpipes, mazurkas, waltzes and barndances played by legendary musicians such as: Johnny O'Leary, Johnny Docherty, Jimmy Power, Rose Murphy, Julia and Billy Clifford. >
---
A | B | C | D | E | F | G | H | I | J | K | L | M | N | O | P | Q | R | S | T | U | V | W | X, Y & Z | Comps | Celtic Music Labels & Links | World Music Index
---

Various Artists "NEVER THE SAME -- LEAVE-TAKING FROM THE BRITISH FOLK REVIVAL: 1970-1977" (Honest Jon's, 2006)


A much-welcome sampling of the rich catalog recorded by legendary British folk producer Bill Leader, whose Leader and Trailer Records have been out of print for decades. Includes early work from cult favorites such as Aly Bain, Dick Gaughan, Nic Jones, Tony Rose and Lal Waterson (of the Waterson Family, as well as a few gems from less well-remembered folkies such as Dorothy Elliott and Dave Burland. Bill Leader is a figure of great controversy in the British/Celtic folk scene, since his trove of historical recordings has been kept off the market for so many years, much to the consternation of fans who would love to hear such holy grails as the first Nic Jones albums or Lal Waterson's legendary concept album, Bright Phoebus. A few officially-sanctioned CDR discs have appeared in recent years, but many people wonder why Leader has kept so many fine records off the market for so long. Hard to say, but Leader himself comes off as rather personable in this disc's chatty, microscopically printed liner notes, which tell the tale of how he stumbled into a career as one of the folk scene's most prolific and influential producers. This disc will surely whet the appetite of many hyper-traditionalist folk-fiends -- weighing in with a baker's dozen of songs, it merely scratches the surface of the Leader/Trailer legacy, but it sure sounds nice. If you're into the style, you'll probably want to snap this one up while you can.

Various Artists "NORTHUMBERLAND RANT" (Smithsonian Folkways, 1999)



A fine selection of instrumental tunes from England's northeastern border, a region with a very distinctive musical style (as well as a very distinctive instrument, the Northumbrian small pipes, which are featured prominently here, alongside the fiddle, accordion and guitar...) These recordings span several decades (back to the 1950s) and include both studio and field recordings from local folks and big-name artists alike. The High Level Ranters are included, along with Katheryn Tickell and others... A nice set that really gives you a feel for the style!

Various Artists "ORIGINAL IRISH TENORS: THE LEGENDARY VOICES OF CELTIC SONG" (Sony-BMG/Legacy, 2006)



An absolutely delightful collection of old-fashioned, old-school commercial recordings from the days when Irish and Scottish song was simply seen as "ethnic" music, marketed to the Irish and non-Irish alike. In addition to numerous ultra-sentimental weepers, these old singles, recorded between 1921-51, include several unapologetic riffs on silly old stereotypes, full of shamrocks, stout and happy, red-cheeked Irish cops. The Celtic folk revival of the 1960s and '70s was in part aimed at undoing this legacy, reclaiming their music from its flirtation with "square," outside pop influences. Ironically, it's been so long since these recordings have been in the public mind that they now have more "obscuro" cachet than the purist trad that supplanted them, and in some ways these goofy old songs about misty-eyed Micks who miss the rolling green hills of home so much that they just gotta get drunk and swing a shilele during the St. Partick's day parade are a lot more fun, too. There are also plenty of standard, old ballads like "Danny Boy" and "When Irish Eyes Are Smiling," sung by masters of the genre, such as Morton Downey, Christopher Lynch, John McCormack and Phil Regan... Personally, I'm partial to the comedy by Dennis Day, but all the tracks on here are great. Put this into your latest Celtic mix; it'll fill in a few gaps!
Various Artists "OWLDHAM EDGE: POPULAR SONG AND VERSE FROM LANCASHIRE" (Topic, 1970)
(Produced by Sean Davies)
With Harry Boardman, the Oldham Tinkers and other locals...
Various Artists "PUTUMAYO PRESENTS: CELTIC CHRISTMAS" (Putumayo, 2011)



Celtic music fans do love their holiday songs, and this collection offers several gems. I'm particularly fond of the translations (into Celtic) of holiday standards, such as Lasairfhiona Ni Chonaola's sleepy, relaxed "Nollaig Bhan," a deliciously understated version of "White Christmas" that was actually commissioned by Putumayo for inclusion in this album. (One wonders: is that the first time Putumayo has done this? Nice move!) I also enjoyed Steve Schuch's instrumental version of "Joy To The World," played on fiddle and mandolin and David Huntsinger's "Angels We Have Heard On High" (played as an Irish reel) which has a similar vibe. Ever nostalgia-bound, Douglie MacLean closes the album with a lovely rendition of "Auld Lang Syne": fitting to have a Scottish singer top things off with this Robbie Burns chestnut. There's also plenty of Celtic harp on here, which is to be expected -- all in all, a nice addition to the growing treasury of Celtic holiday music. A cheerful, sweet set, well worth checking out.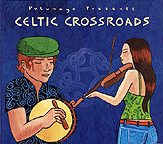 Various Artists "PUTUMAYO PRESENTS: CELTIC CROSSROADS" (Putumayo, 2005)


I suppose you could classify this album, or at least part of it, as a "guilty pleasure" for yours truly... I saw the description "ancient traditions meet modern technology" and involuntarily cringed, with a slight, uncomfortable tightening in my stomach... See... I'm not much for Celtic world-fusion, and I've found little that cheered me in the catalogs of famous bands such as Capercaillie, who are one of the headliners featured in this collection. However, I have to confess that the opening tracks -- including one from Capercaillie -- are quite lovely and lulling. To be sure, there is far better Celtic trad out there, but this set is well-selected and for the most part picks its way around the most excessive crossover styles and opts instead for a fairly conservative -- and pleasant sounding -- set of songs, with plenty of melody and acoustic musicianship draped around airy vocals. That's true of the first few tracks, featuring Emer Kenny, Capercaillie and a Scottish band called (ow, my stomach) Keltik Elektrik, who deliver one of the album's highlights, a trip-hop flavored update of "Wild Mountain Thyme," with lightly processed vocals by Jim Malcolm, gliding atop a loping drum machine beat... I almost hate to admit it, but it caught my imagination, and I've found myself with this version echoing about in my head, despite having long since fallen in love with richer, more melodic versions many, many years earlier. The rest of the album gets gooier and less distinct, but overall I'd say this is a fine set of modern Celtic easy listening, well worth checking out.
Various Artists "THE ROUGH GUIDE TO SCOTTISH FOLK" (Rough Guides, 2001)

Various Artists "THE ROUGH GUIDE TO SCOTTISH MUSIC" (Rough Guides, 1996)


Various Artists "THE ROUGH GUIDE TO SCOTTISH MUSIC (Second Edition)" (Rough Guides, 2003)


The third Scottish RG collection veers decisively into softer, mellower territory, although there are a few surprises, such as the steel pan drums on Robert Mathieson's "Calypso." Stalwarts such as Capercaillie, Boys of the Lough, Christine Primrose and the Battlefield Band are present, as well as a few lesser-known folkies. This set's a bit too soft and modern for my tastes, but I'm sure many folk fans will find plenty to enjoy here. Worth checking out.
Various Artists "SCOTTISH FOLK AT ITS BEST" (Arc Music, 2008)



A sleek set of contemporary Scottish folk, featuring a couple of relatively well-known artists -- Old Blind Dogs, Tannas -- and a slew of others who will be less familiar to the casual world music fan. Canterach, The Hudson Swan Band, Anna Murray, Wendy Weatherby, Ross Kennedy and Coila are some of the "new" names -- for the most part this is a little too much on the slick side for me, with floating synths on a tune or two, and a light poppiness on others. Still, it's certainly worth checking out, especially for Celtic folkniks in search of new names and new voices to explore.
Various Artists "SEA SHANTIES - CHANTS DE MARINS" (Playsound, 1985)



Two bands, with contrasting styles, both of which are a little too polished to get the right vibe for true sea shanty authenticity. The Irish Rovers-y Windjammers have too many instruments at play, including banjo, guitar and penny whistle, and are far too "folk" overall; the tracks from Johnny Collins, however, are more strictly vocal, and while a bit smooth, are still solidly in the style. As far as I can tell, this French-curated collection reissues material from two out-of-print albums on a pair of obscure (and presumably defunct) labels. Not the best shanty album, but it has great material. Again, the Johnny Collins songs are worth checking out -- he also has an album out on the Arc Music label that comes highly recommended.
Various Artists "SEA SONGS AND SHANTIES: TRADITIONAL ENGLISH SEA SONGS & SHANTIES FROM THE LAST DAYS OF SAIL" (Saydisc, 1994)


A fine set of raspy-sounding, uber-authentic British sea shanties plucked from the archives of the Folktracks label. These songs, recorded between 1950-60, feature several old-fashioned singers who may be familiar to fans of the Topic label, particularly Harry Cox and the Copper Family, as well as Sarah Makem, the Fisherman's Group, and Bob Roberts, who was billed as "the last of the singing barge skippers." Fans of the style, with all its craggy eccentricities, will love this album.
Various Artists "SHITE 'N' ONIONS, v.1" (Omnium, 2004)


Various Artists "SHITE 'N' ONIONS, v.2: WHAT THE SHITE" (Omnium, 2006)


It is remarkable to hear just how many pub-rock bands have taken up the anthemic Irish trad/punk banner first unfurled by bands such as the Pogues and Dropkick Murpheys... Not only that, but how good so many of these green-hued rockers sound. The driving, aggressive, bagpipe-and-power-chord formula wears better here than one might imagine... Admittedly, I come at Irish music with much more of a folk orientation, but when it comes down to it, if you want to get sh**faced and hammered on St. Patrick's Day, this is probably the kind of music you'd want on at the bar. Worth checking out!

Various Artists "SING CHRISTMAS AND THE TURN OF THE YEAR" (Rounder, 2000)



Fans of uber-folklorist Alan Lomax will be floored by this holiday oriented tour de force, an amazing live BBC broadcast from Christmas Day, 1957, which gathered the talents of revered revivalists such as A. L. Lloyd, Seamus Ennis, Cyril Tawney, Ewan MacColl and a young Shirley Collins, as well as numerous lesser-known performers. From studios in Belfast, Birmingham, London, Wales, Plymouth, Derbyshire and Scotland, they were all contributing live on the air to an elaborate Christmas pageant that included not only British and Celtic folk material (including plenty of pagan and protest music), but also the rockin' new skiffle style and a bit of calypso and African highlife music from Britain's immigrant communities. The tightly scripted program features narration by Lomax, who had spent the bulk of the '50s in the UK, hosting various folk programs on radio and TV, and who waxes eloquent about the social and mystical roots of Britain's Christmas traditions. Lomax was ahead of the curve in so many ways on this project, it's hard to know where to begin -- stylistically, technically, crossculturally -- this was an ambitious, professionally realized broadcast that gathered together the best of Britain's folk talent, and yet retained the charm of a grade school talent show. Fascinating as a work of art and an historical document, this is one of the jewels of Rounder's extensive program reissuing Lomax's vast recorded legacy. The songs and snippets whiz by too fast, but it's still a dazzling show!
Various Artists "SONG OF THE GREEN LINNET" (Green Linnet, 2000)



Celtic "trad" is often dominated by instrumentalists -- the fast-paced jigs and reels which fill hundreds of albums (and hundreds of pubs) are the folkie equivalent of drag racing: flashy and faster than the eye can follow. Still, for some of us, the instrumental stuff is also a bit repetitive; it's one thing to see a piper or fiddler in a pub, another thing altogether to hear the riffs repeated on album after album. So, for those of us who clench our teeth or fast forward when the bagpipe wails, comes this fine set of (collective sigh of relief...) vocal numbers, gathered from the illustrious Green Linnet back catalog. Sure, it's kind of like cheating to cherry-pick all the good stuff from folks like Andy Irvine, Niamh Parsons, Martin Carthy and Altan, but then again, who's going to complain? Yes, this 2-CD sampler has some icky overproduced New Age-ish numbers, but surprisingly few. Mostly, it's a lot of sweet stuff from the most talented Celtic artists around -- the perfect thing to point you (or a friend!) in the right direction!
Various Artists "SONG OF THE GREEN LINNET, v.2" (Green Linnet, 2000)


...For some reason they divided this collection in two for the digital download crowd. Still sounds groovy, though.


<! Various Artists "Stepping Up: A History Of The New Wave of English Country Dance Music" (Topic, 2004) - TOPIC-CD752 >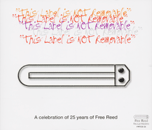 Various Artists "THIS LABEL IS NOT REMOVABLE: A CELEBRATION OF 25 YEARS OF FREE REED" (Free Reed, 2001)


A gloriously craggy overview of the releases on the resolutely traditional English indie label, Free Reed Records, which was founded in 1976 and has remained one of the best-beloved trad labels ever since. This 3-CD set comes with friendly, conversational liner notes that explain the label's long history as well as it's unusual name (It's a reference to the English concertina, or squeezebox, the album of choice of label founder Neil Wayne... And be well advised that it helps to love the instrument already if you're going to check this collection out... 'cause you'll here plenty of concertinas once you get started!) The booklet also has copious information about the artists involved, including luminaries such as Peter Bellamy, Sue Harris, John Kirkpatrick, Nic Jones and the Swan Band, as well as dozens of less well known but no less charming performers. Every record that Free Reed has released is apparently represented on this box set, including many releases which would be quite difficult to find now, in the midst of the digital age. With the exception of a couple of woefully misguided (but kind of amusing) pop fusion missteps, this is a great set of UK trad, a treasure trove of otherwise-forgotten, marginalized old-fashioned music. As a wonderful listening experience, and as a guidepost for future explorations, this collection is pretty hard to beat... highly recommended!
Various Artists "THREE SCORE AND TEN" (Topic, 2009)


A 7-CD box set issued in celebration of the thirtieth anniversary of Topic Records, Great Britain's largest and most influential folk label. A true treasure trove of many of the best English, Irish, Scottish and Welsh artists of the last several decades... and then some! Great stuff, and a fabulous introduction to the world of traditional (and modern) folk music, including lots of rare, obscure and otherwise impossible-to-find music. An impressive set that packs a real wallop.
Various Artists "TRADITIONAL IRISH MUSIC IN AMERICA: CHICAGO" (Rounder, 2001)


Various Artists "TRADITIONAL IRISH MUSIC IN AMERICA: THE EAST COAST" (Rounder, 2001)



Field recordings of amateur and professional Irish-American musicians of various stripes, ranging from flautists and pipers to accordionists, fiddlers and banjo pickers as well. It's all instrumental music, so while fans of that style may delight at the proficiency and skill of the various artists, folks (like me) who prefer a bit of singing with their trad might get restless after the first half dozen or so jigs and reels. Good performances, though.

Various Artists "TROUBADORS OF BRITISH FOLK, v.1: UNEARTHING THE TRADITION" (Rhino Records, 1995)


Been thinking of checking out British folk music -- but you're just not quite sure if it's for you? This is how you find out. This first disc may be a bit stark for some, but it certainly shows who the founders of the British folk revival were. A.L. Lloyd, the grandpappy of the movement is here, along with his full court -- Ewan MacColl, The Watersons, Shirley Collins, as well as members of the nascent folk-rock movement -- Steeleye Span and the like. The absolute highlight of this set is Anne Briggs' "Blackwater Side" -- her voice is shimmering and mellifluous -- compelling enough to make me search high and wide for her other records. An excellent compilation!

Various Artists "TROUBADORS OF BRITISH FOLK, v.2: FOLK INTO ROCK" (Rhino, 1995)


Ah, sweet sadie... if only all compilations series could be of such high calibre as this! In some ways the deck is stacked on this one -- hard to miss when you have bands like Steeleye Span, Fairport Convention and the Albion Band to pick and choose from. From there, all you have left is song selection, and while I *could* quibble, what's the point? There is an admirable emphasis on more obscure tracks and artists, as well as some proggy crossover stuff, such as Traffic's version of the trad tune, "John Barleycorn," and one song by Nick Drake, whose music is so elusive it can fit in here as well as anywhere else. As with the other two discs-- HIGHLY recommended!

Various Artists "TROUBADORS OF BRITISH FOLK - v.3: AN EVOLVING TRADITION" (Rhino, 1995)


Ostensibly, this covers contemporary artists, but maybe it's more accurate to say that its scope is the post-70s scene. Richard Thompson I could live without ever hearing again, and similarly the Oyster Band have never done much for me... But most of the tracks on here are excellent. For one thing, this is the album that turned me on to Nic Jones. (And what a delight that was!) Plus Dougie MacLean's classic, "Caledonia," June Tabor's stunning "She Moves Among The Men," and the relatively unknown duo of Eliza Carthy and Nancy Kerr make this disc well worth picking up.
Various Artists "WHISKEY IN THE JAR: ESSENTIAL IRISH DRINKING SONGS AND SING ALONGS" (Sony-BMG/Legacy, 2006)



Surprisingly enough, this 2-CD set featuring boozy anthems by the Clancy Brothers and the Dubliners isn't simply an update on Sony's 1993 IRISH DRINKING SONGS COLLECTION, which also featured those venerable folk-revival bands. Indeed, even when there is overlap on particular songs, often the versions are different, with the earlier volume focussed on classic studio albums and this one drawing heavily on a more recent Clancy Brothers rarities set. And then there are the newer, younger artists such as the Pogues (very late edition of the band), Dropkick Murphys and Young Dubliners. Not all the songs are booze-oriented (the loophole being the "...and sing alongs" of the subtitle...) but, hey, if you've had enough of a snooter, hearing "Danny Boy" for the gazillionth time might be just what the doctor ordered. An okay collection.... and PS: Happy St. Paddy's Day!

Various Artists "YOUNG SCOTTISH PIPERS" (Arc Music, 2006)


Modern, experimental bagpiping from virtuosi such as Anna Murray, Rory Campbell (of the band Old Blind Dogs), Fred Morrison (of Capercaillie), the group Catherach, and others. The Scottish bagpipe is, almost by definition, an acquired taste, so be forewarned that this set is a bit on the squeaky-squonky side... But it also contains some truly fresh, daring new approaches to this ancient instrument -- what Sharon Shannon and others have done for the button accordion, these folks are doing for the pipes, opening it up into new, wild arrangements and approaches... It's pretty cool, if you're into the instrument.
---
More Celtic/Brit Folk Albums - Letter "A"
---



Main Celtic/Brit Index
Main World Music Index




---