<! MP3 01/02/11, 08/17/12 > <! outside 00/00/00 > <! pix 01/02/11 > <! icons 01/02/11 > <! updates: 01/02/11 - added Boys Of The Lough, Mary Black, need to expand Dave Burland, Kevin Burke, Eric Bogle. Separate Bothy Band page? > <! Blackthorn "Market Town" (1996) B000WGJJPY B000QZWVJC (Not 70's UK band) Blackthorn is a Vancouver (Canada) - based folk group whose repertoire celebrates the traditional music of Ireland, Scotland and England, as well as folk music (including originals) of Canada. Savour the harmonies of the Celtic ballads, the boisterous, up-tempo folk songs, and dance to the lively jigs and hornpipes. Over 14 years of professional playing makes Blackthorn "Vancouver's most experienced and seasoned Celtic band". Market Town by Blackthorn, is a similarly ballad-centered album from Canada. Blackthorn features both male and female vocals, fiddle, guitar, mandolins, banjo, flute, piccolo, whistle, accordion, bass, bodhran and percussion; clearly they're capable of widely varying arrangements. Like Walsh's, their album features mostly well-covered tunes and songs, although a few more obscure ones, like " 'Twas Pretty to Be in Ballinderry" do appear. Also on the minus side, the singing is a bit mannered; clearly these are North Americans trying hard! On the other hand, the playing and arrangements are quite sophisticated and make use of all those instruments nicely. Their tunes, too, have a North American (contradance?) feeling to them, but it's not as distracting there. In all, a good job and a fun listen. Cunningham Brothers "Colleens & Culprits" (Black Road, 1978) - private pressing?? > <! The Brazil Family http://www.mustrad.org.uk/articles/brazils.htm The Brazil Family "Down By The Old Riverside" (Musical Traditions, 2007) - no ASIN 01/11 A 3-CD set... on-demand pressing? > <! Bucca "The Hole In The Harper's Head" (1982) (Plaid??? Records) - no ASIN > <! John Burgess "King Of The Highland Pipers" (Topic) Probably the best piping album ever produced from the phenomenal award-winner. > <! Eddie Butcher/Joe Holmes & Len Graham "BALLADS AND SONGS OF THE NORTHERN OF IRELAND" (Free Reed, 2008) B0018OAOMG These two 1975 LPs were recorded in the north of Ireland by Neil Wayne and Lyn Murfin, and offer rare examples of northern Irish music and song, from three giants of the north Derry tradition. Eddie Butcher (1900 -1980) was born in Magilligan, Co Derry, and influenced younger singers like Paul Brady and Andy Irvine. This CD includes local tradition-bearers Joe Holmes and Len Graham, who joined the 1975 sessions at Eddie's home that gave rise to the two Free Reed LPs now re-released on one budget CD. > <! Ronan Browne & Peter O'Loughlin "Touch Me If You Dare" (Claddagh) B0000891LA Timeless music on pipes, fiddle and flute in the old-fashioned Clare style. They are joined on some tunes by Maeve Donnelly on fiddle and Geraldine Cotter on piano. > <! The Broadside From Grimsby "The Moon Shone Bright" (Topic, 1973) - no ASIN The Broadside consisted of John Conolly, Bill Meek, Brian Dawson, Mike Lee and Tom Smith who at the time of this album were the organisers of the Grimsby Folk Song Club. John Conolly is perhaps best known for his songs 'Fiddler's Green' and 'Punch And Judy Man' although he has written many more since then. His currently available CDs can be found at The Chantey Cabin. This album from 1973 consists of traditional songs from Lincolnshire. > <! The Bushwackers Band "Flash Jack From Gundagai" This is a compilation of Australian band The Bushwackers' two late-'70s albums, Murrumbidgee and Bushfire... I've often thought this is the kind of music Ashley Hutchings might have made had he been born in Toowoomba rather than Southgate! Great, foot-stomping stuff and excellent musicianship. The Bushwackers Band "Flash Jack From Gundagai" (???) B000L2TFH6 3-CD set >
---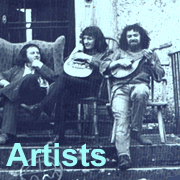 Trad & Folk
Artists and Albums
Hello! This page is part of an opinionated overview of Celtic and British folk music, with record reviews by me, Joe Sixpack... This is not meant to be taken as a "definitive" resource, but rather as a record of some of the music which has caught my interest. I am always looking for more good music to explore, so your comments and suggestions are welcome.
This is the second page covering the letter "B"
---
A | B-1 / 2 | C | D | E | F | G | H | I | J | K | L | M | N | O | P | Q | R | S | T | U | V | W | X, Y & Z | Comps | Celtic Music Labels & Links | World Music Index
---
Mary Black - see artist profile

Blackthorn "Blackthorn" (WHM, 1977)
Sort of a poor man's Steeleye Span, with bouncy rhythms and familiar instrumentation (electric bass, amplified mandolin and urgent guitars) along with a husky, declarative female singer, backed by a modest male harmony... This charming Irish group played with enthusiasm, but not quite with the power or panache of the first-line folk-rock trad bands. Includes traditional ballads and covers of more contemporary material (including songs by Neil Young and Leonard Cohen, and even Jim Croce's "In A Song"...) Worth a spin, but don't set your hopes too high.


<! Ian Campbell played Bodhran as a guest musician. >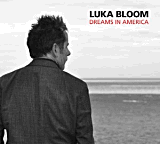 Luka Bloom "Dreams In America" (Compass/Big Sky, 2010)



A solid set from Irish singer-songwriter Luka Bloom, who was once known -- many, many years ago -- as Barry Moore, brother of trad-folk icon Christy Moore. The opening tracks were the most compelling, particularly the penetrating "Bridge Of Sorrow" and "Love Is A Place I Dream Of"; Bloom has long since moved away from the confines of traditional folk, but he does tuck in a couple of nice ballads here, "Lord Franklin" and "Black Is The Color," amid the introspective, rueful contemporary material. I'm not a big new-folk fan, but I imagine Bloom's fans will be happy with this set, which has a steely intensity throughout. For example, the same folks who applaud him on the trio of live tracks that close this album out... I'm sure those enthusiastic Dublin fans have compatriots on this side of the ocean as well!
The Bluewater Folk "Bugs, Black Puddings And Clogs" (Moonraker, 1976) (LP)

The Bluewater Folk "A Lancashire Life" (1981)

Harry Boardman "A Lancashire Mon" (Topic, 1973) (LP)





<! Harry Boardman "Owdham Edge" (Topic, 1970) Harry Boardman "A Lancashire Mon" (Topic, 1973) Harry Boardman "Golden Stream" (AK, 1978) (LP) B008PDJL9K Harry Boardman "Personal Selection" (1986) Harry Boardman "Personal Choice" (Cock Robin Music, 2008) ...Also on numerous compilations... >
Eric Bogle "Scraps Of Paper" (Flying Fish, 1981)



Australian singer-songwriter Eric Bogle is the author of several stunning antiwar ballads, notably "No Man's Land" and "And The Band Played Waltzing Matilda," which are both on the original version of this fine folk album. These songs deal with the horrors of the First World War; "Matilda" is certainly Bogle's best-known song, having been covered by June Tabor, Makem & Clancy, and most famously by the Irish punk-roots band, The Pogues. Bogle's version was the first I heard, and I still find it profoundly moving. The image of a generation sacrificed, with resounding hollowness, on the altar of war, is powerfully conveyed in both songs, capturing in deft strokes, the catastrophic disillusionment of the so-called Great War. Profound, and tremendously emotional material. Highly recommended. (More information about Bogle can be found on his his home page.)


<! 130 x 130 > <! DISCOGRAPHY: Eric Bogle "Other People's Children" (Undercover Music/Greentrax, xxxxxxxxx) Eric Bogle "The Colour Of Dreams" (Undercover Music/Greentrax, xxxxxxxxx) Eric Bogle "Endangered Species" (Greentrax, xxxxxxxxx) Eric Bogle "Small Miracles" (Greentrax, xxxxxxxxx) Eric Bogle "Mirrors" (xxxxxxxxxxxxxxxx, xxxxxxxxx) Eric Bogle "The Emigrant And The Exile" (Greentrax, xxxxxxxxx) Eric Bogle "Voices In The Wilderness" (xxxxxxxxxxxxxxxx, xxxxxxxxx) Eric Bogle & John Munro "Hard Hard Times" (Folk Freak, 1984) Eric Bogle "When The Wind Blows" (xxxxxxxxxxxxxxxx, xxxxxxxxx) Eric Bogle "Something Of Value" (xxxxxxxxxxxxxxxx, xxxxxxxxx) Eric Bogle "Plain & Simple" (xxxxxxxxxxxxxxxx, xxxxxxxxx) Eric Bogle "Now I'm Easy" (xxxxxxxxxxxxxxxx, xxxxxxxxx) - first record BEST-OFS Eric Bogle "At This Stage" (xxxxxxxxxxxxxxxx, xxxxxxxxx) Eric Bogle "The Gift Of Years" (EMI-Australia, xxxxxxxxx) Eric Bogle "By Request" (xxxxxxxxxxxxxxxx, xxxxxxxxx) Eric Bogle "Singing The Spirit Home" (EMI-Australia, xxxxxxxxx) - 5-CD box set! Eric Bogle "Eric Bogle Songbook, v.1" (xxxxxxxxxxxxxxxx, xxxxxxxxx) Eric Bogle "Eric Bogle Songbook, v.2" (xxxxxxxxxxxxxxxx, xxxxxxxxx) Eric Bogle "I Wrote This Wee Song " (xxxxxxxxxxxxxxxx, xxxxxxxxx) >

Bohola "Bohola" (Shanachie, 2002)


Irish trad from the mean streets of Chicago... This young American trio has a relatively rough-hewn sound, which is alright by me, considering how goopy modern Celtic music has become. They mix both songs and instrumentals, with the unusual habit of mixing both styles into longer medleys. They make pretty big sound for such a small ensemble. Besides, anyone who gives a nod in the direction of Christy Moore (with their version of "Moving-On Song") is alright by me!
Bohola "Bohola 4" (Shanachie, 2004)


Bohola "Bo-Ho-Ho-Hola" (Bohola Music, 2008)


Bohola (Jimmy Keane & Pat Broaders) "Bohola" (Bohola Music, 2008)








Paul Bond "In Sight Of The Mountain: Traditional And Original Songs Of New Zealand" (City Folk, 1985)
(Produced by Trevor Ruffell)
A nice, understated set of acoustic-based kiwi folk tunes, mixing older traditional sources with contemporary tunes written by singer Paul Bond and others. Introspective ballads rub shoulders with songs of shipwrecks, mining disasters, and ranching... England's Martin Carthy plays second guitar on a couple of tracks, while American folkies Danny Carnahan and Robin Petrie perform on several others.


<! Paul Bond "Paths" (1982) > <! NZ Celtic: Rua "Commonwealth Suite" Bob Bickerton "Bonny Harvest Moon" Tony Clark "Irish Music" Vic McDonald "In Memorium" - outstanding >


The Bothy Band - see artist profile





The Boys Of The Lough - see artist profile





Paul Brady - see artist profile




Brass Monkey "See How It Runs" (1986)





Brass Monkey "Sound And Rumour" (Topic, 1999)


Brass Monkey "Going And Staying" (Topic, 2001)


Brass Monkey "Flame Of Fire" (Topic, 2004)



Brass Monkey "The Complete Brass Monkey" (Topic, 1993)



A delightful set for listeners of a very peculiar bent. Brass Monkey takes the hypertraditionalist impulse and adds another layer, performing the material to a brass-band accompaniment, which -- as it turns out -- is a perfect counterpoint for the croaking vocals of Martin Carthy and the playful musical wiles of John Kirkpatrick. The music is wilfully obscure and semi-inaccessible, but it's also a delight. There's not much else in the world that sounds like this ensemble, which makes them that much more special. Recommended!
Brass Monkey "The Definitive Collection" (Highpoint, 2005)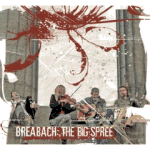 Breabach "The Big Spree" (Compass, 2008)



A gorgeous set of Celtic trad instrumentals and songs from a new, up-and-coming Scottish folk band. This debut album showcases strong contributions from pipers Donal Brown and Calum MacCrimmon (who's originally from Canada) as well as fiddler Patsy Reid, who has a thin, spritely tone that's perfect for her playful spirit. (Reid particularly stands out on tunes such as the "James Gunn Henderson/Dusky Meadow" medley...) The band plays straight trad, with a warm, melodic bent that gives the slip jigs and reels a softer feel than many recorded instrumental numbers. Quite nice!
Maire Brennan "Maire" (RCA/Atlantic, 1992)


Solo work from one of the members of the Clannad band...
Maire Brennan "Misty-Eyed Adventures" (RCA/Atlantic, 1994)

Maire Brennan "Perfect Time" (Word, 1998)


Maire Brennan "Whisper To The Wild Water" (Word, 1999)

Maire Brennan/Margaret Becker/Joanne Hogg "New Irish Hymns (In Christ Alone)" (Kingsway, 2001)

Anne Briggs - see artist profile

Paul Brock "Mo Chairdin" (Gael-Linn, 1992)



A fine set of sprightly instrumental reels and jigs with Irish accordionist Paul Brock leading either on squeezebox or melodeon. It's well-played, but ultimately, like a lot of this stuff, a little bit goes a long way... not the kind of album I'd enjoy listening to from end to end...
The Bully Wee Band "Bully Wee" (Folksound, 1975)

The Bully Wee Band "Enchanted Lady" (Red Rag, 1976)





<! they also played on the 1976 "Son of Morris On" album... >

The Bully Wee Band "Silvermines" (Red Rag, 1978) (LP)


An okay set of traditional material by some well-meaning English folkies... I don't think these guys were particularly well-known -- locals from some pub, I'd imagine -- but they sound nice enough, in a Nic Jones-ish kinda way... The recording mix is a bit flat, but otherwise, this is a decent record.
The Bully Wee Band "The Madmen Of Gotham" (Jigsaw, 1980)

The Bully Wee Band "50 Channels" (2006)
New recordings... Available through the band's website: www.bullyweeband.com

Vashti Bunyan "Just Another Diamond Day" (Dicristina Stair Builders, 1970)



Even in a British folk-rock scene already packed with eccentric and outsized personalities, Vashti Bunyan stood out... She had many of the same credentials as many of her folkie contemporaries -- after dropping out of art school, she took a whirl at busking and doing the rounds of the various folk clubs. In the mid-1960s, Bunyan briefly worked with the Rolling Stone's producer, Andrew Loog Oldham, and later met Donovan, who took her under his wing, then finally she came to the attention of fabled psych-folk producer Joe Boyd, who arranged for this album to be recorded late in 1969, and released later the next year. It's one of those legendary lost albums, which is quite understandable since it includes musical backing by the likes of Robin Willamson of the Incredible String Band, gadabout scenester Simon Nicol, and Robert Kirby, who also worked with Nick Drake. It's a fine album, with a singular, deeply alluring, oddly mystical feel, a remarkably original work that doesn't fit easily into musical pigeonholes... By the time Bunyan recorded this album, however, she had been living off the grid for a couple of years, and afterwards she permanently left the London hubbub, choosing to live in the Hebrides Islands and drop out altogether. Her total evaporation might have something to do with why this disc got so little promotion from the record label, but after getting re-released in the UK thirty years later, it's picked up quite a following among the obscuro-folk cult. And deservedly so... it's pretty cool. You should check it out.

Vashti Bunyan "Lookaftering" (Dicristina Stair Builders, 2005)



Yawn. I liked her first album (see above) but this decades-later follow-up is dreary and dull, an amorphous, noodly, semi-orchestral case study in folk-psychedelic pretentiousness. Obviously, there will be many people who will be (and are) wild about this album, I'm just not one of them... A big part of it is Bunyan's inscrutiable, tuneless vocal style, equal parts Shirley Collins and Nico (which, again, is like catnip for a lot of people, just not me. Ow.) It's all just too precious and indistinct for me... Although I cherish super-mellow, spaced-out twee-folk as much as any other Belle & Sebastian-ite, for some reason, this record just set me on edge. Nonetheless, you might want to track down some other reviews, besides mine... There are plenty of people out there who think it's a brilliant, breakthrough album.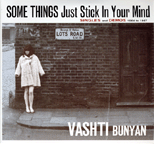 Vashti Bunyan "Some Things Just Stick In Your Mind -- Singles And Demos: 1964-1967" (Dicristina Stair Builders, 2008)



A groovy set of archival recordings made by British folk/space rock cult fave Vashti Bunyan... This 2-CD set starts out with two singles she recorded in the mid-1960s for the Decca and Columbia labels, abortive attempts to establish her in the English rock firmament. The first single had an A-side written by the Rolling Stones, "Some Things Just Stick In Your Mind," and as the charmingly scratchy tracks start up, it becomes clear that this was an attempt to replicate the success of folk-rock chanteuse Marianne Faithfull (who also benefited by recording an early Jagger-Richards composition...) Like Faithfull, Bunyan had a modest voice -- I wouldn't say she was much of a dazzler as a vocalist, but she does make a great iconic figure for this style of music, especially as she moves into more personal, introspective material. The rest of the first disc is made up of demos, unreleased tracks made for the Immediate label and similar rarities; the second disc is a full-length live show, recorded in 1965, that gives a good sense of Bunyan's strengths and charms at the time. Fan who have been on her bandwagon since the re-release of her Just Another Diamond Day album... Indeed, this collection makes a better companion to that album that her more recent work, adding context to that album, rather than being an echo. Definitely worth checking out.

Burach "Deeper" (Greentrax, 2000)



Lightweight Celtic-rock from a young Scottish band, with too-perky playing and somewhat bland, inspirational lyrics. I didn't feel there was a lot of depth to the playing, or that lead singer Ali Cherry has a particularly impressive voice. They're cute and all, in a puppydog-ish way, but I can think of plenty of other records I'd want to spend my time with more.


<! Joe Burke "Galway's Own" (Outlet, 1971) Joe Burke - accordion >
Kevin Burke & Ged Foley "In Tandem" (Self-Released, 2005)



Duets between fiddler Kevin Burke and guitarist Ged Foley, who have worked together for over a decade in the bands Celtic Fiddle Festival and Patrick Street... Lovely stuff!
Dave Burland "A Dalesman's Litany" (Highway, 1971) (LP)





<! 10 tracks, 38 mins, highly recommended It's really a treat to finally have Dave's first album from 1971 available on CD. I've always enjoyed the music of this South Yorkshire performer. His gentle rich warm voice and melodic flowing guitar are appealing on many levels and for all his gentleness he can convey powerful emotions. The material here is all traditional and there are such wonderful songs as Here's The Tender Coming/ Lord Lovel/ The Dalesman's Litany/ William taylor/ The Bleacher Lassie O'Kelvinhaugh and others. >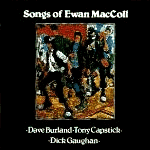 Dave Burland/Tony Capstick/Dick Gaughan "Songs Of Ewan MacColl" (Black Crow, 1978)


(Produced by Geoff Heslop)
Songwriter, folklorist and troubadour Ewan Maccoll, a paragon of the British folk movement, is reclaimed as a Scottish icon in a trio of gorgeous ballads by Dick Gaughan, including "Jamie Foyers," "Schoolday's End," and "Thirty Foot Trailer," as well as trading verses with Yorkshire folkies Dave Burland and Tony Capstick on "Shoals Of Herring," which closes the album. It's a fine, heartfelt homage, with a very low-key, homespun feel. 'Twould be nice if a tune or two could find their way onto some of Gaughan's retrospective albums sometime soon, but if you can track the original album down, you'll be happy with that as well.
Dave Burland "His Master's Choice: The Songs Of Richard Thompson" (Road Goes On Forever, 1992)

Dave Burland "Benchmark" (Fat Cat, 1996)





<! Dave Burland "A Dalesman's Litany" (Leader, 1971) Dave Burland "Dave Burland" (Leader) Dave Burland "Songs And Buttered Haycocks" (Black Crow/Rubber Records, 1975) Dave Burland "Songs Of Ewan MacColl" (Black Crow) Dave Burland "Just Act Normal" (Black Crow) Dave Burland "You Can't Fool The Fat Man" (Black Crow) Dave Burland "Rollin' " (Moonraker) Dave Burland "Willin' " (Black Crow) Dave Burland "His Master's Choice: The Songs Of Richard Thompson" (Road Goes On Forever, 1996) B0000241M0 >

Buttons & Bows "Buttons & Bows" (Green Linnet, 1984)



The first album by the trio of Jackie Daly, Manus McGuire and Seamus McGuire...
Buttons & Bows "The First Month Of Summer" (Gael Linn, 1987)


Buttons & Bows "Grace Notes" (Gael Linn, 1991)


---
More Celtic/Brit Folk Albums -- Letter "C"
---



Main Celtic/Brit Index
Main World Music Index


---